Craft Display Booth Ideas
1000+ Photos!
Over 1000 Original Craft Booth Pictures, Plus Tips to Help You Create a Fabulous and Functional Booth for Your Next Craft Show
Whether you're designing a brand new display booth or you're looking to make improvements on an existing craft show display, I have lots of photos, resources, and tips to help.
I've been collecting photos of wonderful display ideas since about 2012, and I've complied a huge collection that's still growing! I hope my photos will help you create your own fantastic display that attracts customers, shows your work at its best and fits within your budget.
Creating your craft booth can be costly if you're not careful. Between tables, grid walls, lighting, risers, flooring, and table coverings, it all adds up pretty quickly.
Ideally, you should try to avoid as much trial and error as possible and get your booth right the first time to avoid wasting money on a design that doesn't work.

That just means you need to do some good research and planning before you start buying pieces for your display booth. The tips and photos below can help you do that!
On This PAge
There's a massive amount of information about designing a craft display booth here.
You can access more than 1000 of my original craft booth photos from this page. You'll also find links to several articles about creating a great craft booth.
If you read through the whole page and follow all of the links, you'll know an awful lot about craft booths. :)
If you're in a hurry and don't have time to read the whole page, just click one of the links below to jump down to a specific topic that interests you.
---
I earn a commission for purchases made through links on this page.
---
The best way to really understand what works and what doesn't in a display booth is to look at as many booths as possible. When you check out examples, you'll see what effect different display choices will have on your own booth.
The point of studying the photos is not to copy someone else's fantastic booth, but to study it, find inspiration, understand what works, make good decisions about your own booth, and avoid costly mistakes.
I've organized the photos in three categories to make it easier for you to find what you need.
Parts of a Craft Booth: If you want to learn about a specific type of display furniture - gridwalls, flooring, lighting, pedestals, tables, etc. - click on the link above to jump to this section.
Type of Craft: Here's where you'll find pages of displays grouped by type of craft. If you specifically want jewelry booth photos, soap displays, clothing displays, accessory booths, etc., start with the link above.
Craft Display Best Practices: This section features collections of booth photos that demonstrate important concepts in merchandising and booth design. You'll find booths that make spectacular use of color, booths that effectively put products in the spotlight, and booths that break the rules. The link above will take you to this section.
---
Parts of a Craft Booth
Craft Booth PHotos and information Organized By Display Furniture Type
All of these display booth photos are sorted based on the type of display furniture featured. If you want to see plenty of booths using grid walls, pedestals, tables, or shelves, you'll find them here. If you're looking for lighting ideas, portable flooring, and craft tents, you're in the right place.

craft fair signs
I've designed several signs you can print and display in your booth to encourage shoppers to splurge a little, support small business, and shop handmade. You'll find them all in my Etsy shop.
Portable Flooring
Craft Show Lights
Craft Show Tents
Popular Craft Tents at Amazon...
Tent Weights
Grid walls & Slat Walls
craft show display shelves
Portable Display Pedestals
Portable Tables
When I went looking for portable craft tables for my booth, I couldn't find exactly what I wanted anywhere. I wanted a table that was a non-standard height and width, so I ended up making my own to get exactly what I wanted.
It was a surprisingly easy project, and I have no carpentry skills, so that's saying something!
If you you've checked out commercially available folding craft tables, and you can't find the exact size you want, DIY foldable tables are a great option.
Learn More: How to DIY Your Own Folding Craft Tables 

Display Risers
Booth PHotos by Type of Craft
All of the photos in the posts in this section are organized by craft type. Are you looking specifically for jewelry booth photos, or pictures of handmade soap displays? Start here.
jewelry display ideas for craft shows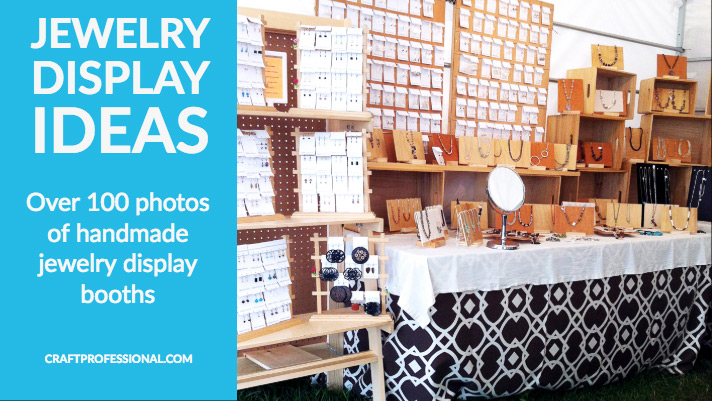 DIY Jewelry Displays for Craft Shows

Clothing Displays
Accessories Displays
Mixed Accessories on Display
Handmade Hat Displays
How to Display Handbags
Soap Display Ideas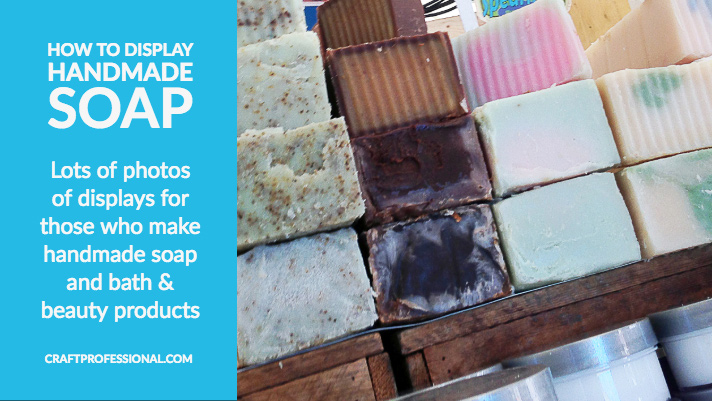 Other Types of Crafts on Display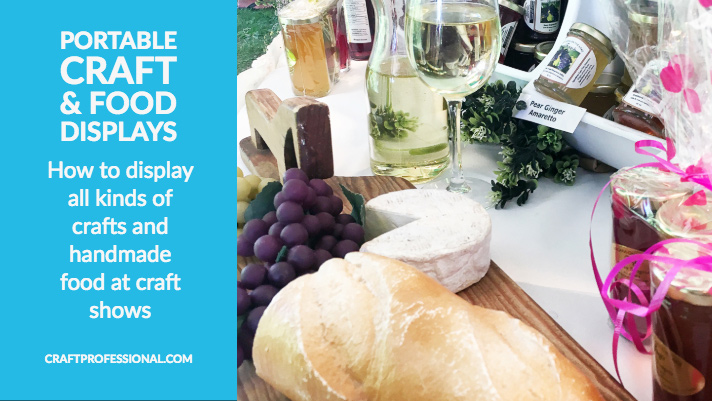 Pottery and Glassware Booths

Art on Display
Portable Food Display Counters
More Craft Booth Photos
Holiday Craft Show Booths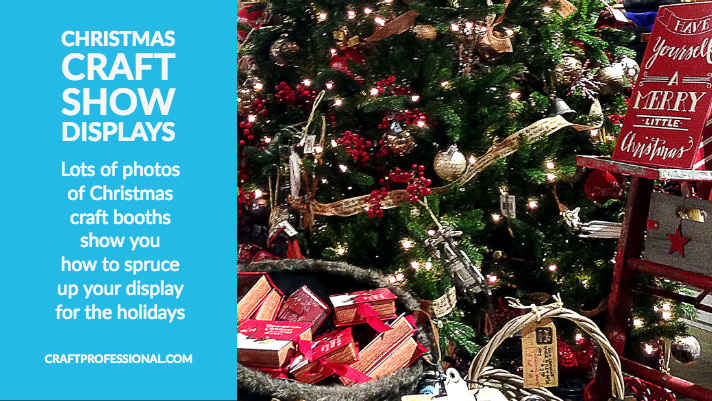 Retail Store Displays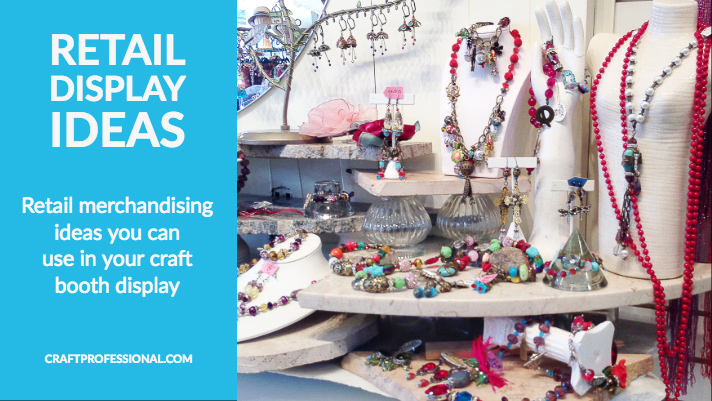 Craft Display Best PRactices
All of the links to booth photos below illustrate specific concepts related to craft booth design. Do you want to see how you can use color effectively in your displays? Are you wondering how to create a booth that doesn't "compete" with your products? These photos are the best place to start.
Planning and Creating Your Display Booth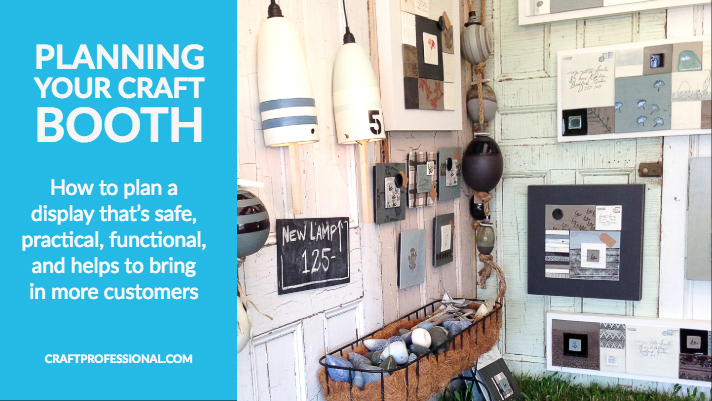 CREATE A BOOTH THAT BRINGS IN MORE CUSTOMERS
TRANSPORTING, SETTING UP AND TEARING DOWN your Booth
You Are Here
Home
➤ Display Booth Ideas and Photos