Craft Display Ideas
If you buy something through links on Craft Professional, I may earn a referral fee. To learn more see my
disclosure
.
---
Planning and creating your craft display can be a lot of work, and it's important to get it right. Your sales at shows depend on it!

That's why I've committed to gathering and sharing as many original booth photos as I can. You'll find them throughout this site, and, specifically, you'll find links to over 600 booth photos here.
I'm convinced it's so much easier to plan displays and avoid costly mistakes if you can see samples of how ideas work in real life.
Designing my booth for the first time many years ago would have been a lot easier, and less expensive because I would have avoided mistakes, if I had been able to see lots of pictures of craft booths before I jumped in and started creating my own displays.
As always, please respect the artists who have designed the booths pictured below. Use these craft show booth pictures for inspiration and to get an understanding of how different display materials and strategies work to create different effects. Avoid copying ideas outright, but do use seeds of an idea to create your own, original craft display.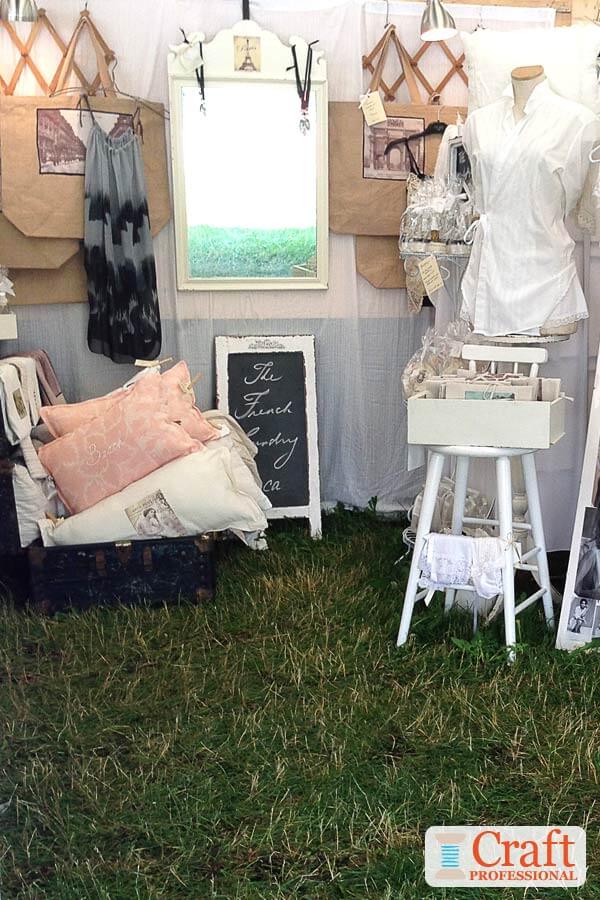 Here's a gorgeous booth featuring pretty neutrals and a variety of types of handmade products.
The white and black display items perfectly show off the pretty white clothing and neutral bags. All together, the display creates a charming, fresh look that matches the products.
Notice, just at the top of the photo, you can see two spotlights accenting each corner of the booth. The mirror in the middle reflects light, as well as providing a spot for customers to see how they look wearing one of this craft artists' handmade pendants.
---
I earn a commission for purchases made through links on this page.
To learn more, please see my disclosure.
---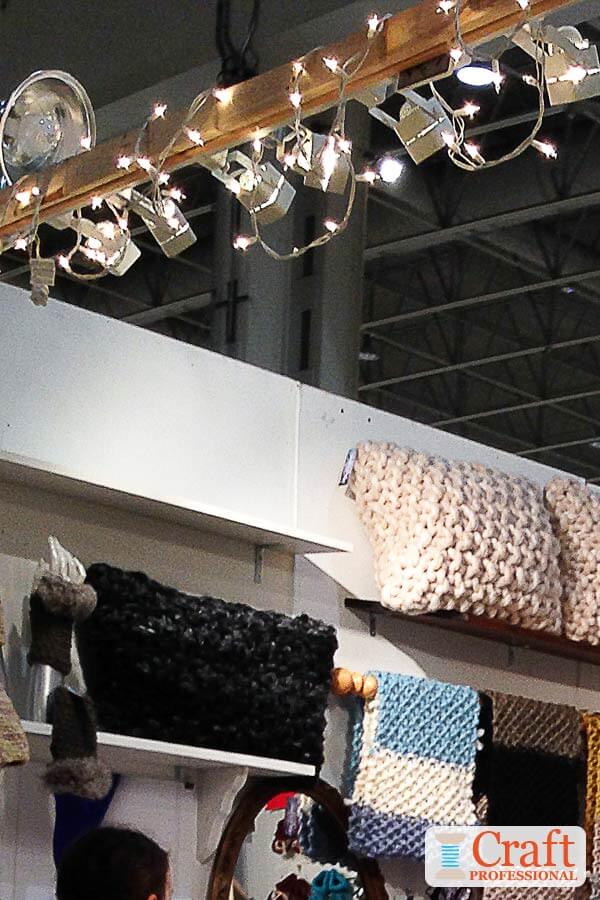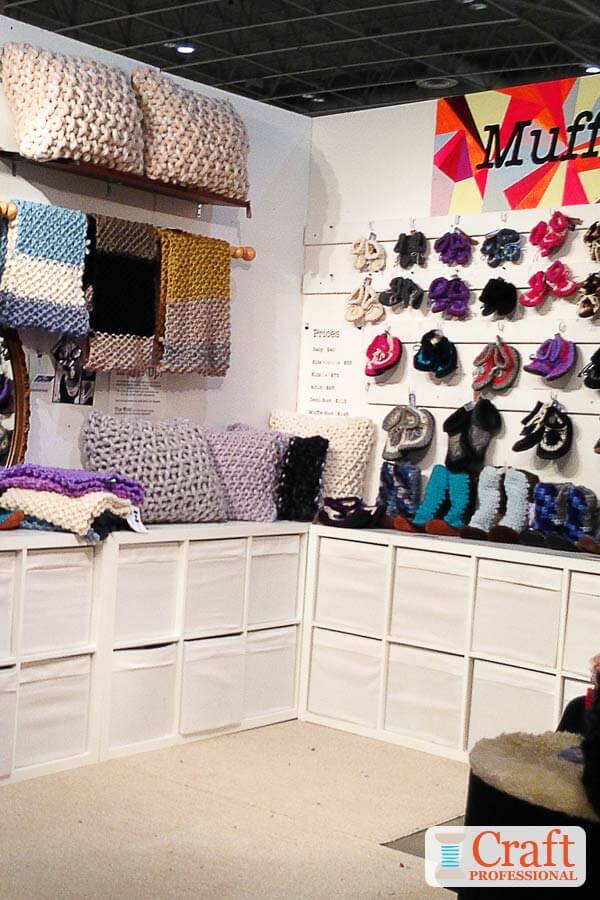 Above are two side by side photos of the same booth. If you notice the blue and white striped throw in each photo, you can orient yourself in each picture and see where the images would line up.

I wanted to show you a close up of the top, outside edge of the booth so you could see all of the overhead lights that are illuminating this display. Never underestimate the importance of good lighting in a craft display.
On the right you can see this booth had loads of extra storage. The white shelves look very much like 12 inch deep Kallax shelves that are popular at IKEA.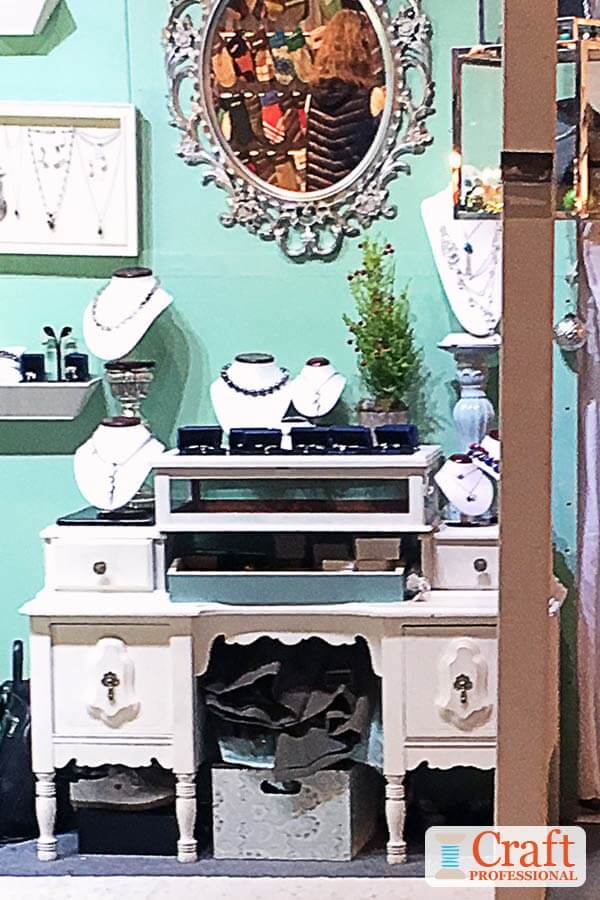 The color in this jewelry booth is gorgeous. It stands out because it is a little out of the ordinary.
The desk provides a pretty space for displaying jewelry, and the raised shelves at the back function well as risers, raising and varying the display height. This booth is at a big, multi-day show where bringing in larger furniture is more reasonable than it would be if you were attending a smaller, single day show.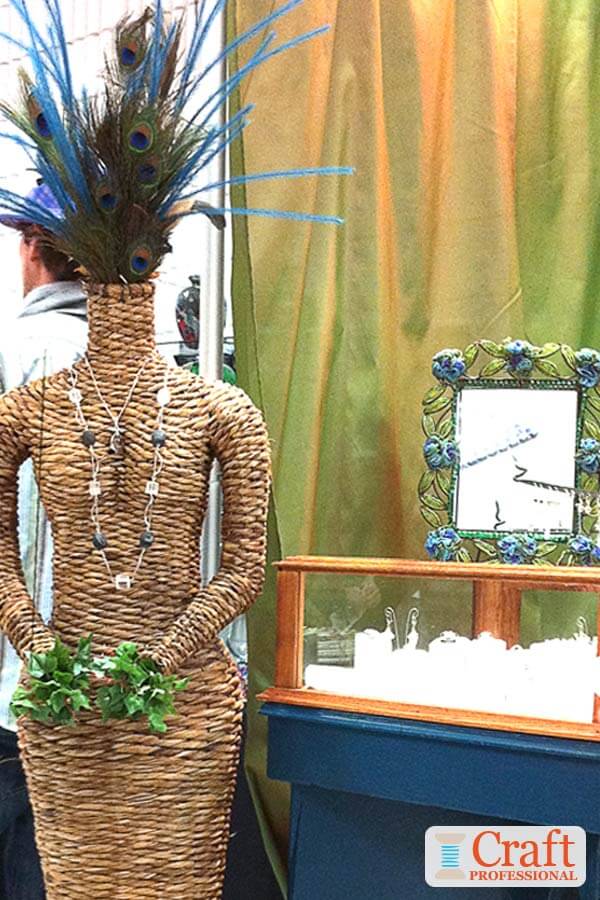 Here's a display that's sure to grab attention. The peacock feather mannequin perfectly matches this jewelry artist's brand colors. She's a truly unique attention grabber.
Consider what type of unexpected eye-catching item you could use to grab customers' attention and entice them into your booth.