15 Craft Photography Tips

LEarn How to Take Good Photos of Items to Sell Online and To Apply to Juried Art Shows
If you buy something through links on Craft Professional, I may earn a referral fee. To learn more see my
disclosure
.
---
15 craft photography tips you can use to learn how to take great photos of your handmade items for your Etsy shop, juried art show applications, social media, or your blog.

There are a million things you could learn about craft photography. If you're a beginner photographer, it can get overwhelming pretty quickly.
Luckily, you don't need to know a million things to start taking great photos of your handmade items.
We're going to focus on the basics you need to know to get started. Don't worry about everything else right now. You can expand your skills later if you find you need more.
What is product photography?
Great product photography tells a story. It answers essential questions such as:
What is the item?
What are the main features?
How could it be used?
What are its biggest selling points?
How big is it?
What is special about the product?
Why should someone buy it?
Effective product photos show details of your product, communicate the item's appeal and quality, and build a desire to buy.
Smart craft business owners don't underestimate the importance of product photography.

The most charming handmade items won't sell online if the product photos are bad. The most skilled artisan won't be accepted into competitive juried craft shows if the photos submitted with applications don't show the beauty of the work.
Whether you're selling on Etsy, promoting your craft business on Instagram, or applying to juried art shows, your product photos will have a huge impact on the success of your business.
If someone can't see and touch your items in person, your photos are the best tool you have to convey the quality of your work and show how your products meet customers' needs. Compelling product photos are the most powerful strategy you can use to tell a story, define your brand for your target customer, and build a desire to buy.
Craft Photography for Beginners
Product photography is not a place to cut corners if you're building a craft business. It will take some practice, but with some time, work, and the right basic equipment, you can build this skill.

Here's what we'll cover to help you learn the basics of craft photography:
Define your product photography needs
Get the right equipment for craft photography
Understand photography and DSLR camera basics 
Prepare to photograph your products
Edit your photos
Find your style
Practice, practice, practice
I've tried to put the steps in a sensible order, but you can expect some back and forth. As you learn about and practice one element, you may find you want to go back and revisit another element.

Define your product photography needs

1. Clarify how you'll use your product photos.

Before you do anything, take a minute to figure out exactly how you'll use the photos of your products. 

This step might seem a bit obvious — if you've decided you need photos of your handmade items, you probably know why you need them.
Hear me out.
There are plenty of reasons why you might need photos of your products. You might want to use product photos for:
social media
your website
your Etsy shop
print-based promotional materials
juried art show applications
The way you plan to use those photos can have a big impact on the number of photos you'll need, the way you light, compose and style the photos, and the setup and gear you'll need to use to get the results you want. The intended use of your photos can also have big impact on whether it makes sense to take your own photos or hire a pro.

If you take time to think through all of the ways you're likely to use your product photos, you might discover you want to use them for more than one purpose. And when you're very clear about how you want to use your photos, you'll be better prepared to make smart choices about your product photography.
2. Determine whether you need lifestyle or product-only photos (or both).

Product photos fall into two broad categories — product-only photos and lifestyle photos. 

Product-Only Photos

Product-only photos, as the name implies, are pictures of the product alone with no props. Often these photos have a white background, but some brands use black or colored backgrounds or black and white gradient backgrounds.
When you sell crafts, you might use product-only photos in online shops, juried craft show applications, and sometimes in social media posts.
Lifestyle Product Photos

Lifestyle product photos show the item styled with props, with a model, and often in an environment that's related to the product.

You may use lifestyle product photos to promote your handmade business in online shops, and social media posts. Craft show organizers typically want product-only images sent with applications, but requirements vary, so read the application instructions carefully.
Often, you'll need both types of images.
If you're not sure which type of craft photography will best suit your needs, you can read more about lifestyle vs product photography to help clarify your decision.
3. Decide whether you should DIY your product photos or hire a pro photographer

There are times when it's appropriate to take your own product photos, and there are times when hiring a professional who specializes in craft photography will be your smartest option.
If you're not sure which option is most appropriate for your situation, you can read more about when DIY product photography makes sense for craft business owners and when to hire a pro.
Get the right Equipment for craft photography
Photography gear can be shockingly expensive.
Luckily, there are ways to get started on a budget. You don't have to immediately buy every piece of high-end gear someone recommends. In fact, it can be smart to start with some basics and add to your photography equipment as you practice and see what you need over time.
4. Determine the Photography gear you'll need to get started.
I've outlined 9 pieces of equipment needed for product photography. These items are the essentials you need to get started. Happily, 8 of the items are either free, common household items, or can be bought for less than $10.
I've also included some nice-to-have extras that aren't essential but can help you take better product photos and make your photo sessions run more smoothly.
Understand photography and DSLR camera basics

You don't need to know about every feature on your camera or buy a fancy photography lighting kit to start practicing. Learn how to use some essential functions on your camera, grab something to use as a backdrop, find some natural light, and you can get started.
5. Learn DSLR camera basics.

Once you understand how these settings affect your photos and know how to adjust them on your camera, you'll have a solid foundation to start practicing photographing your products.

Keep it Simple

There are millions of things you could learn about using your DSLR camera effectively for product photography. If you're a beginner, you should ignore all of them, or you will quickly become overwhelmed.

Master the basics first. You can learn about more advanced techniques later if you decide you need to.
Jessica Marquez' Craftsy class Product Photography at Home is an excellent place to start.
The course is designed specifically for craft artists who want to learn product photography. Jessica provides exactly the right level of detail. There's enough information for a beginner to get great results, but not so much that it becomes overwhelming.
6. Try photographing your products in natural light.

So much of your success in craft photography hinges on learning how to light product photography well. With that in mind, you may be surprised to know that lighting is one area where you can often save money on equipment when you're getting started.
Using natural light in product photography is an excellent option, particularly for beginners. It's to get this lighting right, and the equipment you need to manipulate natural light is minimal and budget-friendly.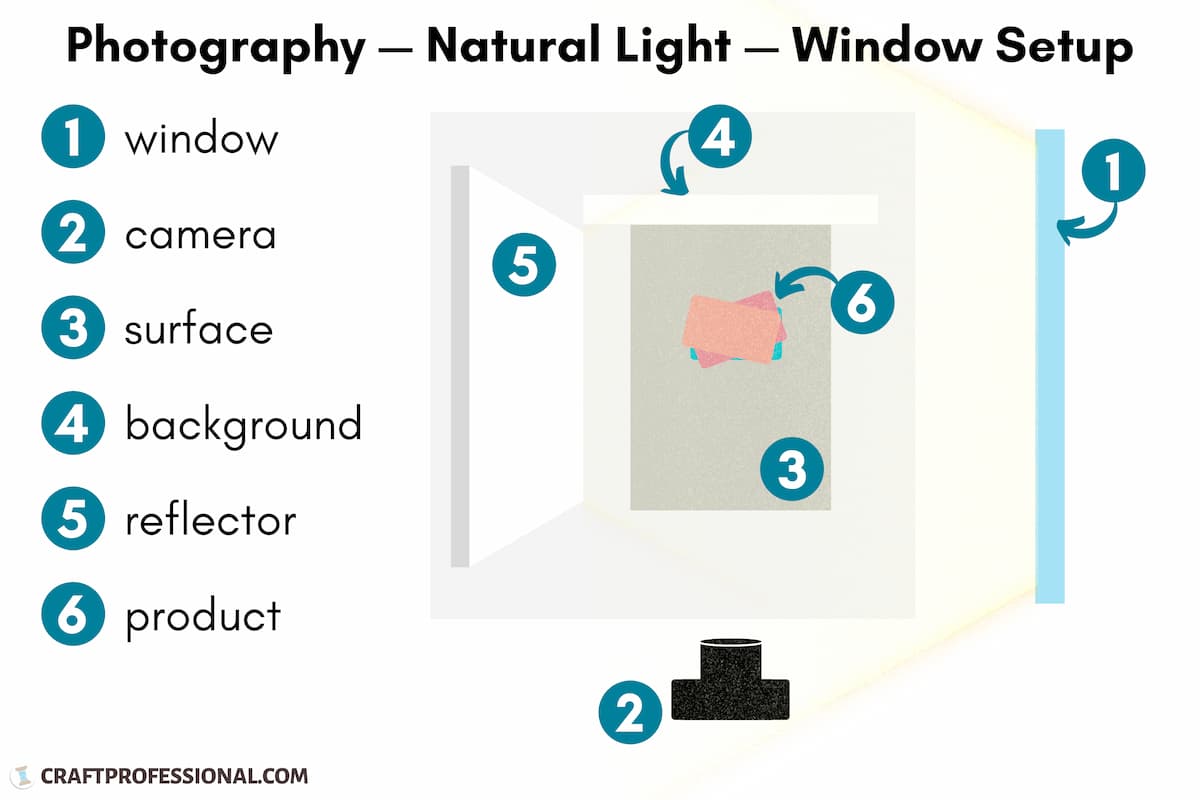 Simple setup for photographing in natural light in front of a window
7. Explore photography backdrops.

Product photography backgrounds form the horizontal and sometimes vertical surfaces that appear in your images. They can be used to suggest a specific location or to simply create a plain, distraction-free space to showcase your products.
A seamless photography backdrop is a sweep of paper or fabric that functions as a continuous horizontal backdrop and vertical surface.
The backdrops you use to photograph your handmade products will have an impact on the story your photos tell, so be sure to choose options that suit your brand. 

Prepare to photograph your products

You may be surprised by the amount of prep work required to take great product photos. All of that patient preparation will reward you with better photos and less time spent in post-production.

8. Try some standard product photography setups.

Just as there are a few fundamental camera settings you should master before you explore more complex functions, there are also a few basic studio setups you can start with.
Experiment with different product photography lighting setups until you find some arrangements that give a result you love.
A simple arrangement beside a window using natural light (step 6) is an easy and inexpensive way to get started. If you want to try adding artificial light to gain more options and control of your lighting, consider light box product photography.
9. Experiment with composition and design elements.

Learn how to use some essential composition rules and design elements to take more compelling photos.
If you apply the rule of thirds or the golden triangle to your craft photography composition you'll see an instant improvement in your images. Or make good use of design elements like line, color, shape, light, texture and negative space to create product photos that tell a story and build desire to purchase.
If you need more information about composition and design elements, I've written more detailed photography composition tips for beginners, where you can learn more about applying these concepts to your craft photography.
10. Experiment with props to style your photos.

You can use props and styling to create images that:
define your brand
connect with your target customers
elicit emotional responses
show size and ways to use your products
and even prompt thoughts of smell, touch, or taste
Explore product photography styling and experiment with using props to tell a story, create an emotional response, and provide more information about your products.
11. Carefully prepare before you begin.

Ensure everything that will be in your photos is as flawless as possible.

Make sure your product is perfectly clean.
If you're photographing glass, metal, or anything that can be easily smudged, take extra care to ensure those items are wiped thoroughly with a microfiber cleaning cloth that won't leave lint behind.
Look for any flaws in your product. An imperfect package, stray thread, or awkwardly placed seam can ruin the look of your product in photos. Some of these problems can be fixed with photo editing, but those tasks are time consuming and best avoided when possible. 
Check out any props, backdrops and surfaces you're using as well to ensure they are clean.
While you're at it, make sure your camera lens is clean as well.
Be careful when you move items. It's great to rearrange your setup to photograph different looks, but touch items minimally to avoid getting fingerprints on your clean items. You can wear gloves , particularly when photographing items like glass or metal, to help avoid this problem.
Edit your photos
12. Learn some basic photo editing techniques.

Some simple editing can make huge improvements in your photos.
You don't need to learn how to use complex photo editing tools, and you don't have to buy expensive software to get started.
Get started. Learn the basics of how to edit product photos, and then decide if you need more advanced skills or tools.

Find your style
Your craft photography will make a stronger impact if there's a clear, consistent style across all of your images.
Developing that style will take some time up front. But once you have your style locked down, you won't have to think about how you're going to set things up every time you want to photograph a new product. You'll already have a clear set of guidelines to follow.
13. Look for inspiration and find your own craft photography style.

Develop a consistent product photography style, so your images all have a cohesive look that suits your brand. You may use elements such as color, props, backdrops, camera angles, or composition throughout your photos to create a recognizable style across a variety of photos.

To get a sense of what could work for your brand, devote some time to analyze a range of product photography ideas. Keep a collection of the photos you love and make note of why you love them.
A secret Pinterest board would be perfect for this task. You can view my (not secret) collection of product photography ideas and inspiration on Pinterest to get started.
14. Make a plan to maintain a consistent look.

Once you have a good sense of the style you want to carry through all of your craft photography, it's smart to create a set of guidelines to help you maintain consistency.
You can use a product photography style guide to define details such as: 
the number and type of photos you'll take for each product
the setup you'll use
colors, backdrops, and props you'll include in photos
If you document all of these details, you'll be able to maintain a more consistent look over time.
Practice, PRACTICE, PRACTICE
There are some wonderful courses and books that will help improve your craft photography. But you need to combine that learning with hands on practice. It's the only way to fully develop your photography skills. 
Remember when you were just starting to learn your craft? Your first few projects probably weren't flawless, but as you worked more, your skills improved and your projects became more impressive. Learning craft photography will be the same.
15. Grab your camera and start practicing.

Get your camera, and take some photos.
Check your work, and see what needs improvement. Learn more if you need to, make some changes, and try again. Be patient with yourself, don't expect perfection on your first photo session, and keep practicing.