Craft Photography Book Review
PHOTOGRAPHING ARTS, CRAFTS AND COLLECTIBLES
by Lisa McGrimmon
Photographing Arts, Crafts and Collectibles by Steve Meltzer is a fantastic resource on craft photography.
I have researched plenty of sources, trying to find good information on craft photography for my own business, and this book, by far, is the most thorough, honest and helpful resource I've come across on the subject of traditional craft photography.

When I say that the book is honest, what I mean is that it clearly lays out exactly what you will need to own in terms of photography equipment and what you will need to learn in order to take great photos of your crafts. Some resources I have read on this subject seem to imply that you can get great photos without really investing in the necessary equipment or without taking the time to learn how to use that equipment to its full effect.
---
I earn a commission for purchases made through links on this page.
---
It can be tempting to over-simplify things when explaining certain concepts (like how to photograph crafts) in order to avoid overwhelming people with new information. However, this is not a subject that can be explained effectively in a couple of short articles.

When I finished reading Photographing Arts, Crafts and Collectibles my first thought was, "Wow! Now I know what I don't know." Meaning, now I understand what information (and equipment) I was lacking in order to get really great photographs of my products, and now I see where other sources I'd read on the topic really over-simplified things and wasted my time.
I think back to shome juried shows that I wan't accepted into years ago, when I first started my craft business, and now that I know what it takes to get great photos, I am certain that bad photos of my work were a huge factor in stopping me from being accepted to those shows. If I only knew then what I know now.
If you want to take your own photos for show applications and online sales, and you don't have a DSLR camera, or you have one and don't really know how to use it, you owe it to yourself and your business to get access to one and learn how to use it to show your work in its best light. People will tell you that you can take great photos with your smart phone, but I always get better results when I break out my DSLR camera.
Photographing Arts, Crafts and Collectibles will truly show you how to get the kind of photographs that are absolutely necessary in order to effectively sell your crafts online.
What You'll Find in this Book:

An overview of digital photography basics
How to choose the right camera for your needs
Understanding lighting, including the impact of the direction, quality and quantity of light you work with
Choosing backgrounds to best highlight your work and how to get special background effects such as the graduated backgrounds commonly used to photograph art and crafts
Tips on photographing two dimensional objects such as paintings, fabrics and photographs
Tips on photographing three dimensional objects such as various types of glass, sculpture, wood, jewelry, dolls and toys
Tips on using models for wearable items
How to enhance your digital images
If you've struggled in the past to take great photos of your crafts, when you read this book, you'll realize the mistakes you have made, and you'll see that with the right equipment and techniques, you can really improve the quality of your own craft photography.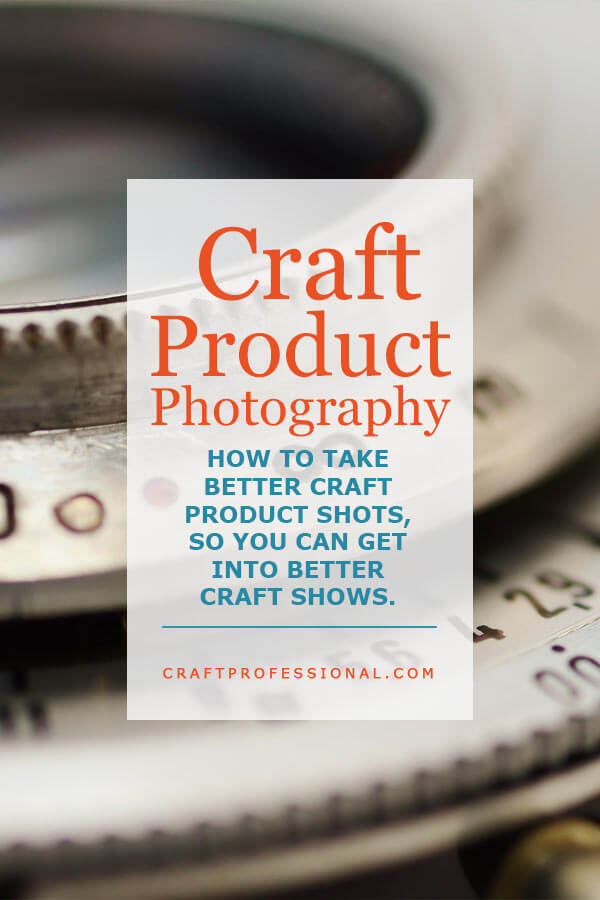 You'll also realize that if you don't currently have a DSLR camera and are working with a very basic camera, you will really need to invest in a DSLR camera to get the best shots of your work. Trying to save money by not investing in a good camera when you are photographing your own work for selling online or for juried art show applications is really a false economy because you'll end up losing sales and possibly losing out on great shows if you can't create photos that show your work at its best.
I'm certainly not an expert on photography, but I have taken a beginner's course and practiced a lot. My own photography teacher recommended buying either a Nikon or a Canon camera and sticking with one brand over the long term. She says, it's the lenses that get pricey, so you can update your camera's body when you like, and as long as you stick with the same brand, your lenses will always work with the body).
When you finish reading Photographing Arts, Crafts & Collectibles you will realize exactly what is required to take the kinds of photos that are needed to sell your crafts online or submit competitive applications to juried art and craft shows, and those great photos should translate into increased online sales and acceptance into better juried shows.
Related Articles
You Are Here
Home
➤
Craft Book and Magazine Reviews
➤
Craft Photography