How to Apply to Juried Art Shows
by Lisa McGrimmon
Juried art shows can provide a significant source of profits for your business. These tips will help you get your applications in top form.
First, you need to get the application forms. Look at websites for the shows that are of interest to you, most shows allow you to print their application from the site.
Do not put this task off. The deadlines for applying to most juried art shows are many months before the actual show. You don't want to be disappointed and miss an important deadline.

Finding Juried Art Show Application Forms

Once you're on the show's website, look carefully around the site. Remember, the show's website is primarily designed for customers who will attend the show, so the information for vendors is not always front and center.

If you can't find the application form, look for a small link at the very top of bottom of the home page that looks like it might go to information for vendors, use the site's search function if it has one, or go to a search engine and look up the name of the show and the word application.
If the application form is online, one of those strategies should find it for you.
Make Sure You Have the Right Application Form
When you find the application, do notice whether it is for the coming season or if it's the old application from the previous year.
If the application form is from the previous year, it can still be useful. The requirements and deadlines typically won't change that much from year to year. So do go ahead and review the application if it's from the previous year, but also make a note to return to the site to get the current year's application when it is posted.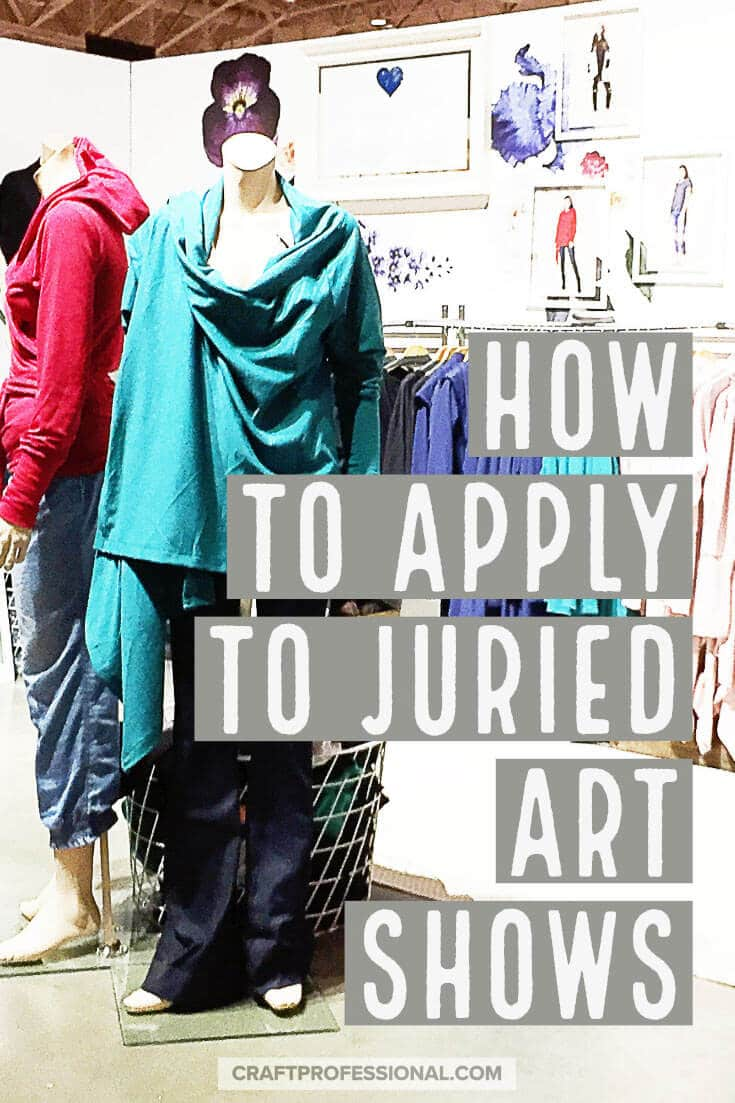 ---
I earn a commission for purchases made through links on this page.
---
Read the Application Form Carefully
Once you have a copy of the current year's application, before you do anything with your application, read it carefully all the way through.
Be sure to read it well before the application deadline. You don't want to miss anything important like an application deadline or a requirement for the application.

I would suggest printing up a copy of the application to use as a rough copy. On your rough copy, use a highlighter to highlight any important information you need to remember such as deadlines, and all materials that must be included in the application package.
Why would you print a rough copy of your application even if you are submitting the good copy online?
People process information that they read on paper more thoroughly than information they read on a screen. If you're trying to be super careful and ensure you don't miss anything important, a paper copy of the application will help you.
If you print up the applications for several juried art shows that interest you and read them through carefully, you'll immediately notice one thing - they all have different requirements.
Some of the requirements are easy to fulfill, others take more work, particularly if this is the first year you're applying to juried shows. If it's nowhere near the application deadline, that's great, start working on the application now so you you'll have plenty of time to put together a great application package.
Applications to Juried Art Shows Usually Include the Following:
1. Fantastic photos of your work 
If you're thinking about taking your own product photos, you need to make a really honest assessment of your ability to take photos; particularly if you're applying in a competitive category or to a competitive show. 
Are your images outstanding?
Do you have the skill and equipment to take photos that show your work in its best possible light and stand out from the crowd?
Some people do, but if you don't you'll need to either learn how to take excellent craft photos or look at hiring a photographer to take your photos. The money spent can be a great investment in your business, helping you to get into the better, more profitable juried art shows.
Carefully note the number of photos required as well as the format the organizers require for your photos.
Many have moved to online submissions, but some show organizers still want you to mail in a hard copy of all of your application materials. That means, depending on what the organizer specifies, you might be submitting photos on a CD or USB drive to some shows, you might download digital photos to an online application system or email them to the organizer, or you might simply direct organizers to images on your own website.
Organizers may want three, five or ten images. Read the requirements for all of the applications you plan to submit so you can be sure you'll have all of the requirements covered with the photos you have.

The requirements will vary from show to show. In any case, be certain you do exactly what the organizers ask for in order to make the best impression.
2. A GReat Booth PHoto
Not all craft show applications ask for a photo of your booth, but many do.
If you're just starting to do shows, you may be tempted to wait to create a booth. You may be thinking, why spend the money on creating a booth before I know whether I've been accepted into some shows?
That thinking makes sense to a point; however, there's a good chance that you won't get into the better, more competitive shows without a great booth photo. So the trade off of waiting to create a great booth is that you may only be accepted to a few smaller shows in your first year or two.
Starting out with small show is not necessarily a bad strategy. You may want to get your feet wet and get experience with smaller shows before you commit to the higher booth fees of bigger shows.
It's a decision you'll need to make for your own business and depends a lot on your own business strategy for growth.

3. An Artist's Biography
Give yourself plenty of time to write your artist's bio. They can be tricky to write if you're not used to writing to promote yourself.
You can take a look at some other artists' websites and read their artists' statements to get some inspiration, but don't copy them.
A good bio promotes your work in a way that is sincere. Your bio can be used on your website and in any printed promotional materials you develop. So, once you write the bio, it will have uses beyond craft show applications.

4. Other Requirements
There are a number of other pieces of information that you may need to provide when applying to juried art shows.
Organizers may ask you to provide:
a description of your products
the price range of your items
a photo of your studio work space
a description of the techniques used to create your work
a list of other juried shows you've attended
your resume
your website address
and possibly proof of business insurance.
Completing Your Craft Show Application
Read the entire application before you fill it out, make a copy of it and fill out a practice copy. 

Even if you are submitting your application online, I would suggest printing up a copy of the show requirements and a rough draft of your application.
Most people proofread much better on paper than they do on a screen. Printing your application and the show requirements and checking them carefully against each other can go a long way to ensure you don't miss anything important.
Have you included everything required?
Don't rely on notes you may have made; you may have forgotten to note something important. Instead, go directly to your original copy of the requirements to ensure you've completed everything.
Be meticulous. 

Ensure that you've filled out everything perfectly. Do not omit anything, and follow the organizer's instructions exactly.
If you're sending an application the old fashioned way by mail, label everything exactly as required, use the exact envelope or folder size requested by the organizer, and organize documents in the order they request.
If you're submitting an application online, do exactly as the organizer has asked.
Some organizers are more specific than others. Whatever they require, follow their instructions perfectly.
Write the application deadlines on your calendar.
My printable planner has a spot for noting important dates throughout the year. That was designed, in part, to help craft artists keep track of things like craft show application deadlines.
Whatever system you use to track deadlines, be certain to get your craft show applications in well before the deadlines.
Submitting your applications early can make a difference, especially if you work in a competitive category like jewelry. If your application is on the top of the pile, it means jurists are looking at your work before they are bleary eyed from looking at hundreds of photos.
Go straight to the source when checking for application deadlines. 
There are some well respected directories listing juried arts and crafts shows. They are great for finding out about shows in your area, but although they may note application deadlines, don't count on them to be accurate.
It's smarter to go straight to the craft show website and application form to check the deadline so you're certain you have the correct date. Always go straight to the source for important information.

Keep your show information organized. 

Keep track of the juried art shows you've applied to. Unless you have a partner and adequate resources, you won't want to end up accepted at two shows on the same weekend.
Get out the calendar you used for writing down application deadlines, and in a different color, mark the dates of juried art shows you have applied to.
Keep copies of everything you submit
Copies of completed applications (either paper copies or digital copies) will help you to fill out future applications.
If you maintain good records, as you apply to more shows, you'll be able to refer to previous craft show applications, and this process will become much easier as you apply to more shows.
Keep track of show fees and who you've sent Money to so you'll know what's coming out of your business bank account
Many show organizers simply hold your payment and don't cash it until you've been accepted. I have heard stories of shows organizers who cash your cheque immediately, then provide a refund if you're not accepted.
Read the payment policies carefully and ensure you have the show fees covered in your business bank account.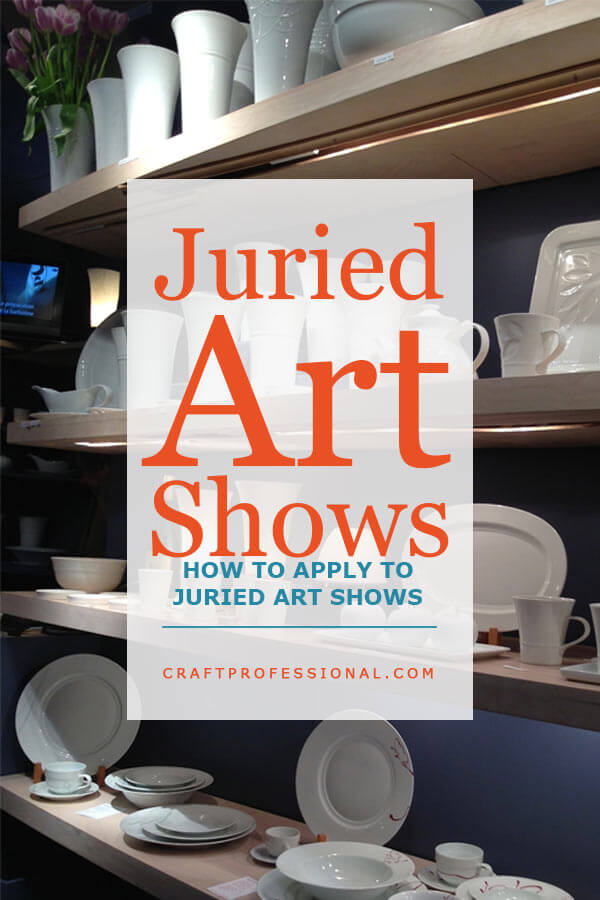 You Are Here
Home
➤
Craft Show Ideas
➤ How to Apply to Juried Art Shows