How to Name a Business
If you buy something through links on Craft Professional, I may earn a referral fee. To learn more see my
disclosure
.
---
How to name a business yourself - A step-by-step DIY guide to choosing the best company name for your new venture.
You're about to launch the company you've been dreaming about. You're laying the groundwork to establish your new brand, and you need to come up with the perfect, memorable name.
Like many new small business owners, you don't have the budget to hire a creative company to select a business name for you. You'll have to DIY this task.
I've written a business naming series to help. Below, you'll find 4 steps and links to 11 articles that show you how to name a business.
How to Name a Business Step-by-step
Learn business naming basics
Define your goals
Brainstorm loads of business name ideas
Choose your company name

Before you dive in and start brainstorming company names, you need to learn a few basics about how to name a business.
If you come into this project with a good foundation in choosing a company name, you'll be able to work more efficiently and effectively.

---
I earn a commission for purchases made through links on this page.
To learn more, please see my disclosure.
---
My Favorite Business Naming Resources
These two books below are my favorite business naming resources. They both do a great job of explaining:
what makes a great business name
what to avoid
how to brainstorm and create a list of possible names
and how to choose the best company name for your new venture
Hello, My Name is Awesome by Alexandra Watkins
Brand New Name by Jeremy Miller
Both books are full of excellent tips for naming a business, but they each take a different approach to the process of choosing a name.
Hello, My Name is Awesome describes a process that allows you to work alone through the entire process of choosing a business name.
Brand New Name features a process you can use if you're working with a team to come up with a name for your company.
1. Learn business naming basics
The articles linked below will give you a good foundation in the art and science of naming a company. They'll show you what to look for in a business name, and what to avoid.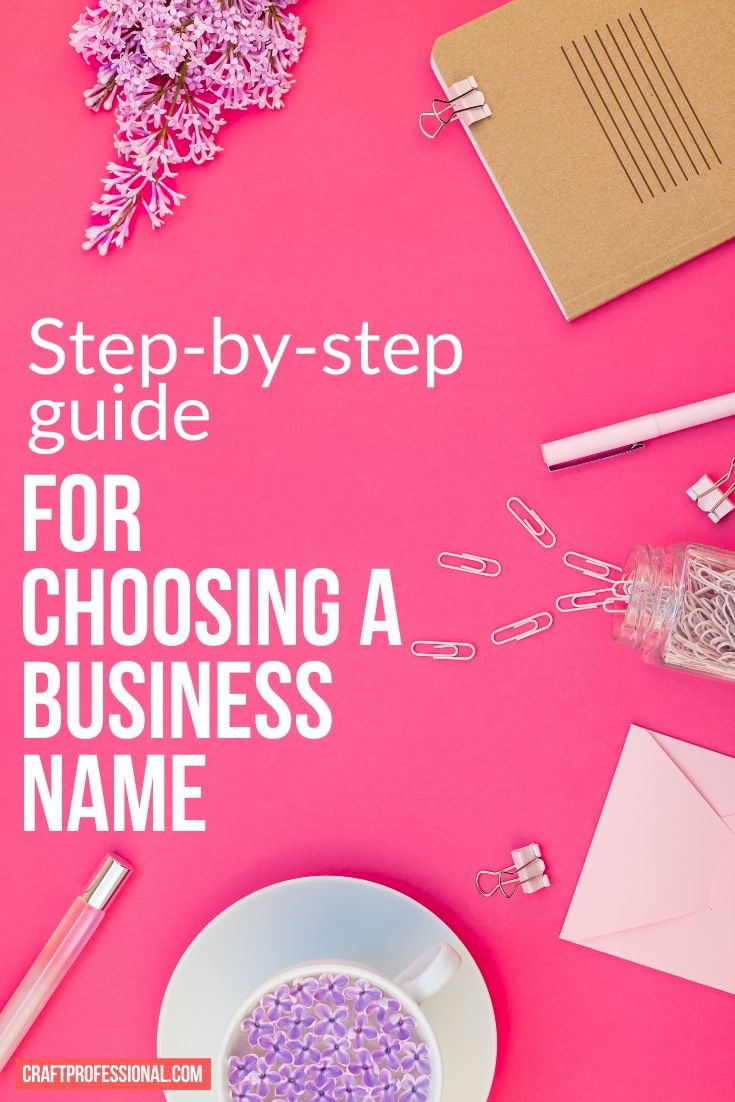 Characteristics of Good Business Names: How to recognize a good business name when you see one. This is what great names have in common and what you're striving for as you work to come up with your own company name.
Characteristics of Catchy Business Names: You want customers to remember your business name (Hint - Memorable is one of the characteristics of good business names). This is how to create a name people won't forget!
Characteristics of Bad Company Names: Of course, you don't want to end up with a total naming fail. Learn what the worst business names have in common so you can avoid making a choice you'll live to regret.
How to Create a Business Name: You might be surprised to know, there are only 3 ways to create a business name, and 3 types of business names, each with their advantages and disadvantages. If you can recognize these categories, it will help you target your own work finding a company name. 

2. DEFINE YOUR GOALS
How to Write a Naming Brief: Before you even start brainstorming, you need to define what, exactly, you want your name to accomplish.
The best company names communicate a great story about your business to customers. So before you start brainstorming, you need to clarify for yourself what story you want your name to tell about your business.
Writing a naming brief will help you get that clarity.
3. BRAINSTORM LOADS OF BUSINESS NAME IDEAS
How to Brainstorm Business Name Ideas: Techniques for brainstorming in general, and specific strategies for brainstorming business name ideas.
Choosing a Blog Name: A few additional considerations to keep in mind if you're naming a blog specifically or looking for a domain name for your business.
Help Naming a Business: This list of free resources will help you research and generate business name ideas.

4. CHOOSE YOUR COMPANY NAME
Criteria for Choosing a Business Name: How to choose the right name after you've brainstormed a list of possibilities. This list of criteria will help you separate your great ideas from your not-so-great ideas.
A Process for Choosing a Company Name: A process you can use to help work through your list of possible names and find the best one in the bunch.
Business Name Registration: Once you've found a great name, learn why you'll benefit from registering your company name and where to go to start the process.