Choosing a Company Name
If you buy something through links on Craft Professional, I may earn a referral fee. To learn more see my
disclosure
.
---
Choosing a company name becomes a simpler task when you have a clear process and understanding of your priorities. Use these seven tips to help you choose the company name that's right for your business.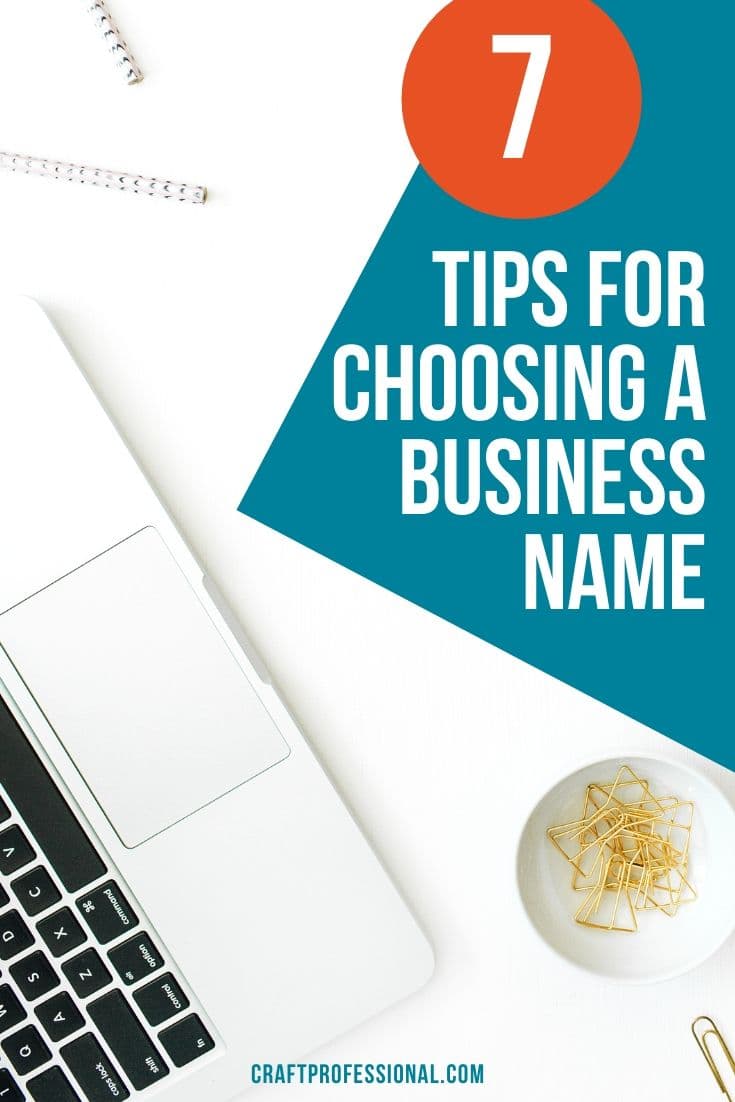 If you're at the stage where you're choosing a name for your business, I'm going to assume that you've already brainstormed a list of good business name ideas. You have some options, and you're ready to choose the best one.
If you're not already at that stage, and you need to go back a couple of steps to come up with some possible names, you need this article first: How to Name a Business.
It outlines the process of naming a business step by step with links to articles that provide more detailed information about each step.
If you already have a list of ideas, you're ready to start the process of choosing a company name. Let's dive in!

7 TIPS FOR CHOOSING A COMPANY NAME
Start with a long list of business name ideas you've brainstormed
Review business name criteria
Review your naming brief
Make a short list of your top possible business names
Organize your short list
Look for deal-breakers
Review the names over time
1. START WITH A LONG LIST OF BUSINESS NAME IDEAS YOU'VE BRAINSTORMED
Start with a clear, organized list of names you've generated from your brainstorming sessions.
If you brainstorm like I work, and your notes are a big, messy pile of chaos, you'll need to get organized.
Go through your notes, and make an easy to read list of every possible business name you came up with.
Don't judge any of them right now. If it's a name you came up with while brainstorming, put it on your list.
2. REVIEW BUSINESS NAME CRITERIA
There are some pretty clear qualities you'll consistently find in great business names. Before you dive in, review the key qualities of good and bad business names, so you'll have a solid understanding of what works and what doesn't.
I've summarized those key characteristics on a single page, so you won't end up choosing a business name you'll end up regretting. You can download a printable worksheet on that page to keep yourself on track.
3. REVIEW YOUR NAMING BRIEF
A naming brief is a simple document that describes the key characteristics of your business that you want your company name to communicate. It helps to focus your thinking and keep your project on track.
Did you write a naming brief before you started brainstorming business name ideas?
If you did, get it out. Open the document on your computer or print it up and keep it beside you as you work. Refer back to it often to stay on track and focused.
If you didn't write a naming brief, consider writing one now. It will help to clarify your goals and ensure you choose the right name for your company.
4. MAKE A SHORT LIST OF YOUR TOP POSSIBLE BUSINESS NAMES
Narrow down your long list of possible business names to a few - about 5 to 10 - names that have potential.
Do not delete all of your brainstorming!
You worked hard to generate all of those ideas, and you might come back to it at some point. There might be a gem in there that you wouldn't want to lose track of.
Make a separate list that contains your top contenders. Get rid of any names you think have no hope. 
Refer back to the business name criteria and your naming brief. They will help you remember what makes up a good business name.
If you're not sure whether a name is any good, refer back to the qualities of good business names and ask yourself if it fits.
Your naming brief will help you remember what you want to say about your business. Refer back to it to remind yourself what you want your name to say about your business. Use that criteria to decide whether a name belongs on your short list.
Remember, the names you keep on your short list don't have to all feel like superstars. Names can grow on you. Just make sure the names are solid possibilities without any fatal flaws.
You don't have to do all of this work in a single sitting. If you feel unfocused, take a break and come back to it the next day.
5. ORGANIZE YOUR SHORT LIST
Once you've narrowed down your possible names to a few promising options, organize them all on a single list.
Make note of any key considerations beside each name. Include notes about why you like the name, as well as any concerns you have about a name.
Do not fall in love with any of these names. They haven't been vetted yet.
6. LOOK FOR DEAL-BREAKERS
No matter how fabulous a name may seem, there may be a deal-breaker that prevents you from using it.
Be tough in your search for fatal flaws in your list of potential names. It's better to find a problem now at the stage when you're just choosing a company name than to discover a huge problem after you've committed to using that name for your business.
Two common deal-breakers are:
negative meanings
possible trademark infringement
1. NEGATIVE MEANINGS
Your favorite business name might communicate a perfect meaning to you. And it might mean something completely different to someone else. 
Be sure to check a slang dictionary to make sure your business name doesn't have an unfortunate alternative meaning. And check out translations of your business name ideas. You don't have to translate it into every single language, but do check languages that are commonly spoken in the area you'll be doing business.
You can find links to slang dictionaries and online translation tools in my list of resources for naming a business.
2. POSSIBLE TRADEMARK INFRINGEMENT
Be aware: I am not a lawyer. You do not want to get legal advice from me. So you need to talk with a professional to make sure your business name is not infringing on an existing trademark.

You can get a lawyer to check your entire shortlist of names, or you can keep moving through the process and wait until you choose your favorite name and just have your lawyer check that name before you name the final decision. 
Keep in mind, when your lawyer does a trademark check, there's a very real possibility that you won't be able to use the name. Someone else may own the trademark.
If you've narrowed your list down to one name, and then you do the trademark check, you'll have to go back to your short list and choose another name. That may be tough to take if you're happy because you think you're done choosing a business name, and you've started to grow attached to that name.
If you want to wait and talk to your lawyer later in the process, you can do a basic DIY trademark check to rule out some problems.
You'll find information on the United States Patent and Trademark Office's website. You can also contact your local SBA office for help. Keep in mind, though, none of this DIY searching replaces the help of a lawyer.
7. REVIEW THE NAMES OVER TIME
Just as brainstorming wasn't done in a single day, choosing a company name won't happen in a single day. Work on this project a little bit each day over several days.
Every name you have left on your list should fit the criteria for good business names.
Each one might tell a different story about your brand. Ask yourself:
What does each name says about your company?
How well does that fit with what you envision for your brand? 
Which name does the best job of telling your brand's story?
Look for the name that tells the best story about your brand. That one will be the winner.