20+ Craft Business Ideas
There's more to building a creative business than simply selling at art shows. Here are 20+ craft business ideas to get you inspired about alternative ways to grow your company.
First of all, I want to clarify, these craft business ideas are not simply lists of all of the different types of crafts you could create or the different materials you could work with.
I think most people know whether they are potters, or jewelry designers, or woodworkers before they get to the business building stage.
What we're looking at here are more than 20 different ways you can build a business around your particular creative skills.

I'm going to start with some of the more standard ways to sell crafts, but stay with me, the list of craft business ideas gets more interesting as you get farther into it.
On This PAge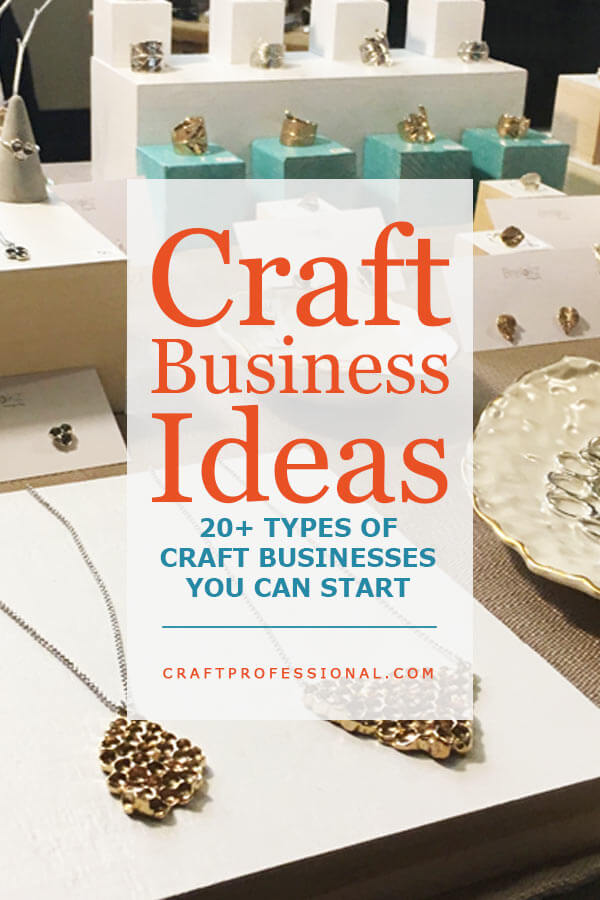 You'll find loads of craft business ideas on this page. You can read through them all and gather a lot of information. Or, if you're in a hurry, click one of the links below to jump to the topic that mosts interests you.

---
I earn a commission for purchases made through links on this page.
---
Selling Hard Goods
Selling hard goods refers to selling a physical handmade product, so, for example, if you make doll's clothing, you'd sell doll's dresses, shirts, pants, etc. This business model is the most traditional way to sell crafts and probably what most people think of first when they think of craft business ideas.
Here are several ways you can build a business selling handmade hard goods: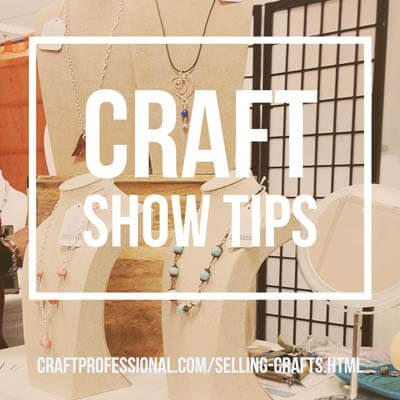 I'm sure we've all thought about selling at shows. It's a good way to meet customers, and, with the right product at the right shows, you can make a good income.
If you want to learn more about selling at craft shows, here's where to start: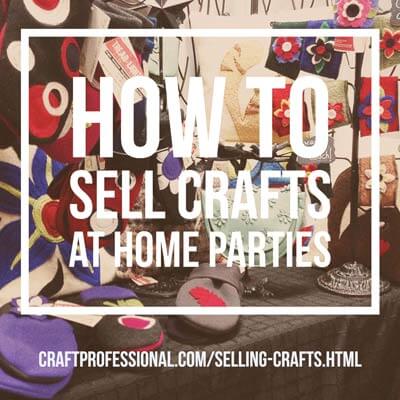 Home parties, in my opinion, are completely under-rated. While I've since changed my focus, I did start my business by doing home parties and this is where I experienced my first profits.
Home parties can be a lot of fun; the cost for doing a party compared to selling at a show, is quite low, and most guests will buy something at a home party.
The downside to this business model is that it can be difficult to sustain unless you get creative. That is, once all of your friends have hosted a party, you may have difficulty booking more parties. However, it can be an excellent, low cost, low risk way to get your business started.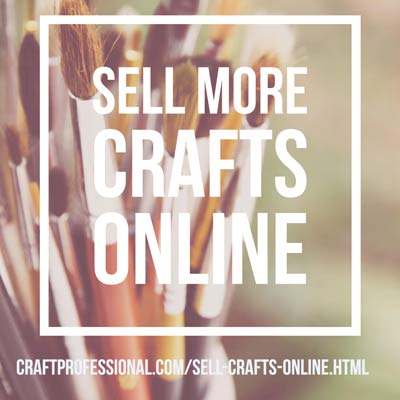 There are a lot of options for selling your crafts online. You could go with an established third party site like Etsy, or Handmade at Amazon.
Alternatively, if you're willing to put the work into learning how to build traffic to your own site, you could sell your crafts on your own website. This option gives you far more control of your business than you have with a third party site.
I've embraced both options. I have my own Etsy shop, where I sell printable art and planners, and I have my own site, which I fully own and control and which forms the foundation of my business.
There are several free options people use for building a website. I can't comment on the effectiveness of any of them because I haven't used them. I use a company called SBI for building my own site. Although it's not free (the cost is $300 per year), they provide a massive amount of helpful information about how to bring traffic to your site which isn't available anywhere else. The free sites will allow you to build a website, but SBI will show you how to build a business online.
Craft Supplies

Rather than selling finished goods to customers, you might consider selling craft supplies. You could look at selling either supplies you purchase from a wholesaler, or you could create your own handmade items that are used in part of the crafting process.
For example, if you are a jewelry maker, instead of selling finished jewelry, you might consider selling your handmade beads for other designers to include in their own creations, or you could sell silicone molds you make using your own original designs for other crafters to use in their own projects.
Your Own Store
Have you always dreamed of having your own retail store? I know of a few craft artists who have had success selling items in their own retail store. Often they work with other local artisans, and sell their items on a consignment or wholesale basis in addition to selling their own crafts.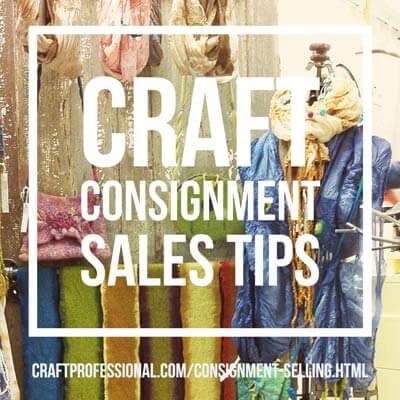 Speaking of consignment, consigning your work to independently owned stores can be a great way of building sales and promoting your business. You'll need to ensure you have priced your work in a way that is profitable for this business model to work.
Wholesale

Focusing on building business relationships with wholesale customers can bring your business to a whole new level. Again, you'll need good pricing for this strategy to be successful as well as an efficient production process to make the large volume of items wholesale customers typically require.
Private Label Items
How about creating private label items for other businesses? For example, if you make luxurious soaps and body lotion, you could partner with a local spa and create private label products for them (your products packaged with the spa's name and logo).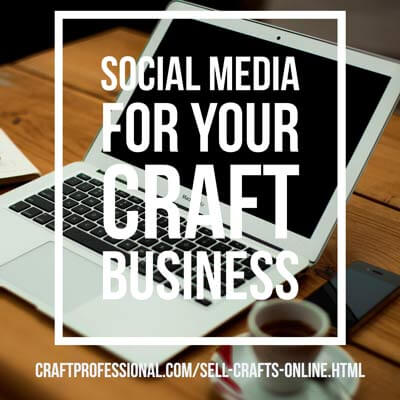 Sometimes a great Facebook page is all that's necessary to launch a successful craft business.
A friend of mine, who makes very cute handmade children's capes, recently launched her business on Facebook. She simply took a few great photos, created a Facebook business page, and invited her friends to follow her.
Shortly after she launched her page, we were talking about other ways to promote her business, and she said she's already so busy with orders through her Facebook page, that she can't look at other promotional options right now because she can barely keep up with the demand from her Facebook page.
I'm not talking about someone who is a social media maven with hundreds of followers. This is a person with about 200 Facebook friends, who is simply posting cute pictures of her products, and her kids wearing the capes, and she's extremely busy with orders.
Some Considerations When Selling Hard Goods
If you're selling your own hard goods, you'll also need to give some thought into how you'll produce those items.
One of a Kind
If you sell one of a kind items, you'll need to factor in the design time to your price. One of a kind items are also more work to sell online because you'll need to photograph, promote, and write sales copy for each new item.
However, if you create custom pieces made to your customers' specifications, or if you can clearly communicate to customers why each piece is special because it is one of a kind, you can charge a premium for your work.
Production Work

Production work (i.e. creating a specific range of products that you create over and over) has the benefit of scaling better than selling one of a kind items. A business that scales up well is one that you can expand more easily.
Some advantages of creating a defined line of products instead of selling one of a kind items are:
You don't have to factor in the design time in your costs
You can better predict your need for raw materials and perhaps, depending on your medium, keep a smaller range of supplies on hand
You can sell more easily to retail partners who know what to expect from you and who know they can reorder popular items
You don't have to create unique photos and descriptions for every single item you make if you're selling online.
The big drawback for some (not all) people is that you have to create the same pieces over and over. Some people love this way of working; for others it feels like drudgery, and they don't mind keeping their business smaller if it means they can work on new designs frequently.
---
Selling Digital PRoducts
If you think creatively, you might be surprised by the many ways you can take your knowledge and skill around creating a specific type of craft and turn it into a digital product.
Digital products often take longer to make initially when compared with handmade hard goods. However, once they are made, you can digital products over and over as many times as you like. These craft business ideas are less traditional, but they do scale extremely well, and they can be a great option for people who love to design handmade products but don't love the production process.
Patterns or Projects

Instead of selling your actual items, consider selling instructions for making your items. Your own unique printable patterns or downloadable project instructions can be sold online. You won't be able to charge as much for a pattern as you would charge for a finished item, but digital products only need to be created once, then they can be sold over and over to many customers.
Membership Website
Do you have a lot of valuable information that is unique and not available anywhere for free online? Then maybe a membership site, where customers pay a fee to get valuable content from you each month, makes sense.
A business like this requires real commitment because you'll need to produce exceptional, original material on a regular basis to keep your customers happy, but this business model can be quite financially rewarding.
Printables

Can the work you create be translated into some type of printable that you can sell? That's what I sell on my own Etsy shop. Not all types of crafts will translate well into this business model, but if you create any type of digital art, or more traditional art that can be translated into a digital format, then you may be able to turn it into a printable item to sell.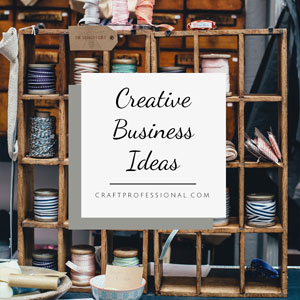 High-Tech Craft Business Ideas
Technology has opened up plenty of exciting new opportunities for craft professionals to create a range of businesses. Check out these high-tech craft business ideas and see if one is a great fit for you.
Selling Your Knowledge
You can take the concept of selling projects a step further and sell your knowledge about how to do a specific type of craft or work with a specific type of material.

Teaching in Person 
Consider offering classes in your craft to build your business. You might partner with a local community center, or an art supply shop for the classroom space. Partnerships like this can also help you promote your classes.

Teaching Online
If you can create exceptional, premium content that is better than anything available for free, and build trust with your online readers, then you can charge customers for online courses in how to do your particular craft.
Writing Books

How about putting all of your ideas into a book format (Amazon makes this option extremely easy) and selling craft projects or instruction books?
Selling a Service
Creating a Service-Based Business 

It always surprises me that, when people think about building a craft-based business, they don't often think of creating some type of service business. If you're a photographer, then consider a business photographing clients. If you're a scrapbooker (paper or digital), consider a service business creating beautiful memory books for families who have lots of pictures and no time to organize and assemble them creatively.

Finding a Niche
Beyond the "Handmade" Niche 

Rather than thinking of your business as falling in the "handmade" niche only, think about what other niches your business could serve.
If you make lovely handmade cat and dog beds, then you belong in the pet lovers' niche. If you make custom bridal jewelry, then you belong in the weddings niche.
The "handmade" niche will take you to some of the more obvious places (craft shows, Etsy, etc.), but if you can find a niche based on the type of people who are passionate about something your product serves, then you can find more opportunities to build your business (go where businesses in your niche go), and you can find customers who are passionate about what you do and who want your product, not only because it is handmade and beautiful, but also because it fits with a part of their self-identity.
There are four mistakes creative business owners make that can end up wasting your time and your money. Before you commit to a craft business idea, read this article and save yourself from these common pitfalls.
---
Readers' Stories About Their Craft Businesses
Read on to see what readers have said about their own experiences as craft professionals...

Related Articles
You Are Here
Home
➤
20+ Craft Business Ideas