Home and Fashion Trend Forecasting for Craft Business Owners
by Lisa McGrimmon
If you want to make on-trend products, you need to access fashion trend forecasting sources.  The good news is, it is easier than ever to find that information for free. Here are some trend sources I like.
Working with current fashion and home design trends isn't for everyone. Some people like to follow their own style and instincts. But for many owners of creative businesses, designing "on trend" items is part of their company's identity and an important selling feature for both retail and wholesale customers.
Clearly, if you aim to create items that are on trend, you need good home and fashion trend forecasting sources so you know what will be fashionable well in advance and have time to design items, order appropriate supplies if necessary, create your items and possibly create promotional materials.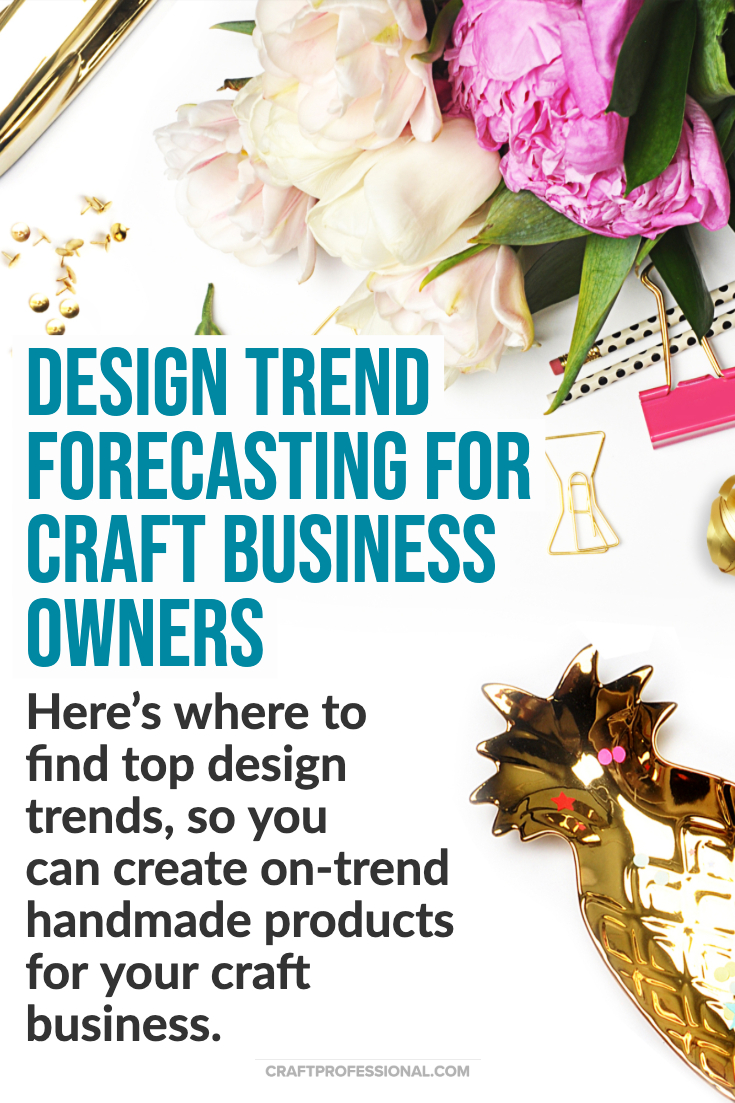 Checking out your favorite stores each season, or reading popular fashion or decorating magazines will only tell you about what is popular at that moment. What you really need is a way to discover the trends you'll be seeing several months in advance, so you have time to prepare.
Luckily, there are a lot of free home and fashion trend forecasting sources online - A lot more than there were when I was starting out!
This is not an exhaustive list of every source out there. I've stuck to the ones that I follow and that have a lot of free information. There are companies that provide this type of information for a fee, but usually those fees are well beyond the reach of the average craft business owner.

Accessories Magazine
Accessories Magazine is one source I really like for fashion trend forecasting. I used to have a subscription to the magazine; it was a bit pricey but well worth the cost. Now, I find so much of the information is available online, I don't feel the need for the subscription.
You can find a lot of good information if you explore their site. I particularly like their weekly trend finder feature. You can also check out their trend boards and breaking trends.

Fashion TRendsetter
Fashion Trendsetter is another great, free source for information. You'll find a lot just by exploring the site, but I particularly enjoy the fashion trend section of the site, as well as the color trend information.

We Connect Fashion
This site has a lot of information as well as a fun little search tool. Go to their trends page and in the middle of the page, you'll see an option to select a topic. Do that, and then select a subcategory, and a market. You'll get links to all kinds of reports. Or, simply check out the links on the right navigation when you're on the "Trends" page (linked above) to get reports by season or type.

Pantone
Pantone is the leader in color trend forecasting for home and fashion. You'll find upcoming color predictions on their blog.

They also have several great books on the use of color in design.
Emily Kiddy
Here's a blogger I love who posts lots of trend research. Her whole blog is great, but this link will take you directly to all of her trend-related posts.

Style Sight
This site offers information for the fashion and design sector. They have a paid service, but there is also plenty of free information on their blog.

Trend Bible
Trend Bible is another great blog full of information for fashion and home design.

Mudpie
Here's another forecasting company with free fashion forecasts on their blog.

My Pinterest Boards
If you prefer to access your information on Pinterest, I keep several boards on fashion trend forecasting that I update frequently. I follow all of the sources mentioned above and pin articles about new trends as they are posted online.

You can keep up with my own research by following me on Pinterest. I create new trend boards for each season as new information becomes available, so if you follow all of my boards (not just the trend ones), you'll know when I've started pinning for a new season.
You Are Here
Home
➤
Craft Business Ideas
➤ Fashion Trend Forecasting