Creative Business Ideas for Craft Professionals
If you buy something through links on Craft Professional, I may earn a referral fee. To learn more see my
disclosure
.
---
If you're willing to embrace technology, there are lots creative business ideas that can open up all kinds of opportunities for your craft business.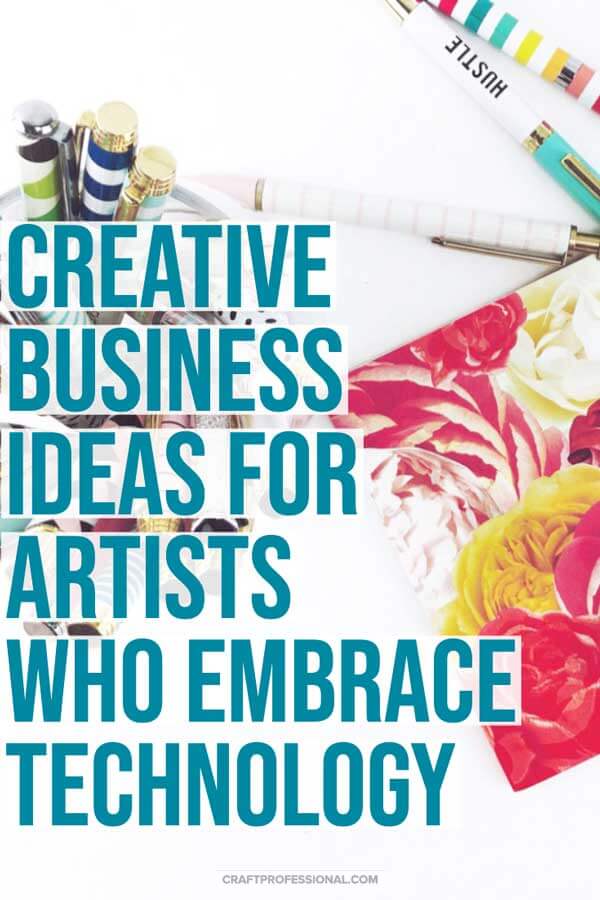 There has been plenty of change over the past few years, and there's plenty more to come. Of course change brings with it the need to learn and be adaptable. But it also brings opportunities that didn't exist on a truly practical level just a few years ago. 
Today, you can build a creative business around concepts that were almost impossible - or only really possible for people with strong technical skills - just a few short years ago.
Here are a few ways technology has opened up more creative business ideas and opportunities for craft professionals than ever before.
Teaching Online Craft Courses
Do you have a knack for explaining concepts? Maybe you teach your craft in person and you're looking for ways to expand your reach as a craft instructor.

Not long ago, creating any kind of online course was out of reach for most craft professionals. You either needed exceptional technical skills to present your ideas in an online learning environment, or you had to invest in high cost tools that were financially out of reach for most people.
Now there are plenty of ways to create and sell an online craft course.
If you have your own online presence, you can use a service like Coursecraft.net to create your course. For a small percentage of your course fee, they provide the course creation tools / learning environment, and you create and market the course. You have a lot of control over the course, and you keep the majority of the course fees paid by students. However, you are also solely responsible for managing and marketing your courses.
You can also create courses for online learning marketplaces like Udemy, or SkillShare. In this case, you'll make much less per student, but the marketplace provides you with potential students, and more support.
They are two very different approaches with different pros and cons to consider.
Writing Craft Books
Maybe you want to share your creative knowledge, but writing is more your strength. In that case, writing a craft book might be just the thing.

Just as with courses, you can use tools to publish and market a digital book on your own, or you can write your book using the services of an online bookseller like Amazon (if you're going the Amazon route, it's KDP Select for Kindle books, and CreateSpace for physical books).
If you create and market your book purely on your own, you'll get to keep a much higher percentage of the price for each book you sell. However, if you publish with a huge online book seller like Amazon, you'll earn less per book, but the site will bring customers to you that you could not easily reach on your own.
Selling Digital PRoducts
There are so many types of creative digital products you could sell. From printables to patterns, there's a huge range of creative business ideas.
Creating a digital product often takes much longer than creating the same craft. For example, creating thorough, easy to understand directions for making a stuffed toy you designed will take much longer than making the actual toy itself. However, once you've created a digital product (like a pattern) you can sell it over and over.
Also, you may need to master some new software or other technical tools to turn your physical product idea into a digital product. If that's a strength of yours, it's well-worth looking into ways to make your physical product into a digital product. This approach can help you grow your business in ways you may never have imagined.
Running a Membership Site
Membership websites charge customers a recurring fee (usually monthly) for access to new products released on a regular basis. Until recently, setting up a membership site required a bit of technical wizardry. But now, there are plenty of companies that offer simpler solutions.

Memberships sites can be extremely lucrative, but they are also a big commitment.
Are you prepared to provide excellent digital products (courses, patterns, printables, etc.) for people on a regular basis? It's a big undertaking, and you don't get to take a break (unless you work ahead) because your members will expect great content - better than they could get for free online - on a regular basis.
If you're ready to make a big commitment to your creative business, this option can be a great opportunity for growth.
More Opportunities to Find the Creative Business Idea That's Right for You
What's really exciting about all of these creative business ideas is you have more opportunities to find a business model that's right for you.

If you love doing face to face sales at craft shows, you still have that more traditional opportunity open to you as a craft professional. But if face to face sales are not your strong suit, you're not limited to that type of venue if you want to build a business around your crafting skills.
Similarly, if creating loads of physical products makes your heart sing, you can absolutely choose that as your business focus. But, if you're happier designing a product and making it once, or if you're truly happy when you're teaching others your craft, there are plenty of new ways you can build a business around those skills.
It's an exciting time to be a craft business owner! You can use your creative skills to develop the type of business that is the best fit for you, whatever that may be.