DIY Christmas Trends
Trending Crafts to Sell for the 2019 Holiday Season
If you buy something through links on Craft Professional, I may earn a referral fee. To learn more see my
disclosure
.
---
Etsy's DIY Christmas trends report for 2019 is out just in time for holiday craft shows and online Christmas sales. Want to know what will be hot Christmas crafts to sell in 2019? Check out this trend report.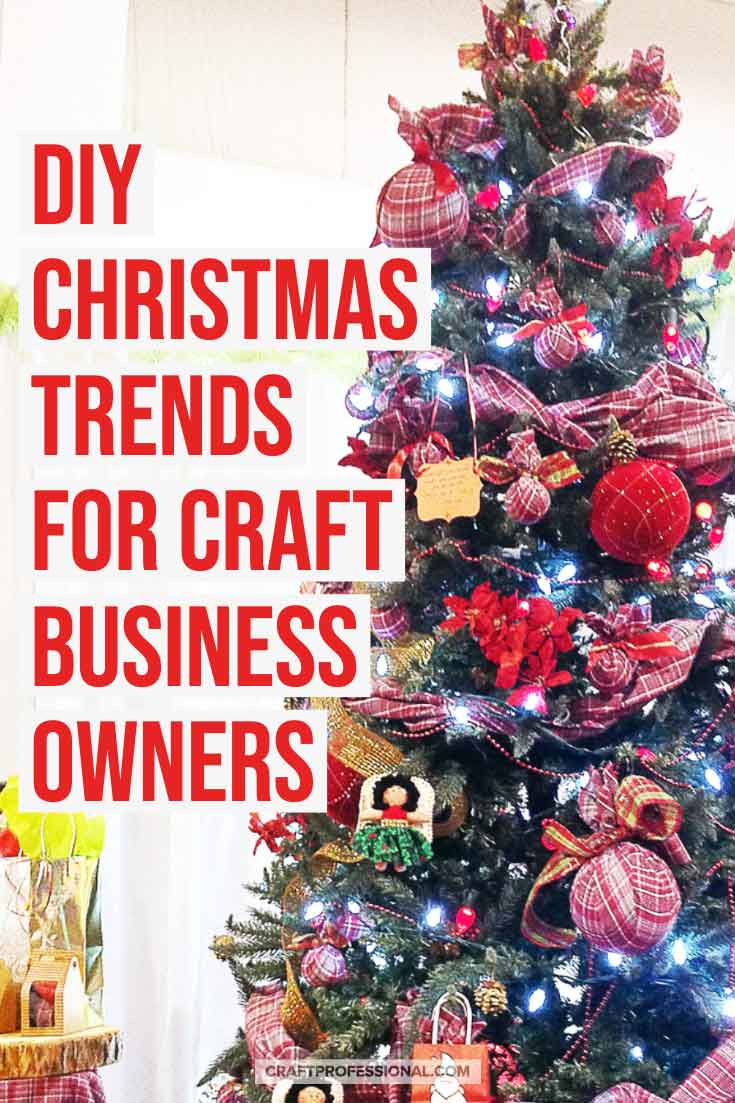 If you want your handmade products to reflect current trends this holiday season, Etsy's 2019 Christmas trends report will help you out. It will show you the products and designs shoppers who buy handmade are searching for as we move into the holiday season.
Some of these Christmas trends fit perfectly with the overall design trends for 2019 that I reported on at the beginning of the year, signalling a strong trend that will likely be around for a while. Others are more specific to Christmas and winter themes.
Current Trends
If you were looking for current holiday style trends, here's where you'll find the 2022 Christmas Trends report!
But before we begin...

I'm sure you're excited to dive in and explore the beautiful DIY Christmas trends for 2019. But first, I want to start with two cautions for anyone who is looking at these Christmas trends with a plan to make fashionable products to sell at holiday craft shows.
As you research Christmas trends to find crafts that sell well: 

Be wary of anyone who tells you they know exactly which crafts sell well at Christmas markets. Hint - They don't actually know.
Think carefully before you make loads of super-trendy handmade items to sell. Be particularly cautious of making piles of super-trendy Christmas-themed items.
1. Be wary of anyone who tells you they know exactly which crafts sell well at Christmas markets.

If you sell crafts and you're looking for DIY Christmas trends, I assume what you're really trying to discover is what crafts will sell well this holiday season.
That's smart thinking.
Here's the problem you'll run into when you start searching for information about crafts that sell well and crafts that make money:
Plenty of bloggers have written posts about crafts that sell well. Those articles are full of adorable craft projects. If you're looking for cute craft ideas, you'll find plenty.
However, those articles provide absolutely no evidence that any of the projects they feature will sell well or make money.
There isn't much current research on sales in the crafts industry. So anyone who hands you a list of crafts that supposedly will sell well without some data to back up their claims isn't being completely forthright.
They just don't know.
2. Think carefully before you make loads of super-trendy handmade items to sell.

Before you dive in and make several super-trendy handmade Christmas products, ask yourself if you would you be okay if some (or even many) items didn't sell during this holiday season.

If you don't sell a Christmas-themed item this year, you'll want it to look fresh for the following year. When Christmas craft shows roll around in 2020, you won't want to be stuck with a bunch of products that look so 2019.
There's nothing wrong with adopting a hot design trend. Just be aware of working toward the right balance for your business between what's hot and what's classic.

---
I earn a commission for purchases made through links on this page.
To learn more, please see my disclosure.
---
DIY Christmas TRends for 2019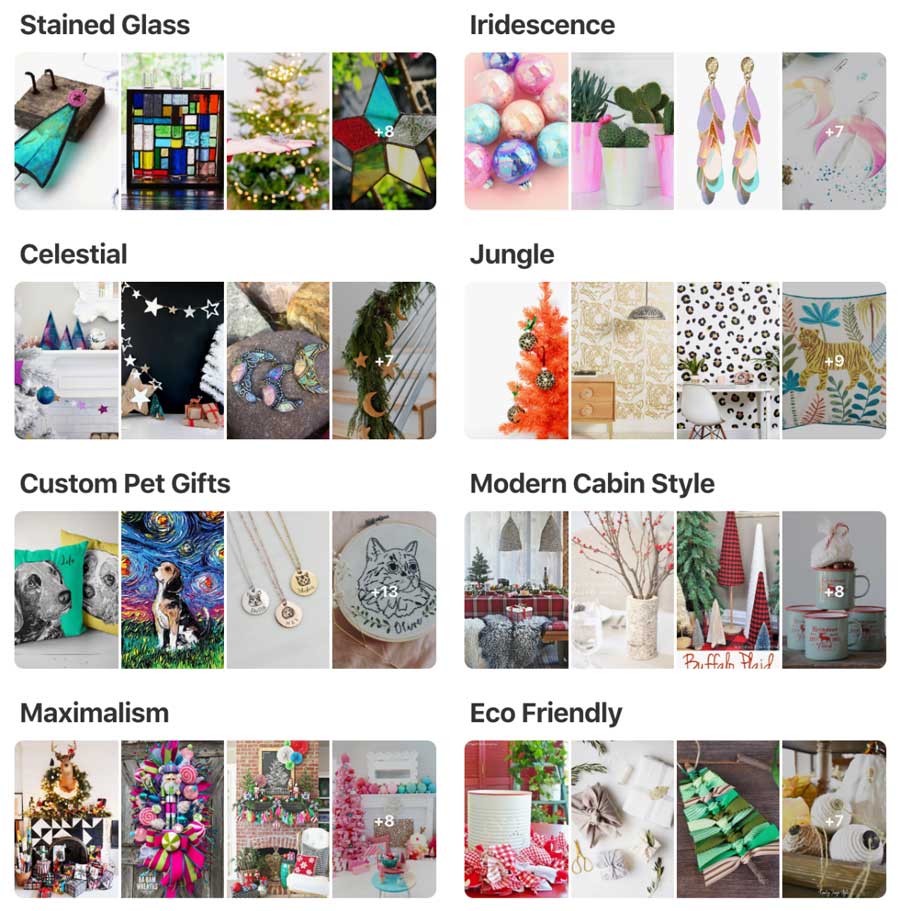 And now what you've all been waiting for - Christmas craft trends for 2019!
There might not be a lot of research on craft industry sales, but one company that is deeply engaged with the industry and does release data is Etsy. So if you want to research crafts that will sell well for Christmas 2019, and you want research that's backed up by some data, Etsy's 2019 Holiday Gifting and Trends Report is a good place to look.
Moving into the 2019 holiday sales season, Etsy reports shoppers are searching more frequently for products that incorporate these themes:
Stained glass - search increased by 69% (compared to the same time last year)
Iridescence - search increased by 6%
Celestial - search increased by 47%
Jungle - search for jungle increased by 33% - Other trending jungle-related search terms include: toucan, up 20%; tiger, up 7%; and leopard print, up 57%
Custom pet items - search for custom pet items increased by 17%; pet portraits is up by 51%
Cabin style - search for cabin style increased by 17%; plaid decor is up by 51%
Maximalism - search for colorful decor increased by 26%; textured items is up by 14%, patterned items is up 4%
Eco-friendly - search increased by 42%
Winter whites - search increased by 11%
Source: Etsy 2019 Holiday Gifting and Trends Report. The search increases compare search volume this year vs. the search volume from the same time last year.
We'll take a look at each trend here, and I've pinned plenty of examples of these DIY Christmas trends on my Fall Winter 2019 - 2020 Pinterest board. Be sure to check them out for more fashionable holiday craft ideas.
Stained Glass

Etsy shoppers are searching for modern stained glass designs. This trend would lend itself well to Christmas ornaments and decor. Alternatively, you might sell sun catchers, stained glass windows, or other decor as holiday gifts that can be displayed year round.
Iridescence

Here's another trend that, like stained glass, embraces light, sparkle, and shine. While stained glass is a trend that's largely limited to craft artists who work with glass, iridescence can be incorporated into all kinds of handmade items.
Makers can embrace this trend with products such as: Christmas tree ornaments, jewelry, handmade soap, fashion, accessories, and home decor. This trend harmonizes well with the maximalism trend, which has been strong through 2019.
Celestial Themes

Continuing with the theme of things that sparkle, searches for celestial designs on Etsy are way up this year (47% increase). It's another versatile trend that could be incorporated into almost any type of handmade product.
Celestial designs work year-round, so this is one DIY Christmas trend you could use to design products you can sell year-round.
Jungle

Jungle items in general, and toucans, tigers, and leopard print specifically are, surprisingly, what Etsy shoppers are looking for heading into this holiday season. Jungle themes don't intuitively shout out "winter" or "Christmas" but the data shows that jungle themed design - particularly leopard print with search volume up 57% - is what Etsy shoppers are looking for right now.
I'm even seeing the leopard print trend unexpectedly combined with the plaid trend in some winter decor on Pinterest. I've pinned a few examples on the Jungle section of my Fall Winter 2019 - 2020 Trends Pinterest board.
If you want to add a splash of the jungle trend, but you don't want to incorporate it into your product design, you could add a little jungle-themed decor into your craft show display.
A leopard print scarf spread over a black tablecloth on a tabletop display, for example, would be a low cost, low risk way to embrace this trend.
Custom Pet Items

Etsy shoppers aren't just searching for any old gifts for pet lovers. They're searching for pet portraits and other custom keepsakes that celebrate their furbabies. All kinds of handmade items - from custom jewelry, to embroidery, to art that features a beloved four-legged friend - could become a special holiday gift and keepsake for a pet lover.
Modern Cabin Style

Who wouldn't want to spend Christmas holidays in a cosy log cabin surrounded by natural wood, comfy blankets, rich textures, camp-style mugs full of hot cocoa, and modern plaid decor?
Cabin style is a trend that goes hand in hand with Christmas. If you don't want to change up your products to reflect Christmas trends, you could easily incorporate cabin style into your holiday craft show display.
Add a red tartan or buffalo check table covering, or display products on a touchable faux sheepskin rug for instant cabin style.
MAximalism

I shared the maximalism trend in trending crafts that sell well at the beginning of 2019, and it's still going strong. Etsy shoppers are searching for color, texture, and pattern, so if exuberant, extravagant, and flamboyant suit your design aesthetic, you're in luck!
Eco Friendly

Etsy searches for eco-friendly products are on the rise. If you can create handmade products that feature upcycled, or environmentally responsible materials and production methods, you can do something good for the earth while you grow your business.

Winter whites

Winter whites are beautiful and elegant, and their popularity is on the rise with Etsy shoppers. This trend reflects a style that's not too trendy. White is classic for Christmas and year-round.
If you embrace this Christmas trend with your products or your holiday craft booth decor, you can trust it will continue to look great in future years. Winter whites won't leave you stuck next year with a product or a booth that looks horribly dated.