Christmas Craft Show Display Ideas
If you buy something through links on Craft Professional, I may earn a referral fee. To learn more see my
disclosure
.
---
6 Christmas craft show display photos with simple, affordable ways to spruce up a craft booth for holiday markets and bazaars.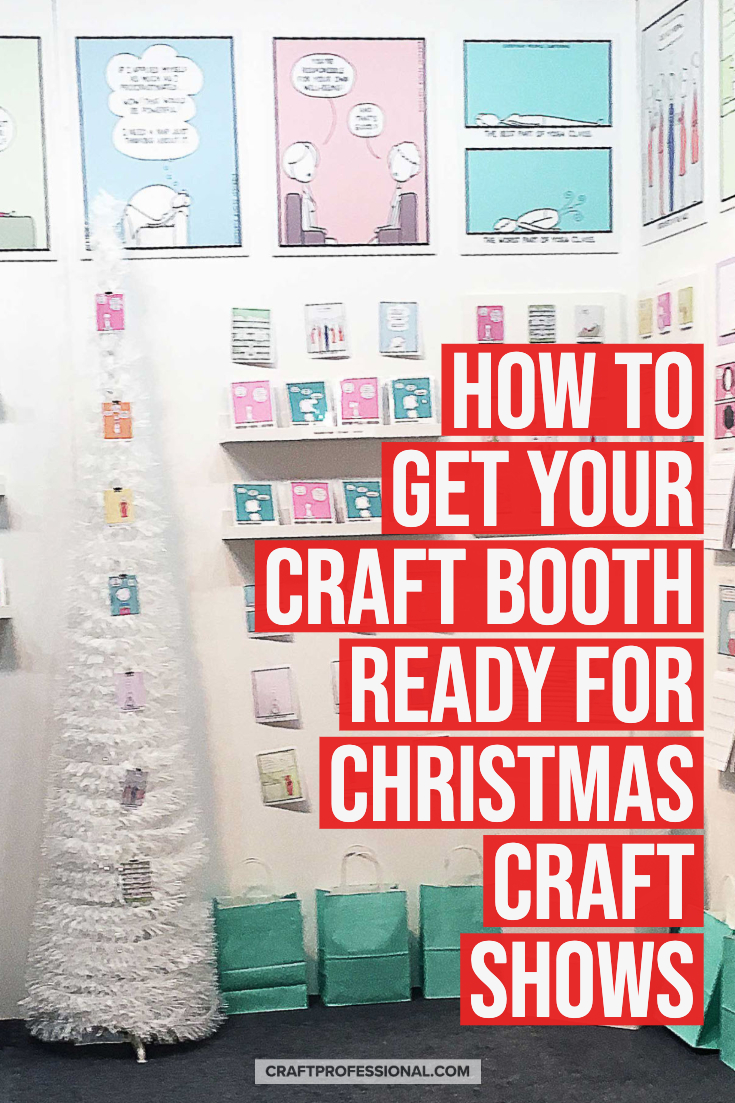 You don't need to completely redesign your current booth to turn it into a Christmas craft show display ready for holiday markets.
A few festive additions, or even a single, impactful item, can turn your regular, year round display into a booth that's ready for holiday bazaars and markets.
The 6 photos below show you how to spruce up your own display with affordable, and even free holiday decor including:
slim pencil Christmas trees
tinsel
evergreen boughs
gift boxes decorated with Christmas bows
strings of holiday lights
Christmas-themed products
---
I earn a commission for purchases made through links on this page.
To learn more, please see my disclosure.
---
Add a Tree to Your Christmas Craft Show Display
A Christmas tree doesn't have to take up a lot of space in your holiday craft show display to have an impact. This slim pencil Christmas tree sets a festive mood without getting in the way of shoppers browsing the 10x10 space.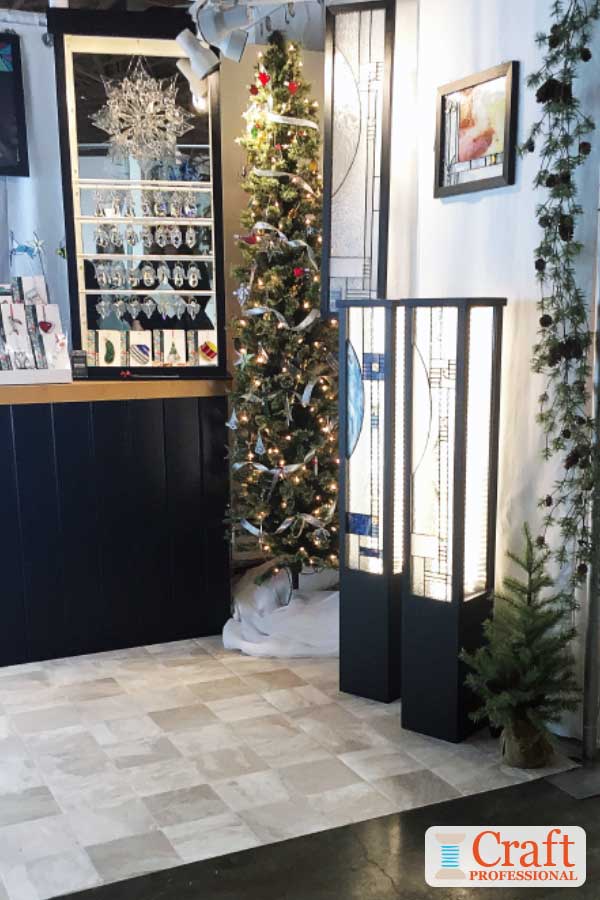 Notice how the tree is lit from above.
Great portable craft show lights are an essential element of your craft booth design.
Christmas lights can be another source of lighting in your display. They won't provide a lot of illumination, but they can add to the cheery atmosphere and draw attention to key areas in your booth.
---
If a traditional green tree doesn't suit your brand's aesthetic, consider adding a sleek, modern white or colored tree to your Christmas craft show display.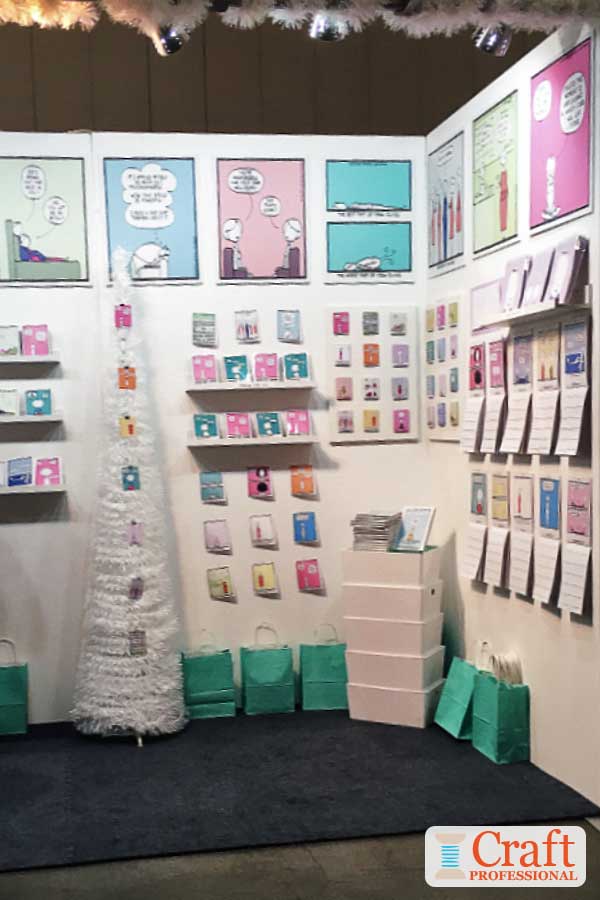 This artist has used a moderately-sized white tree to create a look that is evocative of Christmas without compromising the aesthetics of the brand. The green bags around the tree remind shoppers of holiday gifts and will do double duty for customers to carry purchases of smaller items.
Just visible at the top of the photo, notice the bar that is used to suspend overhead lighting at the top front edge of the booth space. The bar has been wrapped in tinsel that matches the tree to add some extra holiday cheer to the space.

Do be careful. Some portable lights can get quite hot. If you are considering wrapping any kind of decor near your lights, first check your light manufacturer's instructions to ensure your plan is safe before you proceed.

Evergreen Boughs Instantly Say Christmas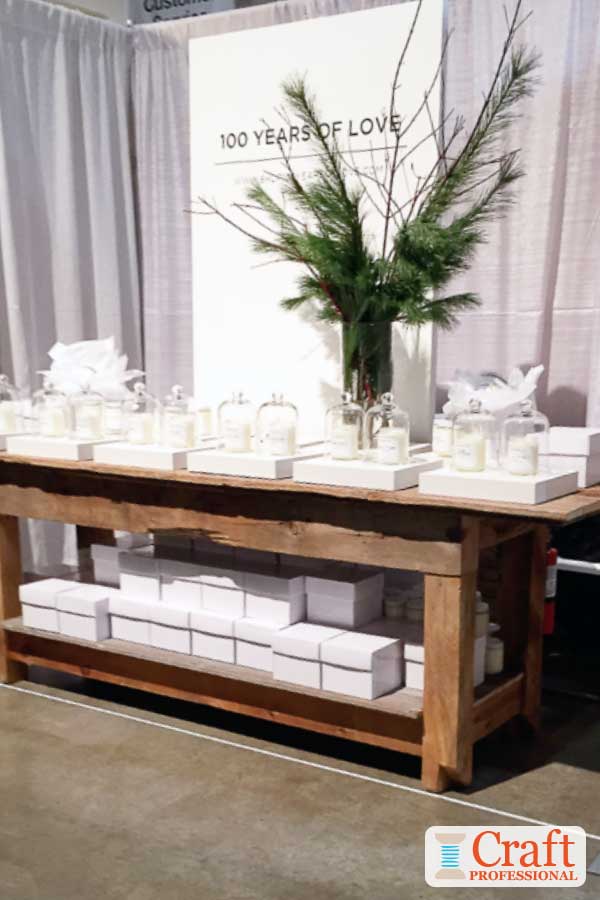 You don't need holiday decor throughout your booth. A single, large, impactful item can turn your regular display into a Christmas craft show display.
In this case, a tall vase full of evergreen branches set on a table of handmade scented candles brings Christmas to this elegant booth.
I do see fresh evergreen branches for sale during the holiday season. However, if you're lucky, you might have this type of tree in your back yard, or in your friend's back yard. If that's the case, you could turn your regular booth into a Christmas craft show display without spending a penny.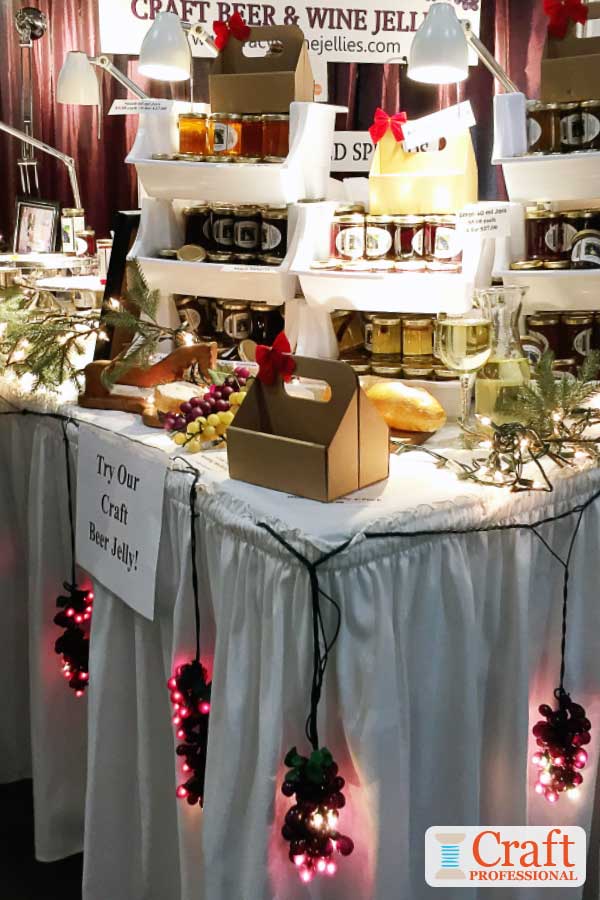 This display featuring beer and wine jellies uses evergreen branches throughout the display on a smaller scale.
Notice, as well, the gift boxes with red bows positioned throughout the display. They communicate to customers the idea that they could buy multiple jars packaged in a simple box that's perfect for gift giving.
The gift boxes featured in the display present two smart messages to shoppers. First, that the jellies are ideal for gift giving. And second, that they should buy multiple jars, not just one or two.
This display also features excellent lighting that highlights the products. Good booth lighting, of course, is essential year-round.
Also, notice the pyramid shape formed by the stacked baskets of jelly. Pyramid shapes are an essential technique used in visual merchandising display design. Pyramids help to bring product up to shoppers' eye level, and they create a focal point that allows you to feature your most impactful products.
Add a Few Strings of Christmas Lights to Your Craft Show Booth
Adding a few strings of Christmas lights to your booth is another simple way to make it more festive for holiday markets and craft shows.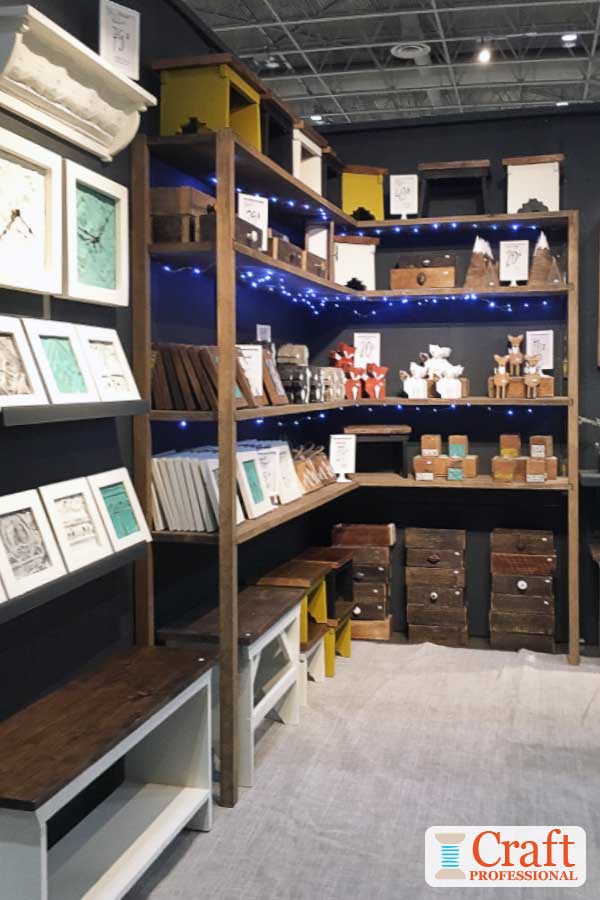 You don't have to use standard Christmas colored red or green lights if that color scheme doesn't suit your brand.
The violet colored lights in this booth work well with the color scheme of the products featured in the display.
The lights are strung underneath each shelf, adding a little illumination to the shelf below. If you do use portable shelves in your craft booth display, you'll need to be careful to light the lower shelves well, so your products displayed on those shelves aren't lost in shadows.
Consider A Product Designed for Holiday Sales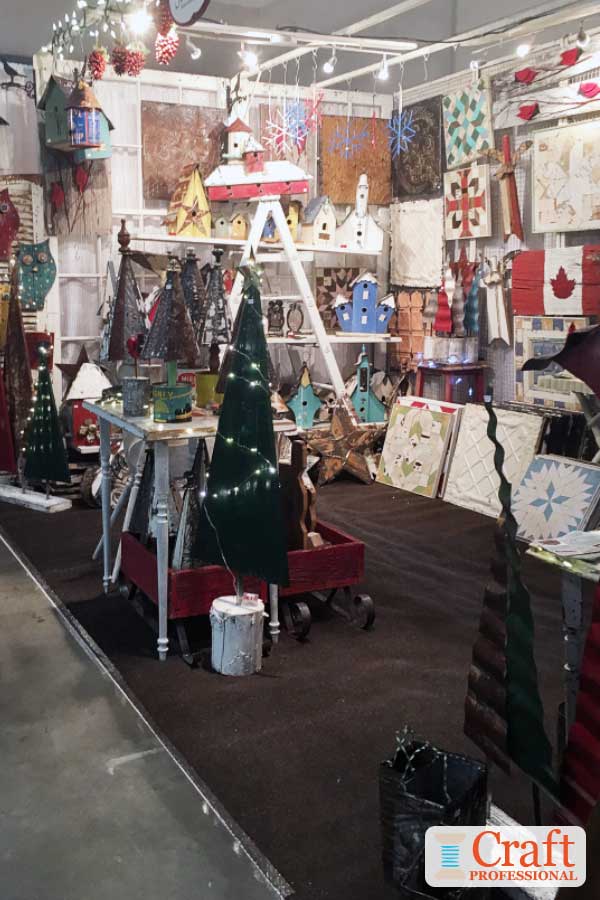 You might design a Christmas themed product specifically for holiday sales. The craft show display featured here includes a few lighted wooden Christmas trees along with the rest of this crafter's rustic farmhouse style signs and decor.
The trees are fairly large, so they impact the overall look of the display. They reflect a Christmas theme within the booth and also may be an appealing purchase for holiday shoppers looking for some Christmas decor.
Do consider carefully before you jump in and create products specifically for the holiday season. They could be an excellent source of extra sales at that time. But remember, if they don't sell, you won't have an opportunity to sell them again until the following year.