Holiday Craft Show Booths
If you buy something through links on Craft Professional, I may earn a referral fee. To learn more see my
disclosure
.
---
10 holiday craft show display photos show you how to brighten up your own booth for Christmas craft shows.
Holiday craft show season can present your best sales opportunities, so your booth needs to be at its best for the season.
I have photos of 10 lovely booths that are all decked out for Christmas shows to give you ideas to get your own display holiday-ready.
---
I earn a commission for purchases made through links on this page.
To learn more, please see my disclosure.
---
Some businesses featured below have fully committed to big, holiday themed displays. Other booths have been made holiday-ready with a few simple, inexpensive changes. Check them out to find the right look for your own holiday craft show booth!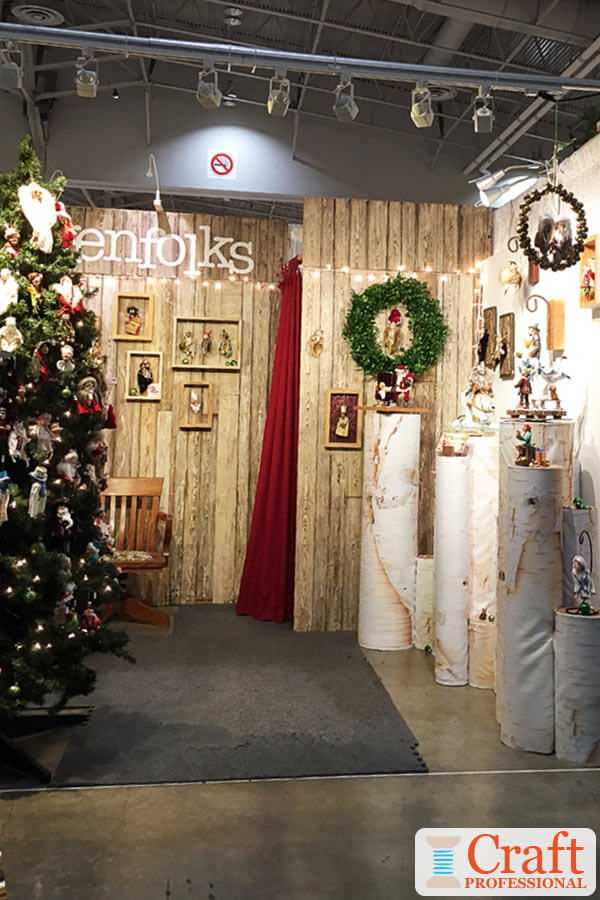 I'm completely in love with this holiday craft show display. It's so cosy and inviting.
The tree visible on the left side of the photo immediately puts shoppers in the Christmas spirit, and it's a handy spot to display smaller items. Keep in mind, this booth is at a large show that runs for several days, so it's worthwhile for makers to bring bigger display items here.
If you're attending smaller holiday shows, and you don't want to bring a full sized tree, you could always create a similar look with a smaller, table top Christmas tree or a tall, slim pencil tree.
The pedestals pictured on the right made to look like birch tree trunks are clever and beautiful spots to display special items. The wreath, the wood-look wall covering, and the twinkle lights all come together to create a spectacular booth. 

Although this booth clearly sets a Christmas mood, it's versatile as well. If you removed the tree and the wreath and replaced them with more summery items, this booth would communicate the ideas of summer at the cottage and be ready for the summer craft show season.
Small Changes Make Your Booth REady for Holiday Craft Shows
The next two booths pictured below are clearly ready for the holiday craft show season, but the changes are small, simple, and affordable.
The booth on the left is made holiday ready with a few red bows and holiday-themed signs, plus a few ornaments that were probably found in this soap maker's own Christmas decor stash. On the right, there's a gift wrapped in holiday paper (probably an empty box), the red and green candy is front and center, and a red and white tablecloth pulls together the Christmas look.
Both of these displays prove you don't have to spend a lot of money or make huge changes to make your booth ready for Christmas craft fairs.
Add A Few Bottle Brush Trees
Retro bottle brush trees are completely adorable. Both of the displays pictured below use them as sweet accents.
Check out the beautiful mannequin pictured below in the elegant jewelry booth. She's just gorgeous. A little tulle for her skirt, some evergreen branches for her top, and a belt to hold it all together, and she's ready to feature your most eye-catching, impactful accessories.
Woven Baskets Are a Cosy Display Choice
Woven baskets are a good choice to create a cosy, wintery feel in your booth. If you want to display piles of items that aren't delicate, a basket can be a good option that looks cosy and encourages customers to pick up and touch your products.
Look closely at the basket of ornaments pictured below.
Notice anything interesting?
The basket appears to be full. But when you look closer, you'll see it's not actually full of ornaments.
The basket has been filled with something and covered with soft white fabric or batting to mimic the look of snow. The ornaments are then arranged on top. It's a smart solution if you don't have enough product to fill your basket, or if you're worried some items will get lost at the bottom of a deep basket.
An Artificial Tree - Small or Large - Instantly Transforms Your Booth into a Christmas Display
The next two photos feature displays with artificial Christmas trees covered in handmade ornaments.
The first photo features a full-sized artificial tree. This display was set up at a longer show where items could be left up overnight, so the larger display was reasonable.
A full-sized Christmas tree won't be right for every show, but it does make a spectacular display worth considering if you're going to be doing some bigger holiday shows and you have products that can be displayed effectively on the tree.
For those who don't want to commit to adding a full-sized tree to your display, I also have an example of how lovely a tabletop tree can look displaying your smaller items.
This maker was lucky to have a gorgeous spot complete with excellent lighting, rustic walls and fireplace to display her treasures. You probably won't have an actual fireplace in your display space, but you could decorate a shelf or table in your booth to create the look of a mantle all decked out for Christmas.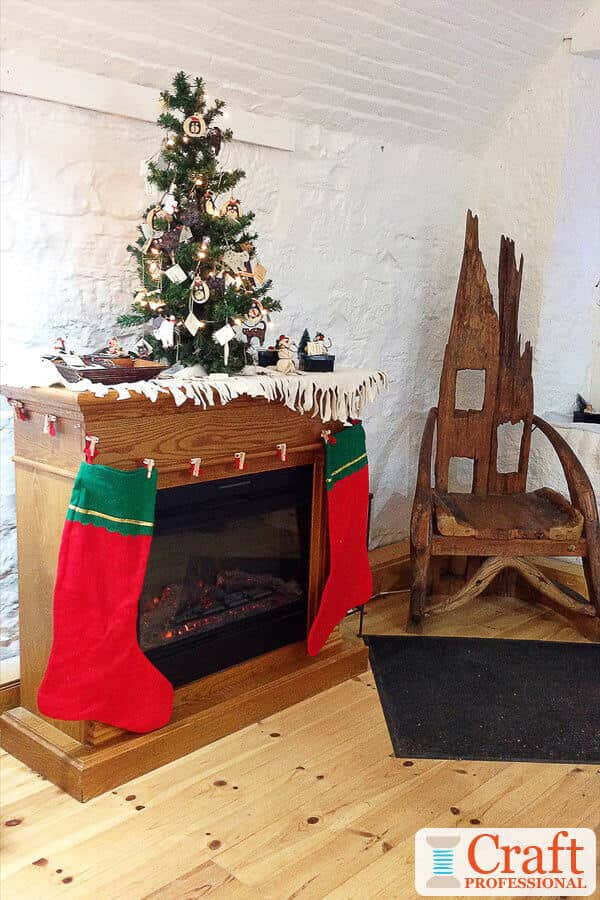 The next photo features another artificial Christmas tree covered in handmade ornaments.
Again, this photo was taken at a longer show where items could be left up overnight, so the larger display was reasonable.
A full-sized Christmas tree won't be right for every show, but it does make a spectacular display worth considering if you're going to be doing some bigger holiday shows.
Clever Display Doubles as Packaging for Delicate Christmas Ornaments
I had to share this display idea because it is so cute, clever, and inexpensive.
Delicate ornaments are nestled safely inside berry boxes painted in Christmas red and white.
They are extremely affordable and could even be used as packaging to protect these delicate items as they are sold. Just add a little festive tissue paper, and you'd have a beautiful package that's ready for your customer, and ready for gift giving.