Christmas Craft Fair Displays
Is your booth ready for Christmas craft fair season?
Holiday shows can present some fabulous opportunities to sell your crafts. Most booths at Christmas shows have a festive flair that adds to the fun atmosphere of the show. Here are a few ideas to help you spruce up your own booth for holiday shows.
Bring Your Own Christmas Tree
Adding a Christmas tree to your booth is a straightforward way to include some holiday pizzazz to your booth. If you make smaller items, you can display them directly on the tree.
The two photos above show larger trees in spaces where they can be left up over time. The photo on the left is a booth at a large, longer show while the photo on the right is a Christmas display at a retail shop. Trees this size are more sensible for use at longer shows where you can leave all of parts of your display up overnight.
If you're doing single day Christmas craft fairs, you could opt for a smaller tree that's more portable and easier to set up like the one pictured on the left. This tree adds height to the display and showcases a few lovely handmade Christmas ornaments. It quickly adds a holiday feel to this crafter's regular year-round display.
Get Some Garland
Don't want to commit to hauling a full-sized Christmas tree around to shows? Okay. That's understandable. Here are four booths that are dressed up for the holidays with garland. Strings of holly or evergreen boughs brightened with red berries or poinsettias make your regular display Christmas-ready.
Snip some evergreen branches from your backyard for free Christmas booth decor in an instant if you have them. Or buy a few artificial evergreen garlands to decorate your booth for many years to come.
Creative Christmas Craft Fair Displays
If traditional Christmas reds and greens don't work with your business brand, you can get more creative with your holiday booth decor.
On the left is a pretty white tree all lit up and showing off handmade jewelry perfect for gift giving.
Check out the clever tree in the two photos below painted on the booth's display furniture. The modern aesthetic of the crafts pictured below doesn't really fit with more traditional Christmas decor, but the graphic painted tree is perfect.
On the left, you can see the overall look of the display, and on the right, a closer look at the tree. Notice the pegs attached to the tree. They allow for ornaments to be hung for display.
This booth is a fantastic example of how you can create a holiday display without compromising your brand or your aesthetic.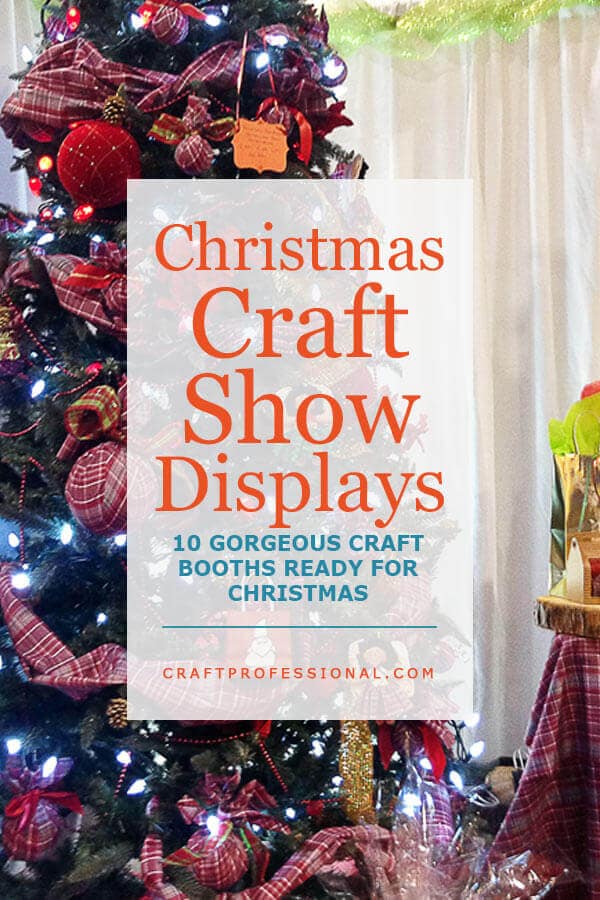 You Are Here
You are here:
Home
➤
Display Booth
➤ Christmas Craft Fair