6 Holiday Craft Show Display Ideas
If you buy something through links on Craft Professional, I may earn a referral fee. To learn more see my
disclosure
.
---
6 holiday craft show display photos to help you get your own booth ready for Christmas craft fairs. Whether you want to add some subtle adornment to your display, or you want to go all-out for the festive season, these holiday market booths will provide plenty of booth design inspiration.
This cabin style holiday craft show display makes smart use of color, strings of lights and Christmas tree shapes to create a subtle but festive atmosphere.
The natural wood Christmas tree visible on the right of the photo is small but noticeable because it is displayed at customers' eye level, a visual merchandising strategy all smart retailers use.
The tree is used to effectively display holiday ornaments, which are the kind of small impulse purchase that can really add up at a craft show. Offering a Christmas-themed product like these ornaments is a way to leverage holiday sales. Also, when you sell a smaller product, you provide buying options to shoppers who love your style but may not have the budget for your larger items.
---
I earn a commission for purchases made through links on this page.
To learn more, please see my disclosure.
---
The shelves visible on the left of the photo feature an extremely clever design. They are modular, made from stacked crates, and form a Christmas tree shape with the top crates angling in to create an evergreen tree's pyramid shape.
This shelving design also make extremely smart use of a time-tested visual merchandising strategy - the pyramid shape. The top triangle could be removed easily for displays outside of the Christmas season. However, the design is subtle enough that it could probably be used year-round with other Christmas decor removed. 
Stacked wood crates are fabulous craft show display options because they are multi-functional. They serve well as boxes for transporting craft show supplies during booth setup and teardown. Also, they provide excellent storage for all of your supplies when you're not at a show.
The neutral wood works beautifully with the product, and the red and white color scheme conveys Christmas without being over the top.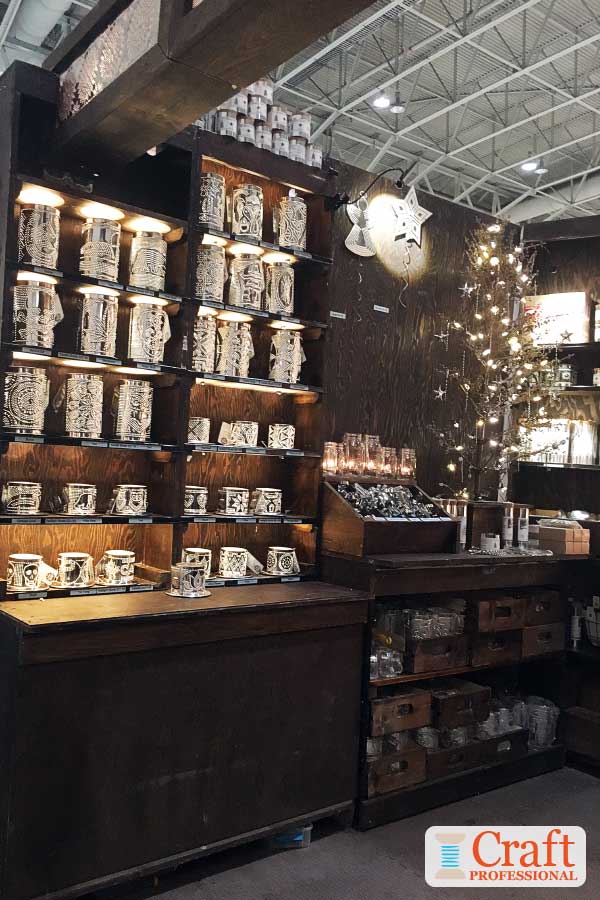 Here's another holiday craft show display that uses a subtle addition to convey a Christmas theme. 
The pretty and ornate punched tin lanterns lit up in rows are already Christmassy, reminding shoppers of cosy winter nights. The booth doesn't need a lot more to be ready for holiday markets.
The tree, visible on the right of the photo is used to display pretty, handmade tin Christmas ornaments. It is small, easily portable, and adds a festive holiday mood without overwhelming the display.
Full-Out Holiday Craft Show Display
The next display features a craft artist who is fully, 100% committed to the Christmas season. This approach to holiday craft shows won't be right for everyone, but for some handmade business owners, Christmas is a time to go all-in.
This vendor hasn't just added a splash of holiday decor. With the red, green and white color scheme, garland, a slim artificial tree, and holiday lights, the display is unequivocally Christmas from top to bottom.
The products on display are all Christmas as well. Wintery wreaths, handmade angels, and tree ornaments are just waiting for shoppers in search of handmade holiday decor.

The company does offer seasonal decor for spring and fall, but at winter craft shows, they are fully committed to Christmas, showing only their holiday decor.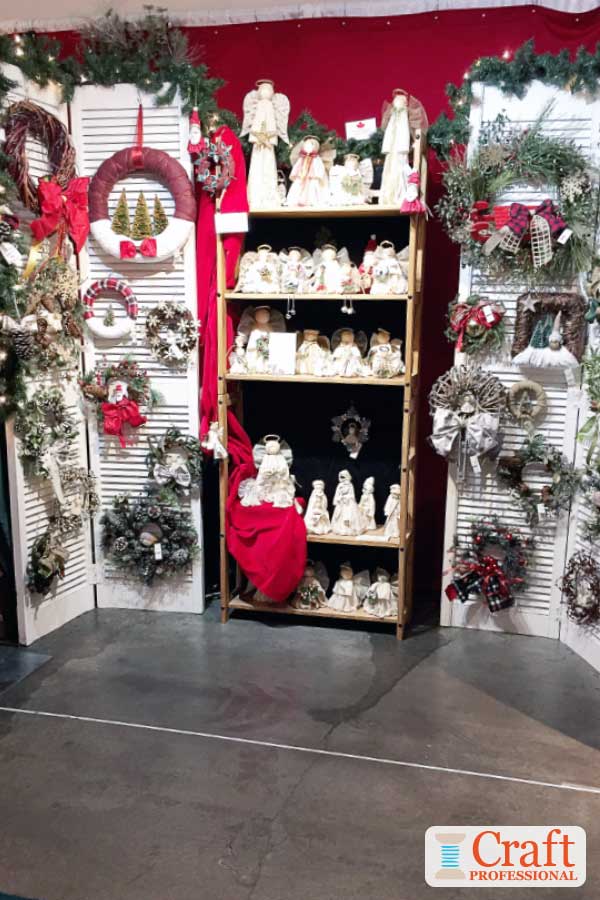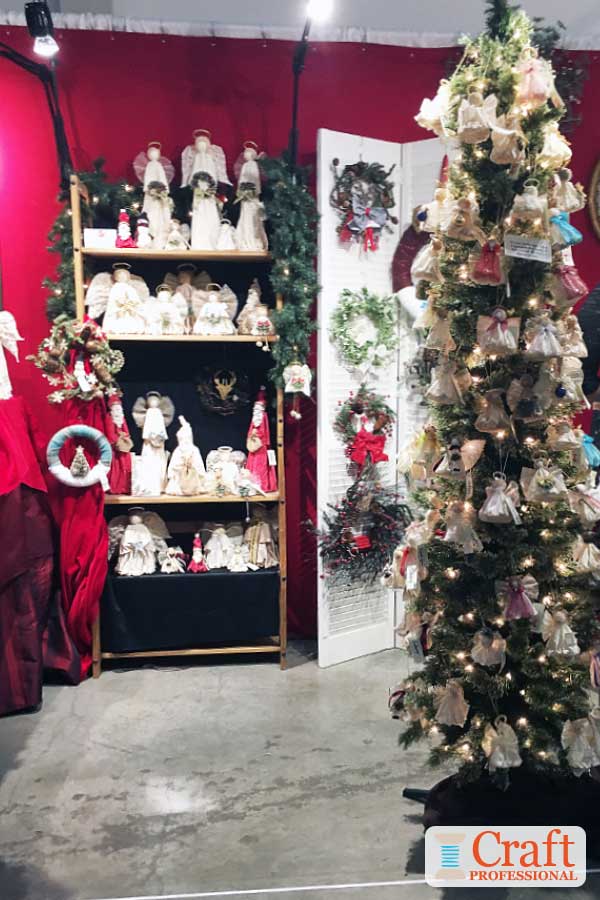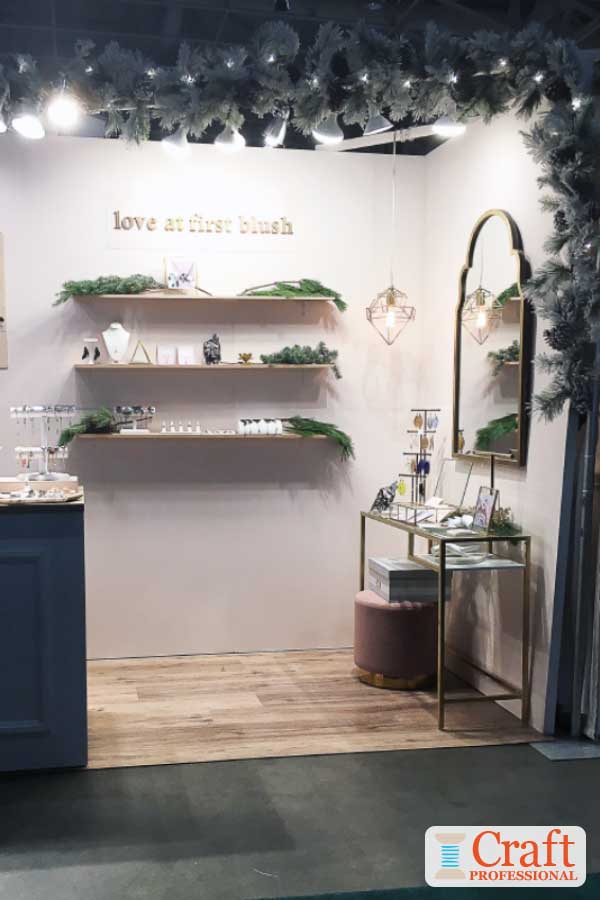 This elegant display proves you don't have to sacrifice your brand image to dress up your booth for the holidays.
Some fresh evergreen boughs displayed on shelves, along with artificial evergreen garland with Christmas lights secured to a cross bar at the top front of the booth make this booth ready for holiday markets.
It's an easy and inexpensive solution that doesn't sacrifice the refined style of the brand.
Artificial evergreen garland typically comes in 9 foot lengths, so you'd need two garlands to cover the front of a typical 10x10 craft booth like the one pictured here. Using a pre-lit garland would save you from wasting time fussing with string lights when setting up and tearing down your display.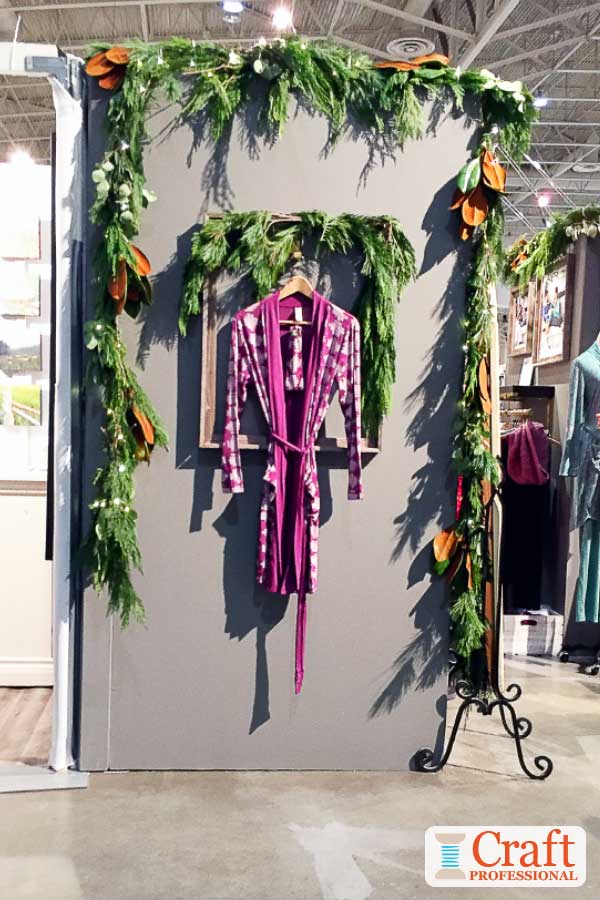 This final display makes fabulous use of the side of the booth with a dramatic, attention-grabbing arrangement.
As we've seen in other displays on this page, the color scheme in this booth evokes Christmas without compromising the brand's aesthetic. The robe looks perfect for Christmas amid the evergreen boughs, but removed from the holiday display, it's also an item that can be sold year-round.

A single, impactful berry colored robe is framed with evergreen garland that appears to be fresh — not artificial — and a sprinkling of holiday lights. 
If evergreen trees grow where you live, you could create a similar look for your own booth for free. If you don't have access to live evergreen trees, artificial evergreen garland can be used to create a similar look.
The look is dramatic and effective, but the actual changes made to the display are simple. There's no need to completely redesign your booth for holiday shows if you don't want to make that commitment. Also, as this display demonstrates, it's possible, with the right holiday merchandising, to make a product designed for year-round use appear perfect for the holidays.