Most Profitable Crafts to Sell in 

2019

If you buy something through links on Craft Professional, I may earn a referral fee. To learn more see my

disclosure

.
---
What were the most profitable crafts to sell in 2019?
The crafts industry flies under the radar of people who collect economic data. Unfortunately, there are no current studies on crafts that sell well overall.
However, two companies that are closely tied to the crafts industry - Etsy and Pinterest - do report trends data. So we can use their reports to get a sense of the most popular trends and top selling crafts for 2019.
Were you looking for information about trending crafts for the current year?
Here's where you'll find my most recent report on crafts that sell well.
2019 Trending Crafts Reports
If you're not interested in making important business decisions based on someone's best guesses, you'll want your trends research to be backed by some data.
Because these companies are closely associated with the crafts industry we'll look at craft trends data from:
2019 Etsy Trends Forecast
2019 Pinterest Trends Forecast
2019 Pantone Color Forecast
To help you visualize some of these trends better, I've pinned examples of them all on my Spring Summer 2019 Trends Pinterest board.
Etsy Trends 2019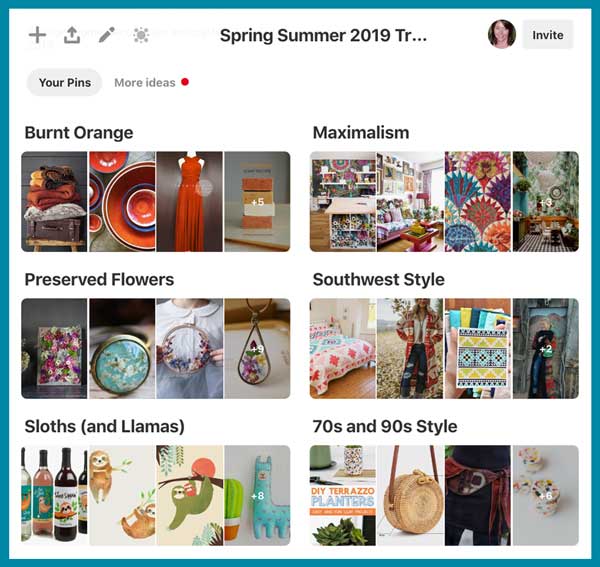 The 2019 Etsy Trends forecast tells us we're going to see a lot of these designs in 2019:
Burnt orange
Maximalism
Preserved flowers
Southwestern styles
Sloths
'70s and '90s styles will continue to be strong
1. Burnt Orange


Burnt orange is a color you'll see a lot of in 2019. Whether you design statement necklaces, beautiful handmade hats, or luxurious scarfs, Etsy predicts that styles in burnt orange will look modern in 2019.

On Pinterest, there is a lot of burn orange showing up in wedding color schemes. If your business caters to brides, be sure to check out this trend.
2. Maximalism


Maximalism is a "more is more" design philosophy. Think strong colors and bold patterns mixed in a striking manner. The style is starting to show up in room makeovers on popular blogs, and you'll almost certainly see more of it. 

If you love to use a riot of colours and big, bold patterns in your designs, you're going to love the maximalism trend.
3. Preserved Flowers


Preserved flowers are showing up in everything from jewelry, to wall art, to nail art. How will you incorporate them into your own handmade items?

4. Southwest Styles


If southwest style is your jam, be ready to see lots of it in 2019. The burnt orange that you'll see a lot of is a great fit for this design style.

Jewelry designers might want to break out the turquoise and silver. Pottery, warm colors, and beautiful wood and metal accents take center stage in the southwest design style.
5. Sloths (and Llamas)


Move over, unicorns, sloths are going to be the trendiest animal in town for 2019.

Llamas have been having a good run through 2018, and they will continue to be popular through 2019. But sloths are inching their way in and being seen more in design motifs. Expect to see more of these adorable, slow-moving mammals featured in trendy designs in 2019.
6. '70s and '90s Styles Will Continue to be Strong


Styles inspired by the 1970s and 1990s have been popular through 2018, and Etsy predicts this aesthetic will continue to trend into 2019. To build a '70s or '90s aesthetic into your products, think fanny packs, terrazzo, and rattan home decor and accessories.

Pinterest's Trending Crafts FOR 2019
Pinterest number crunchers examined search data on the site to determine which search terms are growing the most. From this data, they created the Pinterest 2019 Trends report. 
There are 100 trends featured in Pinterest's report, so we won't go through all of them here. Some of the trends are more relatable to crafts. Others are focused on food, fitness, travel and other topics that are popular on Pinterest. 
I'm going to focus on the Pinterest trends that translate most obviously to crafts including:
Mismatched Prints
Snake Print
Chalk Art
Mustard Yellow
Geometric Decor
There are other trends on the list that you could translate into a variety of different handmade products. If you're curious, you can check out the whole list here.
I'd suggest downloading the PDF from that page because it has lots of images to help you envisage each trend.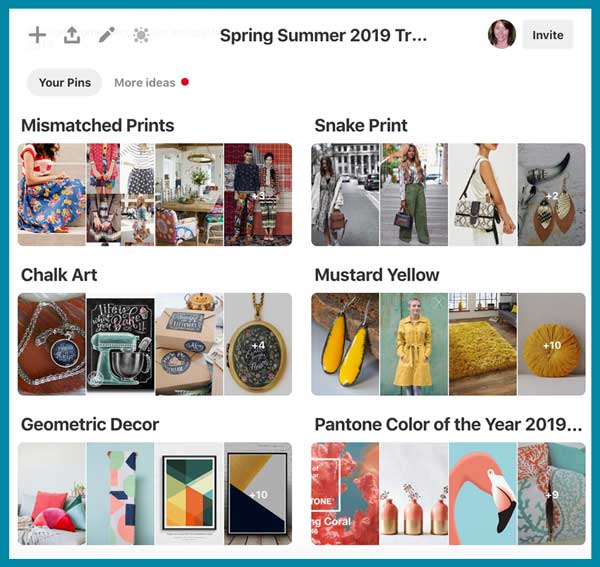 1. Mismatched Prints - searches are up 89%


I see this popular fashion trend as an offshoot of the maximalism trend, but with a focus on fashion. Pinterest predicts you'll be seeing a lot of mismatched prints in 2019.

2. Snake Print - searches are up 642%


Here's another trend that's popping up in fashion. Be on the lookout for snake print in 2019.

3. Chalk Art - searches are up 664%


This trend really surprised me. I thought chalk art had its moment a few years ago. According to Pinterest, searches for chalk art are up 664%, so it may be an opportunity to add a trending style to your product, or revive some old products from a few years ago when chalk art first became trendy.

4. Mustard Yellow - searches are up 45%


Mustard yellow is popping up in decor and fashion posts on Pinterest. Whether you create handmade jewelry, chunk knit blankets, beautiful art prints, or fabulous fashion, there's plenty of room to work this color trend into your product designs.

5. Geometric Decor - searches are up 1178%


Searches for geometric decor are up a full 1178%! If you create products for the home, consider adding a strong, geometric element to the shapes and patterns you choose.

Some 2019 Pinterest Trends for Specific types of Crafts
The Pinterest searches trending into 2019 that we just looked at cover overall design choices and could be applied to a lot of different types of crafts.
Pinterest is also reporting some trends that apply to specific types of crafts. Here are a few to consider as you develop product for 2019: 
goat milk soap - searches are up 231%
beeswax wraps - searches are up 146%
body painting - searches are up 444%
acrylic pour painting - searches are up 660%
ceramic pottery - searches are up 475%
sketchbooks - searches are up 513%
textile art - searches are up 1718%
sling bags - searches are up 1184%
bamboo bags - searches are up 2215%
statement sneakers - searches are up 2211%
tortoise earrings - searches are up 679%
Pantone Color of the Year 2019

If you want to dive into color trends for 2019, Living Coral, Pantone 16-1546, is a great place to start. You'll surely be seeing plenty of this beautiful shade in 2019.