Best Selling Christmas Crafts - Updated for 2019
If you buy something through links on Craft Professional, I may earn a referral fee. To learn more see my
disclosure
.
---
What will be the best selling Christmas crafts for the 2019 holiday season?
Of course, no one can flawlessly read the future, but we can look at holiday retail industry trends to make informed predictions about what Christmas shoppers will likely be buying this year and how they will shop.
---
Were you looking for newest holiday craft and retail trend information for 2021? The Christmas Shopping Trends report for 2021 shows handmade business owners what your customers will be shopping for this holiday season.
---
Retail trend data can help you make smarter, strategic decisions about how to best market your brand, provide shoppers with what they're looking for, and create crafts that sell for this holiday season.
Beyond the Christmas 2019 trends in the retail industry, you can also look at fashion and decor design trends to help determine what will be the best selling Christmas crafts for 2019. I took a deep dive into DIY Christmas trend predictions here. So we'll stick with examining holiday retail shopping predictions in this article.
We'll look at several sources of holiday retail trend information to find out:
when people will be shopping throughout the holiday season
how much people will likely spend
where people are shopping
what, in general, shoppers are looking for
what categories of products shoppers will buy
ways to apply this information to boost holiday sales
When will customers be doing their holiday shopping?
Don't wait until Black Friday to Start Holiday Promotions

Retailers will see a big surge in holiday spending during Black Friday and Cyber Monday, which fall on Thanksgiving weekend. However, most people will have started their holiday shopping prior to that weekend.
In fact, Thanksgiving is late in 2019. Thanksgiving falls on November 28th, Black Friday is on November 29th, and Cyber Monday isn't until December 2nd. Those later dates increase the likelihood that shoppers will begin their holiday shopping prior to that weekend.
Last year, 64% of people surveyed had started their holiday shopping before Thanksgiving weekend (source Deloitte*).
* I've included a lot of stats from a few different sources in this article. Every time I mention specific data, I've cited the source in brackets. At the bottom of the page, I've linked to all of the reports I used to research this article, so you can check out the reports yourself if you're curious.  
For 2019, 37.8% of shoppers who were surveyed indicated they would begin their holiday shopping in early November. That number is even higher for shoppers who plan to spend the most money. 45.6% of shoppers who say they will spend $500 or more plan to start shopping in early November. Shoppers who are more budget-conscious shoppers will start shopping later because they are waiting for sales. (source Tinuiti)

Best selling Christmas crafts should be promoted early in the year. Don't wait for Thanksgiving, or you'll miss out on customers who shop early.
Black Friday and Cyber Monday present huge opportunities

How many people shop on Thanksgiving weekend?

71 percent! (source Deloitte)
So while you shouldn't wait until Thanksgiving weekend to promote your products to holiday shoppers, Black Friday and Cyber Monday can present huge sales opportunities.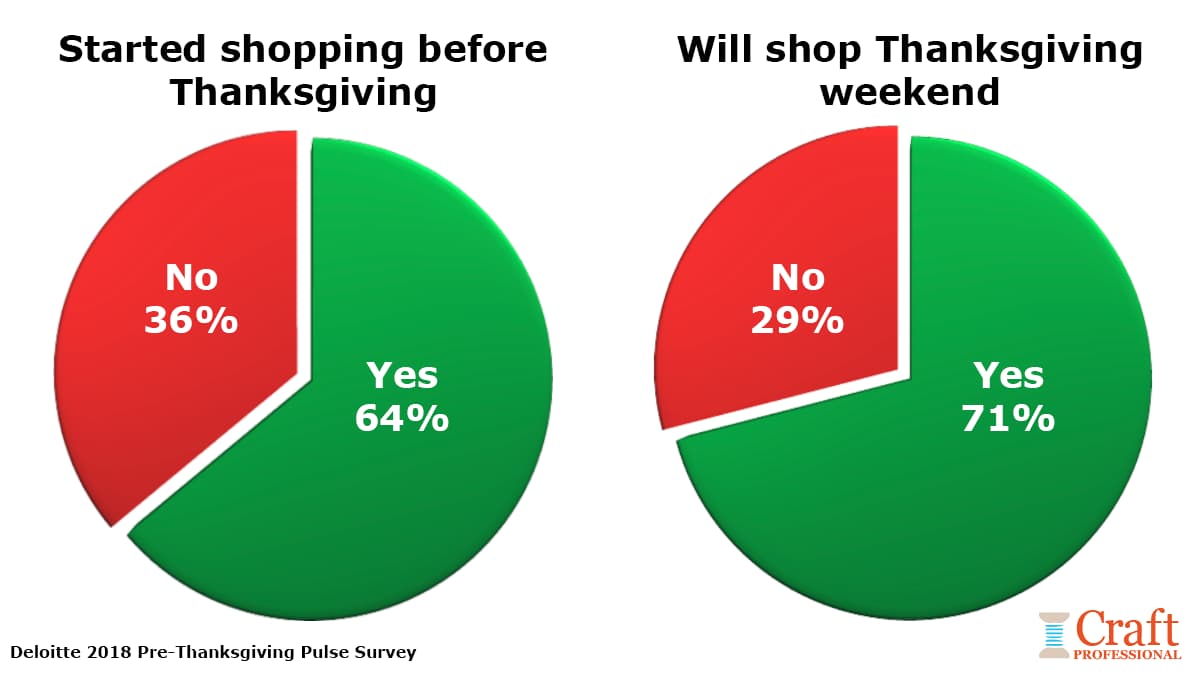 Black Friday and Cyber Monday shopping is expanding beyond the US

Black Friday began in the US, but it is expanding into European countries as well. In 2018, online shops saw increased sales in some European countries on both Black Friday and Cyber Monday. If you serve European online shoppers, these dates will present sales opportunities. (source Criteo)
% sales increased on Black Friday compared to average daily sales:
US 328%
Spain 92%
UK 181 %
France 141%
Switzerland 88%
Netherlands 146%
Sweden 165%
Germany 82%
Poland 235%
Russia 71%
% sales increased on Cyber Monday compared to average daily sales:
US 164%
Spain 40%
UK 81 %
France 66%
Switzerland 24%
Netherlands 50%
Sweden 33%
Germany 22%
Poland 90%
Russia 24%
How much will customers spend on holiday shopping in 2019?

Spending is predicted to increase for the 2019 holiday season, particularly online.

Retail predictions estimate 2019 holiday spending between November and January will total 1.1 trillion dollars. (source Deloitte) That number represents a lot of opportunities for business owners.

Shoppers who were polled indicated they planned to spend more this year compared with 2018. Predictions show that total holiday spending will increase by between 3.8% and 4.2% (source National Retail Federation). 
Both in-store and online spending will be up, but online spending is driving most of the increase in sales. The predicted increase in online sales ranges from about 11% to 14% (source National Retail Federation).
Where will people be shopping in 2019?

As we've already seen, the biggest growth in holiday spending is in online shopping for 2019, but that doesn't mean people aren't shopping in person as well. Most shoppers plan a mix of in-store and online shopping.
31.6% of people surveyed say they plan to do most of their shopping in-store, which is actually up by 10.9% compared with 2018 numbers. Perhaps the biggest surprise is that younger shoppers, those aged 18 to 24, are showing the biggest growth in in-store shopping. (source Tinuiti)
Black Friday is all about in-store shopping. 70% of people surveyed plan to shop in-store on Black Friday, while 50% say they will shop online.
Cyber Monday is when most people plan to shop online. 73% of shoppers will shop online on Cyber Monday, and 40% plan to shop in stores. (source Deloitte)
Where do people shop online?

28.3% of people who responded to a Tinuiti survey indicated they start their shopping research by searching on Amazon.

28.1% say they start shopping research by searching in-store.
Think about that for a moment. The number of people who start looking for gift ideas on Amazon is equal to the number who go to all other brick and mortar stores.
Amazon, by far, leads the pack in terms of where people shop online. 82.3% of people who plan to shop online will shop on Amazon.
There's good news for those who have Etsy shops. Etsy is showing strong gains in online holiday shopping. 12.3% of people who shop online will shop at Etsy. That's up 29% since 2017. (source Tinuiti)
Etsy's predictions for 2019's best selling Christmas crafts.
What, in general, are people shopping for?

Best Selling Christmas Crafts Reflect Customers' Values

73% of American shoppers are willing to consider a new brand. But if you want to build loyalty and keep that customer, you do that with the values your company represents, not with sales.
You might attract a new customer with a sale, but a sale won't build loyalty. The shopper who was initially attracted by a sale is interested in the lowest price, not your brand. But you can turn your new customers into loyal, returning customers with the values your company represents.
51% of US shoppers say that the values represented by a brand will influence their purchasing decisions. And 35% say they are more likely to return to a shop because the company's values are in line with their values.
Whatever values your company embraces, they need to be genuine and demonstrated throughout all aspects of your business. Don't just follow the latest trendy cause. Support something that's meaningful, and make it part of your company's core values. (source Criteo)

Thanksgiving shoppers are looking for sales

As we've already seen, Black Friday and Cyber Monday are huge shopping days, but if you want to take advantage of these opportunities, you'll need to offer some discounts. 82% of people surveyed say they are shopping on Black Friday to take advantage of great sales. (source Deloitte)

What categories of items are people buying?

Here's what holiday shoppers say they will be buying:
clothing 72%
electronics 57%
toys 57%
food and beverage 36%
home and kitchen 31%
health and beauty 31%
(source Deloitte)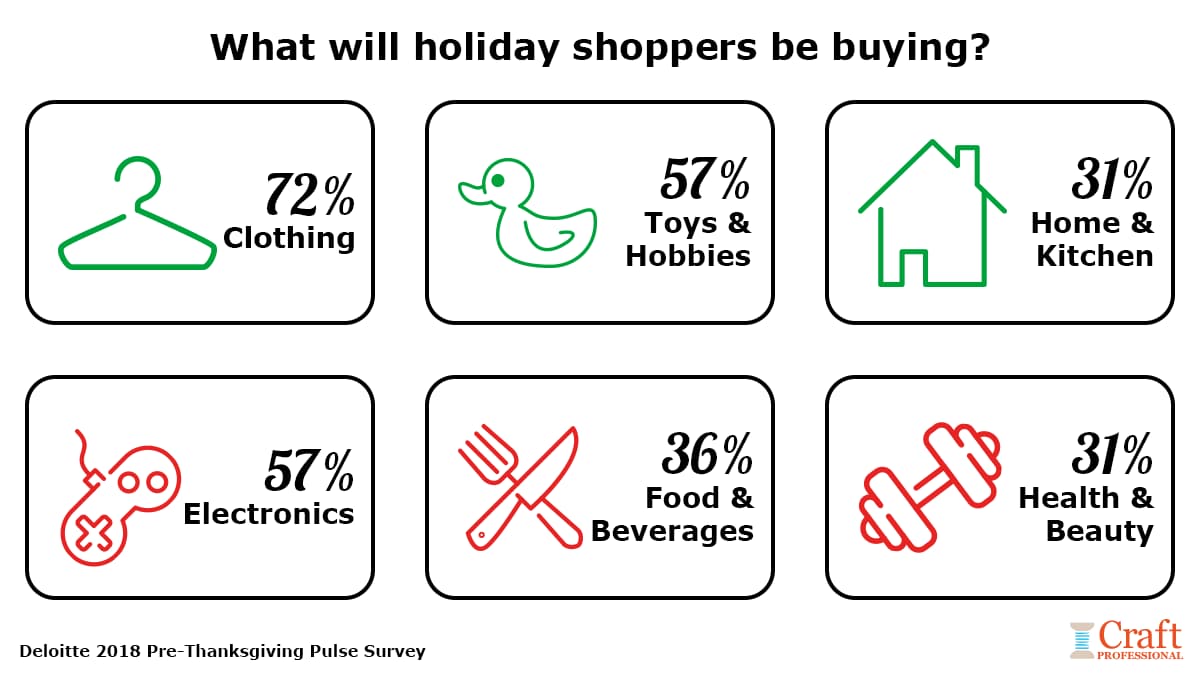 How can you use this information to sell more crafts over the Christmas 2019 season?

Don't rely on Black Friday and Cyber Monday alone

Black Friday and Cyber Monday are big spending dates online and offline. But most shoppers will start holiday shopping before that. Also, those who are shopping on that weekend are looking for sales, which may or may not be right for your brand. Start your holiday promotions before the end of November, or you will miss out on opportunities.

Consider offering sales on Black Friday and Cyber Monday

That's what shoppers are looking for on Thanksgiving weekend, so if you want to attract customers, consider offering a discount. For example, you might slightly mark down some items in your Etsy shop just for that weekend. If you have built enough profit into your regular prices, you'll be able to offer a bit of a discount and still sell at a profit.
Offering sale prices isn't right for every business. Some handmade business owners worry that offering sale prices will devalue the special nature of their handmade items. Others worry that by offering sales at certain times, they will train their customers to only shop during sales and not buy at full price throughout the year.
There are certainly reasons why you might not want to offer sale prices, but if you want to capitalize on Thanksgiving weekend shopping, it's something to consider.
Support a cause - Be genuine, not trendy

If there are key values you've been wanting to embrace in your business, do it, but be genuine. Shoppers feel loyalty to businesses that embrace values they believe in. So supporting an important cause not only allows you to do some good, it can also help to build your business.

Best Selling Christmas Crafts are Promoted via Email

Whether you sell your crafts online or in person, or a bit of both, you can promote your company with email marketing.

Everyone who sells online seems to always be excited about social media marketing, but in fact, email marketing is more important than social media marketing when it comes to influencing purchases. 58.5% of people surveyed say they sometimes make holiday purchases based on email offers. On the other hand, only 1/3 of shoppers say social media influences in their purchasing decisions.
Shoppers aged 35 and over are more influenced by email than younger shoppers, so if your target market is aged 35+, this strategy can be particularly impactful. (source Tinuiti)
Retail Industry Trends Data Sources

Here are the sources of the data used in this article. Each report contains additional topics I haven't covered here, so it's worth having a look at the reports if you want to dive deeper into holiday retail trends for 2019.
You'll need to provide your email address to receive two of these reports, which will put you on each company's mailing list. You can easily unsubscribe if you don't want to receive further mailings from them.

Deloitte 2018 pre-Thanksgiving Pulse Survey
The 2019 report should be out in mid to late November. I wanted to get this information into your hands as soon as possible, so I used data from the 2018 report. You can return to the Deloitte site closer to Thanksgiving to find the 2019 report if you're interested in that data.
Tinuiti 2019 Holiday Shopping Predictions and Behaviors
You'll need to provide your email address to access this report.
Criteo 2019 Holiday Marketing Report
You'll need to provide your email address to access this report. They want people to use a company email address, so their system won't accept a gmail address.
National Retail Federation
Holiday sales forecast article.