Best Selling Christmas Crafts
Understand Your Customer for Better Holiday Sales
Want to know what's going to sell well at holiday bazaars and online this Christmas season? Let's take a look at some stats and see what customers are saying they are going to buy!

According to 2012 retail surveys, the best selling Christmas crafts are practical, provide good value for the price, and will probably be purchased online between late November and December.
That's right! People are holiday shopping online in late November and December. So, although you'll ramp up for holiday sales earlier in the year, don't forget about shoppers who buy closer to Christmas. Be ready with plenty of stock in your online store, keep up your promotional efforts over this time frame, and provide clear information about expected shipping times for late-season shoppers.
The holiday season is one of the most profitable times for all retailers, including craft business owners, and, happily, shoppers plan to spend more money on gifts in 2012 than they did in 2011.
According to people who were surveyed in October 2012, 63% of holiday shoppers expect to spend more on Christmas gifts in 2012 than they did in 2011.
In fact, 52% of shoppers expect to increase their holiday spending by $250 or more!
That means the money is out there for people who sell crafts!
On This PAge
If you're in a hurry, you can click any of the links to go straight to specific information about holiday shoppers. 

People are Looking to Buy Practical Items
Shoppers are Seeking Out Sales
Customers are Shopping and Researching Online
People are Shopping Online Later Than You Might Think
---
Shoppers Are Still Cautious
Despite the up-turn in holiday spending, shoppers are still feeling the effects of a slow economy and plan to be cautious with their holiday spending in 2012.

That means, you need to be smart to make the most of your Christmas craft show sales opportunities.
Holiday shoppers surveyed describe themselves as:
Careful 46%
Controlled 45%
and Thrifty 25%
Only 5% of shoppers describe themselves as being extravagant.
Although we'd all like to have a booth full of extravagant shoppers, the reality is, craft shows and websites will be full of careful, thrifty shoppers looking for practical items and good deals.
That means providing shoppers with lower-priced options whenever you can. Of course, you can still create more spectacular items (they often draw people in to your booth), but look for ways to create some lower priced items that you can sell profitably.
Typically, having something in the $20 and under range helps to bolster sales. That price is within the impulse buy range for many people, and it is the amount many people tend to spend on gifts. So, an item (or range of items) that would be a great gift and can sell profitably at approximately $20 is good to have at many shows.
---
People Are Looking to Buy PRactical Items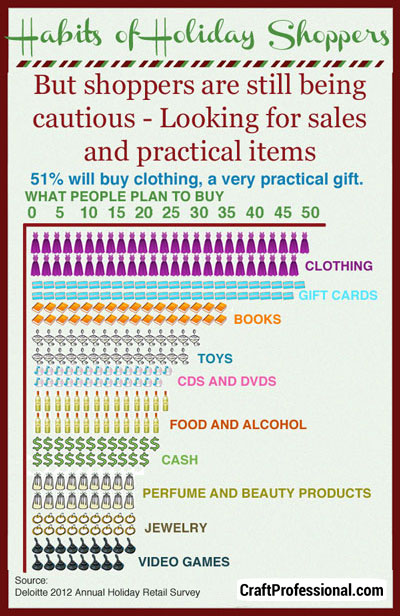 The people who have the most success at shows and online will be those who are provide something that serves a practical purpose.

How to Profit From This Practical Mind-Set?
Practical doesn't have to be dull or unattractive. It just means your items will serve a purpose, solve a problem, or improve the customer's life in some way. If you can highlight the practicality of your items, you will hook those customers.
Perhaps your neutral-colored handmade mittens will go with any coat. Or maybe they are reversible, so shoppers get two pairs of mittens in one.
Maybe your handmade leather purses are of such high quality and so well designed, they will last and be fashionable for many, many years, making the extra cost well worthwhile in the long run.
Think about what is special about your work. Be ready to highlight why your items, even though they are likely more expensive than mass produced items, are highly practical purchases.
---
Holiday Shoppers Are Looking For Sales
63% of shoppers say they will use specific strategies to save money on holiday gifts. Most notably, people who shop online are looking for free shipping (71%) and free returns (56%).

As craft artists, we need to be careful about the low priced sales mentality. It is difficult, and really not desirable to go after a low-end pricing strategy when you sell handmade items.
Do not sell your most spectacular items at a deep discount; it devalues them in the minds of customers. Instead, if you are working to draw in price-minded shoppers, look for a way to create an item that is perhaps simpler, smaller, or easier to reproduce, so you can sell it at a discount while still making a reasonable profit.
The last thing you want in your craft business is to establish a cheap image.

A few options you might consider to entice shoppers who are looking for deals without cheapening your company's image are:
Putting the names of everyone who made a purchase in a bowl and offering a special prize to be drawn from those names.
Offering a special coupon that you send to your newsletter subscribers before a show. This strategy makes customers feel special and "in the know" instead of making your products look cheap.
Providing extra discounts for loyal customers
If you choose to offer some type of discount at holiday craft fairs do be careful.
Some shows have very strict rules about the types of sales you're allowed to offer and the types of sale signs you can display. Some shows limit or completely ban sale signs in order to protect the perceived value of the handmade goods at the show.
So it's actually a good sign if the show you attend limits the use of sales. You just need to be more creative to show customers they are getting great value for their money when they buy your work.
---
Online Sales Are Extremely Important
Online sales will be extremely important to your craft business for several reasons.

45% of holiday shoppers will shop online in 2012, and a full 23% will do the majority of their holiday shopping online.
Perhaps more importantly, people shop online spend more on gifts compared to people who do not shop online!

Those who shop online plan to spend $600 on holiday gifts this year, while those who do not shop online only plan to spend $350 on gifts.
Holiday shoppers plan to use online sources to find gift information. In fact, shoppers between the ages of 18 to 54 plan to use the Internet for the vast majority (more than 68%) of their gift buying research.
Promote Through Social Media
More than 48% will use social media to research gifts. Those shoppers are looking for:
Discounts (54%)
Researching gift ideas (53%)
Product reviews (47%)
So how can you take advantage of all of this online holiday shopping?
On Your Business' Social Media Accounts
First, if your business has an active community on social media sites, be sure to be active on those sites at this time of year.
Consider offering discounts or other special offers to your Facebook (or other social media) followers.
Provide plenty of information about your products, and encourage customers to post reviews, and post any reviews or kind comments that you received from customers on your social accounts.
In Your Customer Service Policies
Consider building the cost of shipping right into the price of your items. 71% of holiday shoppers prefer to shop on sites that offer free shipping.
Related Article - The Importance of Free Shipping
Also, consider offering free returns. 56% of shoppers prefer to shop with online retailers that offer free returns.
Where did I find all these fancy-schmancy statistics?I used two sources: 
Deloitte's 2012 Annual Holiday Retail Survey and 
2012 Accenture US Holiday Spending Survey
If you have statistics on the percentage of customers who return your items, you can build that cost into your price. However, you might find that you have so few returns, and so many new sales as a result of offering free returns, you won't need to worry much about the cost of the occasional return.
---
When Will People Be Shopping?
As you might expect, people will be shopping actively in November, and holiday purchases will continue to be strong well into December. What might be surprising is that people plan to make 5% of their holiday purchases in January.

In order to profit from the full holiday shopping season, be sure to offer quick shipping whenever possible and last minute gift options.
Depending on the statistics you read, between 47% and 73% of holiday shoppers plan to buy gift cards.
Gift cards are an easy last-minute gift option. If you sell online, you can offer a gift card option for late shoppers. Be sure to design a festive downloadable gift card that customers can print up so there is something to put under the tree!
Statistics from Etsy show some very interesting sales patterns around the holiday season. Be sure to check out selling on Etsy for an analysis of those stats and what they mean for your holiday sales strategies.
Related Articles
You Are Here
Home
➤
Promote Your Business
➤
Best Selling Christmas Crafts