2022 Christmas Trends

If you buy something through links on Craft Professional, I may earn a referral fee. To learn more see my
disclosure
.
---
These 2022 Christmas trends predict the hottest items to sell this year and show you how to market your business more effectively over the holiday season.
First, we'll examine 4 consumer behavior trends that reflect the mindset of shoppers and 8 Christmas design trends that will be popular this holiday season. Then we'll explore easy ways to use this vital information to market your business more effectively and sell more crafts.
2022 Christmas Trends

Etsy is an excellent source of information about what shoppers who buy handmade are searching for, so most of the data we'll be using comes from Etsy's 2022 Holiday Trends Report as well as the 2022 Fall Trends Report.
Here's what Etsy predicts shoppers will be looking for this holiday season.
Consumer Behavior Trends for Holiday 2022
Return to normalcy 
Meaningful personal connections 
Festive fun 
Tighter budgets
Christmas Design Trends for 2022
Holiday glamor
Bright, bold colors
Statement jewelry
Rich textures
Natural elements
Cozy DIY
Vintage nostalgia
Preppy style
Let's explore each of these 2022 Christmas trends in some detail and then look at ways you can work with the trends to sell more crafts this holiday season.
If you'd like to dig deeper into current style trends, check out the latest report on crafts that sell well. Many of the trends listed in that report continue to be strong as we head into the end of the year.
Consumer Behavior Trends for 2022

What are consumers looking for in 2022?
This holiday season, shoppers are looking for a return to normalcy. They are seeking activities and gifts that put the focus on making meaningful, personal connections.
Budgets may be tighter this year, but people will still find ways to enjoy festive fun.
Return to Normalcy
People are looking for a return to some degree of normalcy after 2 years of decidedly unconventional holiday seasons.
Hosting holiday gatherings is high on the list of priorities for many shoppers. Glamorous or cozy get-togethers will be elevated with gorgeous home table decor (searches are up 28% compared with the previous year) and impressive home bar setups (searches are up 29%).
Meaningful Personal Connections
This holiday season, people are eager to give gifts and host events that create a sense of togetherness, community, wellness, and meaning.
Easy DIY kits (searches are up 24%) offer a fun, cozy way for friends to gather and create meaningful memories. Wellness-themed gift packages will be a popular self-care purchase for many shoppers, and they make a thoughtful gift idea (care gift box searches are up 30%).
Festive Fun
The festive fun theme runs through many of the 2022 Christmas trends in design! Check out the searches related to glamor, bright colors, statement jewelry, and rich textures described below to see all of the ways people plan to celebrate the holidays with exuberance and joy in 2022.
Tighter Budgets
Shoppers may be more careful with their spending this year. They will be looking for quality and value in their purchases. Well-made, versatile items that will work for many seasons and different celebrations will be popular with value-minded shoppers.
Christmas Design Trends for 2022
Style trends for holiday 2022 center around glamor, natural elements, and nostalgic retro style.
Many shoppers are searching for glamorous formal wear, bold colors, statement jewelry, and luxurious fabrics. Others want to fill their holiday with nature-inspired decor, cozy DIY projects, vintage treasures, and preppy style.
We're about to dive into some Christmas design trends data.
The numbers you'll see below describe a change in Etsy search volume compared with the same time the previous year. Here's where you'll find the full holiday style trends report if you'd like to check it out.

Holiday Glamor
Shoppers want to celebrate in glamorous style whether they are heading out on the town or hosting a formal dinner party at home. 

You'll see people's enchantment with glamor in searches related to formal clothing and formal entertaining including:
black satin dress — 193% search increase
formal blouse — 42% search increase
silk necktie — 19% search increase
table napkin — 108% search increase
fancy table cloth — 108% search increase
Bright, Bold Colors
Bold colors have been popular throughout 2022, and that trend will continue into Christmas. For the holiday season, shoppers will look for festive, bold colors like magenta and emerald green.
Here are some of the Christmas color trends for 2022 revealed by Etsy's search data:
emerald green velvet dress — 28% search increase
emerald green wall art — 158% search increase
emerald green bouquet — 114% search increase
colorful planter — 2,044% search increase
bright wall art — 71% search increase
emerald green necklace — 70% search increase
Statement Jewelry
Jewelry that makes a big statement is trending into the 2022 holiday season. Expect oversized rings, necklaces, and earrings to be popular. Glamorous, sparkling crystals, bold colors, and layering multiple bracelets or necklaces will also catch the eye and make a strong impression.
Etsy shoppers who are buying jewelry for the holiday season are searching for:
large statement necklace — 27% search increase
clay bracelet — 324% search increase
crystal bead bracelet — 143% search increase
Rich Textures
Rich textures fit perfectly with the current popularity of glamor, bold colors, and statement jewelry. Think luxurious velvet, silk, and satin.
Here are a few growing Etsy searches that reflect this trend:
velvet jumpsuit — 31% search increase
emerald green velvet dress — 28% search increase
black satin dress — 193% search increase
silk necktie — 19% search increase
Natural Elements
If glamor isn't your thing, check out the trending natural and rustic themes. These outdoorsy looks continue the cottagecore trend that has been strong through 2021 and 2022.
Rustic and nature-themed searches that are growing on Etsy include:
branch chandelier — 56% search increase
natural wooden tea candle holder — 129% search increase
rustic coffee table — 346% search increase
Motifs trending for Christmas 2022 include: cheerful cottages, botanical fungi, and woodsy deer.
Cozy DIY
Craft kits were popular last year, and they continue to be one of the popular 2022 Christmas trends. Working on DIY projects with family or friends is a fun way to relax, build connections, and enjoy meaningful time together.
DIY searches that are growing on Etsy include:
kit diy — 24% search increase
craft kit kid — 26% search increase
crochet pattern boho — 931% search increase
cross stitch pattern bookmark — 105% search increase
Vintage Nostalgia
Vintage items fit well with several of the other 2022 Christmas trends we're seeing.
A beautiful vintage brooch can be high on glamor. Antique or retro-style holiday decor can evoke meaningful memories of loved ones and past holidays, and kitschy retro treasures can ramp up the playful fun in your home decor or personal style.
Here are some of the vintage-related searches that are trending on Etsy this year:
brooch vintage — 78% search increase
vintage coffee set — 31% search increase
antique decor — 61% search increase
Preppy Style
Preppy style is hot in 2022! It's a strong and quickly growing trend. Think plaid, houndstooth, and equestrian motifs.
Popular preppy themed Etsy searches include:
preppy pajamas — 1,112% search increase
boy's briefcase — 1,050% search increase
preppy shirt — 167% search increase
houndstooth blazer — 35% search increase
How to Use 2022 Christmas Trends to Sell More Crafts
There are plenty of simple strategies you can use to embrace this year's top trends to give shoppers what they are looking for and boost your holiday sales.
Style your craft booth display with trends
Present your product to appeal to customer mindset
Reflect trends in your product photography styling
Use trending keywords in your online marketing
Integrate trends into your product design
Style Your Craft Booth Display with Trends
If you sell at craft shows, you can easily merchandise your holiday craft show display according to trends.
Group your products together into popular holiday colors like magenta and emerald green to instantly create a festive display.
You can create an on-trend vibe for craft shows without committing to huge changes to your display or your products.
Present Your Product to Appeal to Customer Mindset
Your existing products might fit a trend perfectly if you make small adjustments to the way you present them.

For example, you could offer perfectly sized gift boxes that allow customers to choose four or five of your handmade soaps to create a wellness-themed gift box with scents perfectly suited to the recipient. Make sure the collection is priced inline with amounts people typically spend on a gift for a hostess, office-mate, or teacher, and customers will thank you for solving their gift-giving dilemmas.
Reflect Trends in Your Product Photography Styling

Product photography styling props can show shoppers how your items fit with current trends. Adding a few of these product photos to your holiday marketing is a low cost, low commitment way to embrace trends.
Photograph your products on a rich, velvety emerald green backdrop for on-trend glamorous photos. If the nature trend better suits your style, arrange items amid rustic styling props.
Feature these photos in your online shop or social media marketing along with your regular product photos for an instant trendy vibe.
Use Trending Keywords in Your Online Marketing
If you have an Etsy shop, be sure to add trending keywords to your descriptions and titles. If the product you're selling fits the trend, include the keyword. 
You can add trending keywords in online marketing outside of Etsy as well. If you'd like to do a little extra research, type the most relevant trending keywords in the Pinterest trends tool to learn how Pinterest users are searching for those trends.
You can also head over to Google Trends to see how people are searching for similar items there. Google Trends will show you the popularity of keywords over a number of years. It can help you see where a trend is going, so you can make a better informed decision about the long-term potential of a trend.  
Google Trends Keyword Comparison Graph: Preppy vs. Cottagecore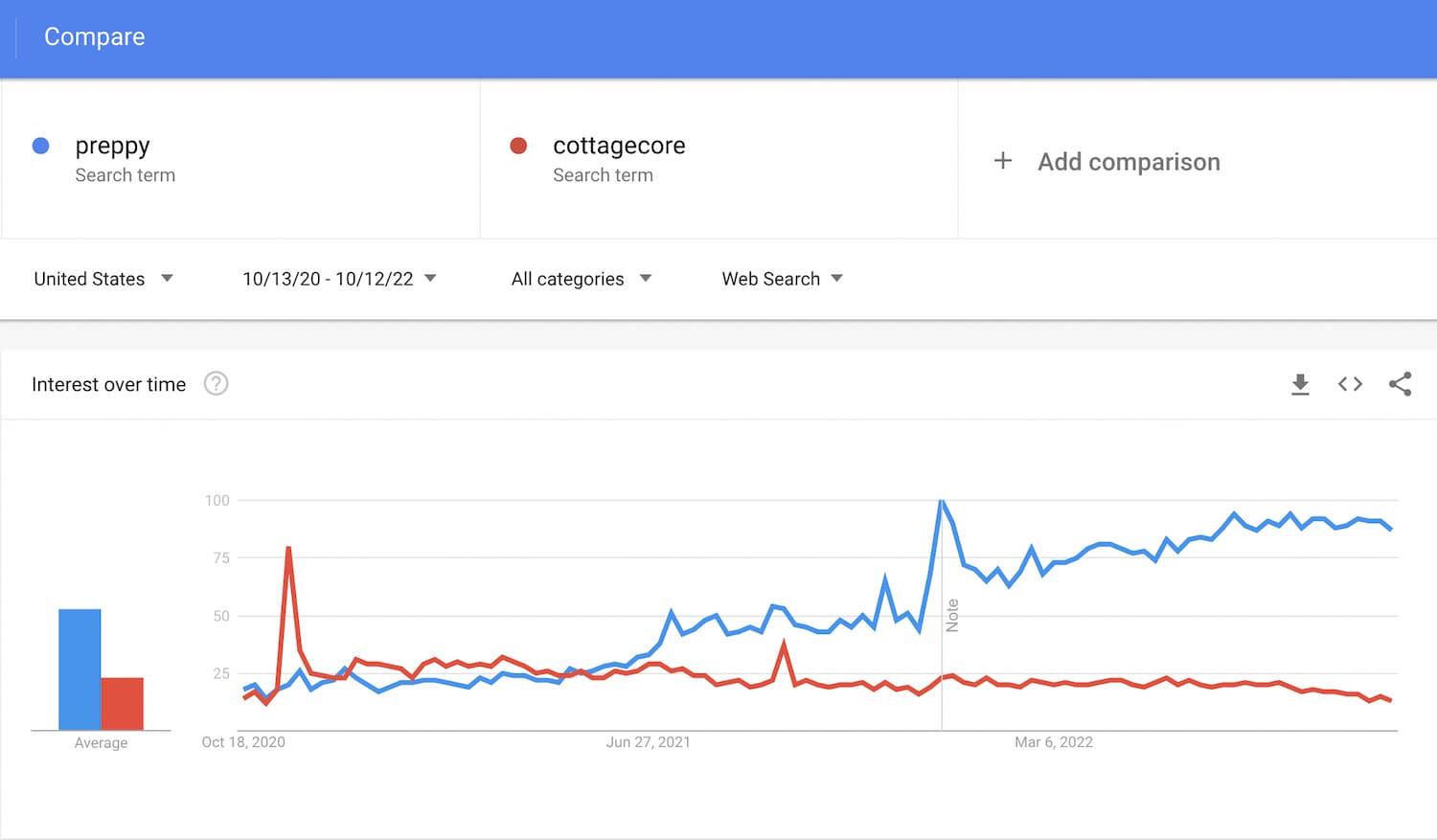 The Google Trends graph above compares the interest over time for two popular style trends: cottagecore (in red on the graph), and preppy (in blue on the graph) from 2020-2022.
The graph shows searches for 'cottagecore' have been declining gradually since early 2021. Searches for 'preppy' have been sharply on the rise since mid-2021, when preppy surpassed cottagecore.
While both styles are trends that will come and go, this graph shows us the preppy trend is currently strong and growing, while cottagecore appears to be fading.
Integrate Trends into Your Product Design
This tactic for marketing with trends requires the biggest commitment and carries more risk than others. It means you'll have to invest in creating a stock of trendy inventory.
When you're dealing with trendy styles, there's a risk those items won't be popular in upcoming seasons.
Before you create a pile of trendy handmade items to sell, ask yourself:
Will the trend likely have some longevity?
Can you reasonably expect to sell your trendy inventory?
What are the chances you'll be left with a lot of products that quickly begin to look out of date?
How much time and money can you risk on creating trendy inventory?
How well does the trend fit with your overall brand? Does it add to your existing line of products or detract from your core business?
Google Trends Keyword Comparison Graph: Preppy vs. Cottagecore vs. Plaid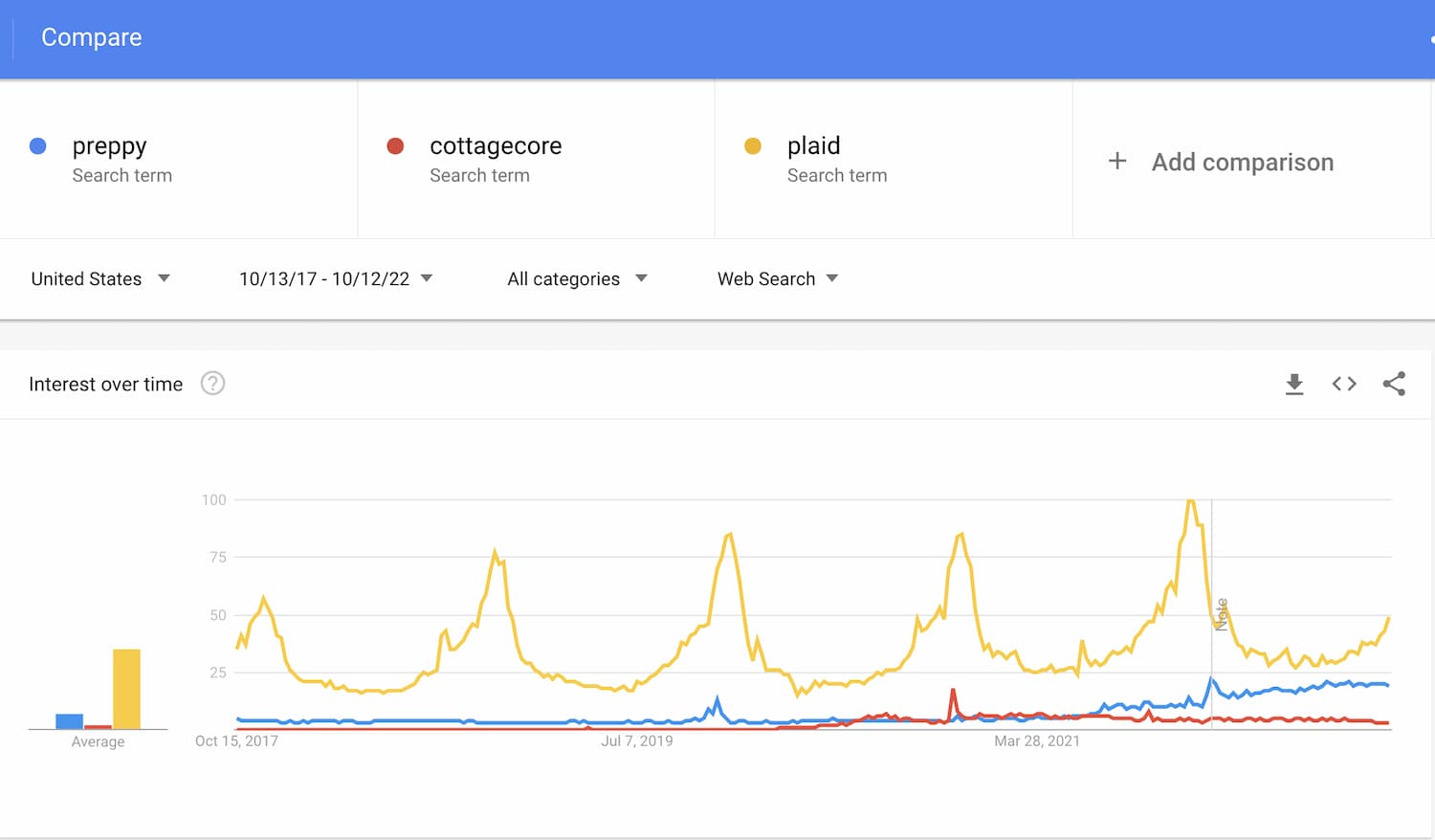 Here's another Google Trends graph. I've added the search term plaid (in yellow on the graph) to compare to our original search terms cottagecore and preppy. I've also expanded the timeline to show searches from October 2017 to October 2022, so we can see a longer-term pattern.
You can see searches for 'plaid' are consistently more popular than 'cottagecore' or 'preppy' searches. Plaid peaks sharply in fall and winter months, but spring and summer searches are still strong.

This graph tells us that, while plaid is an element of some 2022 Christmas trends — it's a motif that works with rustic and preppy style — it's not a trendy pattern that will look out of date next year.
This type of longer-term keyword research can help you decide if a popular design element is a trend that will disappear, or a style that has staying power. It's useful information when you're deciding how much you want to invest in trends to market your products.