Trending Crafts That Sell Well in 2020
Trending Crafts That Sell Well in 2020
If you buy something through links on Craft Professional, I may earn a referral fee. To learn more see my
disclosure
.
---
What are the trending crafts that sell well in 2020?
It's a smart question to ask yourself.
Reflecting retail trends in your product line can help to boost your own sales at craft shows and online. It can also make your products more attractive to retailers you may want to partner with on a commission or wholesale basis.
Whether your brand style is trendy or classic, there are ways to reflect popular style and hot product trends in your work. But first, you need to find out what's hot today.
Were you looking for current and upcoming craft trends?
Here's the most recent report covering crafts that sell well for the current year.
What are the most popular crafts to sell?

If you're searching for crafts that sell well, I assume you want information that will help you develop a product that has a real chance of being popular.
You're looking for real insights. You're not looking for someone's best guesses.
Craft Industry Data is Shockingly Hard to Find
The best way to get real insights into the types of crafts that sell instead of best guesses would be to find a study of what actually sells well at craft shows.
Unfortunately, craft business sales data is tough to find.

The Association for Creative Industries Data is too General for Our Needs

The Association for Creative Industries (AFCI) publishes data on the crafts and creativity market. 
The problem with that data is that it's not focused on solo craft business owners. It covers the entire craft industry as a whole and includes data from big-name craft supply chain store. It's not a reliable reflection of the business realities facing a solo craft business owner selling handmade products.
It might give you some big-picture insights, but it's not going to tell you what sells best at craft shows or in Etsy shops.
The Craft Organization Development Association Data is Specific, But It's Too Old to Be Helpful in 2020

The Craft Organization Development Association (CODA) did complete some extremely interesting research on the income of craft business owners. That research, however, was done several years ago, and, unfortunately, CODA is now defunct.
You can find a summary of CODA's final study, done in 2011,  on the American Crafts Council site. 
Again, it might give you some big-picture insights, but the data is old. It's not going to help you figure out what will likely be the best selling handmade items for 2020.
Related: 2021 Christmas Shopping Trends for Your Handmade Business
Be WAry of Articles by Authors Who insist they know the Crafts that Sell Well at Craft Shows
Nobody, it seems, is tracking real numbers on different types of handmade products that sell at craft shows and online and which crafts are most profitable for artisans.
If you ever find this kind of data about solo craft business owners anywhere - I'm talking about a real study, not someone's best guesses - please let me know in the comments below. I'd love to get my hands on those numbers!
If you read an article that provides a list of items that are supposedly "the best selling handmade items" at craft shows, it's based on the author's best guess. It's not backed by data.
So, How Can You Try to Predict What Will Likely Be the Best Selling Handmade Items in 2020?
We may not have current, specific sales data from craft artists. However, we do have access to excellent trends reports and predictions.
These trend reports can be translated into the craft market to help you to create products that are likely to be on-trend and sought after in 2020.
Here are the 2020 Trend Reports We'll Look At
What's popular right now?
You can find trend reports from a range of sources. We'll focus on sources that are reputable and have a connection with the handmade market including:
the 2020 Etsy Trends Forecast
the 2020 Pinterest Trends Forecast
the 2020 Pantone Color Forecast
We'll tie it all together with my Spring Summer 2020 Trends Pinterest board where I've gathered examples of each trend for your inspiration.

Etsy's PRedictions for Crafts that Will Sell in 2020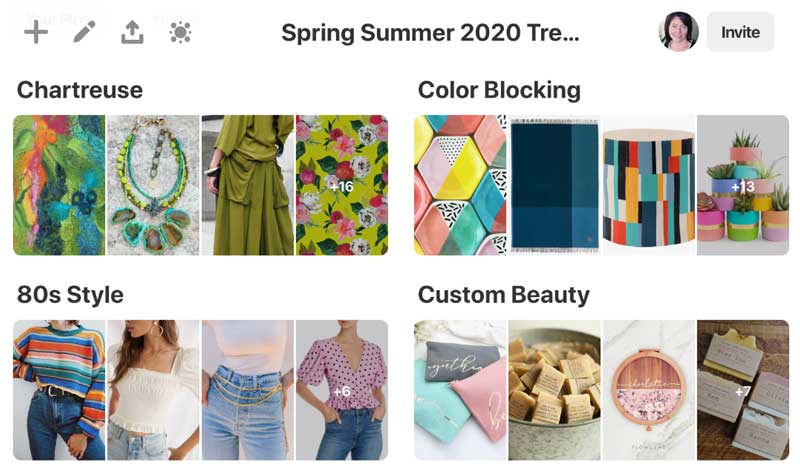 According to the Etsy Trends 2020 forecast, the hottest handmade products will include these themes and design elements:
Chartreuse
Color blocking
'80s style fashion
Custom beauty 
Pet pampering
1. Chartreuse

Etsy searches for green colored products are up by 12%. Searches for neon green have increased by 55%.
Consider working this striking, rich shade of green into some of your handmade products for 2020.
Keep in mind, the Etsy trends report says shoppers are searching for green and neon green. So, while the trending color may actually be chartreuse, shoppers may not be using this particular word in their online searches.
Including the right keywords is essential to success if you sell your crafts online, so don't just use the word "chartreuse" in your product descriptions and titles. Be sure to include the word "green" and, if suitable, "neon green" and other popular descriptors for green as well.
You can always use an online thesaurus if you need a little help thinking of other words that describe green. My go-to thesaurus when I'm stuck is Word Hippo.
Word Hippo won't tell you anything about how often shoppers use a particular word to search for a particular product while shopping online, but it will give you plenty of word suggestions. Be sure to include in your descriptions common words that people are more likely to use in searches. The average shopper might not think of the word "chartreuse" but, according to Etsy's report, they will use "neon green," so choose your words wisely when promoting your business online.
2. Color blocking

Searches for color blocking are up by 7% on Etsy.
Searches related to geometric decor were trending on Pinterest in 2019. That trend continues into 2020 with a growth in searches for color blocking on Etsy.
If you make home decor products, and color blocking works with your brand's aesthetic, consider including this trend in your designs.
3. '80s style fashion

Searches for puff sleeves are up 39%, shoulder pads searches are up 10%, and searches for chain belts are up 32%. 
According to Etsy, everything 80s will be totally radical in 2020. Bring out the giant shoulder pads if you want to embrace this trend. Maybe you can take a pass on getting a big curly perm.
4. Custom Beauty

Searches for custom beauty are up 13%, custom perfume searches are up 19%, and custom soap searches are up 15%.
Do you make handmade soaps, skin care, or beauty products? Etsy shoppers are increasingly looking for custom options in this product category.
You might offer customers made-to-order products. Do keep in mind, though, that offering custom products is more resource-intense than selling a defined line of products. Your production process will be less efficient, and you may need to keep more raw materials on hand. You'll need to be able to charge premium prices to make this business model profitable.
Don't despair!
If offering custom-made products isn't the right strategy for your business, you can still leverage this trend.
Consider offering custom bundles. If you sell cosmetics, for example, you could allow shoppers to create their own color palettes, choosing a few of their favorite colors from your pre-existing range.
Alternatively, you might be able to offer personalized packaging for larger orders. If you sell handmade soaps, for example, you might market your products as favors for parties or weddings with packaging that commemorates the event or includes a special message. Altering your existing packaging with some custom text may not be as much work as customizing the product, and the efficiencies in larger volume orders could make up for that extra work.
5. Pet Pampering
Growing pet-focused searches were reported in both Etsy's trends report and Pinterest's trends report for 2020. To avoid repetition, I'll skip this trend for a moment. We'll look at it in more detail in the next section of the article when we examine Pinterest's trend predictions for 2020.

Pinterest's Trend PREDICTIONS FOR 2020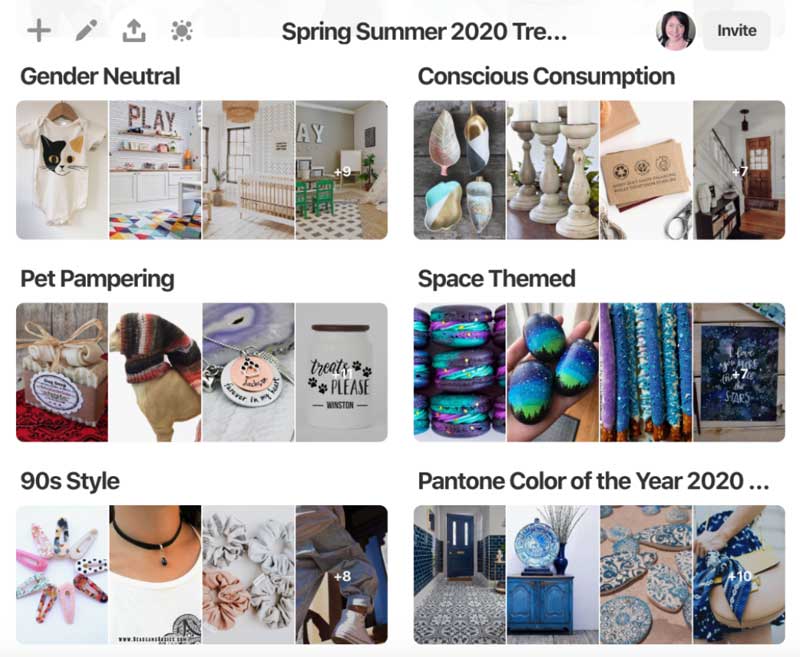 Pinterest number crunchers examined search data on the site to determine which search terms are growing the most. From this data, they created the Pinterest 2020 Trends report. 
There are 100 trends featured in Pinterest's report, so we won't go through all of them here. Some of the trends are more relatable to crafts. Others are focused on food, fitness, travel and other topics that are popular on Pinterest. 
I'm going to focus on a few Pinterest trends that translate most obviously to crafts including:
Gender neutral
Conscious consumption
Pet pampering
Space themed
90s style
There are other trends on the list that you could translate into a variety of different handmade products. If you're curious, you can check out all 100 Pinterest trends for 2020 here.
1. Gender Neutral

Pinterest searches for unisex nurseries are up 527%, every-kid playrooms are up 75%, unisex kid clothes are up 119%, and gender-neutral party ideas are up 35%.
Pinterest has called this trend beyond binary, and it appears to be particularly prominent with searches for items for kids. If you make handmade items for babies and young children, consider offering some gender neutral options.
Depending on your brand's aesthetic, your products might already be gender neutral items that work for all kids even if you haven't given it much thought. To capitalize on this trend, you may just need to merchandise and promote existing items in a way that highlights this feature.
2. Conscious consumption

Searches for thrifted home decor are up 308%, thrift store crafts are up 2276%, and solar light crafts are up 427%.
Searches for eco-friendly items are on the rise at Pinterest. In fact, Etsy also in their 2019 DIY Christmas trends guide that searches with the term "eco-friendly" had increased by 42% on their platform.
If your products are already environmentally responsible, be sure to promote that fact. If your products aren't eco-friendly, consider looking for genuine ways to use raw materials, packaging, or production processes that are more sustainable.
3. PET PAMPERING
Searches on Pinterest for pet fashion are up 199%, pet memorials are up 261%, and cat birthdays are up 156%.
Pet pampering themes are trending on Etsy, too.
The Etsy trends reports indicates the following increase in pet focused searches:

custom treats +11%
pet shampoo + 15%
pet food +15%
Pet-related searches were also a featured trend reported in Etsy's Christmas 2019 holiday shopping trends guide. According to Pinterest and Etsy reports, if your business serves this niche, there are plenty of growing trends you can embrace. 

4. SPACE THEMED

Searches for galaxy painting are up 157%, galaxy birthdays are up 341%, and constellation crafts are up 102%.
Here's another design trend that could easily be featured in many different types of crafts - Think heavenly soaps, constellation earrings, or galaxy art prints. 
Like other searches trending on Pinterest, you'll find this one trending on Etsy as well. Searches for celestial themed items were featured in Etsy's 2019 Christmas trends report.
Spaced inspired designs are a perfect fit with Pantone's color of the year for 2020, Classic Blue, which is a gorgeous shade of indigo.
5. 90S STYLE

Pinterest searches for Y2K outfits are up 669%, scrunchies are up 6309%, grunge fashion searches are up 292%, 90s streetwear searches are up 277%, and hair clips are up 930%.
90s style has been going strong for a while. In fact, Etsy included it in their 2019 craft trends report. So feel free to break out the scrunchies, hair clips, and grunge-inspired plaid flannel shirts and embrace this decade.
Pantone Color of the Year 2020
Pantone's color of the year for 2020 is Classic Blue, Pantone number 19-4052. It's a gorgeous shade of indigo blue that, like the name says, is beautifully classic. It combines well with designs that feature other trends predicted for 2020 or with more timeless styles.

Follow popular trends on Pinterest
I've gathered examples of all of these trending crafts and niches on my Spring Summer 2020 Trends board on Pinterest. You can see all of the trending items featured on this page, and more, in detail.
Check it out if you want to get more inspiration and ideas for how you can incorporate some of these trends into your own products.
I follow several trend reporting sources and update my trend boards regularly. You can follow me on Pinterest if you want these trend updates to show up in your own Pinterest home feed.