Best Selling Christmas Crafts - 2018
UNDERSTAND YOUR CUSTOMERS FOR BETTER HOLIDAY SALES - UPDATED FOR 2018
If you buy something through links on Craft Professional, I may earn a referral fee. To learn more see my
disclosure
.
---
Want to know the best selling Christmas crafts at craft shows and online this holiday season? Let's take a look at some stats and see what customers say they are going to buy and what factors impact their shopping decisions, so you can make the most of the lucrative fourth quarter (Q4) holiday shopping season.
According to 2018 retail surveys and shopping trend predictions, shoppers are most likely to spend their holiday shopping budget on clothing, electronics, toys, books and food. They plan to allocate part of their budget for experiences and entertaining in addition to spending on gifts to go under the tree. 
Over the past few years, there's been a move toward more spending on luxury items. In fact, many holiday shoppers in 2018 say they are looking for indulgent items. They want to treat their friends and family to something special that they might not otherwise buy for themselves.
That kind of product is something many craft professionals do extremely well.
Craft artists that do well this holiday sales season will likely have an online presence which includes an effective mobile shopping experience. They will be ready to take advantage of high shopping volume from October right through until January, and they will offer free or low cost shipping.
The American National Retail Foundation predicts that holiday retail sales between November 2018 and December 2018 will reach somewhere between $717.45 to $720.89 billion. And if you extend that timeframe to look at holiday sales predictions between October and January (because people are shopping both sooner and later than before), the estimated holiday sales figure jumps to over $1.10 trillion.
Yes, that's trillion with a T. It's not a typo.
There are a lot of holiday shopping dollars to be had, and craft artists should do their best to get their share of those dollars!
I've spent hours pouring over holiday shopping data from about 2012 to 2018 to look for trends and determine what will be the best selling Christmas crafts for 2018. Unfortunately, there's no holiday sales data specific to crafts that I'm aware of, so we need to look at general retail sales studies and trend predictions and determine how to use that information specifically in a crafts-based business.
We'll focus on the statistics from 2017 and 2018, so we can assess what holiday shoppers say they will do in 2018. We'll also look at some 2017 data to see what holiday shoppers did in the recent past, which is typically a good predictor of what they will do in the near future.

---
WHAT DO HOLIDAY SHOPPERS PLAN TO BUY IN 2018?
To determine what might be the best selling Christmas crafts, we need to know, in general, what holiday shoppers plan to buy and what motivates them to make a purchase.
Holiday shoppers do lean toward practical purchases. They spend a lot on clothing, which is a trend that has held firm over several years - great news for clothing designers!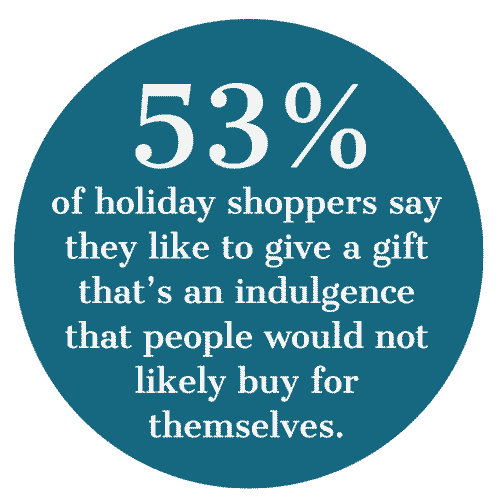 However, there's been a move toward shoppers making more luxury purchases over the past few years. Purchases in categories like jewelry and beauty products have been slowly on the rise.
A full 53% of holiday shoppers say they like to give a gift that's an indulgence that people would not likely buy for themselves.
If you can position your product as a lovely indulgence that a gift recipient would adore but wouldn't buy for herself, your product will resonate with the thinking of many holiday shoppers. Luckily, it's quite easy to position handmade products in this way because it's part of the unique, innate value of handmade items.
HERE'S WHAT HOLIDAY SHOPPERS SAID THEY WERE GOING TO BUY in 2017
Let's have a look at what shoppers who participated in the Deloitte Holiday Retail Survey had to say. The types of gifts shoppers plan to buy will give us some insight into what might be the best selling Christmas crafts this year.
Below, you'll see shoppers' responses to the question, "Which of the following types of gifts do you plan to buy this holiday season?" The question was multiple choice, and they were asked to check all categories that applied, so the results add up to more than 100%.
Next, shoppers were asked, "What percent of your budget will you spend on each category?" Here's how they responded.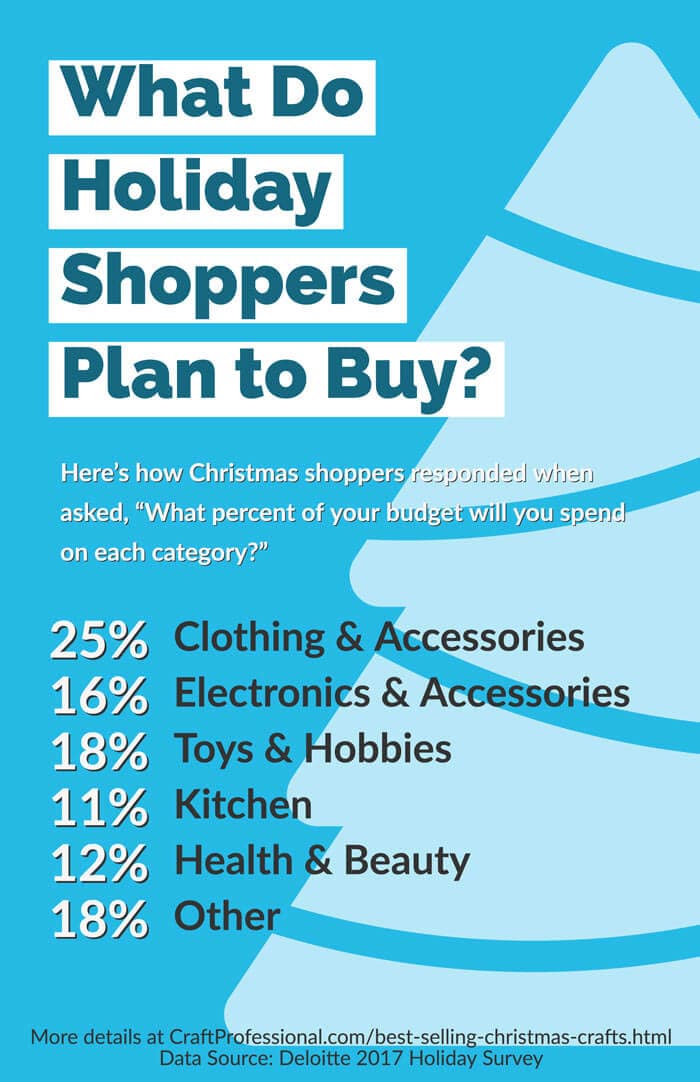 While shoppers have been very focused on buying practical gifts (like clothing) for previous Christmases, luxury gifts (like jewelry and beauty products) are on the rise. We're starting to see more of a mix of shoppers looking for practicality and shoppers looking for indulgences.
Luckily, craft business owners can serve either need.
How to Profit From a Practical Mindset?
Practical doesn't have to be dull or unattractive or cheap. It just means your items will serve a purpose, solve a problem, or improve the customer's life in some way. If you can highlight the practicality of your items, you have a better chance of hooking those customers.
Perhaps your neutral-colored handmade mittens will go with any coat. Or maybe they are reversible, so shoppers get two pairs of mittens in one.
Maybe your handmade leather purses are of such high quality and so well designed, they will last and be fashionable for many, many years, making the extra cost very worthwhile in the long run.
How to Profit from a Luxury Mindset?
Captivating handmade items are the perfect little indulgence. Think about what is special about your product and how your product can provide a delightful little indulgence for someone.
Maybe your luxurious handmade soap or bath bombs give people a chance to enjoy a quiet spa-like experience in their home. Perhaps your lovely handmade fine jewelry is made all the more special when it's given as a gift by someone who wants the recipient to have a little beauty and richness in their life.
If you can communicate the idea of luxury, you can connect with the 53% of holiday shoppers who want to buy something indulgent for their friends and family.
---
BEST SELLING CHRISTMAS CRAFTS ARE EXPERIENCES - NOT JUST PHYSICAL GIFTS
Participants in the Deloitte Holiday Retail Survey said they were keen to buy experiences as well as physical gifts. 27% of people say they like to give an experience, and 24% like to use part of their spending budget on attending a holiday event with friends and family instead of exchanging gifts.
How does that help craft artists earn more during the Christmas shopping season? 
Think about how your product could be the center of a lovely night out with friends. For example, the homemade jelly you sell might be the perfect starting point for entertaining friends at home. Perhaps you offer pottery classes; enrolment in a class for the new year would be a fun experience-based gift to receive.

Related: Get REady for Christmas Craft Shows
Want to have the best selling Christmas crafts at upcoming holiday bazaars? A great display can help boost your sales. Here are 3 pages of Christmas craft booth photos to help you spruce up your own booth for the holiday season.
---
50% OF SHOPPERS LIKE TO SHOP FOR THEMSELVES
This next holiday shopping habit definitely describes me perfectly!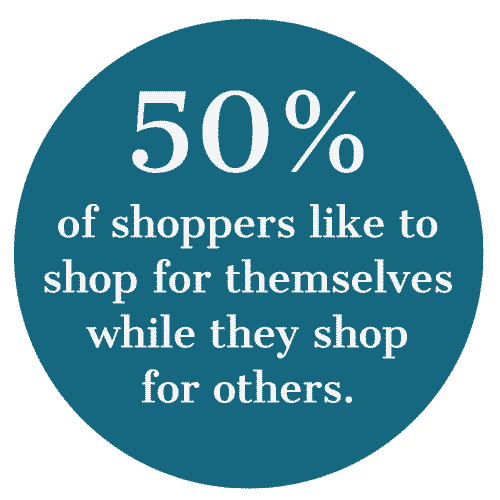 50% of shoppers like to shop for themselves while they shop for others. I'm always tempted to pick up something for myself while doing my holiday shopping.
If I'm touring a marvellous craft show, and picking up unique gifts for my family, only a spectacular amount of will power will stop me from buying something special for myself, too. If you are able to profitably price some items at impulse purchase prices, you'll hook people like me who always end up picking up a little treat for themselves while holiday shopping.
---
ONLINE SHOPPING, ESPECIALLY MOBILE, Can Play a Huge Role in STRONG HOLIDAY SALES
Online sales are growing quickly. In fact, the Deloitte 2018 retail holiday forecast predicts online sales will increase by 17 to 22 percent for the 2018 holiday season. Online holiday sales for November to December 2018 are predicted to reach $128 to $134 billion.
It may not be big news that online shopping is growing by leaps and bounds, but here are a few trends you might not know about online shopping that can impact your income and help you to have some of the best selling Christmas crafts.
MOBILE SHOPPING IS GROWING MORE THAN YOU MIGHT REALIZE
If you're like me, and you'd rather shop online on your computer than on your phone, you might not be aware of this trend.
In general, mobile online browsing has taken over desktop browsing for many (if not most) websites. While most online shoppers still make their purchases on their computers, more and more shoppers are buying on their phones.
The data below from the cpcstrategy 2018 Q4 Holiday Shopping Forecast shows you just how important online sales, and specifically mobile shopping will be to retailers this holiday season.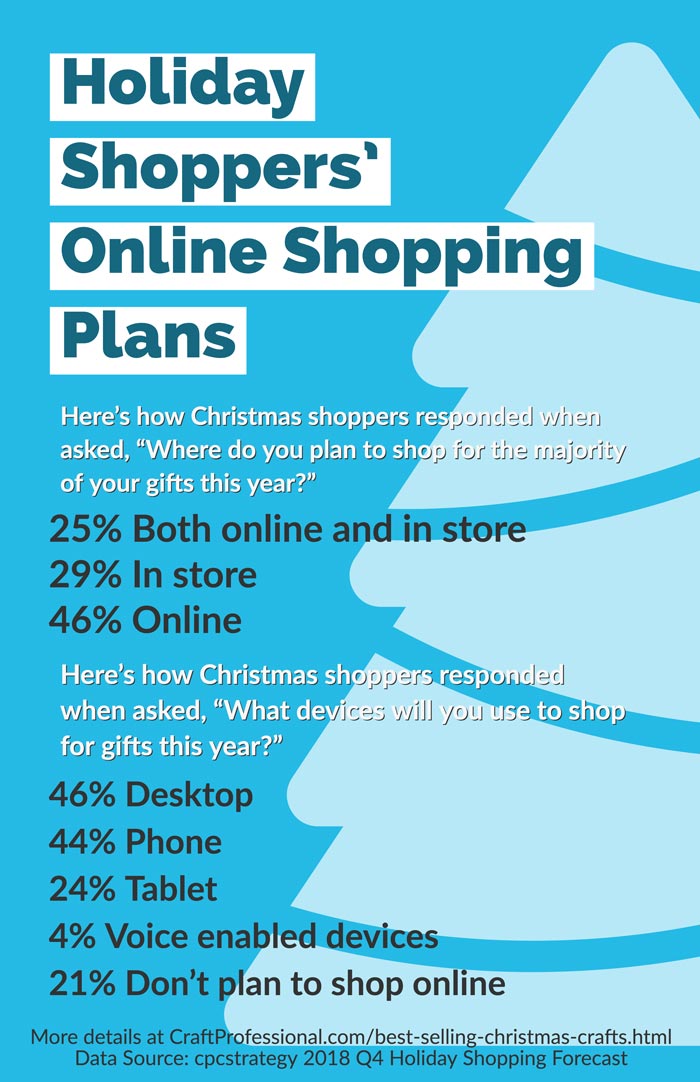 Mobile browsing is becoming a critically important part of the holiday shopping process. Even if your customer doesn't make a final purchase on a mobile device, part of their experience browsing your shop while they are making purchasing decisions very well may be done on a phone.
That means, if you sell crafts online, you need to ensure your shop is mobile friendly. If you have an Etsy shop, download the Etsy shopping app on your phone and see how your shop looks in the app. Fix anything that doesn't look just right.
If you have your own site, check it out on your phone to make sure it looks great. Some website building tools allow you to switch from desktop view to mobile view as you create pages, so you can easily ensure your site looks great on mobile devices.
Again, fix anything that doesn't look just right, and, going forward, whenever you add to your website, be sure sure to design for mobile views as well as desktop.
BEST SELLING CHRISTMAS CRAFTS INCLUDE FREE SHIPPING
Once you have customers at your online shop almost ready to click the "buy now" button, how do you encourage them to complete the purchase?
Two words - Free Shipping!
The Deloitte survey tells us that free shipping is far more important than fast shipping. When asked, "When you are shopping online, which of these two promises below would be more important to you?" 88% of shoppers claim that free shipping is most important, while only 12% value fast shipping most.
Remember, free shipping isn't really free. It's just already built into the price of your products. Customers value your product, buy they don't value shipping. For those who sell online, it's wise, as much as possible, to build the cost of shipping right into your product pricing
Related Article - The Importance of Free Shipping
But shipping still needs to be fast!
While online shoppers say they value free shipping, they expect fast shipping. Fast shipping is just assumed in many shoppers' minds.
Here's what shoppers consider fast shipping:

Same day - 2%
Next day - 7%
Within 2 days - 45%
Within 3-4 days - 35%
Within 5-7 days - 6%
Within 1-2 weeks - 4%
A shocking 65% of online holiday shoppers think they can order something after December 17th, receive it in time for Christmas, and still get free shipping!
That statistic means you need to be very clear about holiday shipping deadlines if you sell online. Communicate the final shipping dates to receive a product by Christmas very clearly and conspicuously on your site or in your Etsy shop.
If you have a newsletter, consider sending out a couple of emails as the final holiday shipping date draws near. This type of message will help ensure your customers don't miss important dates, and it can help to boost your sales because it creates a deadline that can motivate customers to buy.
---
COUPONS AND SPECIAL PROMOTIONS CAN BOOST HOLIDAY SALES
Here's one final tip to help you have some of the best selling Christmas crafts this season - Offer coupons and holiday sales. 80% of people say their shopping choices are influenced by coupons or other promotional offers. A full 34% of purchases made over this season will be bought on sale or with a coupon.
If you sell your crafts online in an Etsy shop, Etsy makes it very easy for you to create coupon codes for your shop.
If you're selling at Christmas craft shows, you'll need to read your show's regulations carefully before you offer sale prices. Some shows have rules against offering sales in order to preserve the value of all the handmade products at the show, others will allow certain types of sale prices but not others.