9 Portable Food Display Counter Photos
by Lisa McGrimmon
I'm thrilled to have 9 food display counter photos to show you how to create a booth to display your homemade edible products at craft shows.
Why am I thrilled? Because I rarely get food booth photos. There are typically plenty of food vendors at shows, but, I think, when I reach the food booths, I usually get completely caught up in sampling and shopping. 
Happily, I was able to stop snacking long enough to get these 9 fantastic photos!
Fabulous Food Display Counters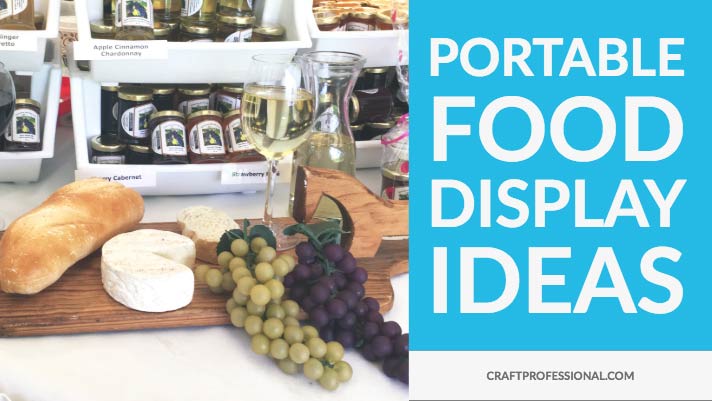 Let's start with one of my favorite food display counters. I see this beautiful booth regularly at shows, and I never get tired of admiring how clever and lovely it is.
This vendor sells delicious homemade wine jellies, but her display also sells the idea of the fabulous gatherings with friends you could enjoy with her wine jellies at the center of the festivities. When you visit this booth, you aren't just thinking about the delicious food. You're also thinking about the elegant parties you could easily host while sharing this delicious food.
---
I earn a commission for purchases made through links on this page.
---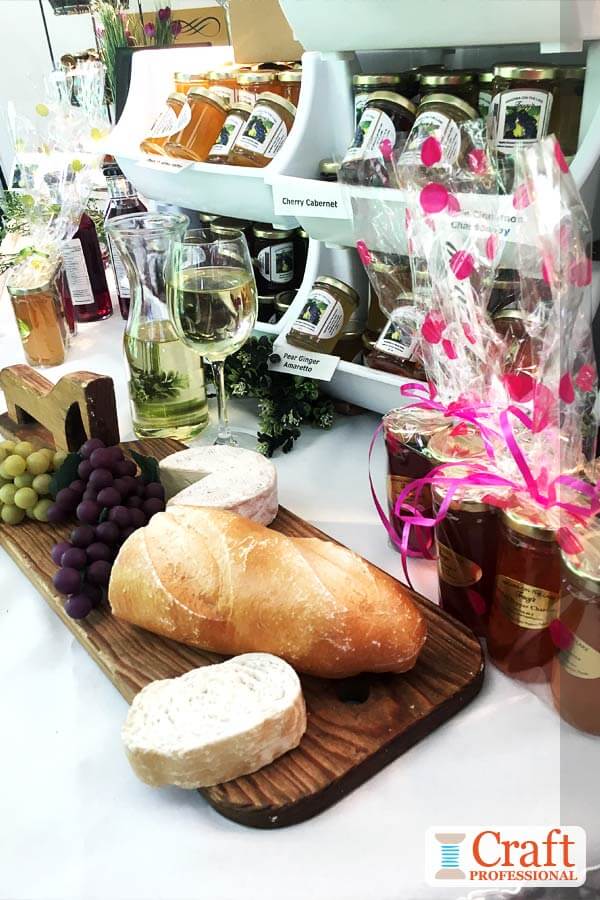 This booth is designed to evoke a lovely evening with friends. Its elegant but simple design hints at the idea that, with these wine jellies, you could easily host a lovely get together with friends.
The grapes, bread, cheese, and wine are all fake! They are essential to evoking the festive feel of the booth, but real grapes, bread, cheese, and wine wouldn't last long in a food display. These fakes are extremely realistic. You have to touch them to realize that are not real.
Also, notice the package of three jars of wine jelly wrapped up in clear cellophane with a pretty ribbon all ready for gift giving. This is a subtle way to remind customers that these jellies are an excellent gift idea!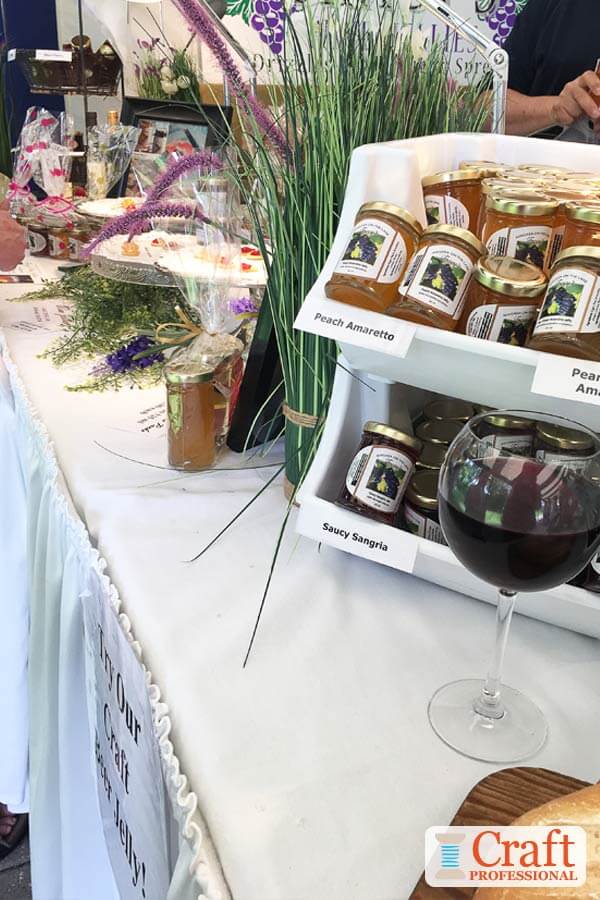 The photo above shows another side of this food display counter.
You'll notice pretty, but casual flowers on display, which continue to tell the story of wonderful, but easy entertaining. Like the rest of the display props these flowers are excellent fakes, too.
This photo was taken at a summer show, so the summer flowers make sense. They could easily be switched out for fall-like or Christmassy flowers to make the booth ready for fall or Christmas craft shows.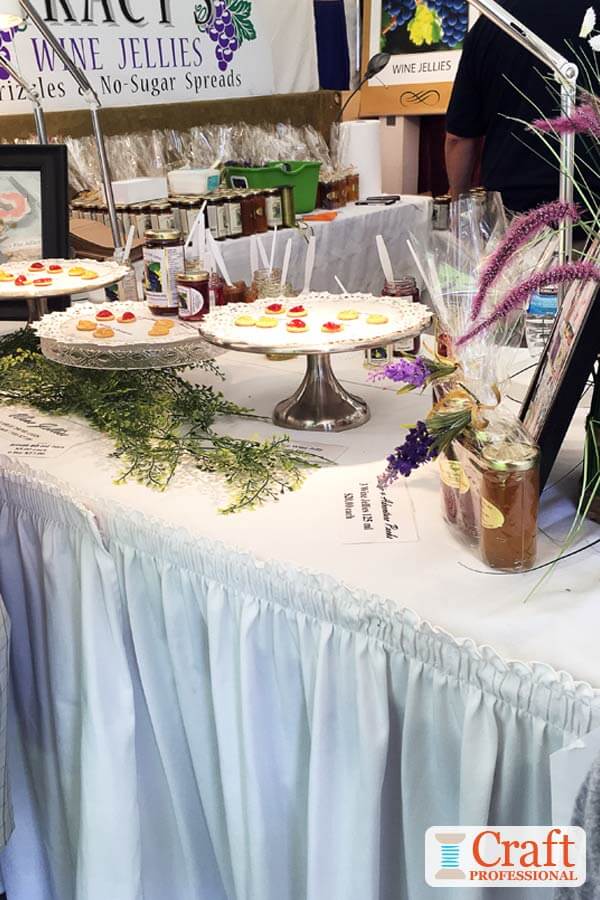 Even the samples area of this food display counter evokes simple but elegant entertaining. 
Many sample areas for food booths feature inexpensive crackers or pretzels with plastic spoons or popsicle sticks for spreading samples. There's absolutely nothing wrong with that if you want to create a casual food booth, but that setup wouldn't fit with this display.
Tiny crackers already spread with jelly samples sit upon silver serving trays lined with pretty paper doilies. They continue the impression that you're in the middle of a lovely soirée. 
Notice the fantastic white table covering. The gathered table skirt is attached to the top edge of the table with velcro. This setup creates a much more streamlined look than simply letting your tablecloth drape over the top of your table. A table skirt velcroed to the top edge of the table creates much tidier corners.
You can't see the booth lighting in this photo. The silver arms of the spotlights on the display table are just visible in the picture above; however, the display is very well lit.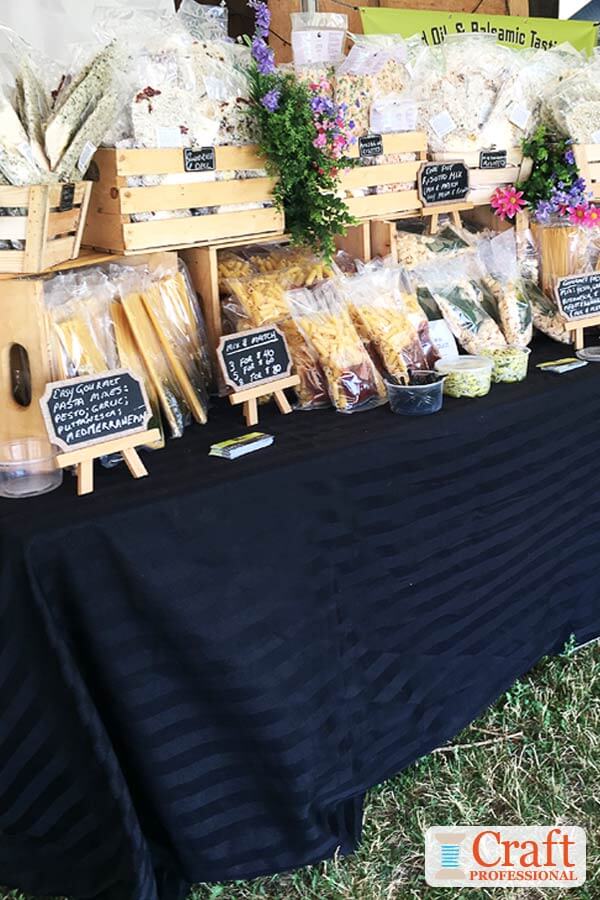 The photo above shows a simpler, and more casual food display featuring handmade pasta.
A tabletop display is a simple foundation for a craft booth. The small chalkboard signs provide helpful information that is easy to change as needed.
Wooden crates are used frequently in all kinds of craft displays. Stacked together, they make effective shelves, and, of course, they come in handy for transporting and storing craft show supplies.
Like the first booth, this display also uses artificial flowers to brighten up the space, break up the long lines of crates, and add some color and interest to the overall look.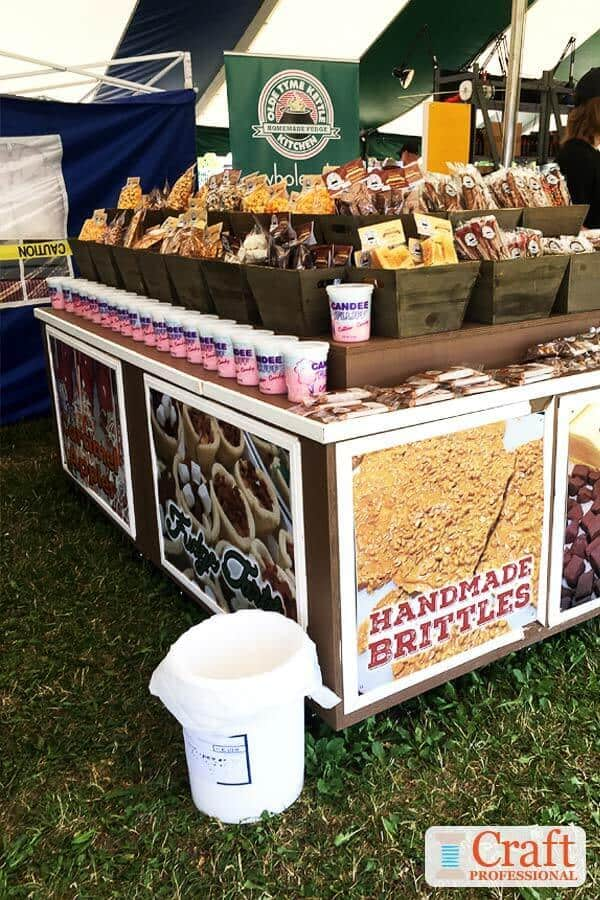 Next up, we have a display that features a center island booth layout with the display in the middle of the booth space and aisles for walking all around. This setup is seen often in food displays but only rarely in other types of displays at craft shows. It gives customers space to explore the booth from four sides.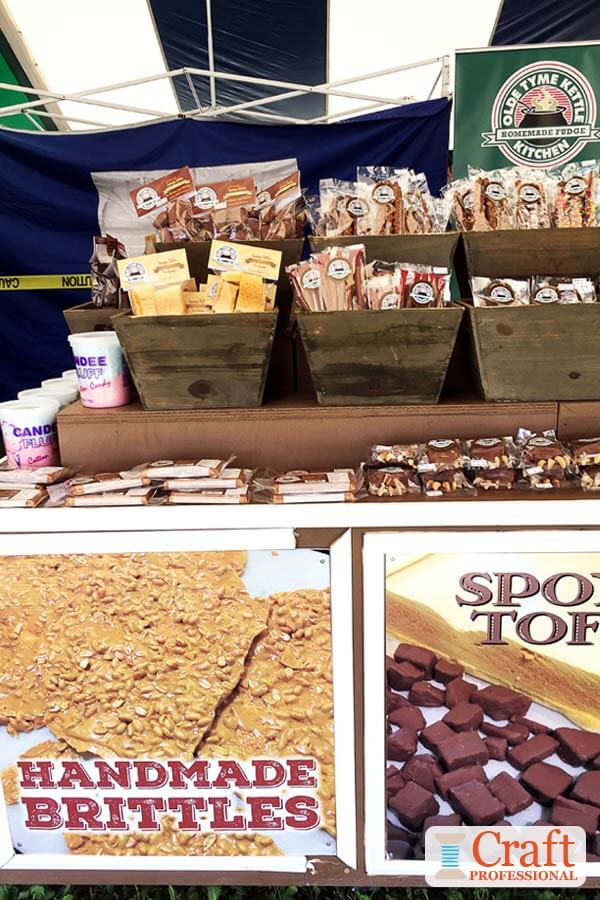 Here's the same booth at a slightly different angle. Notice the collection of wooden boxes used to hold products. A tiered design built into the main display platform allows the full depth of the display to be used. Items in the center are higher, and, therefore, still visible.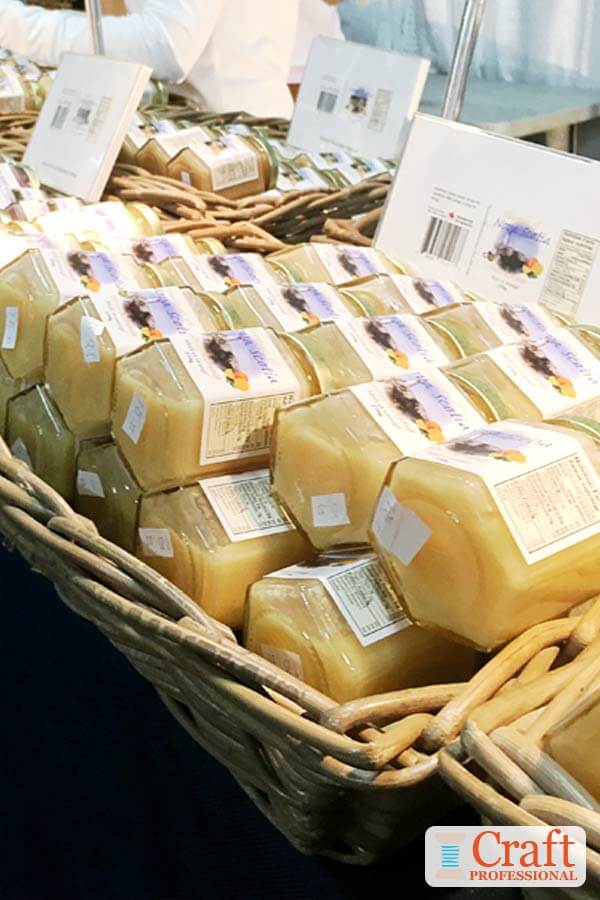 The photo above showcases clever food packaging. Can you guess what's inside the pretty hexagonal glass jars? 
They are full of honey!
I love the way this vendor uses a simple and elegant shape to evoke the bee hives that the product comes from.
The shape wouldn't be obvious if the jars of honey were standing upright, so they have been very purposefully laid on their sides in this display to show their shape and create a honeycomb effect.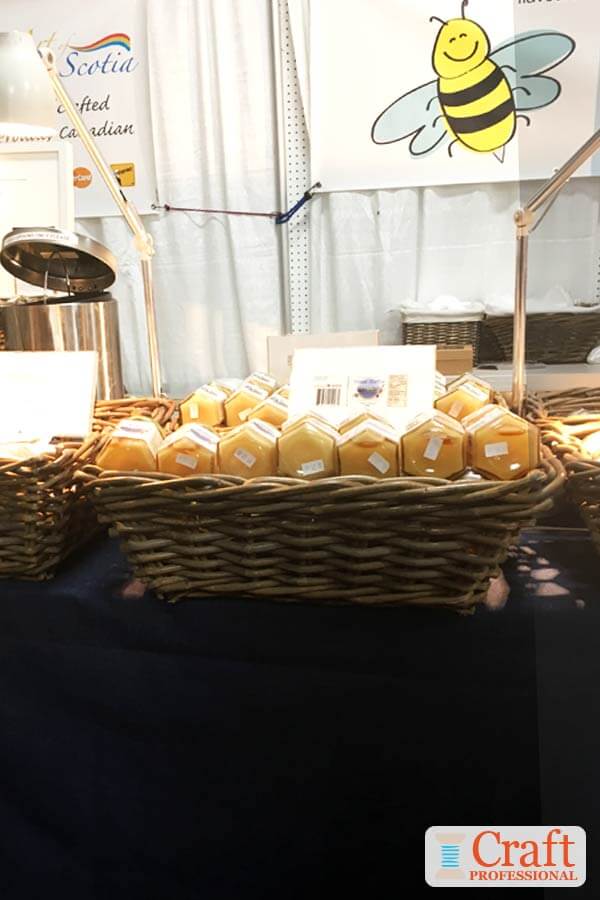 Here's a straight-on view of the same display to help you see the effect more clearly.
Notice, similar to the other food displays that use wooden crates, this booth makes good use of woven willow baskets for containing products.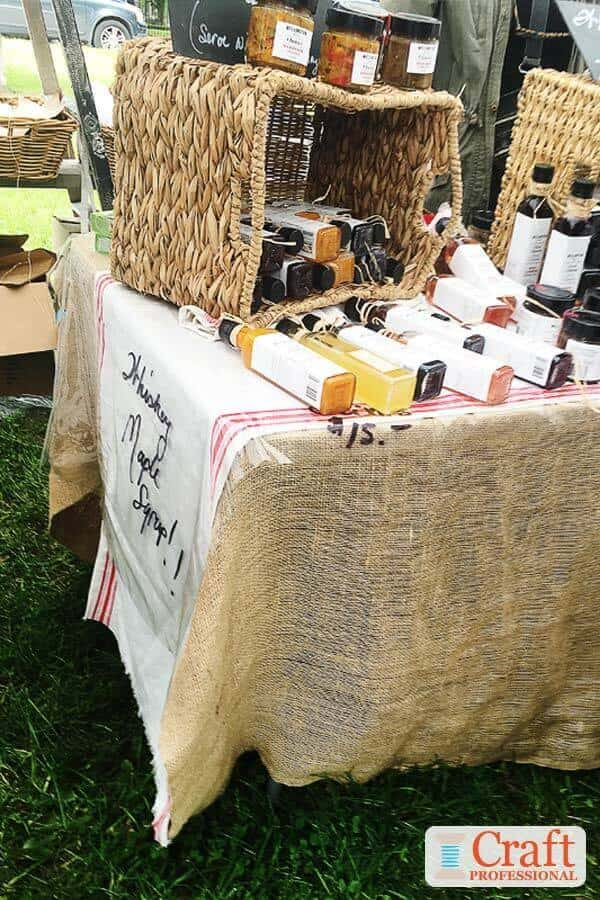 Here's another food display using baskets. This time they are turned on their side.
This rustic display was photographed at a very popular but casual outdoor craft show. The aesthetic works perfectly for this show.
If you look closely at the photo, you'll see the table covering and runner are toped with a length of protective, clear plastic. This protective layer will help to keep the table covering clean as customers try samples. Plus, it provides a clever space to write prices and other information. It can be wiped clean, and written information can be changed easily.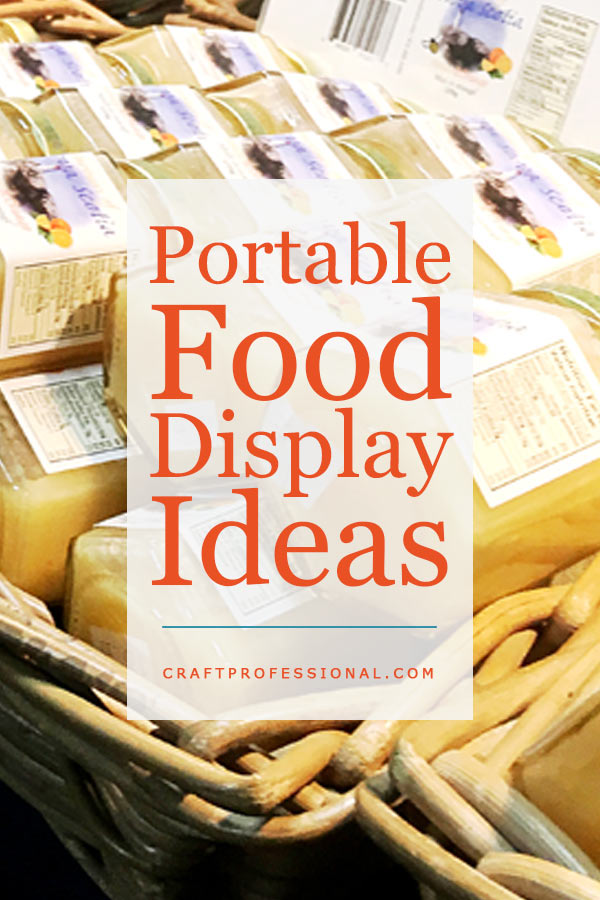 You Are Here
You are here:
Home
➤
Display Booth
➤ Portable Food Display Counter Photos