Booth Lighting Photos
If you buy something through links on Craft Professional, I may earn a referral fee. To learn more see my
disclosure
.
---
Booth lighting is often one of the last things people think of when designing a craft display. The benefits of tents and display stands and furniture are immediately apparent - they keep you comfortable and provide a framework to display all of your products. But the benefits of good lighting aren't so immediately obvious, so it's tempting to skip the lighting when planning your booth.
---
I earn a commission for purchases made through links on this page.
To learn more, please see my disclosure.
---
I have to urge you not to give in to the temptation, especially if you're doing several indoor shows. Some craft professionals get by without lights at sunny outdoor shows, but at indoor shows, it's definitely not something you want to skip. Lighting isn't something you notice immediately, but if it's missing, your products won't be shown to their best advantage.
Luckily, there are plenty of good options to light up your booth. The 11 photos below show you some ways to brighten your display for your next craft show.
I love this very clever booth lighting built right into the DIY jewelry displays.

The small white clip on lights are close enough to provide effective spotlights but also far enough away to be unobtrusive.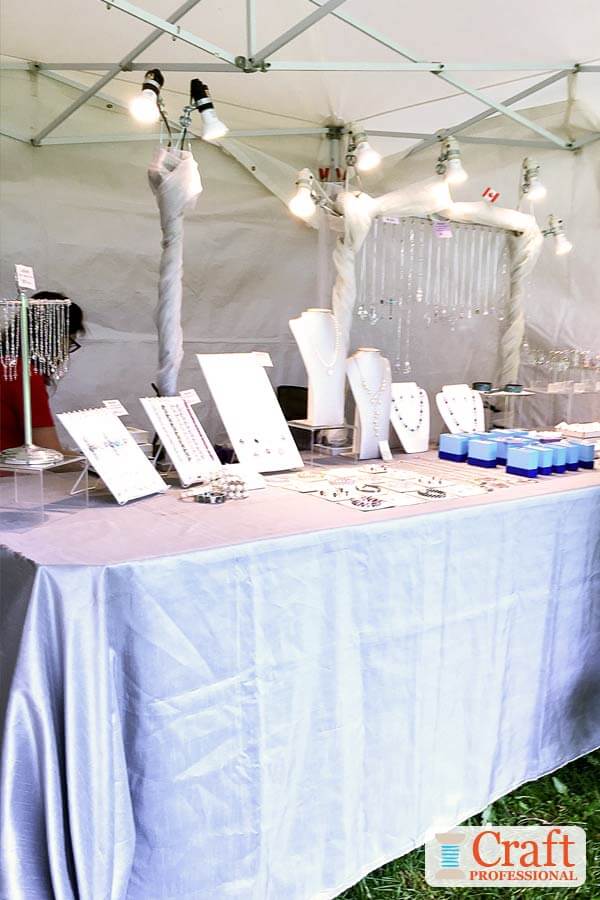 I'd love to know what's under all of that tulle. It might be as simple as some PVC pipes connected together with lights clamped to the pipe, tulle to hide everything, and a couple of clamps securing it all to the table.
While we're talking about tabletop displays, it may not be obvious from the photo, but this table is raised up to counter height, which is approximately 36 inches tall (standard table height is typically around 30 inches).
The raised table height is much easier for customers to browse and particularly important for showing smaller items like jewelry.

---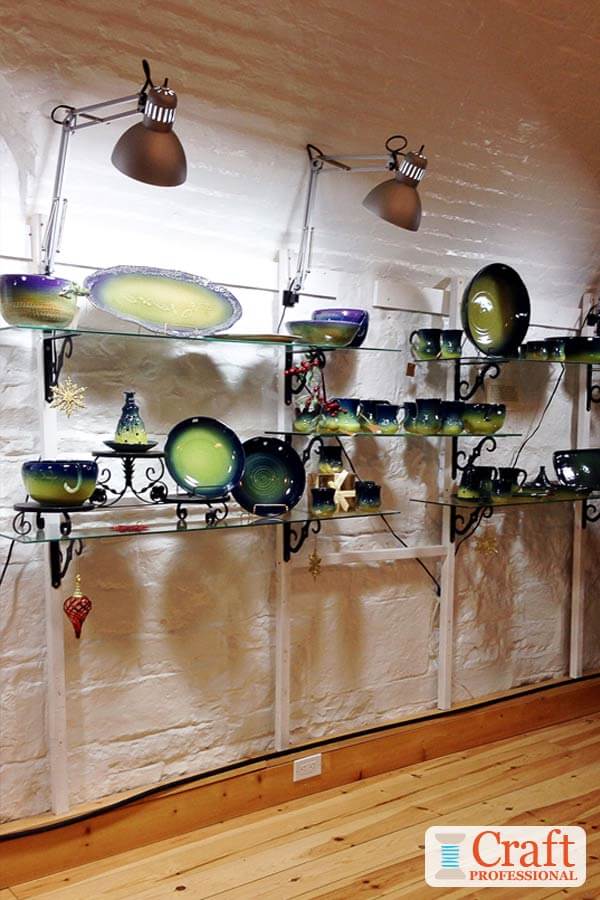 Here's a more permanent display of handmade pottery. The lighting in the room isn't enough to show this tableware at its best, so lights are mounted above the shelves to act as spotlights.
Also, notice the shelves are made of glass. While glass shelves in a craft display have their obvious drawbacks, one benefit of glass shelves is they let light shine through from top to bottom.

The flexible swing arm design of the lights makes it easier to position them exactly as needed.
The two booths, pictured below, show more examples of pottery displayed on shelves with very different looks. When you use rows of shelves (other than glass) you have to be very aware that the lower shelves will be quite dark if you're not careful about lighting.
In these displays, the designers have both used strips of lights mounted under the shelves.
The lights are discreet. You'd never notice them if you weren't specifically looking for booth lighting ideas, but they are extremely effective in keeping the lower shelves well lit.

The next two booths pictured below are all lit up with a row of lights across the front of the booth and a bar secured across the top front of each booth to provide a perch for the lights. Several lights do a better job of lighting up your space than one or two large lights, and these booths make good use of multiple lights.
The design of the lights on the left is a little tough to see because the light blows out the photo, but the light covers are a stylish design you might see used as pendant lights over a kitchen island. They hang down a bit lower than most overhead booth lights, so they are more noticeable, and the style adds to the design of the booth.
The lights in the photo on the right has a reflective cover that helps to focus more light exactly where it's needed. These lights can be used in photography as well, so they can do double duty for a booth and a product photography setup.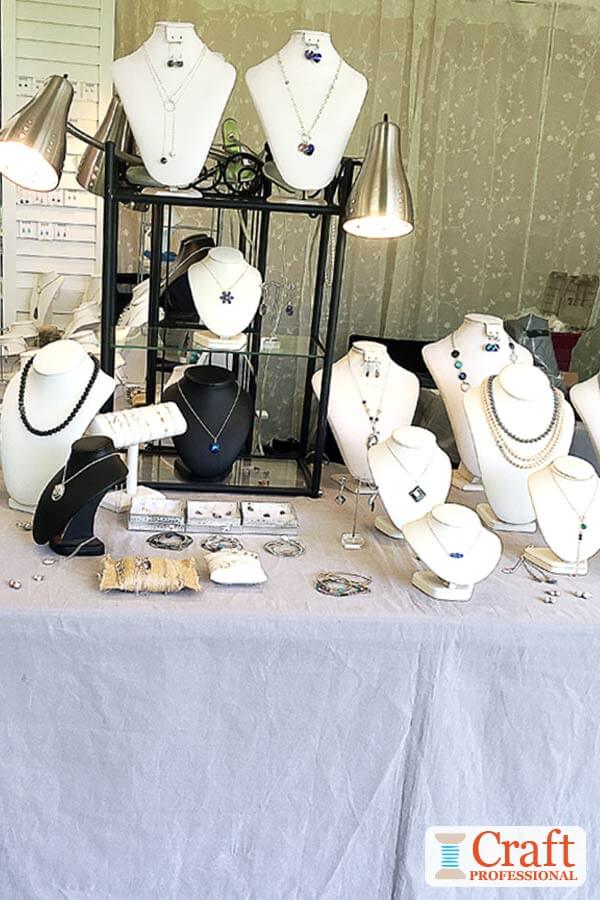 Here's an uncomplicated, achievable jewelry display.
The lighting consists of simple lights that either sit on the table top or are clamped to the back edge of the table. This lighting stands out in the photo, but in the booth overall, it blends in and fulfills its function of providing illumination without detracting from the jewelry on display.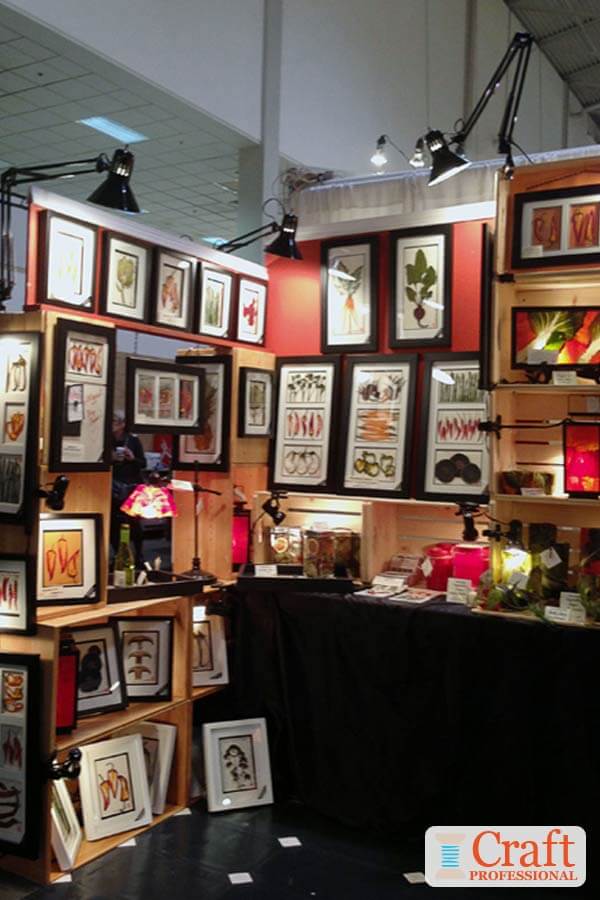 Here's a tabletop display that's full of light. Again, in the photo, the lighting is quite obvious, but in person, it blends right in with the decor. In addition to flexible arm lights at the top of the booth, you can see spotlights throughout the display. There are a few different styles of lights, but they are all black, which unifies them. The black color is used throughout the booth in the table covering and frames, which helps the lights blend into the background of this booth.