How to Teach Your Craft
If you buy something through links on Craft Professional, I may earn a referral fee. To learn more see my
disclosure
.
---
If you've ever thought about adding craft classes to your business mix but wondered how to teach your craft in person, this five part series is for you!
Teaching your craft in person can be a fabulous addition to your business. It can add a new stream of revenue, bring in a different type of customer, allow you to develop new skills, draw attention to your own finished work, and provide opportunities to network and build your reputation as an expert in your craft.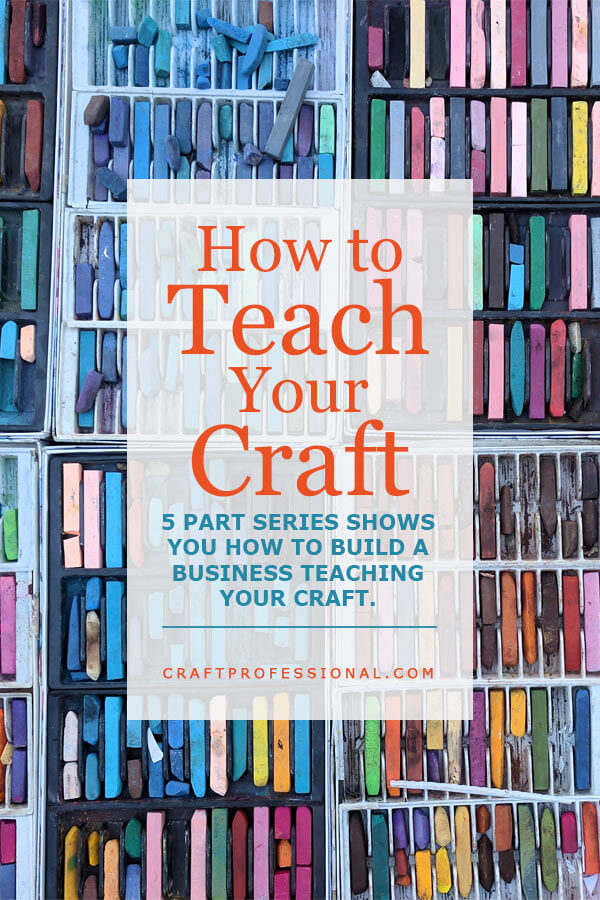 I've long thought about writing a series of articles about how to teach your craft.
My own background includes years of teaching. I have an education degree, and I started out my career as a teacher. I've taught everything from piano lessons to algebra - career planning to jewelry making.
Somehow, I just never got around to writing those articles.
Then I took the course, How to Teach It, on Craftsy.
Let me tell you, this course is fabulous. The instructor, Gwen Bortner is a fun, likable person. She's a great teacher who really knows her stuff. Gwen's course inspired me to share my own tips and experience around teaching.

---
I earn a commission for purchases made through links on this page.
To learn more, please see my disclosure.
---
You can take a variety of approaches to teaching your craft from quite informal to tremendously structured. You can be highly independent, or your can partner with others in your community to develop, host, and market a course together.
You'll need to take some time to think through the way that will work best for you, your community, and the skills you have to teach. You may end up experimenting with a few different approaches until you find what works best for your particular set of circumstances.

Before you dive in and start looking for students, you'll need to do a little planning.
How to Teach Your Craft - 5 Part Series
This series of articles will take you through that planning. Here are links to each article:
If you're seriously considering teaching your craft, I'd highly recommend enrolling in How to Teach It.
I've taught long enough that I know a good teacher when I see one, and Gwen is fantastic. She's a likable instructor, and you can tell she's been there and done that.  I've spent years teaching and helping people market themselves, and I still learned a lot from Gwen's class.

Her class is full of the kind of information you only get from experience. It includes invaluable worksheets and advice including:

sample class policies
a time line for preparing your class
sample craft teacher marketing letter and resume
sample class timeline
and resources and advice for calculating the fees you should charge
These are the kinds of things you'd normally wrack your brain over when teaching your first class, and Gwen has laid it all out for you.