Teach Art at Home or in Your Community
If you buy something through links on Craft Professional, I may earn a referral fee. To learn more see my
disclosure
.
---
Want to teach art at home or in your community? Here's how to find the right venue to teach your craft and get started on your career as an art or craft instructor.
Whether you teach art at home in your studio or in a space out in your community, your teaching venue will impact the nature of your class, so it's important to think it through and determine the best place to teach.
If the tools, equipment, and raw materials you need to teach your craft are fairly portable, then there all kinds of possible venues for teaching. If your required tools and supplies are not-so-portable, and you absolutely need the not-portable items in class, you'll have fewer options.

If you think your options for teaching locations are limited because of logistical constraints of your craft, be sure to review the fundamental characteristics of your craft to make sure you've problem-solved thoroughly and brainstormed a variety of alternatives that might provide you with more possibilities for teaching.

And considering taking the Craftsy course, How to Teach It. It was created specifically for craft artists who want to start teaching their craft skills. You'll come away from the course full of ideas for craft-based classes you could teach.
A few possible venues for teaching your craft:

in your home studio
at someone else's home
at a craft shop
at a community college
at a community center
at local schools
Let's take a look at considerations for each type of venue.
Teach Art at Home in Your Studio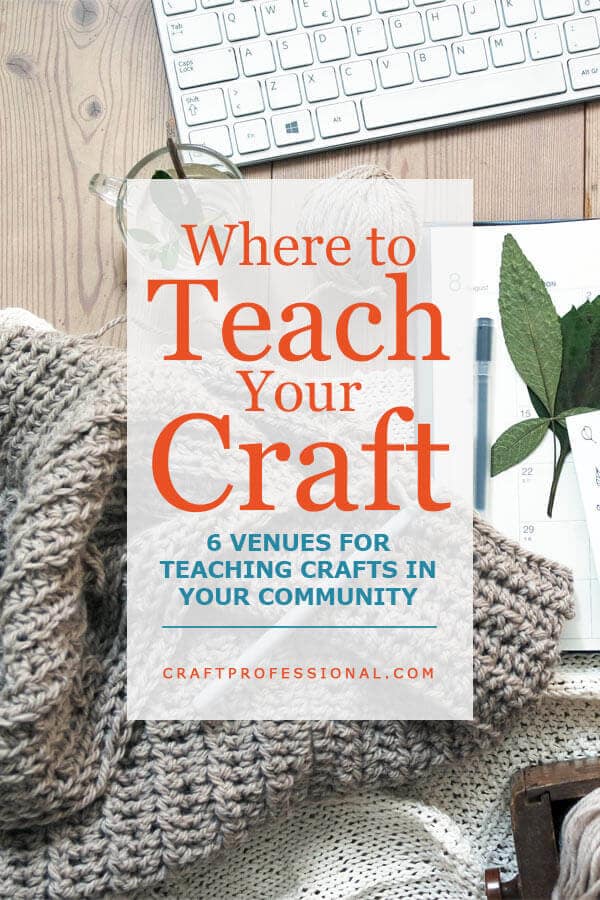 If you teach art at home in your studio, you will be at your most independent.
You won't have to worry about a partner's expectations, and you'll keep all of the profits from your courses. You'll need to ensure your home in general, and your studio specifically, are set up to accommodate a group of students. 

Sometimes being independent is great. You can do what you want without worrying about anyone else's input.
However, being independent has its downsides. If you teach classes in your home studio, you're on your own. You'll need to do all of the promoting, planning, organizing, and preparation. If you taught in another venue, you might have support with some of those tasks.
Teach your craft at someone else's home

You might use a home party model to teach your craft. Your host can invite her friends over, and you can teach a craft project. Your host will do a lot of the marketing, inventing friends and family, and you can support her with her marketing efforts providing easy invitations and photos of the finished project.

You'll need to work with tools and materials that are fairly portable, and you'll need to design a project that can be finished in a couple of hours.
Keep in mind, this type of class tends to be more social and relaxed. People have gathered together to socialize as much as they have to work on a craft project. Your teaching will need to reflect that, allowing for more chatting.
A less complex project that doesn't require a high degree of focus would be a good choice for this type of craft class.
Teach your craft at local schools

Can you design a craft project that you could teach to school-aged children? If your craft is school-appropriate, you could find plenty of opportunities here. 

My youngest son just made an adorable hand built, one-eyed monster pottery dish at school. My friend, who is a local potter, came into his school, and taught his class. They were finished within a single lesson. She brought the pots home to her studio to fire in her kiln, then she delivered them back to the school. Parents paid a reasonable fee to pay for her time, expertise, and materials. 
You'll likely need to complete a police background check to work within schools. Check with your local school or school board, and they will let you know the requirements. Then brainstorm a list of all of the teachers you know, and start asking if they'd be interested in doing a special craft project in their class. Many schools and teachers are happy to have guests from the community enrich their student's learning.
Teach Art at a community center

You may be able to partner with a local community centre to teach your craft. In this case, the community centre may be an involved partner, or they may provide the space and nothing else. 

You may simply rent a room at a community center. If the room rental fee is reasonable when compared with the fees you expect to receive from students enrolled in the class, this can be a great option if your home studio is not an appropriate teaching venue. You'll still be fully in charge of developing and marketing your class, but the community centre will be responsible for providing the teaching space and parking for your students.
Alternatively, a community centre may be an active partner in developing and promoting your class. Often, in this case, you won't pay a room rental fee, but the community centre will take a percentage of your enrolment fees. In that case, you'll still need to promote the class yourself, but you can expect the community center to also play a role in promoting and selling enrolments. 
Teach your craft at a craft shop or related shop

Craft shops can provide another good venue for teaching your craft. If they sell supplies used in your craft, they will have access to plenty of targeted customers. Many of their customers will be beyond the beginner stage, so this venue is a good place to teaching intermediate, and even advanced skills.
Do be sure to note the skills required in your promotional material to ensure your students come into your class with an appropriate skill level.
You don't have to be limited to craft shops. Brainstorm other types of shops that fit within your niche but aren't direct competitors. For example, if you make fabulous massage oil blends with essential oils, you might teach a class in blending essential oils at a local yoga studio.
Teach Art at a community college

Does your community college offer continuing education courses? This type of venue might present a great opportunity for teaching your class.
I've taken fabulous beginner photography and filmmaking classes at my own local college. They also offer soap making, knitting, painting, beading, glass blowing, and jewelry making. A course at a community college can be long and in-depth, or it can be a short weekend seminar.
Be Mindful of the Business Side of Choosing a Teaching Venue
All of these teaching venues will have their own set of implications for your business insurance, and there may be local bylaws you'll need to take into account as well.
I'm not a lawyer, and I'm not an insurance expert, so I can't advise you specifically on how to handle those concerns.

You can, however, learn plenty about how to manage the business side of teaching crafts in Gwen Bortner's course for craft instructors, How to Teach It, on Craftsy.
Also, the more people you have involved in making your course happen, the more careful you'll need to be about clearly stating expectations in terms of class size, payment, and who is responsible for different aspects of running the class.