How to Start a Craft Business
If you buy something through links on Craft Professional, I may earn a referral fee. To learn more see my
disclosure
.
---
Learn how to start a craft business with quality online craft classes and courses for small business owners.
September is back to school month. Although many years may have passed since you graduated, heading back to class and building new skills or expanding existing ones is always a good idea for creative entrepreneurs.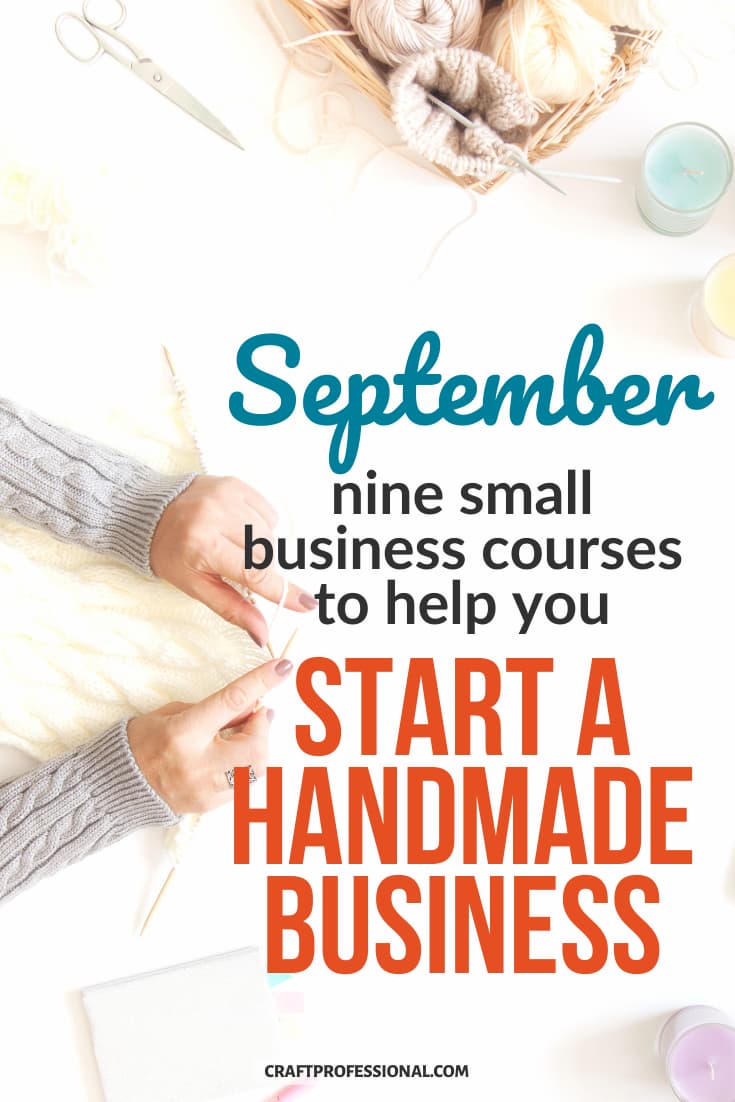 When you start a creative business, you'll find you're constantly learning something. I know I'm almost always in the middle of some course. So this month, I'll share some of my favorite places to learn business skills for creative professionals.

If you want to start a craft business, you need to make sure your business skills are sharp, and your creative skills must be well-honed. That's why I'm including courses for building business-related skills and classes for building craft and design skills in this list.
I'll share my favorite learning resources including:
Where to Learn Business Skills - An overview of my favorite places for creative professionals to learn craft and business skills
Business Skills for Craft Artists - Courses that teach skills you need to start a craft business such as craft booth design and product photography
College and University Art Courses Online - Respected art schools that offer online continuing education courses and certificate programs in art, design, and business skills for creative professionals
You don't need to live in a big city to access these classes. All of the courses are available online, so you can develop your craft and business skills from any place you have an internet connection.

Where to Learn Business Skills

If you want to start a craft business, there's truly no shortage of online courses for small business owners and classes to fine-tune your craft skills. In researching this article, I spent an entire afternoon down a rabbit hole of online learning for creative professionals - and I had already researched the subject extensively for my own learning.
The trick is to wade through all of the options to find courses that:
are taught in a way that supports your learning
provide accurate information you can use
come at a price that fits your budget
We'll start with some of my favorite platforms and places to learn the skills you need to start a craft business. Then we'll get into specific courses that teach business and creative skills for craft artists.
4 places to learn business skills for creative entrepreneurs:

SkillShare
Udemy
Craftsy
Colleges and Universities
Here's why I like each learning platform.

SkillShare
SkillShare is fabulous if you want to learn a variety of creative and business skills quickly and on a budget.
You can get a trial of their premium membership, which gives you access to every class, for free for two weeks. After that, it's $8.25 per month billed annually or $15 per month billed monthly.
---
Udemy
Udemy has an extremely broad range of classes. This learning platform doesn't specifically target artists and creative professionals, but it does have some great business courses and craft classes.
Classes are priced individually, and Udemy often has big sales.
Check out crafting classes on Udemy
---
Craftsy
Craftsy is strong on classes that teach craft skills. While you will find a few fabulous courses that teach business skills for creative professionals, (see my favorites below) teaching creative skills is Craftsy's real strength.
You can pay for individual classes, but if you want to take more than one class, buying a premium membership at $7.99 per month or $79.99 paid annually is the more cost-effective option.

---
Colleges and Universities
There are several respected art and design schools that offer online courses and certificates through continuing education.
Learning art or business skills this way will typically be pricier than other options I've listed, but sometimes you want to have the authority of a college or university behind the courses you take.
I've listed some art schools that offer several art and business courses online below.
art and craft business courses

General Craft Business Course
If you want a course that gives a broad overview of how to start a craft business, check out Brooke Glaser's course, Make a Living as an Artist. Brooke is an illustrator and designer, and in her course, she shares insights into how to:

determine what type of creative business is right for you
examine different ways to make money
create a brand identity
build systems to run your business efficiently
find support and mentors
market your business
and so much more
This course covers plenty of topics you need to explore if you're going to start a craft business.
Enroll in Make a Living as an Artist for FREE with SkillShare's 2-week trial
Visual Merchandising Course

I love this course by Sarah Manning on Udemy! I took it after spending years looking at and analyzing hundreds of craft display booths, and I still learned plenty of smart display design strategies.

If you sell at craft shows and want to learn how to display crafts in a way that increases sales, this course is for you. It's full of display design strategies that have been tested extensively and used successfully by retailers.
The course is specifically focused on designing a bricks and mortar retail shop, so there are a couple of topics covered that don't translate directly into designing a portable 10x10 craft booth space. But the majority of the lessons contain merchandising strategies you can easily use in your craft display.
A lot of Sarah's advice can be implemented without buying a pile of extra display stands and furniture. If you already have a craft booth setup, there's a good chance you'll just need to rearrange what you already have to apply the strategies you'll learn in this course.
If you don't already have a craft booth display, take this course before you start buying items for your booth. It will teach you valuable lessons to help you design an effective booth the first time, so you can avoid wasting money on display stands that don't suit your needs.
Check out Sarah Manning's Visual Merchandising Course
Best Product Photography Courses

Great product photography is essential to the success of any craft business whether you sell online or at craft shows.
Some situations - like applying to big, competitive craft shows - really do call for the skills of a pro photographer. However, there are other tasks - like taking photos for your blog - that can be done effectively by an amateur photographer with a little training.
If you want to learn how to take better photos to create beautiful blog posts or sell more in your Etsy shop, these courses are a great place to start.
In this class, crochet designer, Kristina Turner, will quickly show you what you need to know to take the kind of crisp, bright handmade product shots that are popular on blogs and marketplaces like Etsy. Nothing hurts online craft sales like bad product photography.

Give this class just 21 minutes of your time, and you'll be taking better photos to sell your products online.
Enroll in Product Photography Basics for FREE with SkillShare's 2-week trial
---
Here's another immensely helpful class by Kristina Turner. In less than an hour, she'll teach you how to edit photos so they are bold and bright.

By the end of the class, you'll know how to use Photoshop or a mobile editing app to turn poorly lit product photos into gorgeous images that really pop.
Enroll in Kristina Turner's Photo Editing class for FREE with SkillShare's 2-week trial
---
A lightbox helps you control your lighting when photographing your handmade products. It's an extremely helpful tool, and you don't have to buy one - you can make one with items you might already have around the house.

Let one of my favorite photography instructors, Tabitha Park, show you how to make an inexpensive DIY photography lightbox, so you can take well-lit photos that show your products at their best, and save your money for something else!
Learn how to make a lightbox for FREE with SkillShare's 2-week trial
---
 Here's another photography class from Tabitha Park showing you how to DIY essential photography gear. This time, she'll show you how to make your own stylish and affordable photography backdrops to enhance your photos.
Learn how to make photography backdrops for FREE with SkillShare's 2-week trial
Intro to Photography Courses

The first photography courses I've listed focus on very specific skills you'll need for great product photography when you start a craft business. But you might want to start with a more complete beginner's photography course that teaches the basics.
Here are a couple of longer courses that provide more in-depth photography instruction.
If you want to learn how to take better photos to sell more on your Etsy shop, this course, taught by Jessica Marquez on Craftsy is a great place to start.

Jessica will show you the gear you'll need for home product photography, then she takes you through the basics of using a DSLR camera. You'll also learn about lighting, styling, and editing your photos to make your handmade products look great.
Check out Product Photography at Home on Craftsy.
---
If you need a more general and thorough course that teaches you how to use all of those mysterious buttons on your DSLR camera, check out the popular Photography Masterclass on Udemy. It covers an impressive list of photography topics from beginner basics, to product photography, to starting a photography business.

Of all the courses on the list, this course requires the biggest time commitment - there are 22 hours of videos, 63 articles, and 31 downloadable resources! But it's also the most thorough education in photography.
Check out Photography Masterclass on Udemy.
Art and Craft Teacher Course

Want to become the most fabulous crafts teacher in your community? Then you need Gwen Bortner's Craftsy course, How to Teach it.

Gwen is a wonderful, experienced crafts instructor. She really knows her stuff. Her course will tell you everything you need to know to create, promote, manage, and teach your own craft classes.
Check out How to Teach It on Craftsy.
College & University art Courses Online

If you want to take an art or business course directly though a college or university, there are several options. Plenty of schools offer online courses through their continuing education department.
Taking a university course through continuing education means you simply sign up. You won't need to go through the process of applying to be accepted to the school. Some of those continuing education programs even offer certificates for artists and creative professionals.
I'll list several options below, but I'm sure I haven't found every art school with an online continuing education program. Do check out nearby schools that are well known in your own local arts community as well to see what they offer. 
United States - Art Schools with Online Continuing Education
Pennsylvania Academy of the Fine Arts (PAFA): PAFA has a large number of online continuing education courses such as book binding, drawing essentials, and painting techniques. You can also learn about practical matters to consider when you start a craft business like setting up a studio, and health hazards for artists.
School of Visual Arts (SVA): The continuing education department at SVA offers online courses in a range of categories such as illustration, photography, design, and professional development.
Rhode Island School of Design (RISD): RISD is another art school with an impressive list of continuing education courses. Some are in-person courses, but many are offered online. You can study jewelry design, fashion design, printmaking, business marketing, and more.
The New School: The New School offers over 300 art and design courses through its continuing education department. You can even earn a certificate in an art and design-related subject.
School of the Art Institute of Chicago (SAIC): SAIC is another art school with a large range of continuing education courses and art and design certificate programs you can complete online.
Canada - Art Schools with Online Continuing Education
Ontario College of Art and Design (OCAD): You can take individual art and design courses through OCAD's continuing education department, or you can complete a certificate. There are courses to sharpen your creative skills and courses to help you learn the business skills required to start a craft business.
Emily Carr University of Art and Design (ECU): ECU is another well-respected Canadian university offering art courses and certificates online through their continuing education department.