Create a Craft Business Plan
January is an ideal time for creative entrepreneurs to do some strategic planning for the business year ahead. 

If you buy something through links on Craft Professional, I may earn a referral fee. To learn more see my
disclosure
.
---
January is the perfect time to develop a craft business plan for the upcoming year. With better business planning, you'll be more focused, poised to pursue your goals, and ready to leverage opportunities as they arise.
Don't panic!
I'm not specifically talking about writing a colossal craft business plan.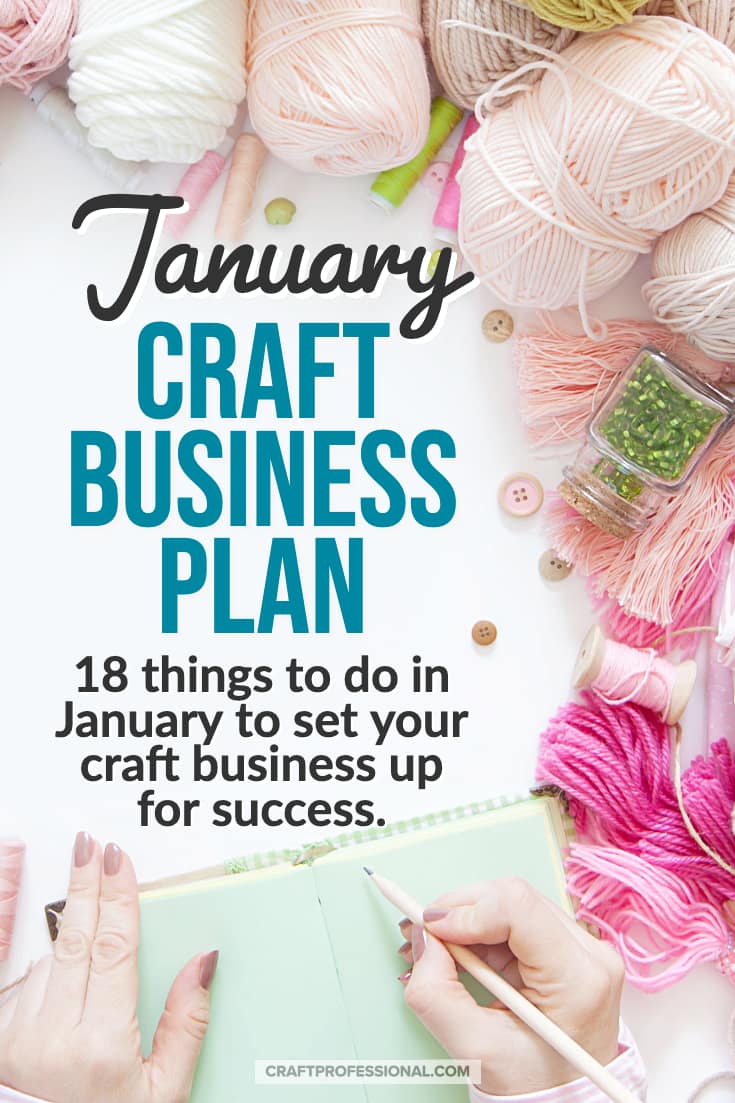 If you're growing your creative business on a small scale, and you're not asking investors for money, you don't necessarily need to write the kind of formal business plan investors demand from entrepreneurs who want to borrow startup funds.

But your craft business will still benefit from some strategic planning and goal setting. If you want to make the most of opportunities in the coming year and use your time well, you'll need a plan that gives you direction.
That's what we're going to focus on for January.
Your Craft Business Plan
Here's what we're going to look at to develop a craft business plan that will help set you up for success for the upcoming year:
Research craft trends for 2020 - So you can plan products that reflect what shoppers want to buy.
Set realistic goals - So you have a clear vision of what you want to accomplish in 2020.
Build effective work habits - So you can get down to work and get things done.
Research juried art shows & studio tours - Because participating in shows can require a surprising amount of advance preparation, so you need to start early if you'd like to sell at craft shows or participate in an art studio tour in the coming year.
1. Research craft trends for 2020

In late December, all kinds of businesses - from Pinterest to Pantone - make big announcements about trends for the upcoming year. That makes January a great time to dig in to some of these reports, get a feel for what your customers might be searching for in the coming year, and decide if and how you want to reflect some of those trends in your own business.

Get Down to Business:
1. Learn about craft trends for 2020. I've reviewed current trends reports with an eye toward trends that are most relevant to craft business owners. If you want to see what design trends might impact your sales in the coming year, check out my article Trending Crafts That Sell Well in 2020.
2. Find design trends on Pinterest. I follow several companies that publish fashion and decor trends predictions and share their reports on Pinterest, so you can find them quickly. I always keep two boards for each year - one for spring / summer and one for autumn / winter.
Here's where you'll find my 2020 boards:

3. BONUS: Check out some trends reports yourself. If you want to take a more comprehensive look into trends predictions for 2020, go beyond my article and Pinterest boards, and check out the original reports yourself.

I couldn't possibly report on every trend for the year, so there are plenty I didn't cover. You might find something inspiring for your own business in one of these reports:
4. Decide if you want to reflect any of the trend predictions for 2020 in your business. Do current trends fit with your brand? Would embracing certain trends advance your craft business plans and goals? You'll need to determine for yourself the right balance between trendy and classic for your company. 
5. Decide how you will reflect 2020 trends in your business. If you do want to embrace a trend or two, you'll need to decide how that will look. Will you incorporate hot colors? design motifs? a specific type of product? a particular frame of mind or philosophy?
Of course, you can reflect trends in your product design, but there are also other ways to embrace trends. You could reflect trends in your craft booth merchandising, your product packaging, or your communication with customers as well.
2. Set realistic goals
Realistic, motivating goals that are in line with your values should be at the heart of your craft business plan.
A business plan is a road map to get to a specific destination. Your goals are the destination. Time spent reflecting on your core goals and values will help ensure you make plans, decisions, and commitments throughout the year that will lead you to create the type of business you really want.
Get Down to Business:
6. Define your priorities. You can't possibly do it all, so you need to decide what's really important. What do you want to do extraordinarily well, and what are you willing to let go of to achieve that goal?
If you set compelling priorities, you can actually accomplish more by doing less but doing it better.
7. Consider where you want to be long term. When you know where you want your business to be next year, you'll be able to make better decisions about how to invest your time.
With your ideal business goals in mind, you can work out the steps required to get from where you are to where you want to be. You'll be better equipped to make strategic decisions to work on projects that support your vision instead of bouncing from day to day on tasks that don't lead to your big picture goal.
8. Tie your goals to actions, not outcomes. You can largely control whether you follow through on a commitment to action. You can't control the outcome. So if you want to stay motivated to accomplish something big, your goal needs to revolve around actions, not outcomes. The SMART goal setting technique is all you need to set realistic, motivating goals that are tied to actions.
---
I earn a commission for purchases made through links on this page.
To learn more, please see my disclosure.
---
9. BONUS: Take a deep dive into understanding your values, priorities, and goals. If you're up for some soul searching, and you're open to investing some time to assess whether you're really living life and building a business that's in line with your values, you need to read Busy: How to thrive in a world of too much by Tony Crabbe.
I have read a mountain of books about achievement, goal setting, productivity, and time management. Busy is the one that, more than any other, totally blew me away, changed my perspective, and transformed how I approach life and business goal planning.

3. Build effective work habits
What's at the heart of achieving your smart goals and following through on your craft business plan? 
Habits.
Habits will get you further than willpower. Willpower is finite and requires emotional effort and energy. Habits, once established, happen automatically.
Research shows that habits account for a full 45% of our daily behaviors! (source) If you can consciously develop more constructive habits, you could potentially get 45% of your day right automatically.
Get Down to Business:
10. Determine the habit you want to build. Again, you can't do everything, and often you can accomplish more by doing less. So choose one or two habits that will have the biggest impact on bringing you closer to the goals you set for your business.
Commit to building those one or two most impactful habits. Stay focused. Don't let yourself get distracted by other enchanting ideas. You can add more habits in the future once this one is more firmly established.
11. Use proven habit building strategies. Habits break down into a predictable cycle:
cue (the trigger)
routine (the established behavior)
and reward (the benefit from the routine)
If you can recognize and redirect the habit cycles that drive your own routines, you have a much better chance at changing them successfully.

12. Manage your motivation. Even with the best habit cycle in place, you'll need a degree of motivation to persist through inevitable low points. Your reasons to continue have to outweigh your reasons to stop. Here are 9 ways to boost self motivation by increasing your reasons to continue and decreasing your reasons to stop.
13. BONUS: Learn habit building strategies that work with (not against) your natural tendencies. Better Than Before by Gretchen Rubin is another book in the achievement genre that I find extremely helpful. It shows you how to use practical, actionable habit building strategies that suit your disposition, so you can work with your natural inclinations not against them.
If you want to take a more comprehensive look at habit building, I think you'll find a lot of value in the strategies presented in Better Than Before
4. Research juried art shows & studio tours
If you're new to selling at craft fairs, January might seem awfully early to start planning for shows that won't happen for another 6-11 months. You might be surprised to discover just how far in advance you need to apply to some of your local shows.
Many shows open up the application process several months in advance, so if you want to start selling at a few craft shows this year, you need to start planning sooner rather than later.
Get Down to Business:
14. Find craft shows & studio tours that interest you. Your local arts association or crafts guild will be an excellent resource for finding shows in your area. They probably even publish an annual craft show directory for your area. 
15. Note important deadlines and application requirements. A craft show directory is a great starting point for finding shows in your area, but occasionally craft show directories contain mistakes. When you check deadlines, go directly to the show's website so you can be sure you're getting important information directly from the source.
Important craft show dates include:
when applications will be available / the first day you can submit your application
the application deadline
when those who are accepted will be notified
booth fees due date
show date(s)
While you're checking deadlines, you can also look for other important information about the craft shows that interest you such as:
organizer contact information
how to apply
where to get an application
application requirements (be sure to check the requirements for product and booth photos)
show location
booth fees
any unusual show rules
information available about past show attendance if available
any information available about types of vendors (e.g. Is the show for handmade items only? Are there limits on the number of vendors allowed in each category?)
All of that information will help you to assess each craft show and decide which ones you'd like to attend. 

Art studio tour organizers also typically start accepting applications for both spring and fall tours quite early in the year. If you think you might like to participate in your local studio tour, start your research now. Your arts association will have information about that event as well.
16. Get fabulous photos of your products. Your product photography can make or break your craft show application. Whether you hire a pro or take the photos yourself, product photography is no place to cut corners in your juried art show applications, particularly if you're applying to more competitive shows or if you're applying to a competitive category like jewelry or painting.
17. Apply. You might not need to start your applications in January. That will depend on the deadlines for shows you'd like to attend. But don't wait until the last minute to apply to juried art shows that interest you. Complete your applications thoroughly, carefully, and in a timely manner.

18. Plan to attend as a customer if you won't be a vendor. There may be shows that interest you but you can't attend this year because you're not ready for them, or you were not accepted. Put those show dates in your calendar, and plan to attend them as a customer if at all possible.
You'll be able to check out the vendors, see whose booths are full of paying customers, and learn what works so you'll be ready to apply to those shows in coming years.