Craft Fair Booth Ideas for Indoor and Outdoor Shows
If you buy something through links on Craft Professional, I may earn a referral fee. To learn more see my
disclosure
.
---
Making your craft fair booth work for both indoor and outdoor shows requires a bit of planning and thinking ahead. 
When you're designing your craft fair booth you'll need to address different factors if you plan to sell at both indoor and outdoor art shows, but at the same time, you won't want to have to invest in substantially different displays for each type of show.
Here's what to consider so you can create a booth that works for both indoor and outdoor shows.
---
I earn a commission for purchases made through links on this page.
To learn more, please see my disclosure.
---
Indoor Craft Shows
Lighting

Good lighting is particularly important at indoor craft shows. The ambient (general, overhead) lighting in convention centers or large halls will not do your items justice.
You may be able to get away without lighting at an outdoor show. The sun provides plenty of natural light, and there's a good chance you won't have access to electricity anyway. 
You can consider using battery powered lights if you feel your display needs some extra lighting at outdoor shows where you don't have access to power.
Your booth lighting can make or break your sales at an indoor show.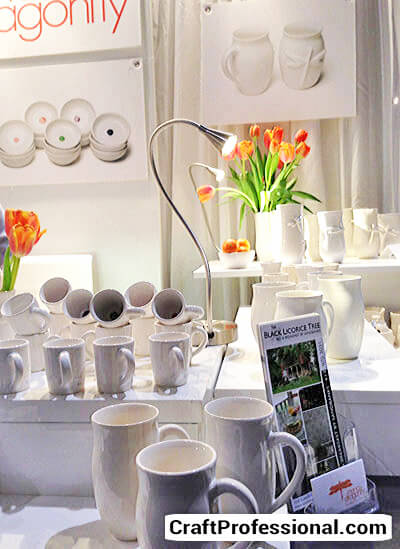 Transportation
Transporting your items can be challenging at indoor shows. You and several other exhibitors will all be using the same few entry points to load in your display furniture and products.

Show organizers will provide you with instructions about when and where to unload your display and stock. Ensure you follow their instructions and set up your booth at the time specified.
Unlike many outdoor shows that allow you to drive right up to your booth space, at an indoor show, you'll also have to transport items from your vehicle to your booth space. A dolly or hand cart will help you complete that job more easily and efficiently.
Booth Irregularities

While booth irregularities are more common in outdoor shows, they can also occur at indoor art and craft shows.
You may not be provided with the standard 10 x 10 space at an indoor show, and there's a small chance you may find a building support post or other unwanted surprise in your booth space.
A modular craft fair booth setup with several small pieces of display furniture (rather than one large table or shelf) will give you the flexibility you need to switch-up your booth setup to work around any surprises that come your way.
Defining Your Space
Separating your space from other booths can be a bigger challenge at indoor craft shows. At an outdoor show, you can set up your craft canopy, and your space will be instantly defined.
While some professional craft artists use a canopy (or the canopy frame minus the canvas top) to define their space at indoor shows, that option is not always appropriate for everyone, and it is not allowed at some indoor shows.
You may need to devise a pipe and drape system or another type of divider to define your space at indoor shows.
Outdoor Craft Shows
Wind

One of the biggest challenges at outdoor craft shows is the unpredictable nature of the weather.
Wind can present a huge challenge at outdoor craft shows if the items you create are light or fragile. Anchor light items such as jewelry with sturdy, heavy displays where possible, and ensure your items are sheltered under a canopy that is weighted with effective tent weights .
You may need to experiment with your tent's side walls under different weather conditions. Putting up the side walls can prevent the wind from blowing around items within your booth. However, using side walls can also make the tent itself more prone to blow around in the wind. You must ensure your booth is well weighted to prevent that problem.
Some people attach their side walls at the top of the canopy, and then roll them up from the bottom. That way they can fairly quickly move the side walls up or down depending on the weather conditions.
Rain

Rain is the other big threat to your happiness at outdoor shows. If you sell items that could be damaged by rain, ensure they can be covered with a canopy that has side walls, and take a few precautions to make your tent as waterproof as possible.

Flooring
Flooring might be the last thing you think of when preparing for an outdoor show, but it can really make your outdoor craft fair booth vastly more comfortable.
Portable flooring, like an inexpensive rug, when you're set up on cement at a street fair, can provide welcome relief from standing on the hot asphalt all day.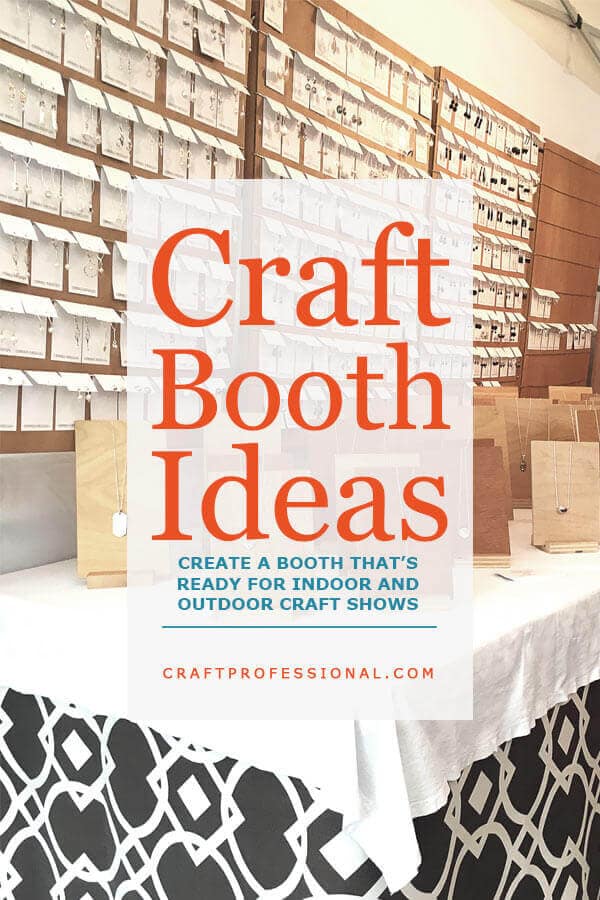 Sun

Unless you make meltable or perishable items, the sun will not likely damage your inventory, but to ensure your own happiness, while spending long days at outdoor shows, be sure to invest in a good portable canopy to provide yourself with adequate shade.
Also, don't forget to pack sunscreen, plenty of water and a change of clothes to freshen up if necessary.
Electricity
Electricity may or may not be provided at outdoor shows. Ensure your entire setup functions without electricity for those shows that do not provide access to electricity. 
You may consider using battery powered lights with rechargeable batteries so you're not dependent on outside power sources, and you don't have to worry about running cords all over your booth.
Booth Irregularities

Booth irregularities caused by landscape elements can be an issue at outdoor shows. The guidelines for dealing with booth irregularities at indoor shows also apply to outdoor shows.
A modular craft fair booth setup will provide you with the flexibility you need to deal with any irregularities in the space you have been provided.