Portable Flooring Ideas for Your Craft Booth
If you buy something through links on Craft Professional, I may earn a referral fee. To learn more see my
disclosure
.
---
The right portable flooring can add the final touch you need in your booth design. It's definitely tougher to incorporate flooring into an outdoor booth design, although some craft professionals do it. But if you look closely at booths at large, popular indoor shows, you'll find almost every booth uses some type of flooring. In fact, some shows require you to provide some type of flooring.
Your portable flooring options range from indoor-outdoor carpeting, to modular foam square mats, to custom solutions (if you're handy in that way). Good flooring will finish the look of your booth, define your space, and provide a comfortable place to stand. You'll see in the photos below how well-chosen flooring can enhance your booth.
---
I earn a commission for purchases made through links on this page.
To learn more, please see my disclosure.
---
Portable Flooring IDeas
This booth makes excellent use of a black rug to ground the all-white and light wood interior of the booth. The rug delineates the space, provides something comfortable for customers to stand on, and finishes the look. 
It appears to be well secured to the ground. Although it's not visible, this craft professional has likely used carpet tape to secure the edges of the rug.
Quick Tip: If you use a rug in your booth, roll it up with the top of the rug facing out when you store it. The rug will lay flatter then it would if you rolled it with the top of the rug facing in. 

The two booths pictured below show how effective a wood-look floor covering can be. It's a neutral look that doesn't get in the way of your display, but it finishes the space effectively. 
You can create a wood floor look that's portable using wood-look floor tiles
, or you can get a look similar to the booth on the right using a bamboo rug
or two.
Wood or wood-look flooring really can create an elegant, neutral foundation for your booth.
Try to imagine the booth in the photo on the left without the wood flooring, with only the grey concrete instead. It would feel less finished, less polished, and not as warm and inviting.
This flooring is the kind of detail customers don't specifically notice, and that's a good thing. You want people to notice your products, not your flooring. But the flooring enhances the booth, nonetheless.
Using Rugs in Your Craft Booth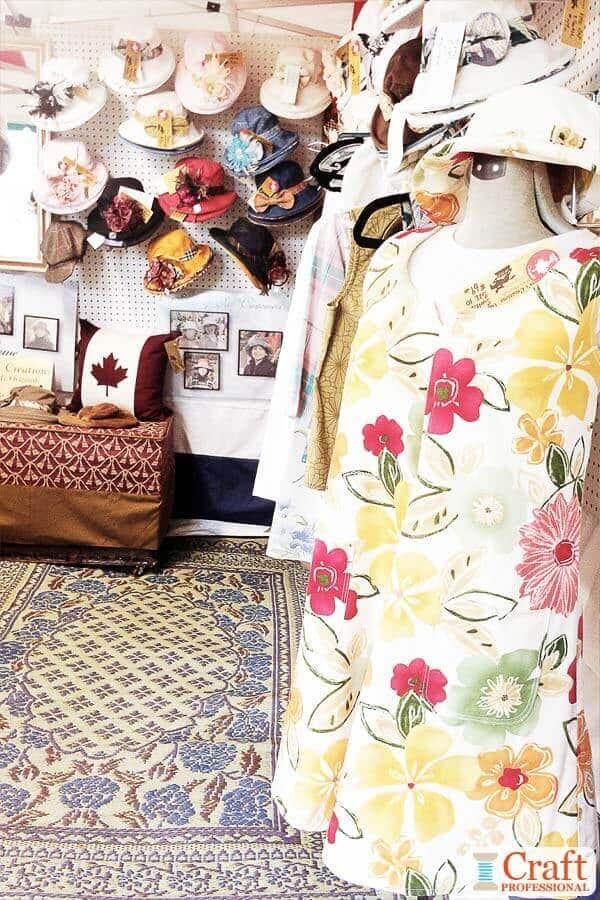 Here's an example of an outdoor booth that uses a rug for ground cover. Using rugs or other types of flooring can be tougher when you do outdoor shows because your flooring will have to stand up to more difficult conditions on the ground.
An indoor-outdoor rug can be a good option. They are made to withstand the elements, you can hose them off for cleaning, and they are typically pretty inexpensive. You'll find the best assortment of indoor-outdoor rugs in stores in the spring and summer, so time your purchase accordingly.
A rug will conform to the shape of the ground, so you won't have to worry if your booth space isn't particularly flat or level. If you use less flexible flooring, you may have difficulty with uneven spaces.

Be sure to place a tarp under your rug if you're at an outdoor show. That will help protect your rug from dampness and dirt on the ground and extend the life of your floor covering.
If you're set up on grass, and the organizers allow it, consider securing the corners of the rug with that you can drive fully into the ground to avoid creating a trip hazard. If you add metal grommets (that work with the size of the tent pegs) on each corner of the rug, the pegs won't cause your rug to fray.

This booth gets creative with a grass rug
It's affordable, portable, and comfortable to walk on. This portable flooring option creates a fun, relaxed, whimsical vibe in the booth.
It won't be right for everyone. If you're trying to create a spare, elegant atmosphere, this grass carpeting will not be for you.

But if you want to bring the outdoors in to your booth, perhaps to add an element of fun, or to reflect a product that's used outdoors, (wind chimes, bird feeders, garden art, for example) this flooring might be just what you're looking for.
Make Sure Your Portable Flooring is Safe
Notice the flooring in the two booths below are securely taped down. While the tape stands out in the photos, it's not particularly noticeable when you're casually shopping and not examining the details of a booth.
Carpet tape under a rug can be more discrete. But, if you have flooring with a higher edge that forms a bit of a lip between the ground and your floor covering, then this type of tape can be safer. It forms a more gently sloping change between the ground and your floor covering.
Be safe, and ensure whatever portable flooring you use doesn't create a trip hazard.