Food Display Ideas
If you buy something through links on Craft Professional, I may earn a referral fee. To learn more see my
disclosure
.
---
6 food display photos to help you create a fantastic booth for your next craft show.

I have never posted food display ideas here in all the time I've been sharing craft booth photos. I never seem to get many - Probably because I'm too busy tasting samples and shopping. I have 6 photos for you this week of some clever food booths.
Clever Food Display Ideas
This booth of elegant handmade jams, jellies and sauces has to be one of my favorites. I love the way they create the atmosphere of an elegant party right in the booth. You can see some good spotlights in the display, plus helpful signs with prices and serving ideas.
I love the display showing wine drizzle on a delicious looking Belgian waffle (I'm guessing the waffle isn't real, but I didn't touch it to check). It quickly shows you how you might use the product, and lets you imagine spending a glorious Saturday morning eating breakfast topped with one of their delicious sauces.
Here's that same booth from a different angle. The wine, grapes, and bread (also fake) help me imagine serving these jellies at an elegant dinner party. 
There really are a lot of extras in this booth display. I realize transporting and setting up so many extras isn't for everyone. Sometimes you barely have time to get the basics put together before a show opens. This particular booth is at a big, three day long show inside large tents with overnight security. Vendors can start some setup the night before the show, so there's lots of time, and parts of the booth can be left up throughout the show. 
Candy on the left, and tea on the right. These booths are also part of a longer show, so bringing larger furniture, like the IKEA Kallax shelf (in the tea booth on the right) is not as daunting as it would be at a single day show. I actually have that shelf in my home, but I've added legs to it. I believe adding legs would make it a perfect counter height. 
These booths were both at the same Christmas show. Notice the red plaid tablecloth in the booth on the left. It's a simple way to dress up a food display for the holidays without having to spend a fortune on a lot of extra booth accessories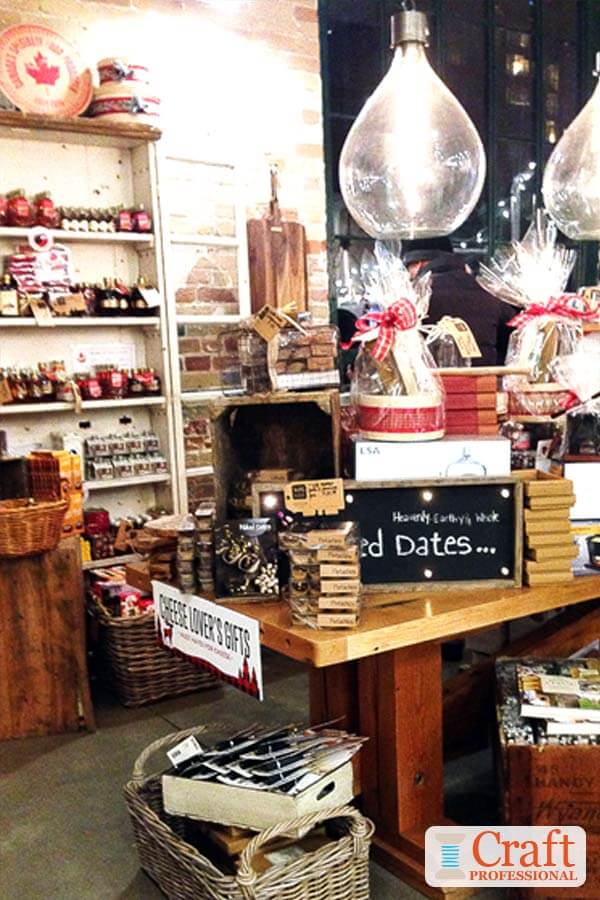 This last photo of food display ideas shows a fabulous retail shop with delicious jams and sauces. It's set up in a permanent store, so some elements won't translate well to a portable display.
One of the big take-aways I get from this retail display is how the shop owners have established a very clear style for their brand, and they carry it through in everything in their shop from furniture, to baskets, to the overhead lighting.