Craft Booth Design Simplicity
5 displays that embrace simplicity to let the product shine
If you buy something through links on Craft Professional, I may earn a referral fee. To learn more see my
disclosure
.
---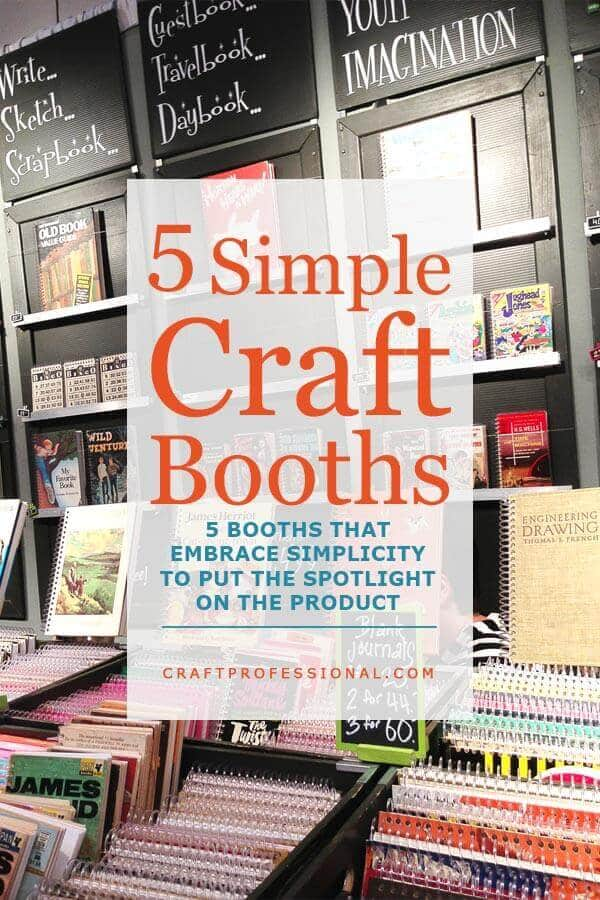 When you're designing your craft booth, keep in mind, less is usually more.
You want your booth to look great, and it's easy to get caught up in the fun and creativity of creating your displays. But remember, it's your product that needs to be in the spotlight, not your display. In fact, if you're constantly getting compliments on your clever display, and not your products, you might need to reassess your booth to make sure it is working hard to draw the right kind of attention.
To illustrate this point, I have 5 craft booths that accentuate the product.
---
I earn a commission for purchases made through links on this page.
To learn more, please see my disclosure.
---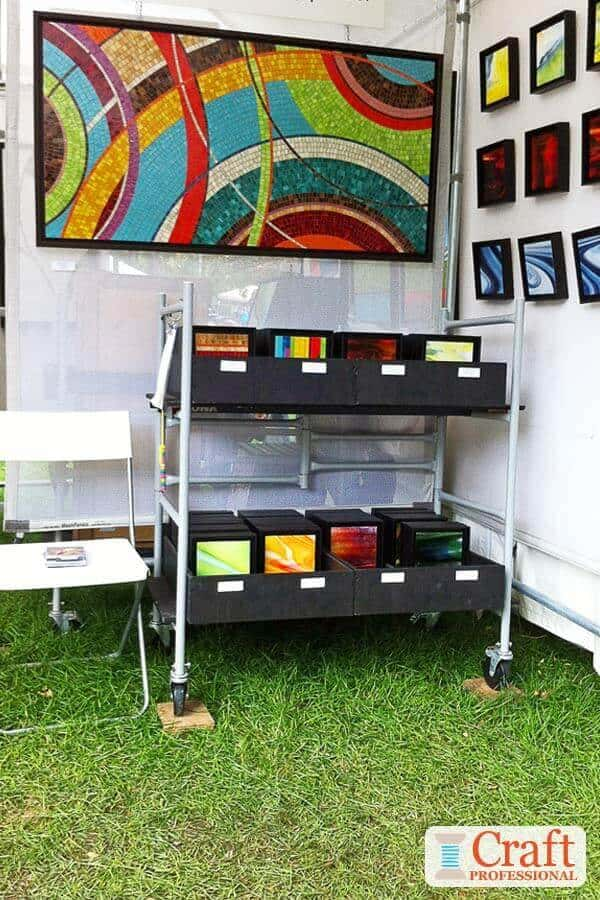 Art this bold and eye-catching does not need a fancy display to draw attention. It is simply spectacular. The black frames pop against white mesh walls.
The large piece may not be in everyone's budget, but it may be in someone's budget, and it absolutely draws your eye and brings people into the booth where they will be tempted to a least take home one of the lovely smaller items. 
Notice the smaller framed pieces on the right side of the booth are displayed in color blocked groups of three, helping customers see how great they look together and encouraging purchases of multiples.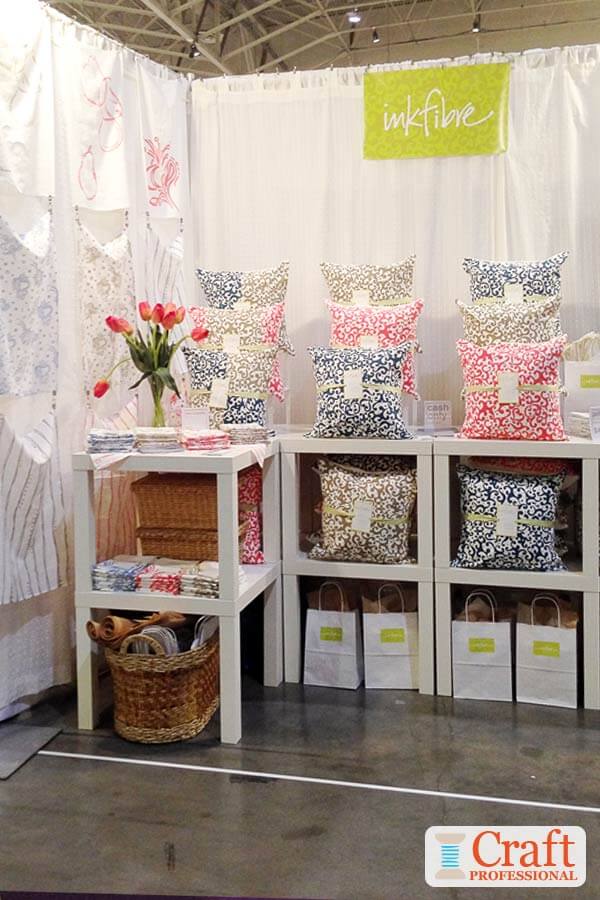 Simple white curtains and tables make a perfect backdrop for this handmade pillows and kitchen linens.
Neutral, natural baskets and white bags provide extra storage without disturbing the look of the booth. The fresh flowers add a little welcoming warmth to the display, but they don't take away from the impact of the captivating textiles.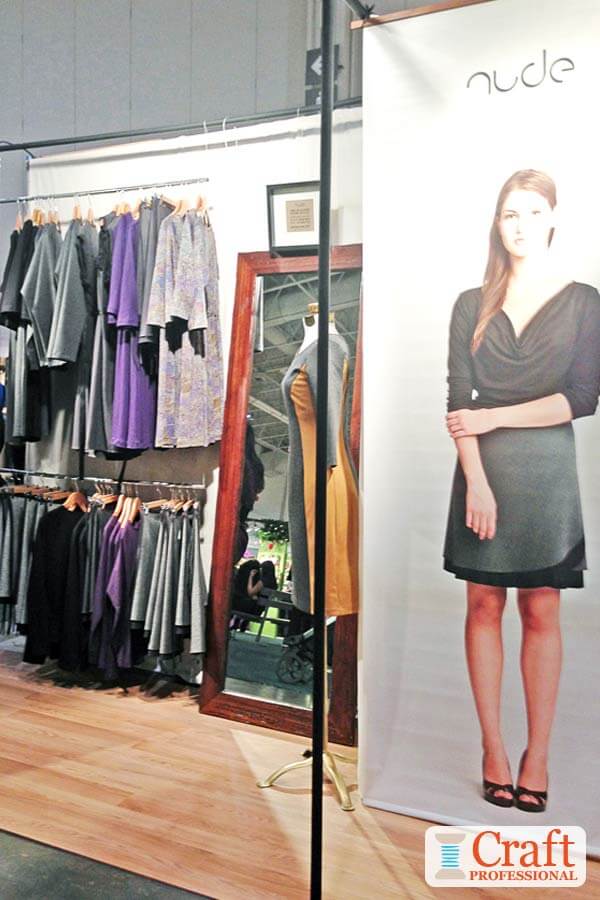 Next, we have a simple clothing booth with a life-sized image of a model in one of this designer's dresses.
A full length mirror is available so customers can check out how they look in this designer's dresses, a mannequin features another design, and everything shows well against a backdrop of white walls and wood-look flooring. There's absolutely nothing to detract from the clothing here.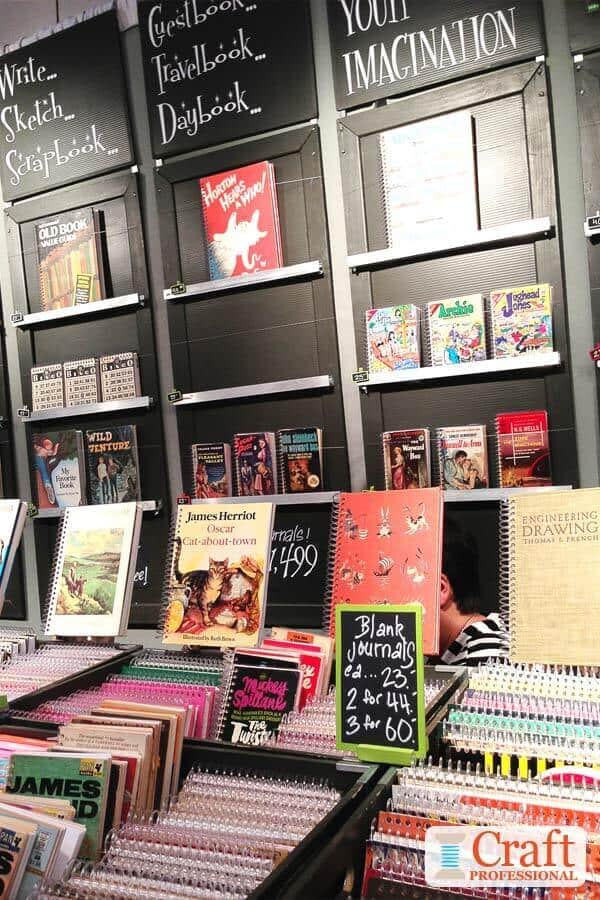 Here's a clever display of hand-bound journals. The dark backdrop really makes this booth stand out against a room full of mostly white displays and creates a bit of an edgy ambiance.
Still, the journals are center stage. They are the first thing you see when you come upon this booth, and you're tempted to dive in to look for your favorite book cover.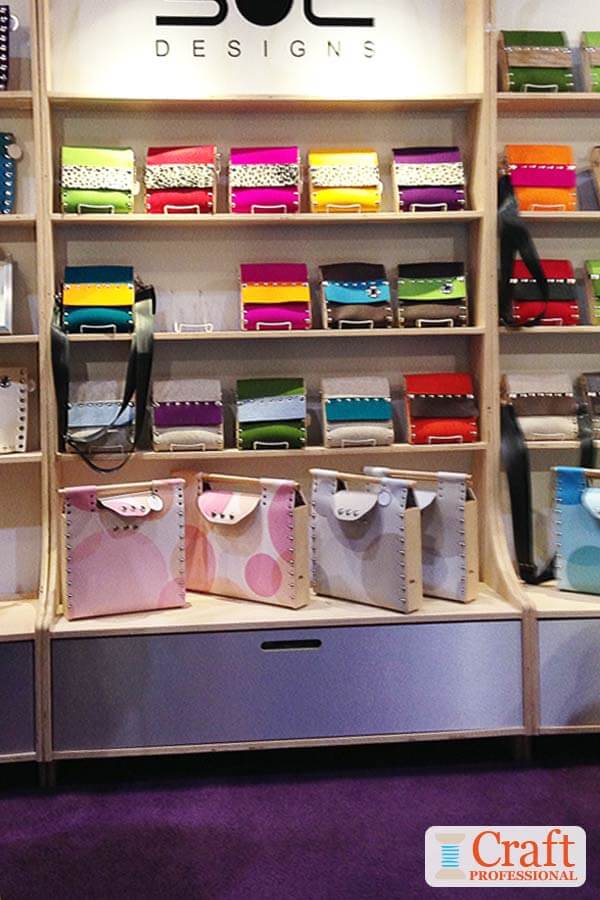 Finally, here's a shelf display of handmade handbags. There's been a lot of careful thought given to the shelving, and it appears to be custom made for the booth.
There's plenty of extra storage in the drawers at the bottom. It makes a clever use of the space near the floor that's not ideal for displaying product.
Although the shelves have likely been meticulously designed, they aren't something you notice unless you're really thinking about the design of the booth. The bright pattern and color of the handbags create all of the interest needed in this display.