Craft Show Booth Ideas
If you buy something through links on Craft Professional, I may earn a referral fee. To learn more see my
disclosure
.
---
When I go looking for craft show booth ideas, some of my absolute favorite displays are the ones where crafters have creatively displayed their products the way the items would be used in life.
When you display your items as they would be used, you help customers imagine how your products will fit into and enhance their lives. Maybe your products will help customers throw a more lavish party, or dress more stylishly, or live in a more elegant home. Your display can suggest all of those ideas to your customers.
I'D LIKE TO BE INVITED TO THIS PARTY!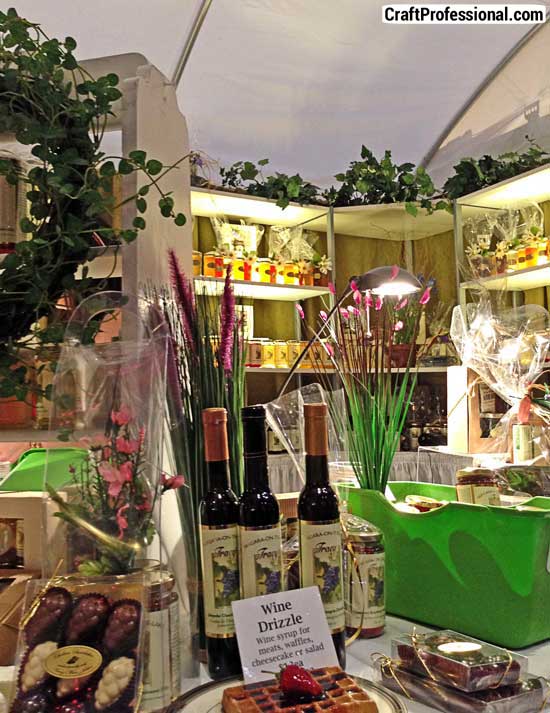 I love the display for these handmade jams and sauces.
The table is set for an elegant party, where the food will be served. It elevates the products.
Instead of simply selling jams and sauces, this display sells the idea of the easy, elegant entertaining that shoppers could achieve with these products. Customers can imagine the lovely parties they will be able to host if they purchase these items.

A Homey Display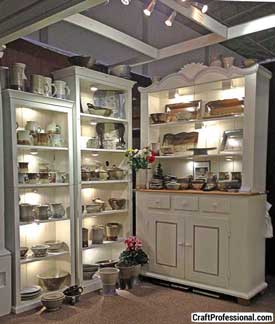 The gorgeous shelves used to display this pottery look like something you'd have in your home (as opposed to more simple retail shelving). They make it easier for customers to imagine the items displayed in their own homes.
Granted, this display is not easily portable - the booth was at a major, two week indoor show - so it's not the right solution for every craft show situation. However, with a little creativity, the concept could be translated into a more portable version that would be more practical for setting up and tearing down more frequently at smaller shows.
Show Your Style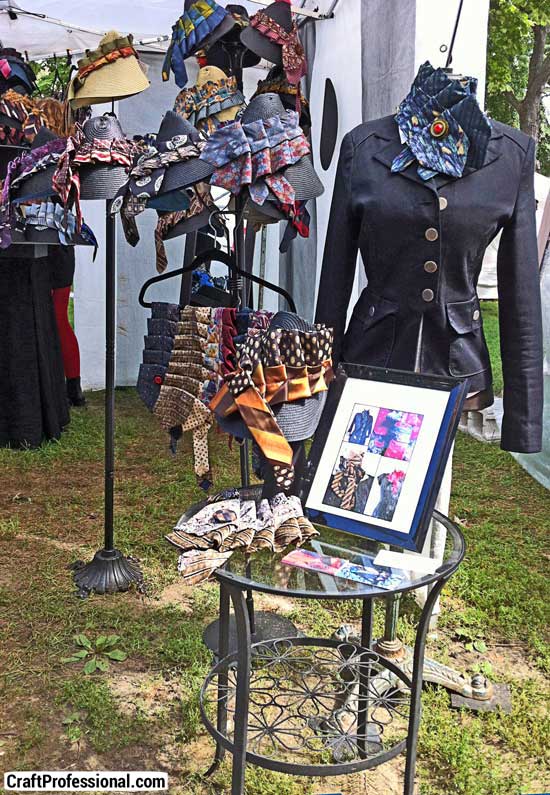 Here is some hip and unique neckwear - not exactly a scarf, but not a necklace, either. The display with the mannequin wearing the accessory along with a jacket that looks cool and stylish but doesn't compete with the product instantly shows passing customers exactly what the product is, and how it will give your simple outfit some extra spark.
These accessories are unique enough that if they weren't displayed the way they are intended to be worn, people might pass them by without realizing what they were or how much style they could add to an outfit. The display conveys a lot of important information quickly.
Adorable Hat Display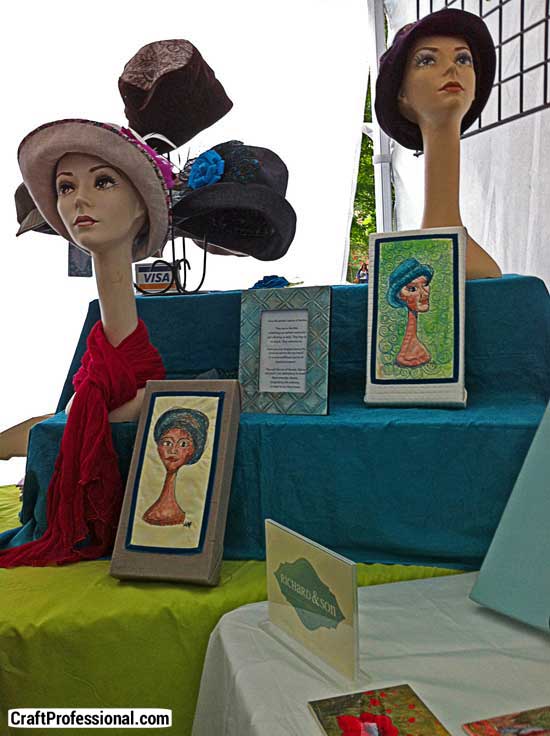 Here's a very sweet booth, and the stylish mannequin heads add to the sense of style inherent in the hats on display.

How About Adding a Refrigerator to Your Display Booth?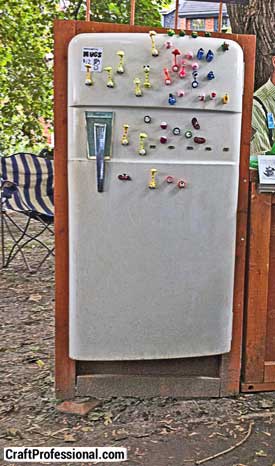 This display has to be one of the most original and eye-catching craft show booth ideas I have seen. We all know that magnets always end up on the fridge door. So...why not use an old refrigerator door as part of your display if you you make handmade magnets?
To be clear, I'm not suggesting that you should immediately run out and find a vintage fridge door to add to your booth! I am suggesting that you think a little bit outside of the box when you're brainstorming craft show booth ideas. Don't immediately dismiss an idea just because it seems a bit wacky. Think it through, maybe that off the wall idea is more viable than you initially think, and maybe it's just what you need to set your booth apart from all the others.
Display Jewelry on a Dress Maker's Form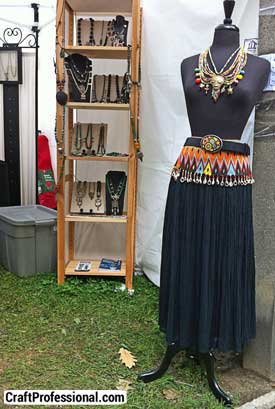 Because jewelry is relatively small, it can be tough to give it a real presence, especially from a bit of a distance, but this booth accomplishes that task beautifully.
By layering several large and colorful necklaces on a dressmaker's form, and adding a skirt and belt to finish the look, this jewelry artist gives the items more presence while, at the same time, showing customers how the jewelry can add sparkle to a simple outfit.

create a Little Piece of Home in Your Display Booth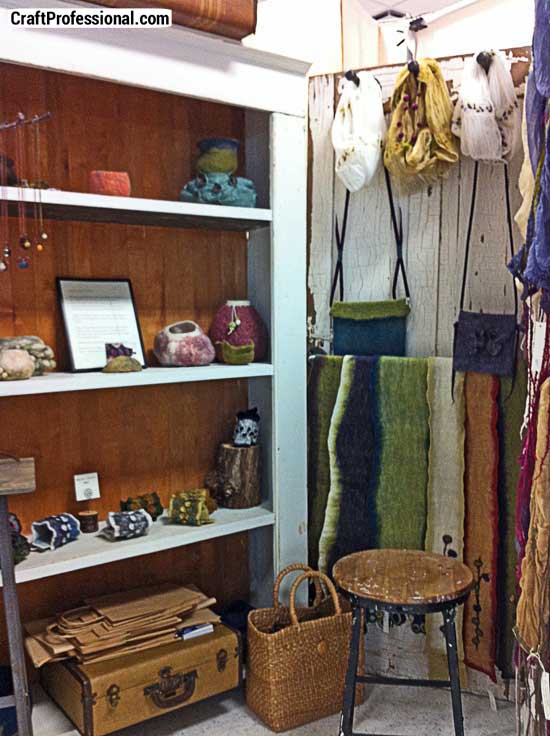 I love how this display creates a relaxed, homey vignette.
The display shelves and old wooden panel holding this crafter's felted items show a sense of style and help customers imagine how the items could bring out their own style.