4 Enticing Craft Booths
If you buy something through links on Craft Professional, I may earn a referral fee. To learn more see my
disclosure
.
---
What do these 4 craft booths have in common? They all let customers imagine how their lives will improved when they buy the product for sale.

I do love craft booths that tell a good story. Displays that help you imagine how fabulous your life will be if you buy their products pull you in before you even realize it. They have you imagining the fabulous dinner parties you will host, or the cosy nights by the fire you will enjoy, and they do it all visually, without saying a word.
Want to create a display that tells a story? To help you brainstorm your own craft booth ideas, here are four craft booths that tell stories to entice customers to buy.
This craft artists makes beautiful, cosy pillows and blankets. The vintage wooden chair draped with a blanket and pillows in the middle of the booth is both simple and clever. It immediately makes me imagine sitting in my sunroom or on my porch. It's a crisp evening or a cool morning, but I'm snug and happy wrapped in a pretty, handmade blanket.
This display is clever because it's not just the blanket customers are drawn to, although it is beautiful, it's also the feelings evoked by the cosy scene.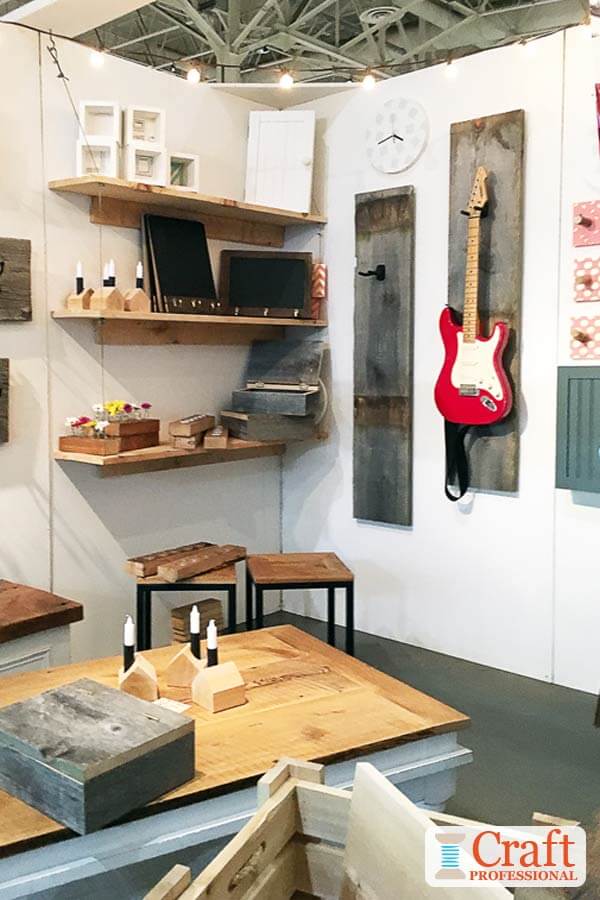 The jazzy red guitar in this booth catches your eye immediately. It tells you exactly what the product is for, and creates a hip vibe in the booth. It communicates a very clear style.
Try to imagine the booth without the guitar. Although it would still be a good booth, without the guitar, the display would lose its eye-catching focal point.
Even if I'm not a guitar player, if I connect with the style communicated in this display, I'm definitely going to be drawn in to look at all of the other products and imagine I'm as hip as the rock star who hangs his guitar here.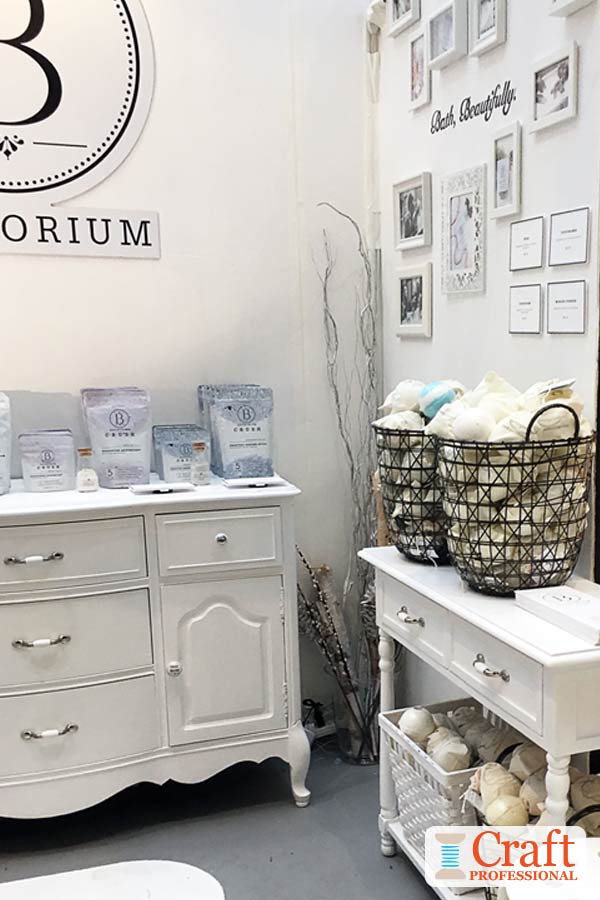 Here's one more booth that lets you imagine the product in your home. This time, it's bath products displayed on furniture that would be right at home in a bathroom.
This booth was at a multi-day show where the vendors were able to leave parts of their displays overnight. In a case like that, it makes more sense to use larger furniture in a booth.
You might not want to drag a bathroom vanity around to every single-day outdoor show you do. However, with a little creative thought, you can come up with your own, portable way to show your product in use and evoke positive feelings about the way your customers' lives will be enhanced with your product.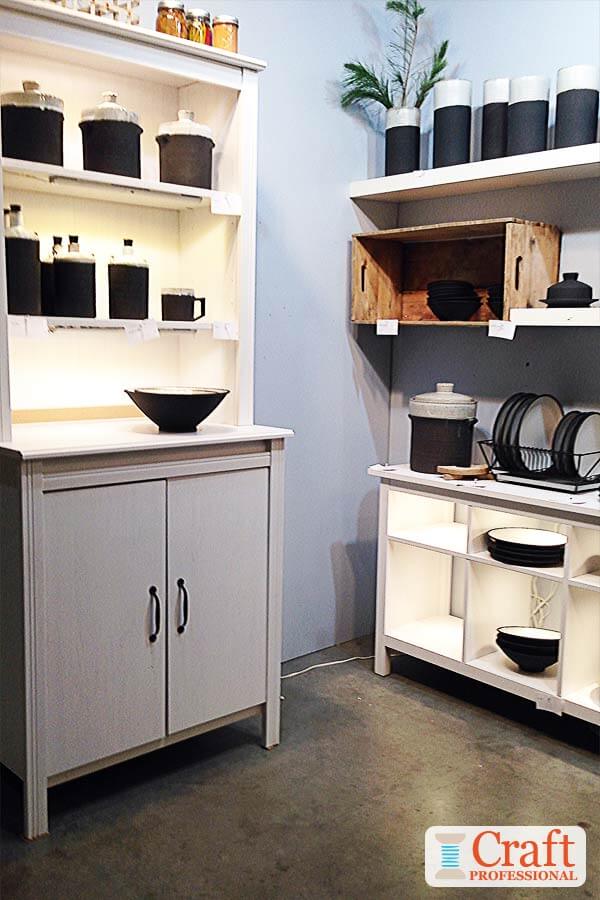 Instead of displaying rows and rows of kitchenware on plain shelves, this artisan has set them up on cabinets you might find in your own kitchen. There are even several plates set up in a drying rack.
Looking at this display, I can immediately imagine how fabulous these bowls and canisters would look in my own kitchen. The display goes beyond selling the product. It sells the vision of a simple kitchen made modern and stylish with this gorgeous kitchenware.