Dazzling Retail Jewelry Displays
If you buy something through links on Craft Professional, I may earn a referral fee. To learn more see my
disclosure
.
---
8 photos of retail jewelry displays to inspire your own craft booth!

The retail jewelry displays in the indie handmade accessory shop, Eclection, are just spectacular! You could spend hours in this store and still not fully appreciate all of the gorgeous displays of handmade accessories. 
Check out the photos below to see this beautiful shop.
I love the fantastic pedestals used in these retail jewelry displays. The texture and sculpture adds a real luxurious feeling to the shop without detracting from the lovely handmade accessories.
Look closely at the creative pedestal bases. There's no need to have a matched set of pedestals. Whites, neutrals and natural materials bring the whole look together beautifully!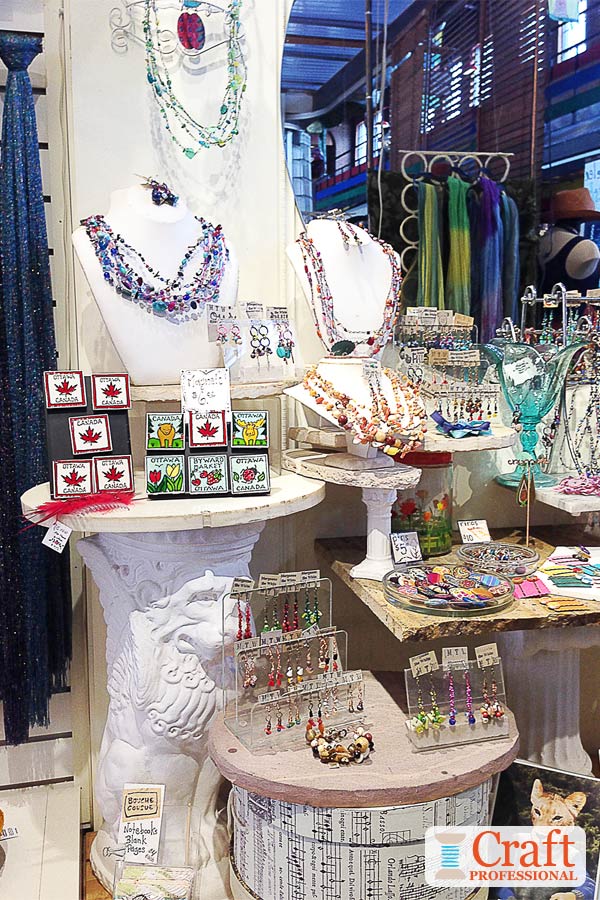 Eclectic Pedestals Create Dazzling Retail Jewelry Displays
Topping the eclectic mix of pedestal bases are natural stone slab shelves. They create a rich look, and the irregular edges add interest and texture without taking away from the jewelry on display.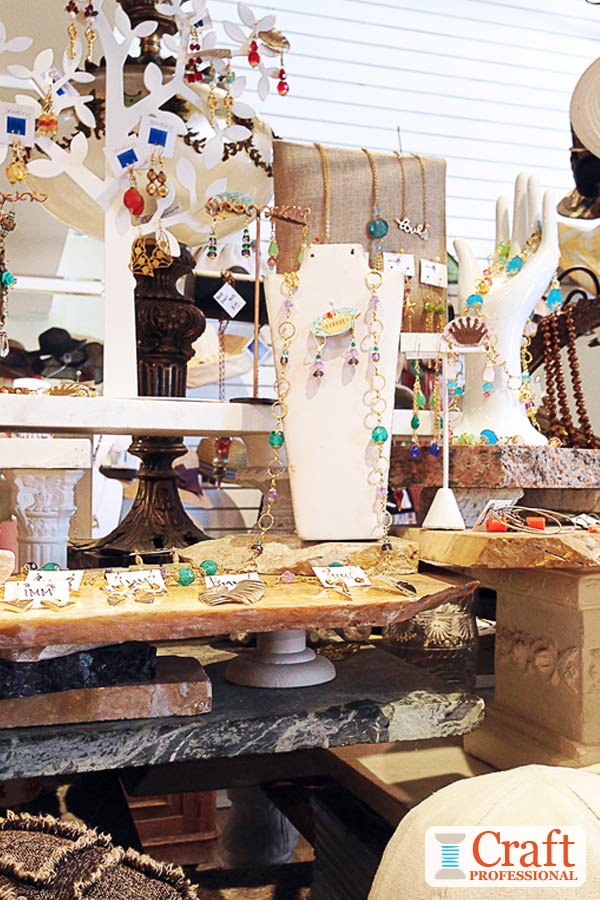 Raw Edge Natural Stone Tops Creative Display Pedestal Bases
Using a mix-and-match variety of pedestal bases has the advantage of creating plenty of levels encouraging the eye flow around the displays.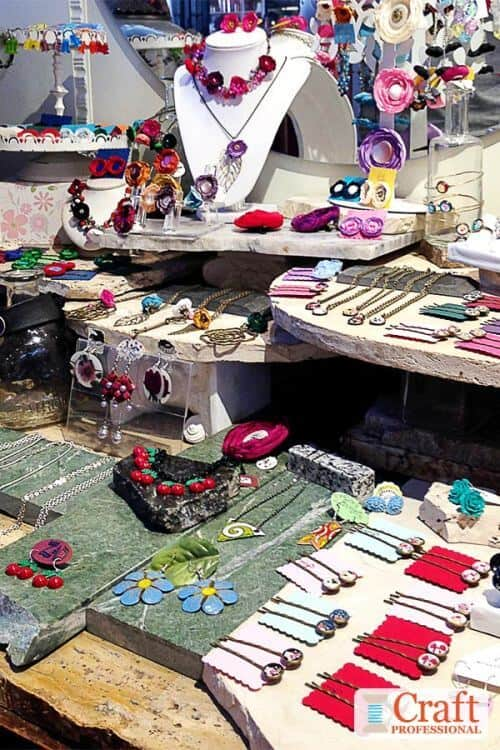 Some Much to See in this Indie Accessories Shop
There are mirrors all over the space. They make the retail space appear larger, enhance the lighting, and, of course, give customers a spot to check themselves out in their favorite treasures in the shop.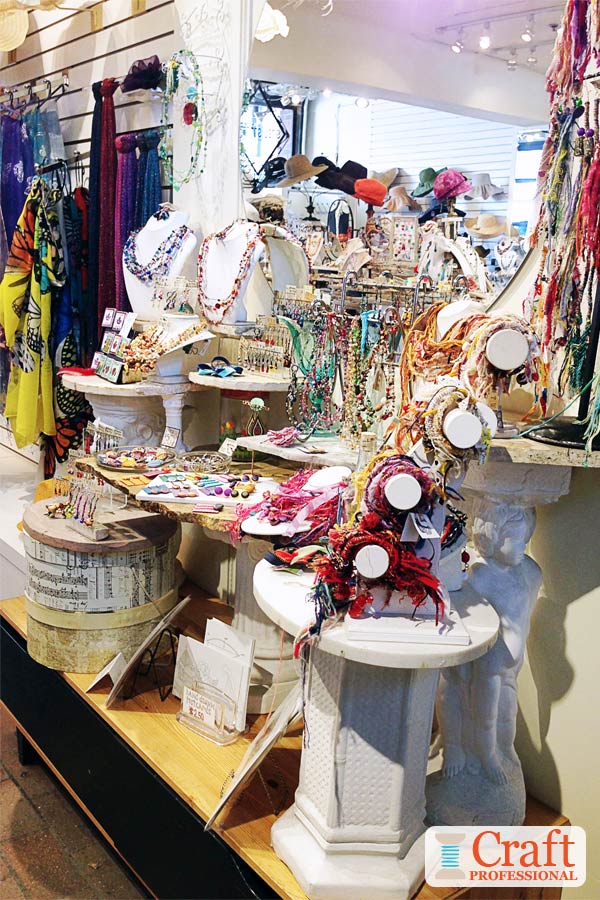 Mirrors and Great Lighting Create a Big, Bright Space.
The walls of the shop are covered in slat walls making good use of the vertical space. It's not a huge shop, but it's chock-full of accessories, and the good use of space, mirrors, and lighting means it never feels crowded.

Notice the dressers are topped with natural stone, unifying the furniture with the display pedestals throughout the shop.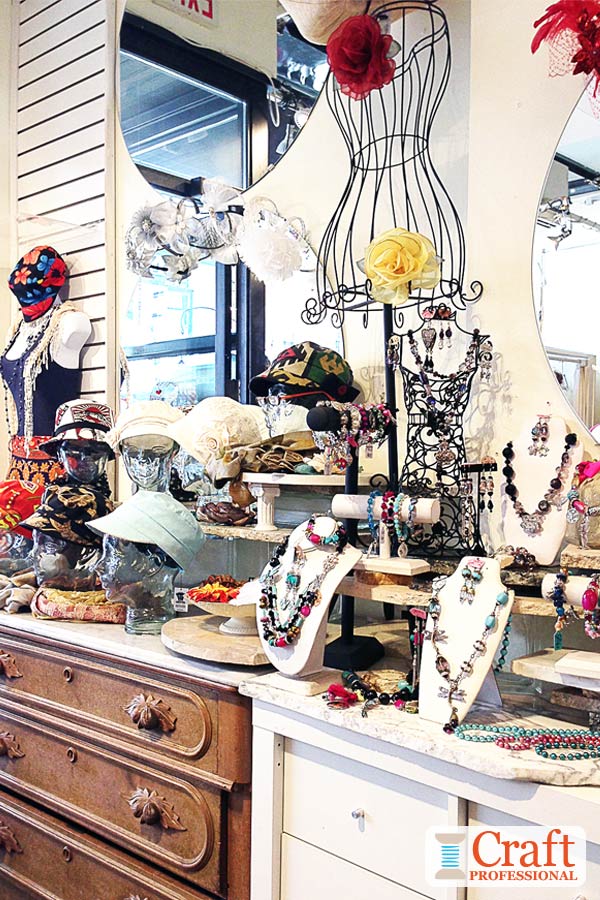 Slat Walls Make Good Use of Every Inch of the Shop
The layout is casual and not too fussy. That's important because it means customers are not afraid to pick up items searching for their perfect jewels. It makes you feel you're in your most stylish friend's fabulous dressing room.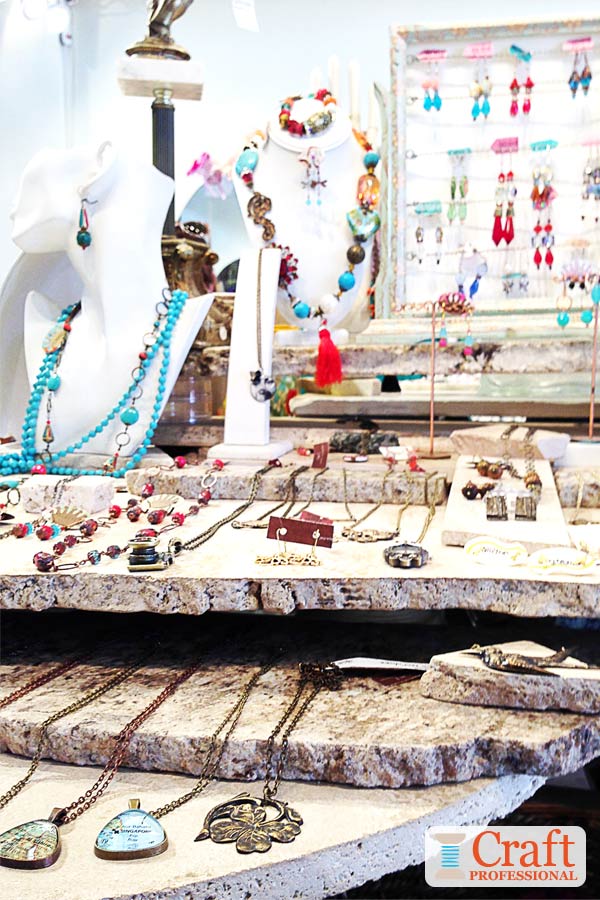 Go Ahead, Try on Your Favorite Necklace...
There really is a lot going on, but the shop never feels cluttered. The white and natural materials used on the walls and in the display furniture unify everything.
If you love handmade accessories, and you're in Ottawa, Ontario do yourself a big favor, and check out Eclection at the ByWard Market!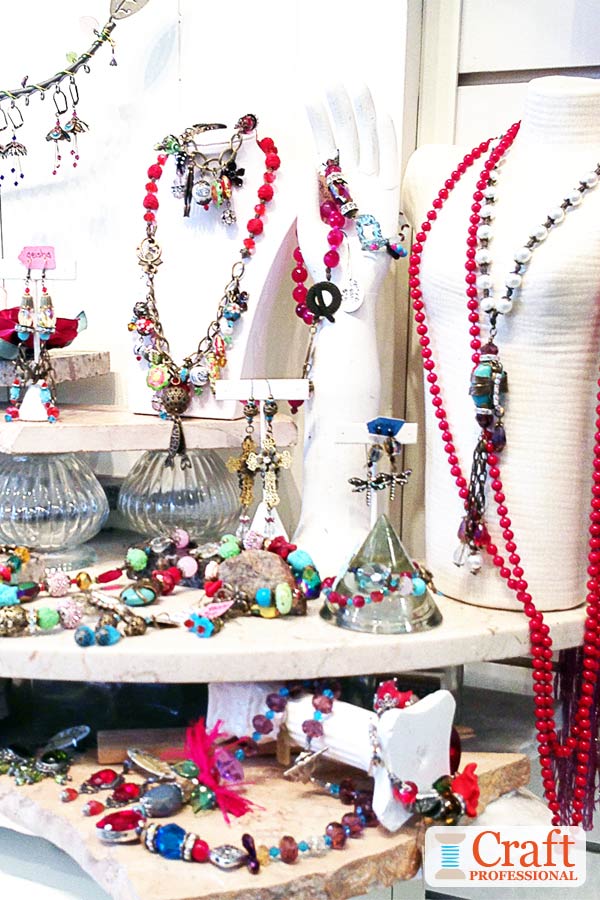 Beautiful Shop With Dazzling Displays!