Jewelry Displays for Craft Fairs
by Lisa McGrimmon
There are so many creative options for jewelry displays at craft fairs. Really, you're only limited by your imagination - okay, and also your budget and your 10 x 10 booth size.
Here's a look at 11 booth photos to get you started. Some make great use of color to draw in customers, others use great product shots. Some use fabric texture to set the tone, while others use natural materials.
Take a look at what goes into making these great jewelry displays. Enjoy!
The jewelry tones in the table coverings make a big first impression in this booth. I love a booth that uses a big splash of color to draw the eye from afar, but then lets the product shine when up close.
The sweet little angels hanging from the top of the tent (top right in the photo) add a fun, playful element and draw attention to a product you might otherwise miss.
Jewelry display with vivid colors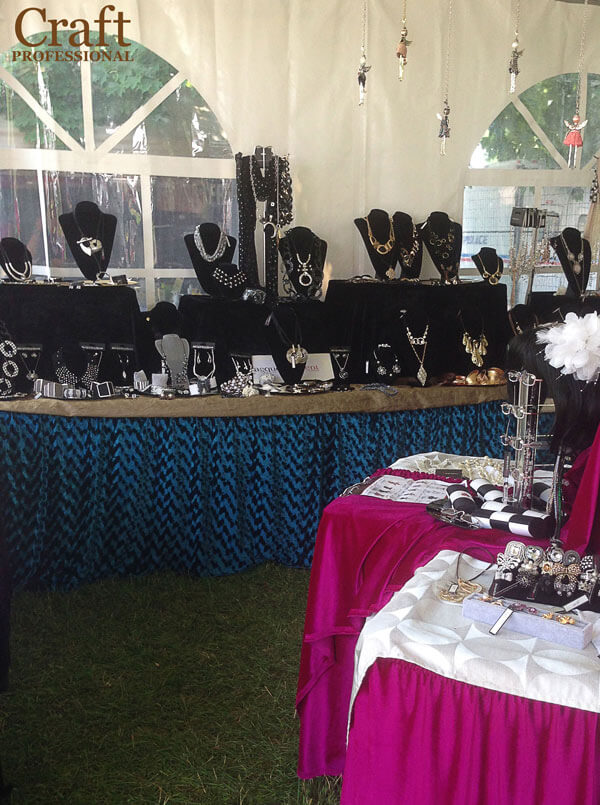 Lots of eye-catching color and texture in this display. The fancy gold design across the top of the necklace display works to draw your attention, but, because the design doesn't compete with the focal point of the necklaces, it works up close as well.
Eye-catching craft fair booth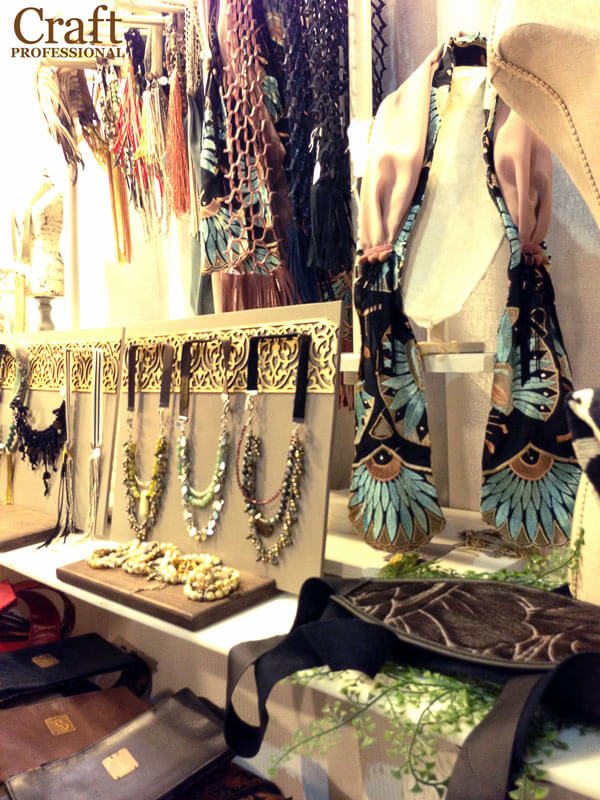 I love this all-white display at an outdoor farmers' market. Notice the weave of the fabric conveys a casual vibe appropriate for a market and appropriate for the fun, trendy jewelry in this booth.
All-white display

Here's the same jewelry display from a slightly different angle. There are plenty of mirrors so you can check out how you look in your favorite necklace. White rice (bottom left) is a simple and inexpensive base for displaying jewelry.
Plenty of mirrors

This booth, like the previous one, is also mostly white. But notice the completely different feel of this booth. The shiny, silky fabric is less casual and sets a more formal and elegant tone in this jewelry booth.
Color and texture set the mood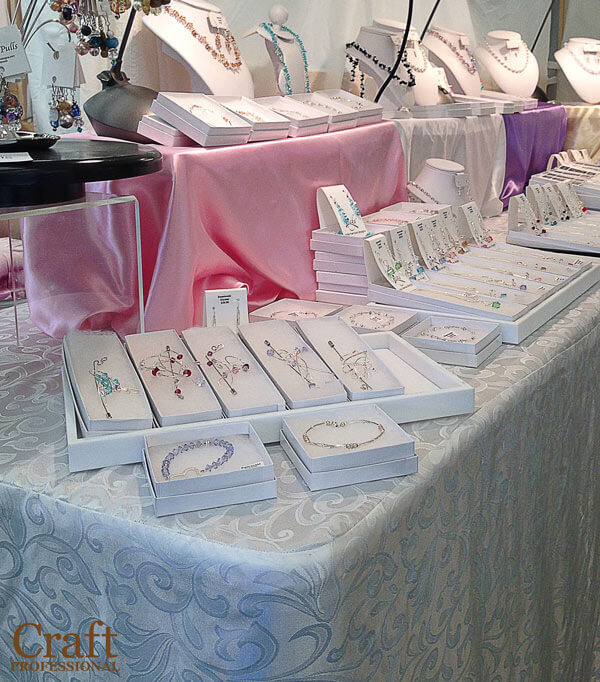 You can't tell from the photo, but the indigo table covering is a gorgeous velvet fabric. The indigo is a welcome and elegant change from the black velvet you often see in a jewelry display. Plenty of good lighting also helps this booth shine.
Indigo blue, white, and great lighting!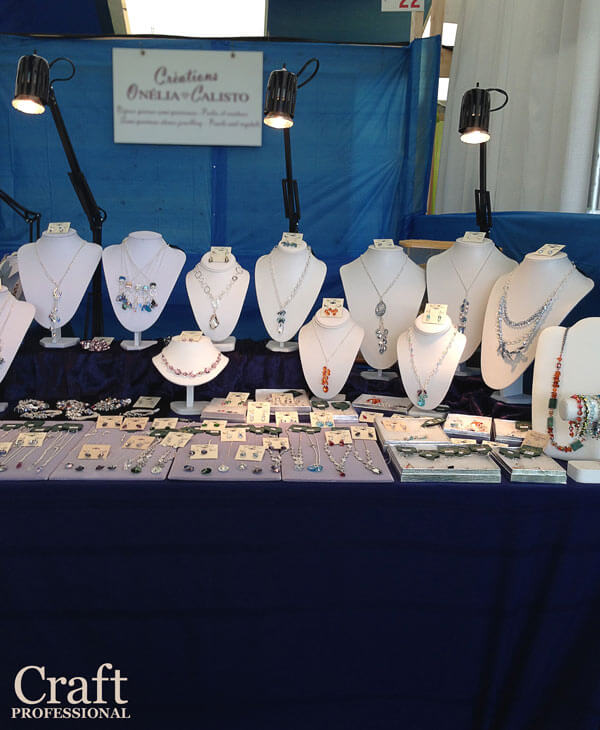 Beautiful product photography really sets the tone and tell a story here.
Plain wood as a jewelry booth backdrop? It wouldn't work for everyone, but this jewelry designer's products are made from reclaimed wood. So the backdrop helps to tell the story of the product. The posters are essential, though. Without them, there would be a huge risk that the backdrop would appear overlooked.
Great signs in this craft fair booth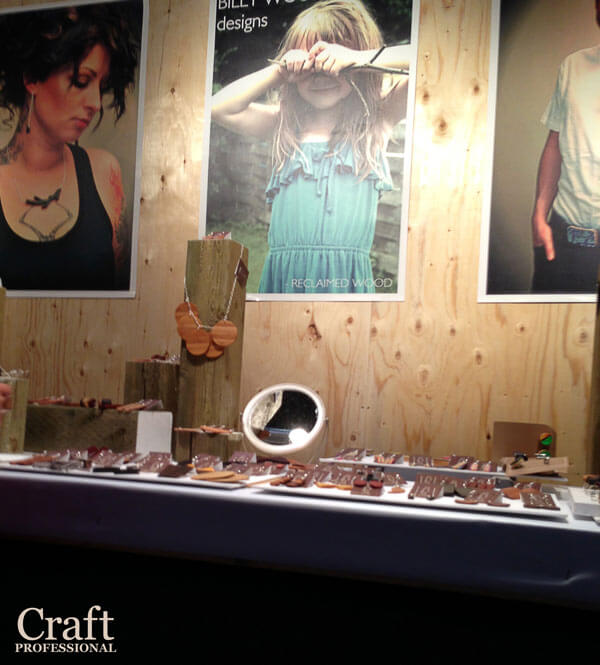 Slatwalls in this handmade jewelry kiosk in a busy tourist area of Quebec City. I've seen plenty of white slatwalls in other displays, but these wood-colored slatwalls add a little extra elegance.
Slatwall - flexibility and portability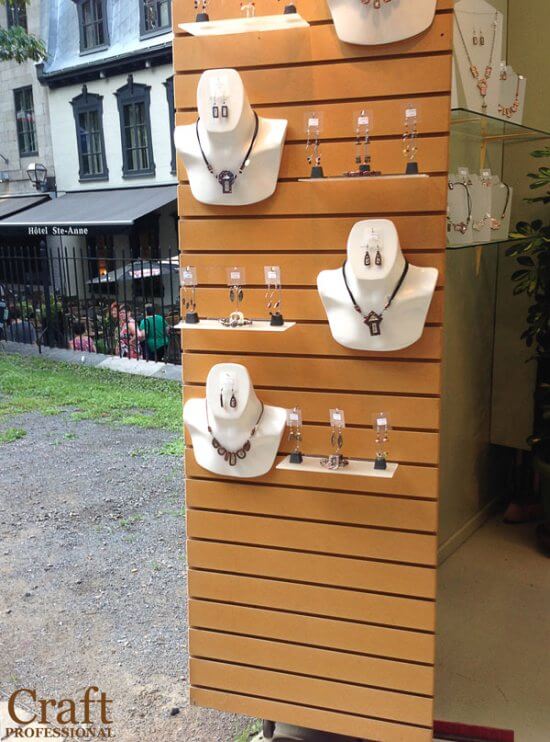 Here's a display that is tidy and pretty, but not overly fussy. There's good lighting in this booth (a common thread among effective jewelry displays).
Pretty, but not fussy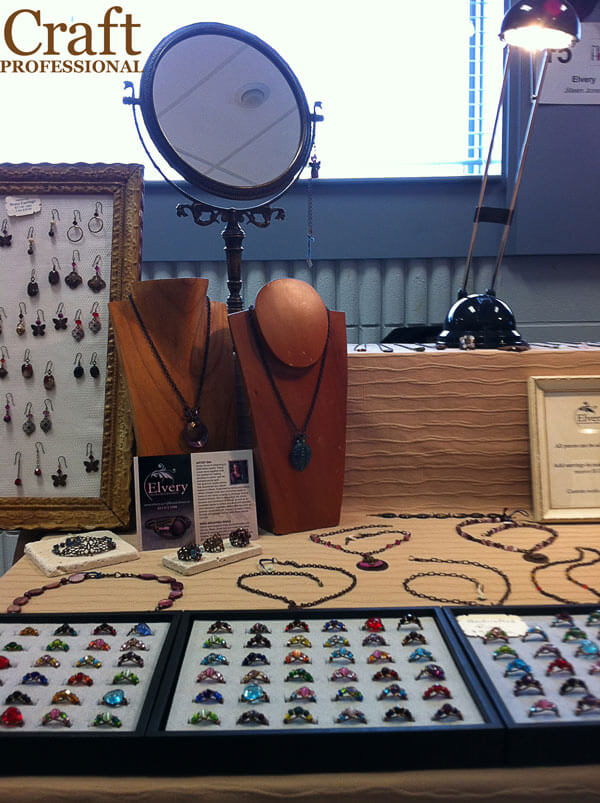 The natural colors in this booth are gorgeous. Variation in height draws your eye around the display, but the same wood color ties everything together.
Natural colors in this pretty display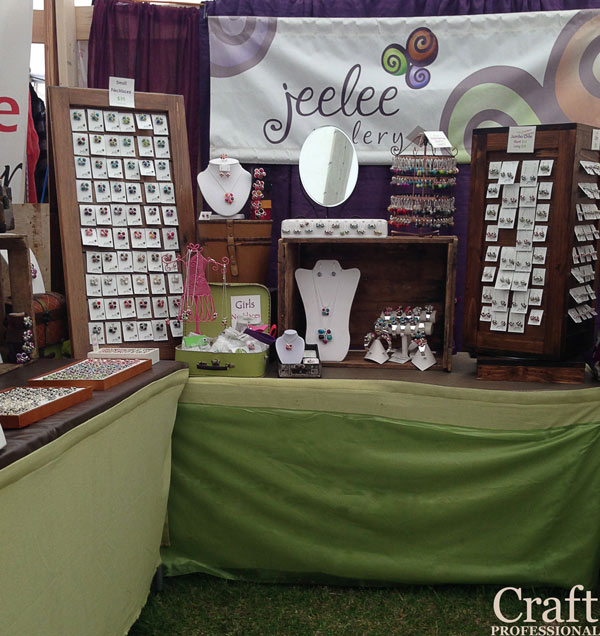 Here's the other corner of the same booth. These DIY wooden jewelry display frames are genius. A large wood frame at the front with plenty of space to display jewelry, with a sturdy brace at the back (hinged at the top) make a display that is beautiful, solid and portable.
DIY wood displays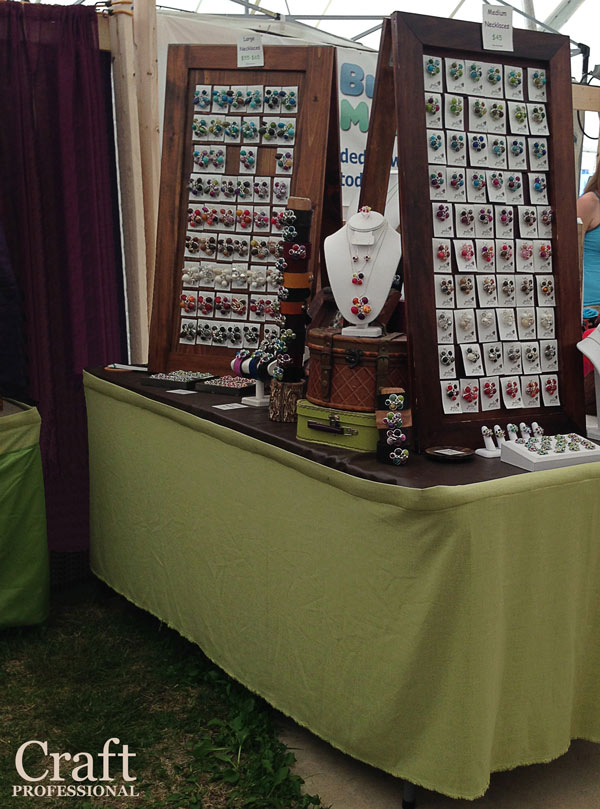 Looking for More Jewelry Display Resources?
Here are 8 more jewelry booth photos.
And more than 20 jewelry display pictures on this page.
Need booth supplies? Here are some sources:
You Are Here
You are here:
Home
➤
Display Booth
➤
Jewelry Displays for Craft Shows