10 Pop Up Display Booth Signs
If you buy something through links on Craft Professional, I may earn a referral fee. To learn more see my
disclosure
.
---
Does your pop up display booth need a few signs?
Probably.
Some shows require vendors to display a sign showing at least the company name. Even if it isn't a show requirement, a well thought out, well placed sign or two can add a lot to your booth.
Great signs can communicate volumes to customers at craft shows. They can draw customers from a distance, show off your style, and communicate what's unique about your brand.
If you're wondering how to create some great signs for your own pop up display booth, here are 10 examples to get your creative juices flowing.
---
I earn a commission for purchases made through links on this page.
To learn more, please see my disclosure.
---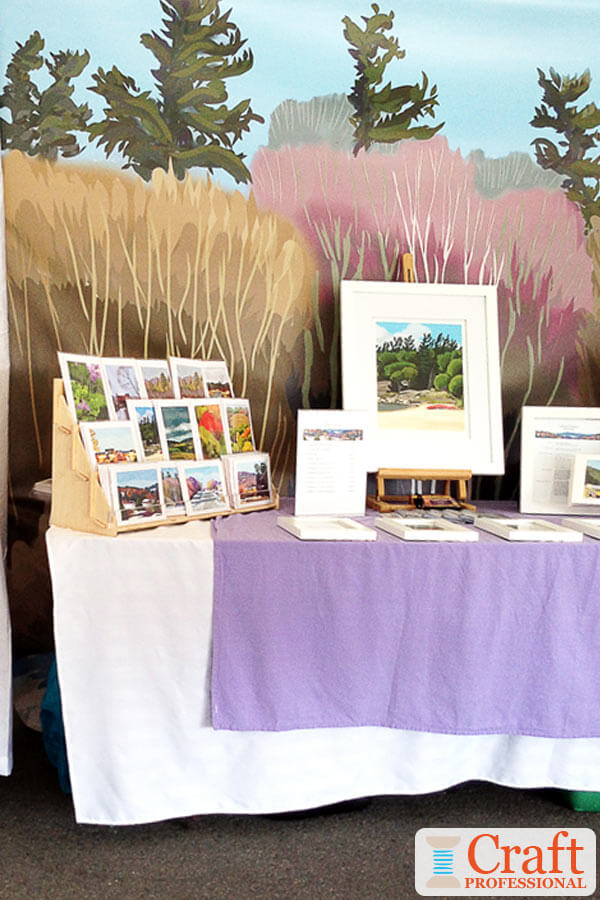 The huge image in the background of this booth is one of this artist's striking digital paintings. It is eye catching and definitely makes customers stop and explore her booth. It communicates everything a potential buyer needs to know about her style without saying a single word.
She sells smaller prints that are beautiful but, because they are smaller, they might not be immediately noticeable from a distance or in a crowd. This massive sign can't be missed, and people who love it will be drawn to her booth.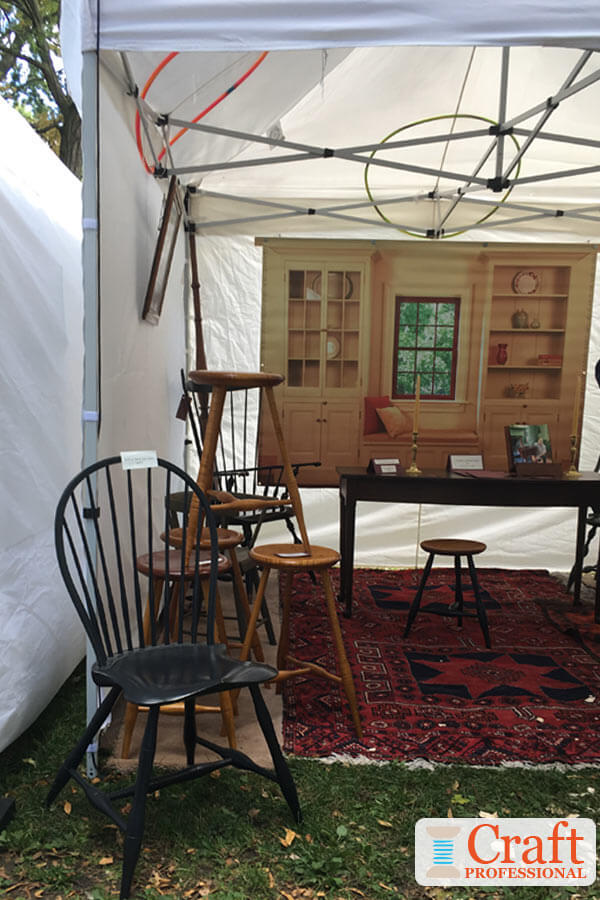 Check out the huge photo in the back of this next booth. Not only does it set the stage for the furniture displayed in the booth, so you can imagine it in your own home, it also shows off some of this woodworker's less portable work. If it's not possible to bring some of your work to a show, consider having a huge, beautiful photo of the work made to hang in your booth. Likewise, if you're trying to recreate a specific environment in your space, a large image could help set the scene.

If you're wondering why there are hula hoops in the top of the craft tent, some craft professionals use them at outdoor shows to prevent leaks when it rains. They pull the fabric of the canopy top tighter, which prevents water from pooling too much at the top of the tent. At this show, vendors enjoyed a gorgeous, sunny, rain-free weekend, but many of the booths had hula hoops (some people use pool noodles instead) set up just in case it rained.

Next up, we have two sides of the same booth. On the left, you'll see a huge sign with information about this vendor's products. It contains a lot of information, but it's written in short lines that are easy to read at a glance. Words and phrases like "locally sourced," "organic," and "gluten free" quickly communicate to customers what is special about these products.
On the right, you'll see some smaller signs in the same booth that reinforce the values expressed in this business. Phrases like "know thy farmer" encourage shoppers who value small batch, locally sourced products like these.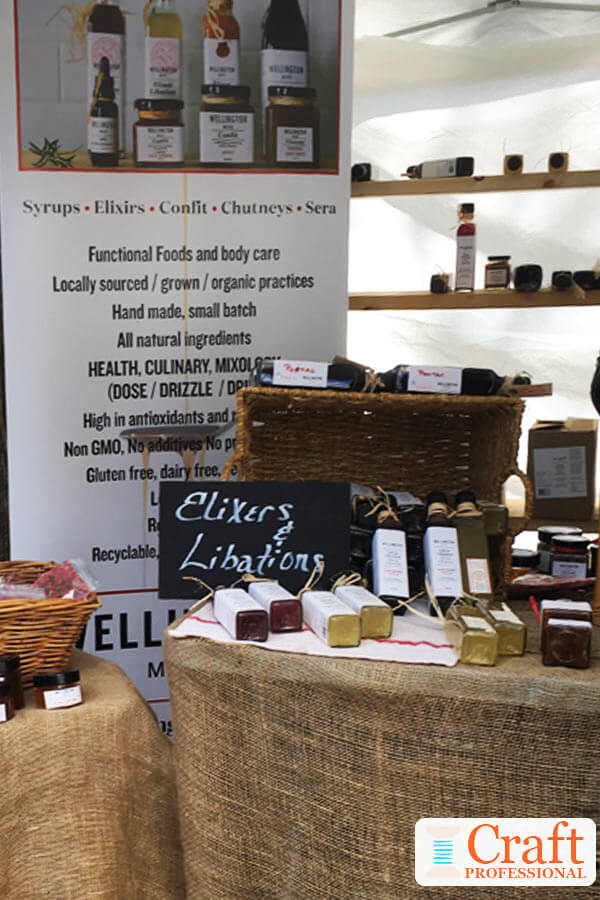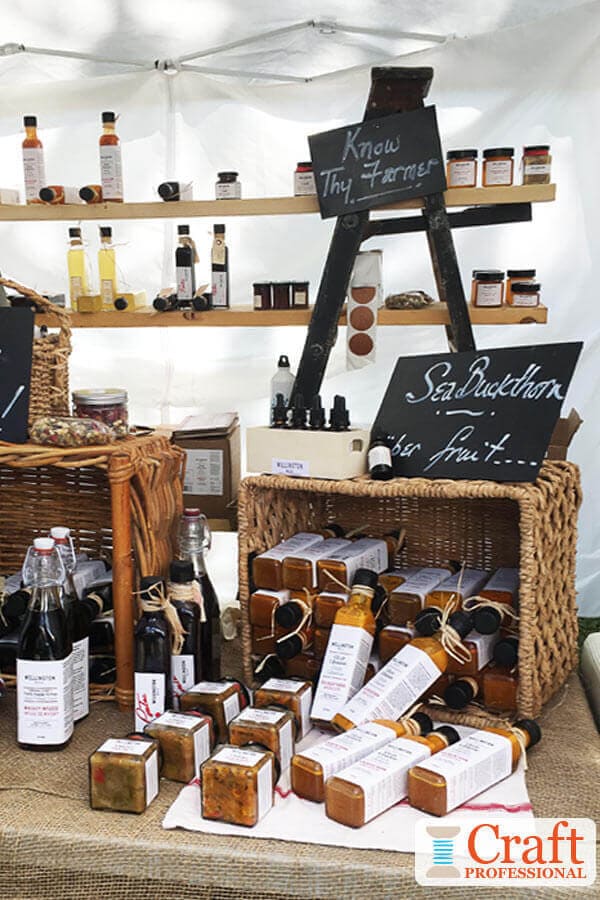 A striking, large-scale photo of your work can have a big impact in your display. Although the booths pictured below each has a very different aesthetic, they both use large product images to great effect. On the left, we see alluring white bowls with a tiny pop of color which are a perfect representation of the pieces in this booth. On the right, the adorable characters featured in the cards for sale in this booth speak volumes to any shopper who loves the whimsical aesthetic.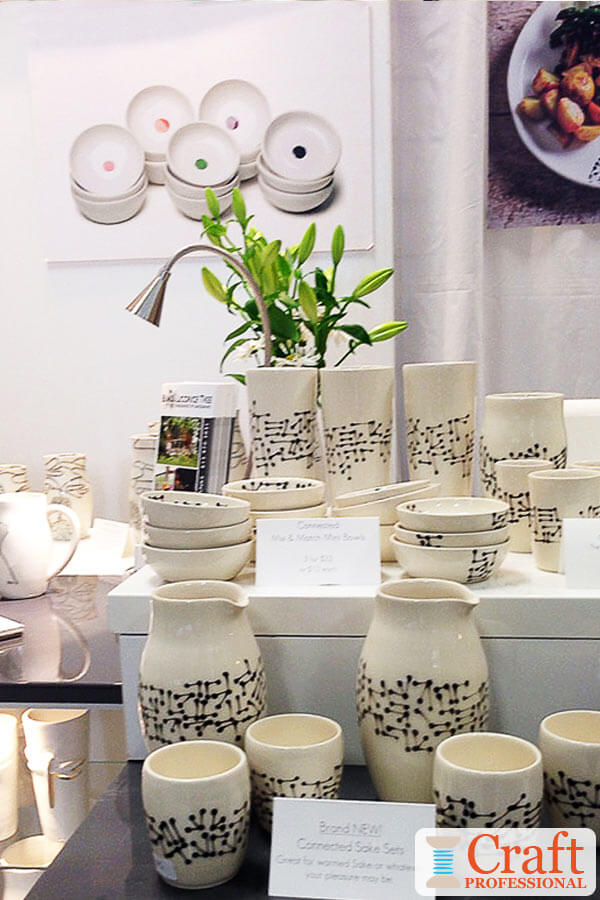 Jewelry artists would do well to strongly consider using large scale photos of their best work in displays. Jewelry is tricky because it is tiny. It can't be seen at a distance. Poster-size product shots quickly solve that problem.
Seriously consider hiring a pro photographer to take shots like this. You have may already know a lot about photographing your products, but a skilled pro can work wonders. The photos will be huge, and they are supposed to sell your product, so they will have to be spectacular.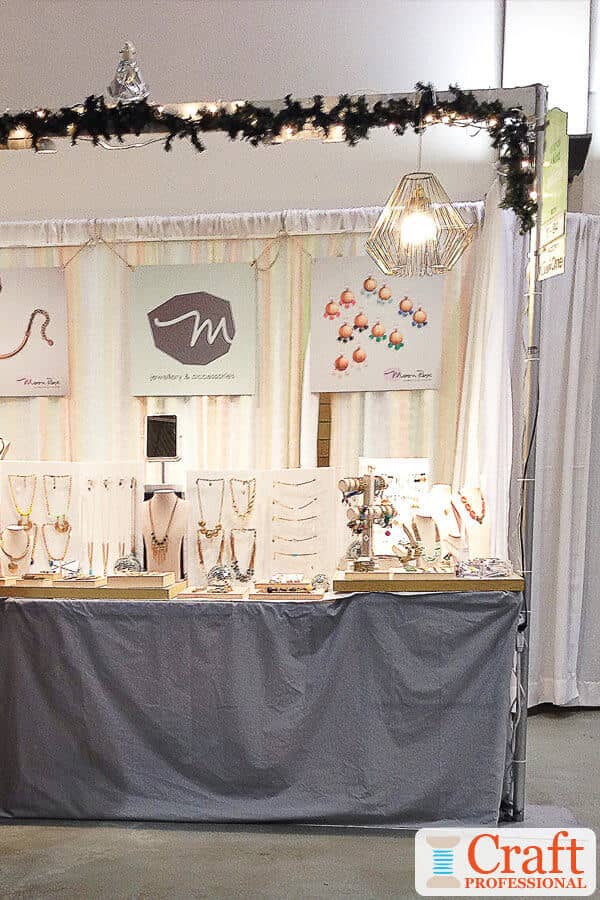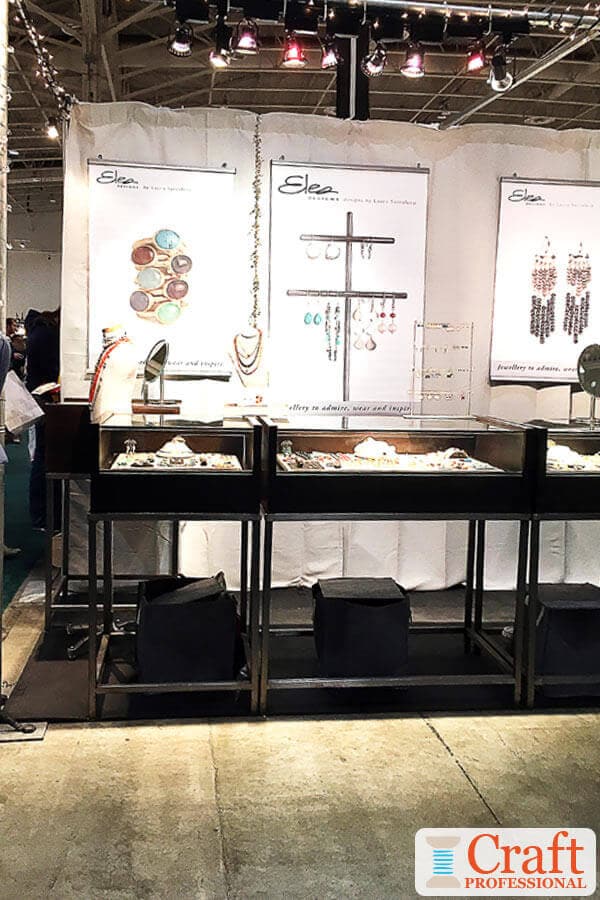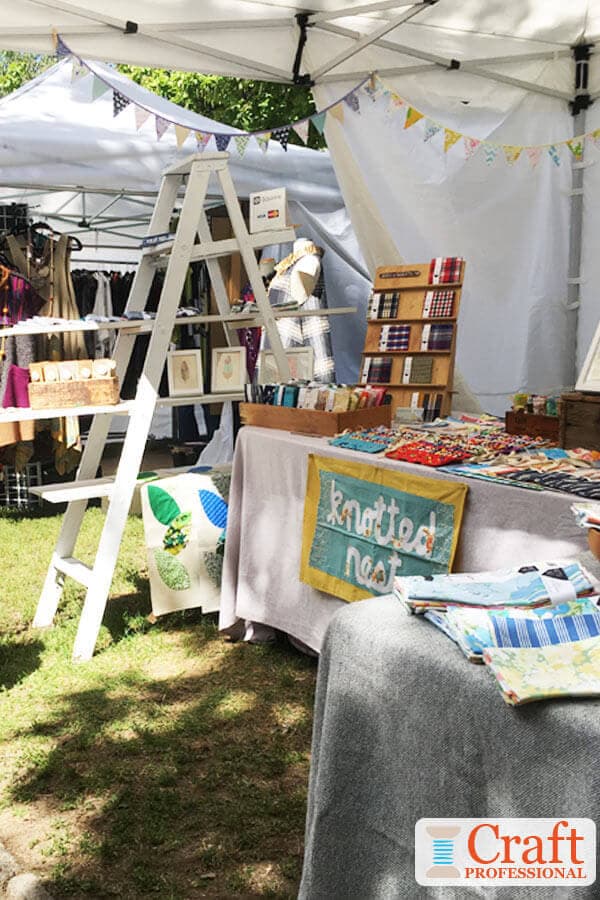 Can you make your sign using your crafting skills? The sign secured to the table covering in this booth is adorable, and it clearly expresses this crafter's style.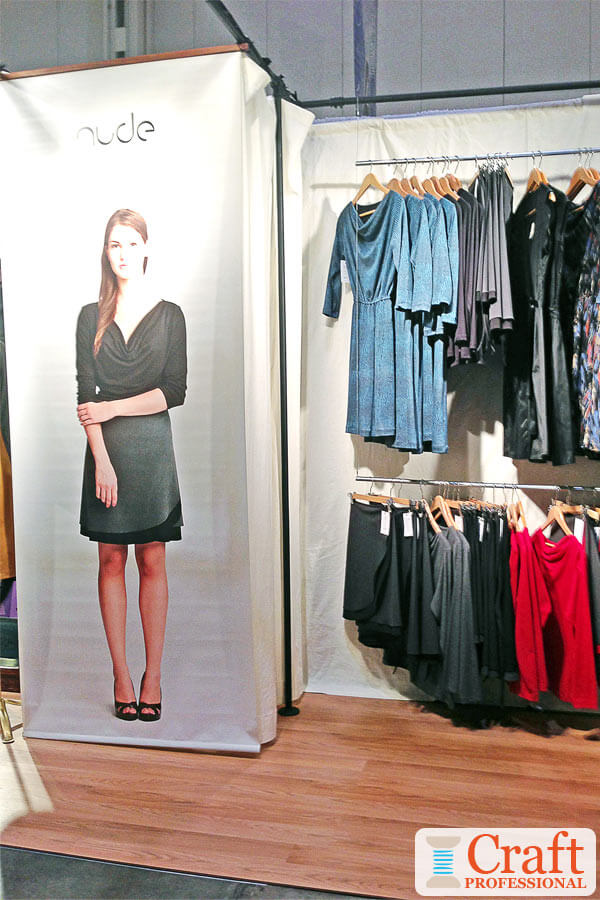 How about a life-sized sign for your booth? This understated display lets the handmade clothing take center stage. The minimalist look is a perfect fit for the brand. A single, large-scale photo showing your product at its very best can speak volumes, and allows you to be more subtle with the rest of your display.

Printable Booth Signs in my Etsy shop
If you need some signs for your craft booth, I've made it easy for you. There are plenty of printable signs in my Etsy shop. You can see a few examples below (click the image to see them on Etsy), or you can see all of them here.