Slat Walls for Craft Show Displays
If you buy something through links on Craft Professional, I may earn a referral fee. To learn more see my
disclosure
.
---
Slat walls are sometimes used for portable craft show displays. I've seen them most frequently used at longer indoor shows.
I see grid wall panels used more often to create a similar look. Grid wall panels make good use of the full height of your wall space. They are a good, portable alternative to slat walls, particularly if you do a lot of shorter and outdoor shows.
If you're thinking about using slat wall panels for your craft booth, check out these booth photos.
Handmade Accessories Display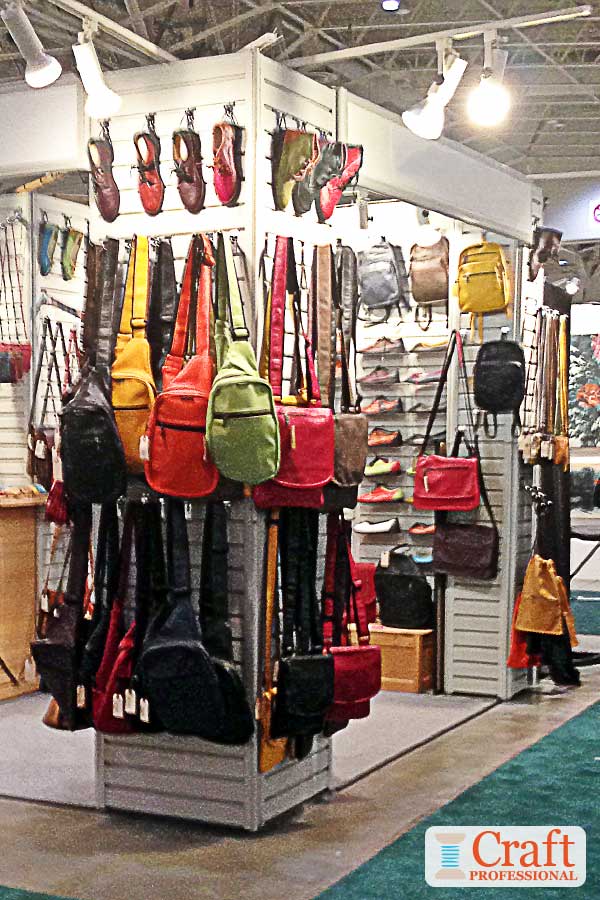 Here's an impressive leather goods booth made entirely from slat walls. This display is sturdy, professional and highlights the products for sale.
The narrow panel tower at the front corner of the booth provide a place to effectively highlight key pieces that will draw shoppers into the booth.
Notice the bright colored bags placed strategically at eye level. Placing impactful items at eye level is an essential visual merchandising strategy you can use to create a more effective display.
This display would require a lot of work to put together. It was at a major, two week long indoor show, where vendors tend to use more substantial display furniture. 
There are other display options, like gridwall displays, that are more easily portable than slat walls. But if you're selling at longer indoor shows, a more substantial display might be the right choice.
Colored Panels
Next, I have two photos of the same booth, at the same show, but the first photo was taken a year before the second photo.
This handbag display booth started with subtle green slatwalls highlighted with darker green accents. The following year, this designer decided to switch to neutral, white slat walls.
In comparing the two photos, you can see what an impact color can have on your display. You can use colored slat walls to create an eye-catching innovative booth that stands out from the crowd, and adds to the look of the booth without competing with the product. Or you can use neutral colored walls to create a backdrop that's functional and simple.
It's your choice.
I think both displays look great, and I do love to see the evolution of craft artists' displays over the years.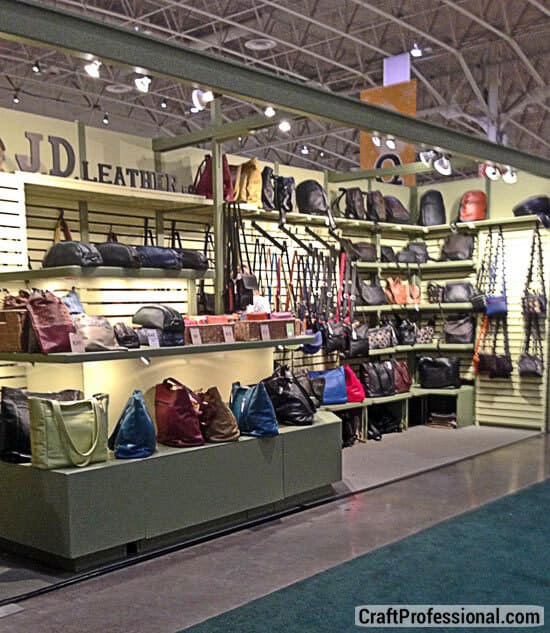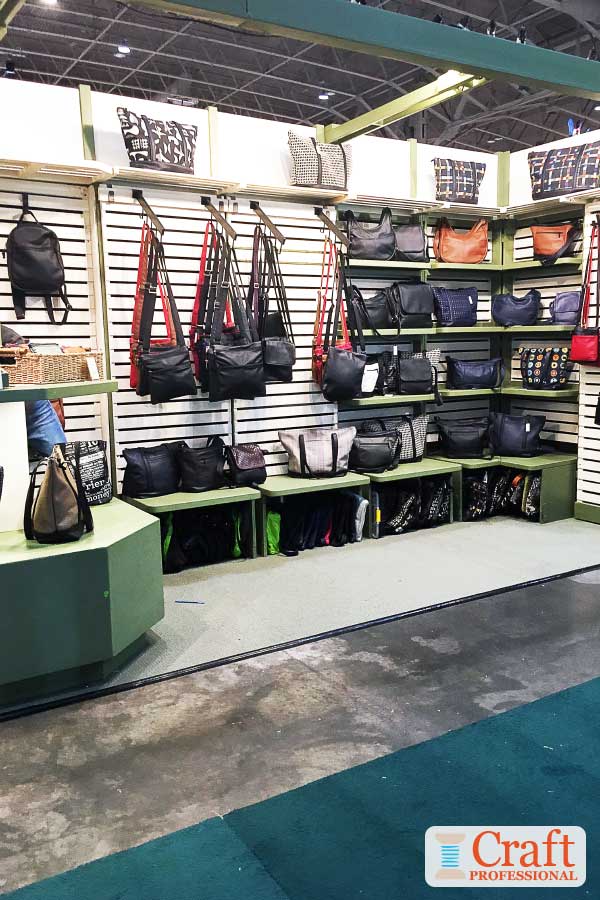 Clothing Displayed on Slat Walls
This next booth has panels arranged in a stable U-shaped configuration.

Notice the bar with lights secured across the top of the panels.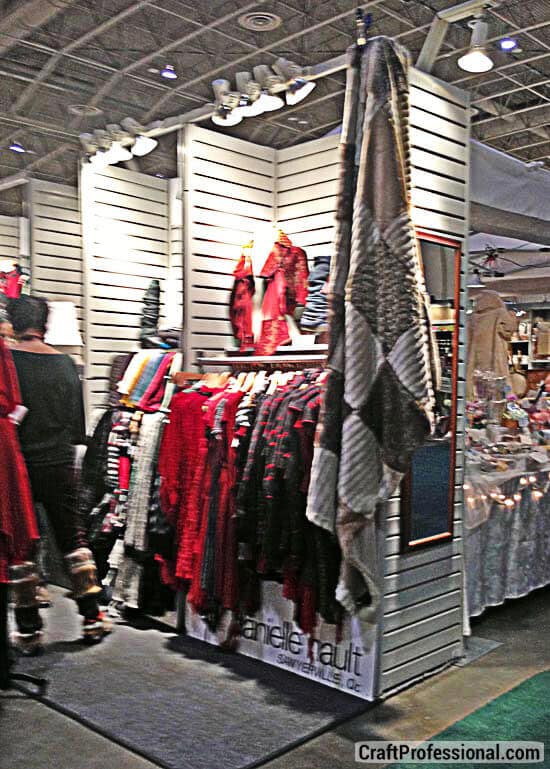 In addition to adding important lighting to the booth, the bar at the top also adds to the stability of the panels.

It's important to remember that slat walls are frequently used in more permanent spots, like retail store displays and garage organization, where they are secured directly to a wall and not portable. With that in mind, do be sure that any slat wall panels you purchase for a craft booth is portable and free standing.
Hats On Display
First, I love the hats featured in this next booth. I bought one for myself after years of looking for a sun hat that was both cute and actually fit my big head.
This display is simple and works well. The mirrors secured to the panels allow customers to try on and check the look of any hat they like. The millinery hooks on the panel are specifically designed for displaying hats. They do a great job of giving each hat its own place of importance.
As a customer, what I really loved about this display was the fact that I could, at a glance, see every color and style of hat available. I could quickly find the color I wanted and then try on several styles in that color to find the one that suited me best.
An excellent, customer-friendly display!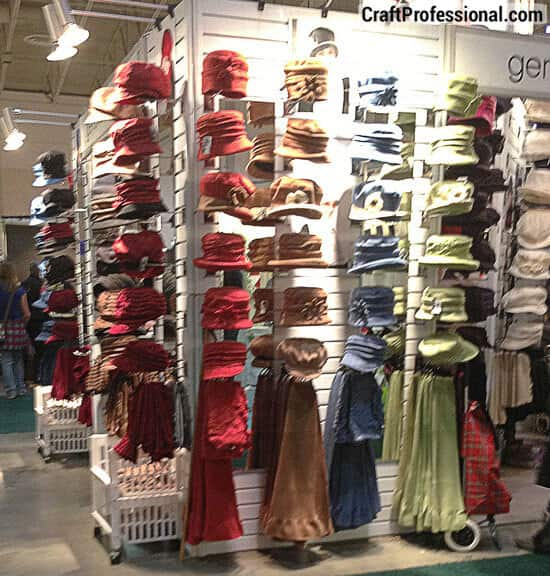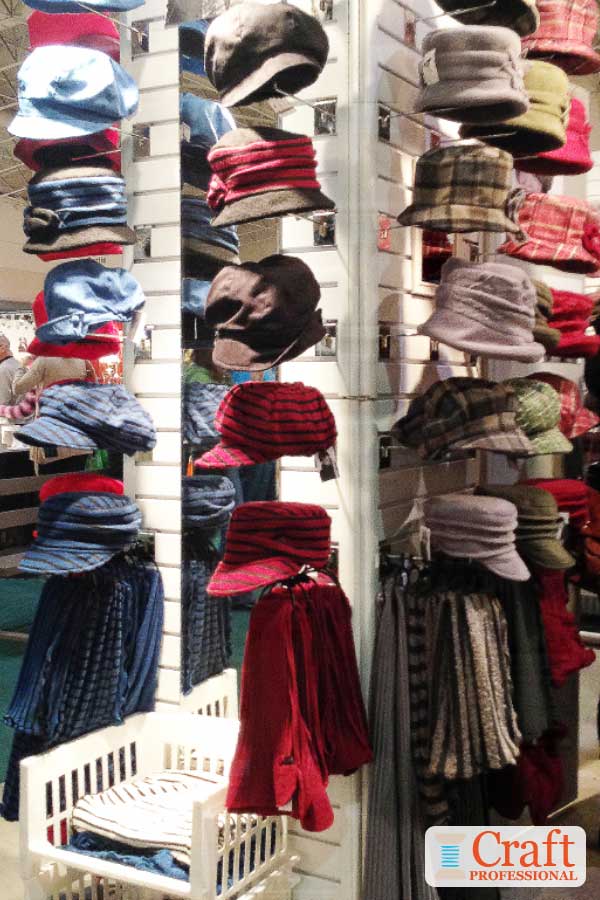 Storage on the Bottom of the Display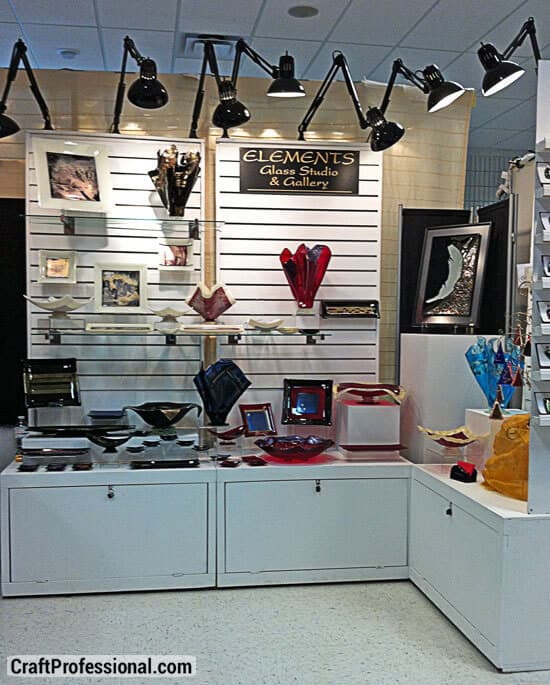 There's plenty of storage on the bottom of these panels.
The bottom cupboards would provide an excellent, stable base for supporting the slatwalls, plus they provide a convenient, hidden location for storing extra stock and the craft show survival necessities you need to bring along.

Things to Think About Before You Choose to Use a Slat Wall System in Your Portable Display
Slat walls have a lot in common with grid walls, so you'll probably want to consider both to determine which system is best for your needs.

There are a few negatives to keep in mind when using slat walls in your craft show booth:
Slat wall units are generally fairly heavy, which can make transportation more challenging. It's hard to directly compare the weights of freestanding grid wall units vs. slat wall units because the dimensions of each vary, but in general, my research shows that freestanding slat wall units are heavier than grid walls.
Slat walls can be pricey compared with DIY displays you might rig up yourself.
You do need to ensure you buy a style that is portable and free standing for use at craft shows, as opposed to the type that are attached directly to a wall in retail stores. Freestanding towers and gondolas (H-shaped units) are portable (They are heavy. Check the weight before you buy).
Slat walls also come with many positives that, in the right situation, can offset the negatives:

They do look great. You can create a professional and pulled together look with slat walls.
They come in a few color options, which you can use effectively to create a specific look to your booth and really make it stand out from others.
They allow for a flexible design, so you can experiment and set up your booth in a variety of ways to find what works best, or to adjust for different conditions at different venues.
Comparing With Grid Walls
If you're comparing a slat wall system with a grid wall system, and trying to decide which is best for your needs consider: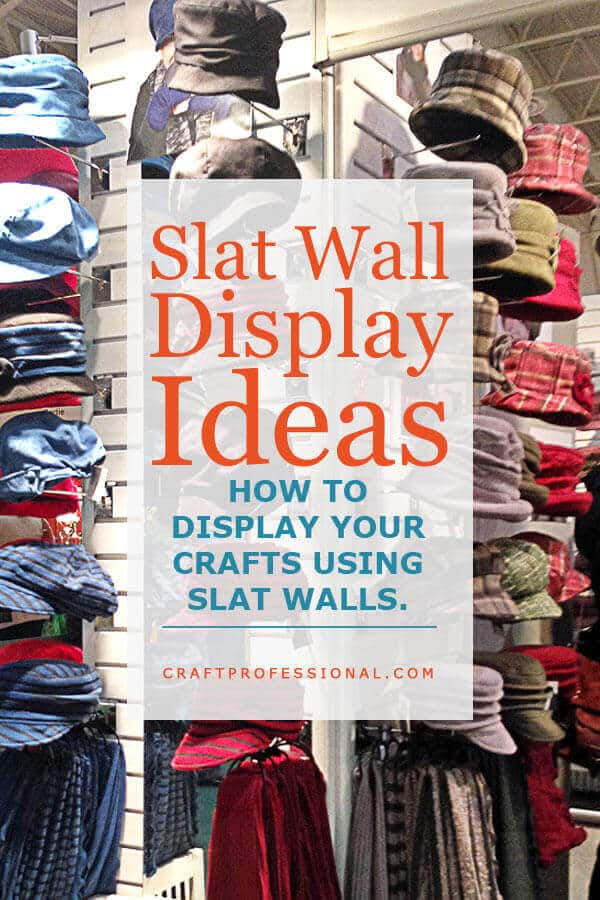 Weight:
Both types of displays tend to be heavy.
Check the weight before you buy, and ensure you will be able to move the units yourself or with a helper if you'll have one.
Size:
Determine how the height and width of the panels will work together to create a cohesive booth. Also consider how you will be able to reconfigure your booth to suit different situations.
Maximum Load:
If you make heavier items or plan to hang a lot from each panel, be sure to check how much weight each panel can safely hold.
Appearance:
Consider the look of each system. Slat walls generally provide a cleaner look. You can hide the metal of a grid wall behind a well-placed curtain or buy white grid wall panels that blend in against your white tent sidewalls.
Portability:
Think about what types of shows you do, and how frequently you do shows. You might decide to go with a booth configuration that looks great and functions well but is a fair amount of work to put together and take apart. That option could work for you if you tend to do major, multi-day shows where you're leaving your booth assembled for several days.
If, on the other hand, you do many one or two day shows, you'll need to look carefully at ease of construction and tear-down.
Accessories:
Take a look at the accessories available for each system to ensure you can find the types of hooks and shelving you need to display your work at its best.
Cost:
Of course, don't forget to compare prices. Slat wall panels are generally pricier than grid wall panels (although, if you look around, you might be able to find a great deal). However, if you do a lot of profitable shows, they may be well worth the investment.