Portable Jewelry Display Photos
by Lisa McGrimmon
Are you working on creating a portable jewelry display for craft fairs? You're in luck! I have lots of gorgeous booth photos to give you ideas and inspiration for creating your own display.
If you're not a jewelry maker, and you're building a different kind of craft booth, be sure to check out these photos, too. Apply a bit of creativity, and a lot of the ideas here will work for displaying all kinds of small items, not just jewelry.
---
I earn a commission for purchases made through links on this page.
---
Well organized Black and White Booth
I love this black and white booth with natural wood display pieces, and it's always full of customers. Here, you can see both sides of the booth. It's a U-shaped setup with tall tables and display on the walls that makes excellent use of the 10 x 10 booth space.
This booth is packed full of jewelry, but it is orderly, and it works.
You can find similar wood jewelry stands in the Kaizen Woodworks
shop on Handmade at Amazon.
Clever, Simple Portable JEwelry Display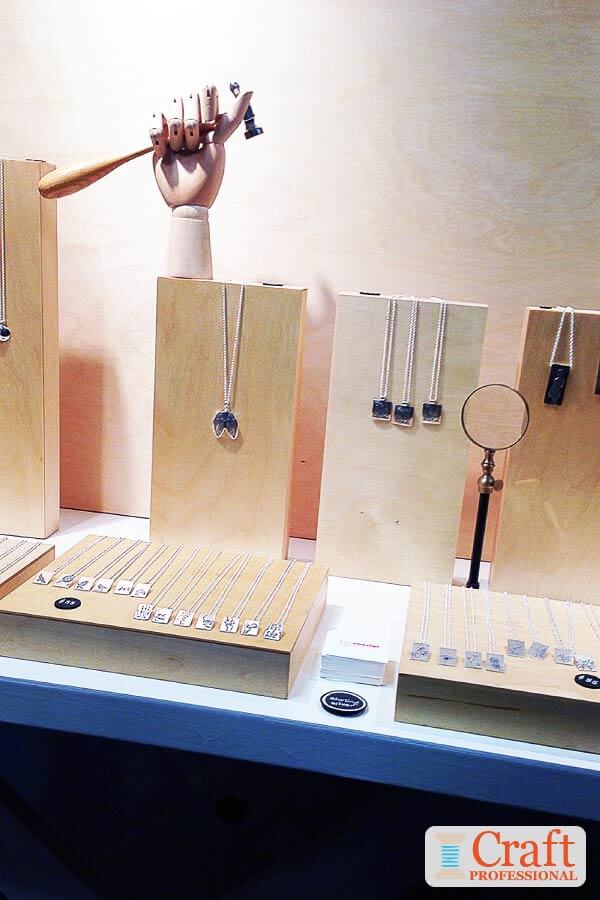 I love this jewelry booth display. It's so simple and clever, and it's another booth that is always packed full of customers.
The articulated hand holding a pendant and a hammer are brilliant. It's a smart way to add a bit of interest and show off the tools of the trade.
Can You Guess What This Display is Made From?
Notice the perfectly sized white jewelry display boards... Can you guess what they are?
Kitchen cabinet doors! So clever. 
The middle of the door is decorated with colored papers that match the colors of the jewelry. Notice this booth uses color blocking as well, with jewelry of like colors grouped together and background fabric used to highlight each color.
You can't see this in the photo, but the jewelry is attached to the cabinet doors with velcro, making them easy for customers to remove to pick up and look more closely.
There's lots of good lighting shining directly on the jewelry as well. Never underestimate the importance of good lighting in your portable jewelry display.
Here's another clever DIY jewelry display idea. Copper pipe is constructed in a U shape, and then secured to a wood base. Pretty, delicate necklaces can easily be hung from the top. It's a simple, inexpensive way to display your necklaces.
Wood crates are such a practical addition to your craft booth. They provide good display options and can help to create variety in the height of your display. They are also fantastic for transporting and storage when you're not at a show.

Crates often have a "rustic" feel to them, but this booth is made more sophisticated with crates painted black to work with a color scheme that's consistent throughout the display and the products.

I like this booth because the dark blue background provides an unexpected twist. Normally, you'd choose black if you were trying to create a look like this one. The dark blue has all of the richness of black, but it adds a surprise, elegant twist. The white jewelry display busts
contrast nicely with the dark blue background.
Signs for Your JEwelry Booth
Want to encourage your customers to splurge a little on some new jewelry? Check out these printable craft booth signs in my Etsy shop.
You Are Here
You are here:
Home
➤
Display Booth
➤ Portable Jewelry Display Photos
Related Articles