Craft Booth Setup Ideas That Connect With Customers
If you buy something through links on Craft Professional, I may earn a referral fee. To learn more see my
disclosure
.
---
Your booth setup at craft fairs should create a consistent image that connects with your target customers.

Do you design crafts that are retro, primitive, DIY or sleek and modern? Whatever your style, your booth setup should complement your products and reflect the tastes and expectations of your customers.

Even though you may be sitting under a canopy in a park, customers still expect (even if it's not a conscious expectation) and respond to a great display.
To create a wining image with your craft show booth, consider these tips:
Don't try to be something to everyone.
This guiding principle can be applied across the board from product design to craft booth display. Find a theme in your work, determine your unique voice or image and carry that theme or image through all aspects of your display.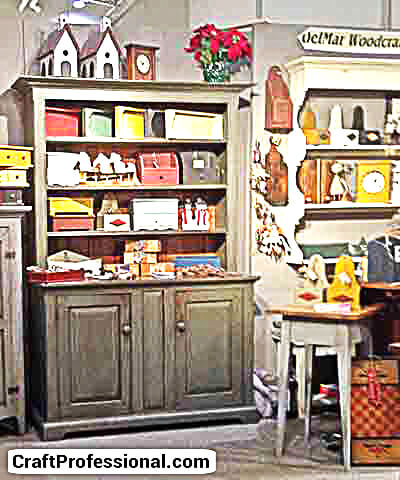 Make your craft booth display look like a store with a focused image that matches with the style of your products.
Try visiting your favorite boutiques which cater to a target market that is similar to your own. Your booth has to function as a traveling store, so you will have to take portability into account, but do notice fresh and creative ways to display products. Take note of what works and what doesn't. The idea is not to outright copy a store's display, but to get inspiration.
Think about how people will use your products and then set the mood accordingly.

Is your work inspired by nature? Reflect that in your booth display. Use natural colors or even experiment with display materials.
Does your work have a romantic air? Then set that mood with the colors you choose and the accessories you use to display your work.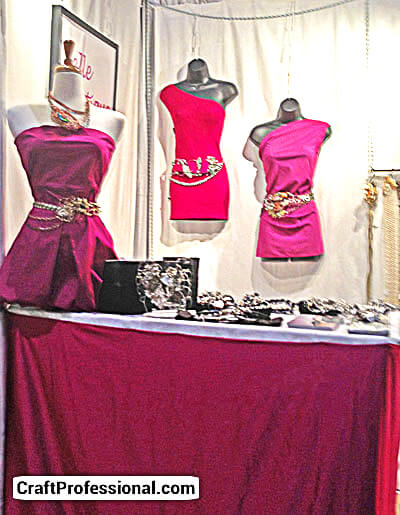 Use color to set the tone.
Take some time to determine the color(s) you'll use in your booth setup; color can send a powerful message and cause your target customers to head straight to your booth or walk right on past.
I've seen some simple but effective displays that feature a single swath of a striking solid color on a table or a single wall of the booth.
This large-scale use of color is very effective because a great color grabs customers' eyes and draws them into the booth, and yet, it also disappears into the background as customers draw closer, so your work, not your display is what gets the attention once customers are in the booth.

There is a lot of psychology behind the use of color, and it makes a big impact on the feel of your booth. It will likely take some work and experimentation to find a color scheme that ideally shows your work to its best advantage and reflects the tastes of your target market.
As you make choices for your craft booth setup, always come back to the style of your work, and the tastes and expectations of your target customers. If you consistently choose display items that meet and exceed your customers' expectations and show off your work in its best possible light, you will create a winning craft booth display.
Printable Signs for Your Craft Booth
Encourage shoppers to splurge a bit, and support small business with printable craft booth signs.