Craft Booth Design With Portable Tables
If you buy something through links on Craft Professional, I may earn a referral fee. To learn more see my
disclosure
.
---
12 fabulous craft booth designs using portable tables.
If you're thinking about using portable tables in your booth, look no further. I have 12 photos of great displays that use folding tables effectively.
You'll see booths that use color, lighting and simple design to make a great impression.
Read on for lots of craft show display ideas!
Tall and Narrow DIY Table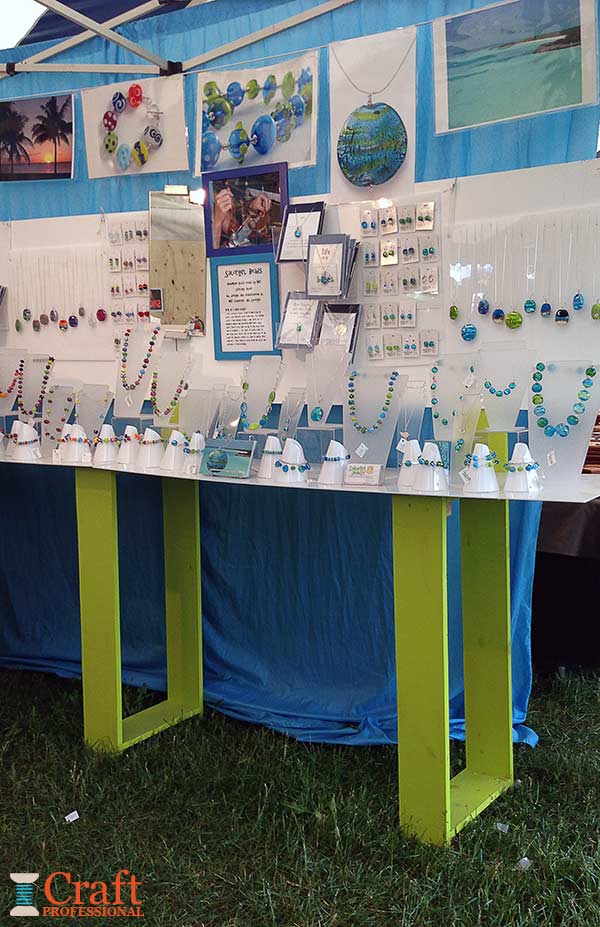 Here's a DIY table that is extremely portable. It looks like the green bases attach to the white table top and probably detach easily when it is time to tear down the booth.

The table is quite narrow, allowing plenty of room for customers in the booth. You don't need a particularly wide table when displaying small items like jewelry.
If the table was wider, the items at the back could get lost in the mix and a lot of space for customers to browse comfortably would be lost.
Although it's hard to tell in the photos, this table is higher than standard table height. Standard table height is approximately 30 inches, but a folding craft table that's 33 to 36 inches provides a more comfortable base for customers to view your products.
Striking Color and Great Lighting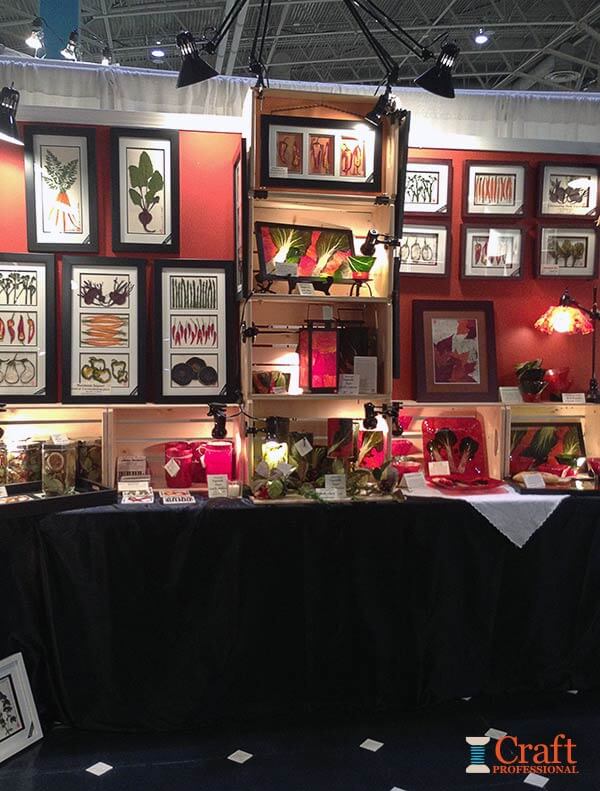 This first booth is a fantastic example of how to use tables well. The black fabric covering makes them fade into the background, so the focus is on the product, not the display furniture.
They aren't too wide, so they don't take up too much room in a standard 10x10 booth space.

The display is tidy but not so fussy that customers would be afraid to pick up an item. Plus, the great lighting finishes the space beautifully.
---
I earn a commission for purchases made through links on this page.
To learn more, please see my disclosure.
---
Subtle Nautical Theme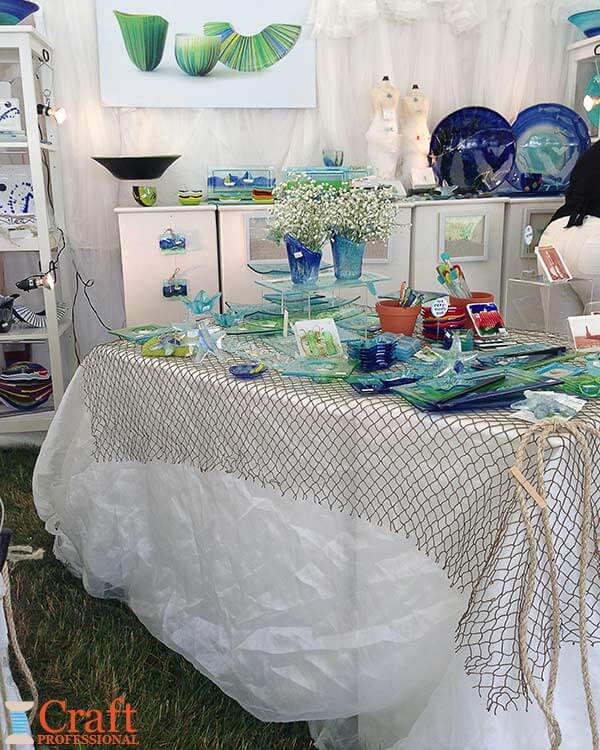 I love the table covering on this booth. The netting creates a fun nautical effect that is echoed in the blues and greens of the tableware.
The theme creates a fun booth design, and it is effective because it is subtle enough to avoid detracting from the tableware.

Simple and Elegant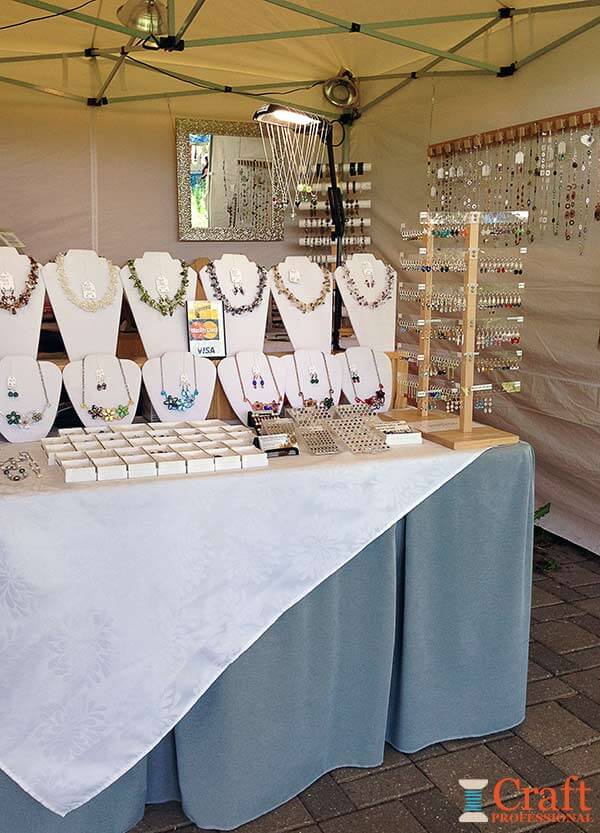 Here's a pretty jewelry booth with an elegant colored table covering. The table is at a great height for browsing, and the display makes good use of risers to vary the height and make full use of the width of the tables.

If you don't have an adjustable height table, you can simply place furniture risers under your table legs to add a little height, then hide them under a nice table cover.
Keep it Simple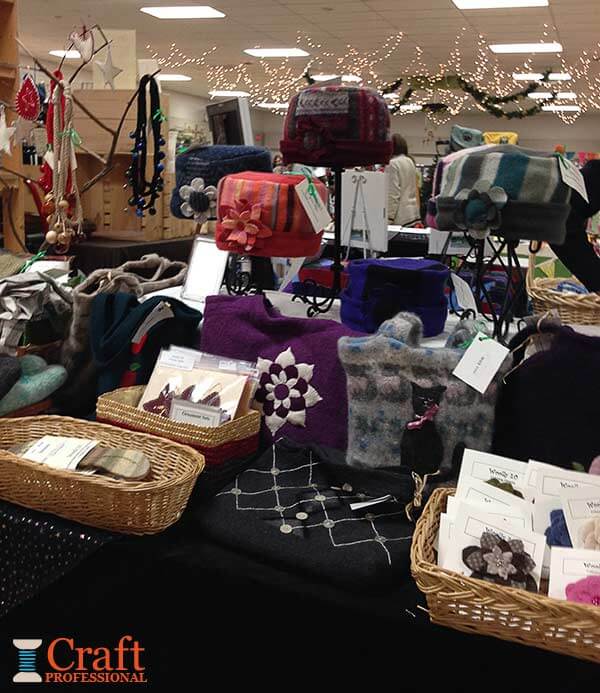 I like the fact that this hat display keeps things simple. Don't over-think your booth. Your products should take center stage, not your display pieces!

Don't Ignore Lighting!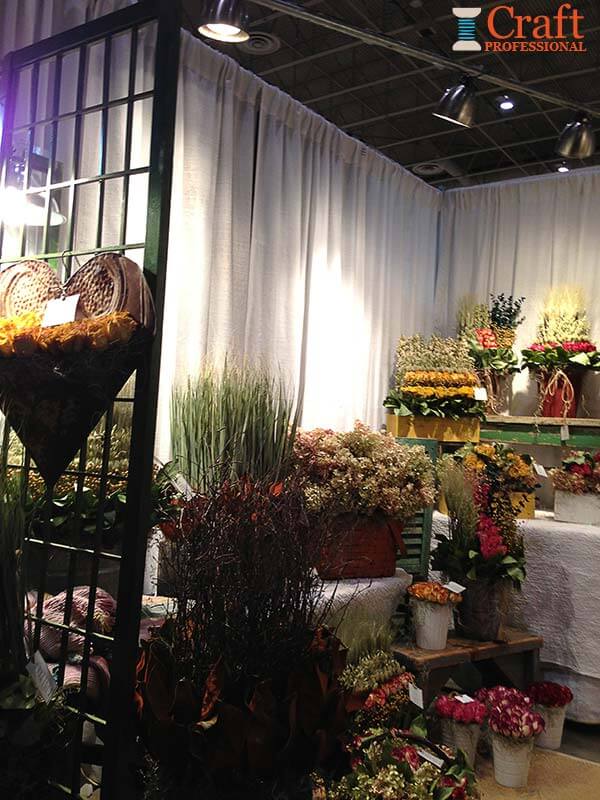 Dramatic lighting, rich table coverings, good use of risers, and varied heights make this booth design a real success.

All White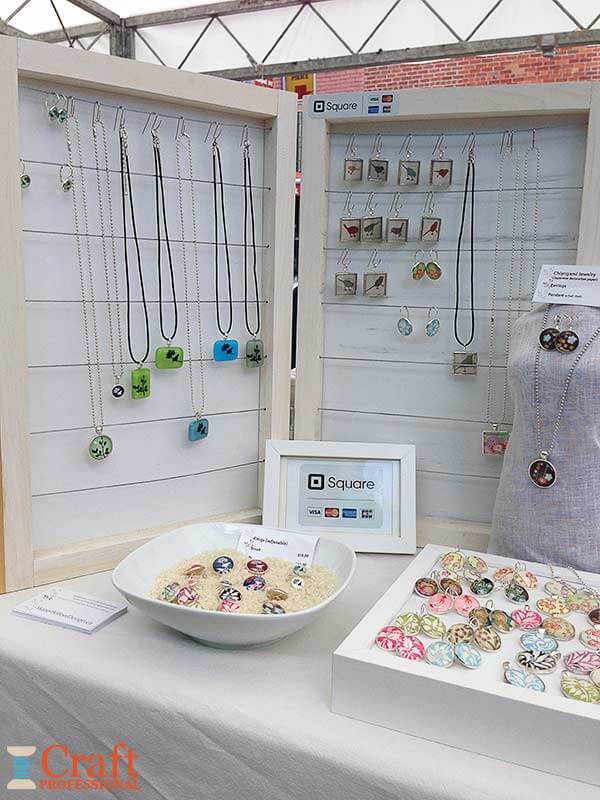 Here's a fantastic all white jewelry booth. The white backdrop really works with the bright, fun jewelry designs. I love the hinged frames with wire for hanging jewelry!

Inexpensive Baskets Plus Risers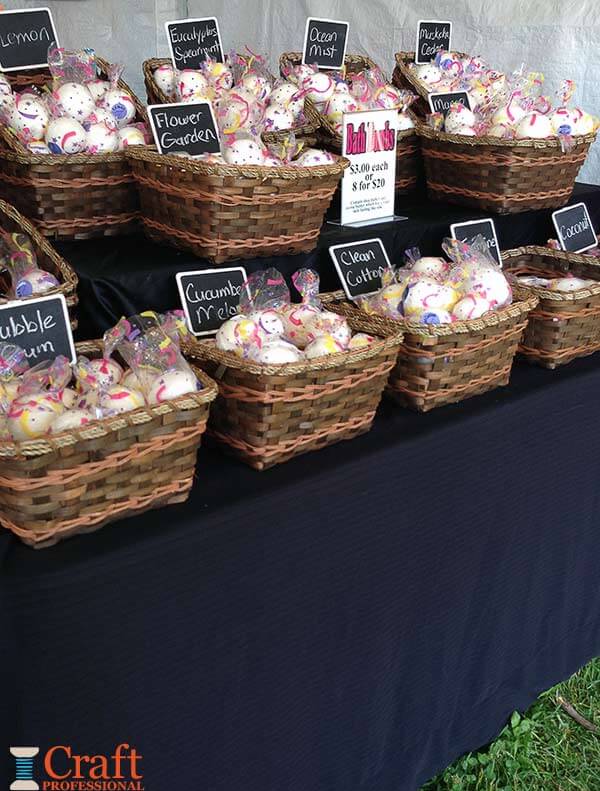 Simple matching baskets make this display of bath products work. With a bit of good luck, you could find baskets like these for a very reasonable price. The baskets would double nicely as storage, and they would make tear-down of this booth quite simple.

Notice the back row of baskets are raised on risers covered in the same black fabric as the table. The use of risers makes all the difference in this booth. They add height, and make the back row of baskets more accessible.
The tables, covered in black fabric, do their job and fade into the background. It's well organized, and easy to browse. The chalkboard style signs add a trendy element that would be easy to change out.

Booth Color Matches the Product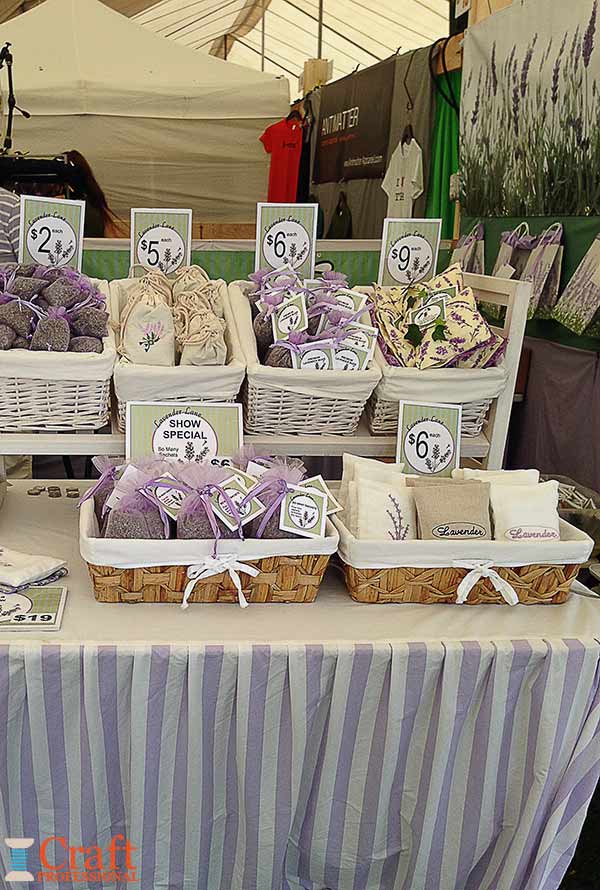 The handmade lavender products are well represented in this lovely booth. The purple and white colors match perfectly with the packaging and communicate the soothing quality of lavender.

The table covering is great. It looks custom made for the tables. The white top keeps the display area clean and simple, and the pleated sides look pretty but also tidy.
Simplicity Works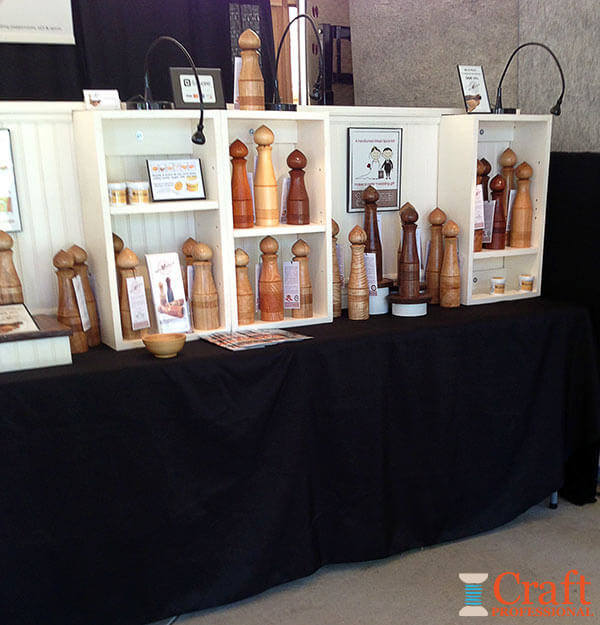 This booth design works because it is so simple. Here's more proof that you shouldn't over-think or over-do your booth. Simple display tables, display crates for height and interest, and good lighting allow the products to speak for themselves.

Spectacular Jewelry Booth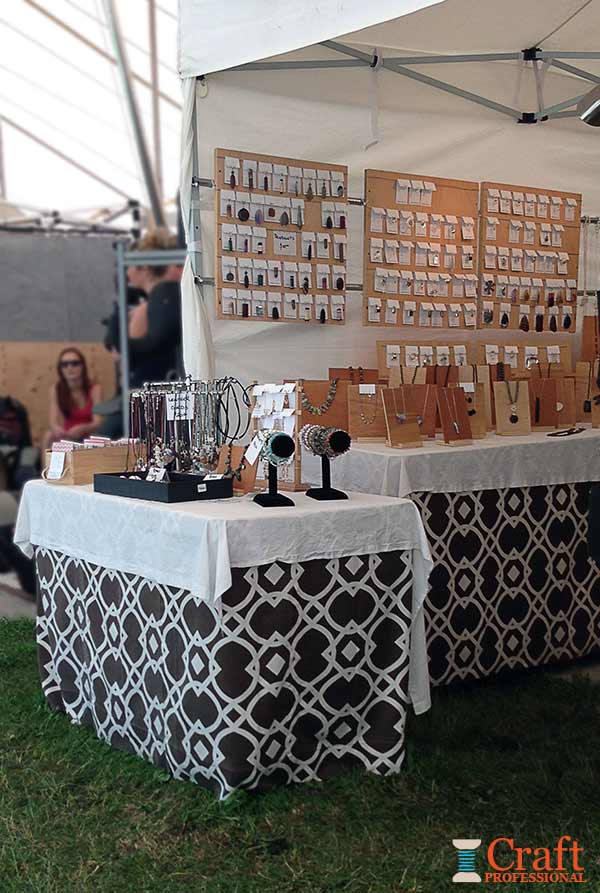 What a great jewelry booth! The table covering is dramatic and eye-catching. It definitely grabs your attention and draws you in, but the white covering on top of the tables ensures the graphic pattern isn't distracting once you're in the booth and looking at jewelry. 

This booth design makes a great use of space with jewelry displayed at eye level as well as on the table tops. Look closely at the three display boards along the side wall. They are secured to two rods, which are secured to the frame of the portable tent. Very clever!
Contrasting Color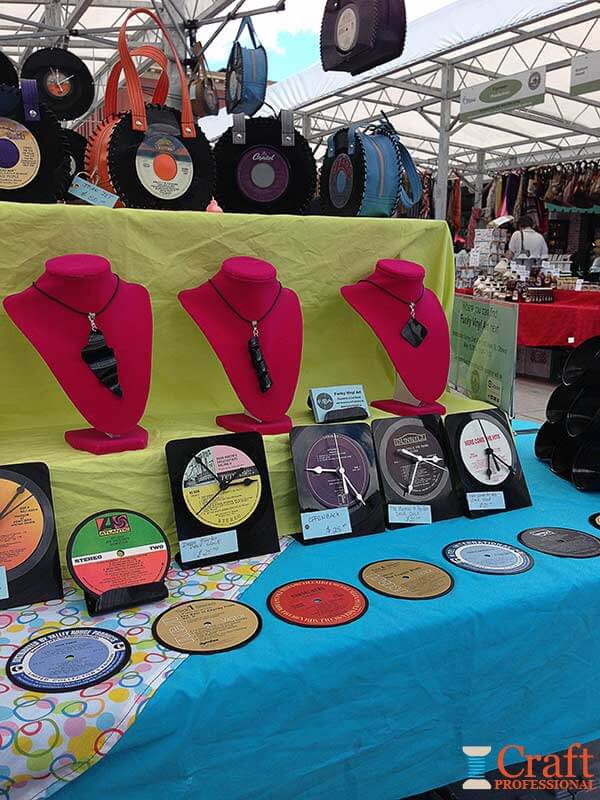 Color blocking of contrasting colors makes this booth at an outdoor market really pop! Notice the use of risers in this booth as well. Here we have three levels. Risers really make all the difference when you use tables in your display.

Key Takeaways
Portable tables are a simple, affordable way to design your craft booth. 

Do be very aware of height and width. A more narrow display table is better for most products.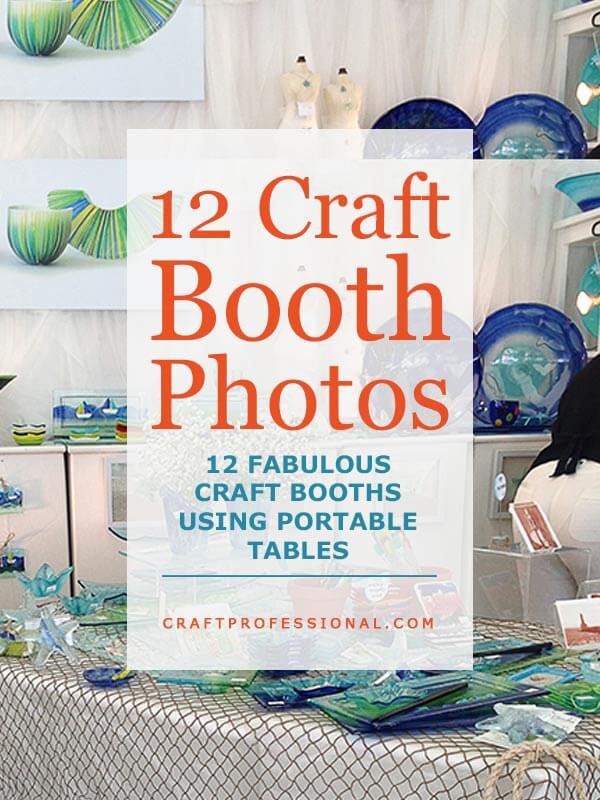 Wider tables take up too much space in your 10 x 10 booth, and products tend to get lost at the back of wider tables, creating a lot of wasted space.
If you can't find exactly the right sized table, consider DIYing your own folding craft table. It's a project that's easier than you might think and requires very minimal carpentry skills. If you can measure accurately and screw in a screw, you can make your own folding craft table.
Look for adjustable height tables. 33 to 36 inch high tables are better than the standard 30 inch height. If you already have standard height tables, simply place them on furniture risers. That way, you can get the extra height without the need to invest in brand new tables.

Display risers placed at the back of your table also make a huge impact on a tabletop craft display. Risers help you make better use of the back of your tables. When items toward the back of your display are on riser, they don't get hidden so easily.
Moving Forward
If you're looking for adjustable height, portable tables, Amazon has a good selection at reasonable prices. You can start your search below.