Soap Display Pictures
If you buy something through links on Craft Professional, I may earn a referral fee. To learn more see my
disclosure
.
---
I'm always amazed at the clever soap display ideas I find at craft shows. Unlike other types of crafts, there don't seem to be as many commercially available products for displaying soap.
Jewelry designers have an almost endless choice of jewelry busts, and ring and bracelet displays, clothing designers have mannequins and garment racks, hat designers have millenary stands, but soap makers just don't have the same commercial options aimed specifically at their product, so they need to get creative and find smart DIY display solutions.
To help you develop your own soap display solutions, here are some photos of clever DIY options soapers have used to display their products at craft shows.
---
I earn a commission for purchases made through links on this page.
To learn more, please see my disclosure.
---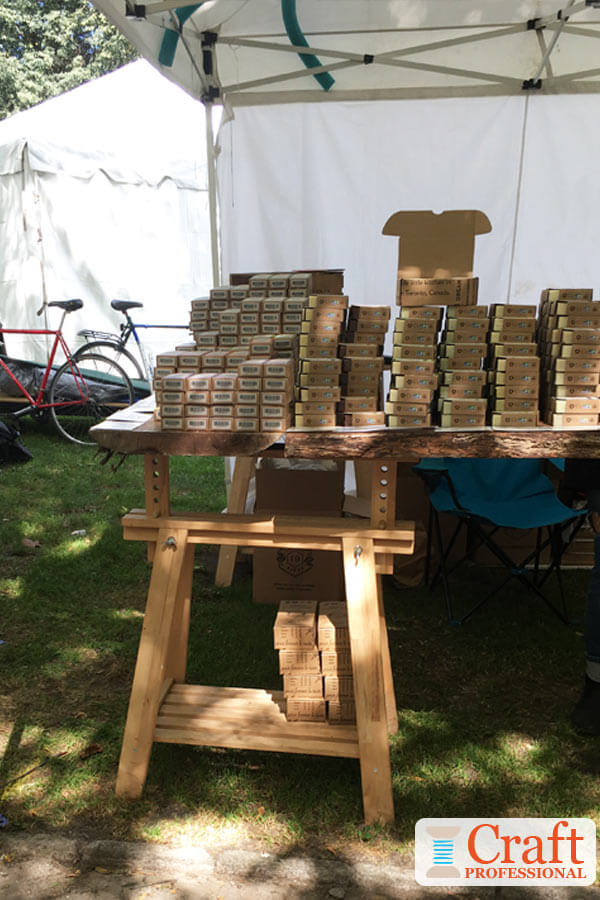 This booth takes a very minimalist approach to display. Their product is their display.
Although the soap display is simple, don't be fooled into thinking it isn't well thought out. Overall, it's a very casual booth. This style fits perfectly with the atmosphere of the very casual (but well-attended) craft show where it was spotted. The soap maker may use a slightly more formal display at other shows, but this approach fits perfectly with this show.
The kraft paper product packaging reflects a simple, unpretentious but modern feel for this brand, and it is echoed in the display - a raw-edges wood tabletop supported on simple wooden sawhorses.

The piles of soap are tidy but not fussy, and the simplicity encourages customers to pick up and smell the soaps.
---
The next two photos (below) show a portable display at an outdoor farmer's market. This booth also is full of DIY display solutions. The shelf secured to a small folding table pictured on the left is positioned at the front corner of the booth and used to give people a quick look at the products and draw people into the booth. The shelves add height and make the display more visible from a distance.
Inside the booth, pictured on the right, you'll find a series of stacked wood crates used to display soap and other body care products. The wood is all stained the same color to provide a cohesive look to the display. Also, notice the clear signs posted throughout the booth.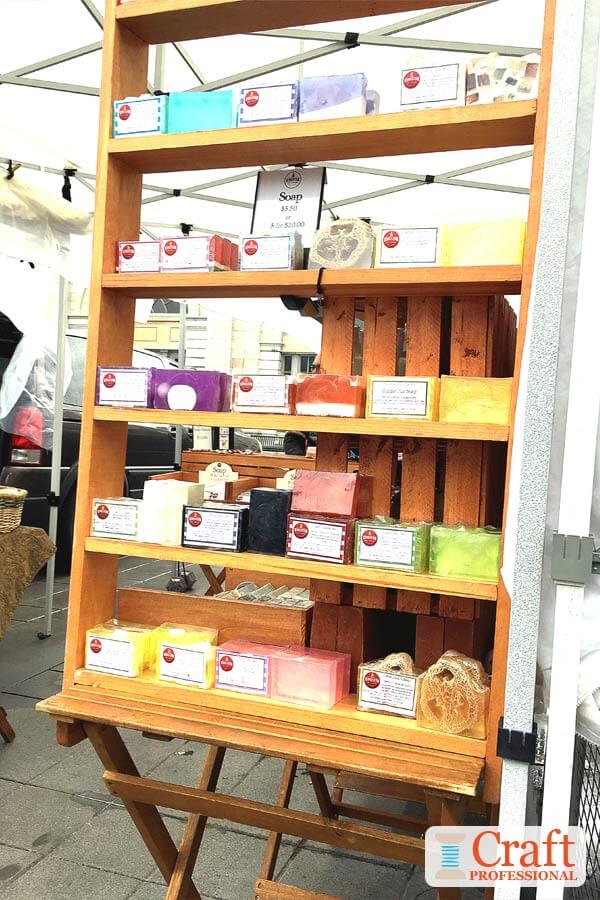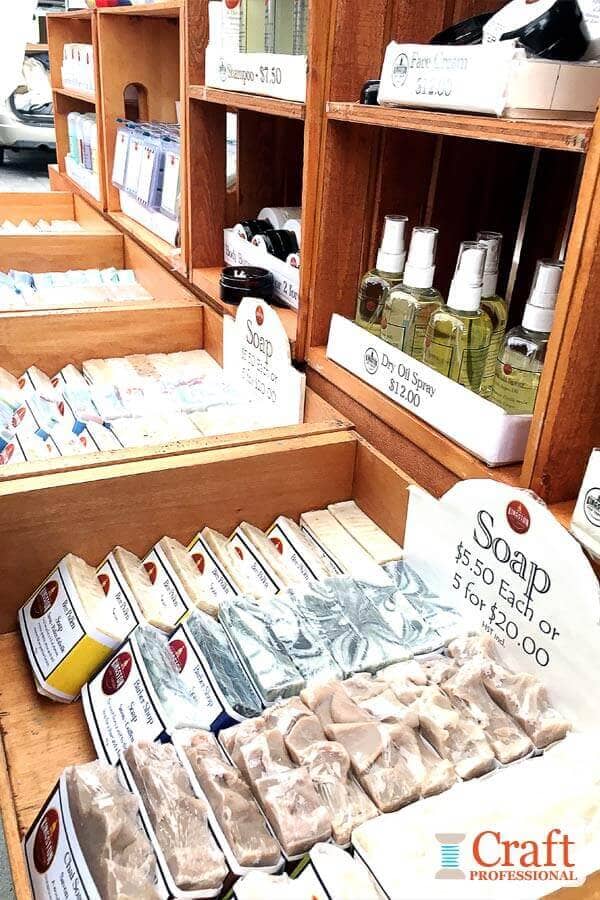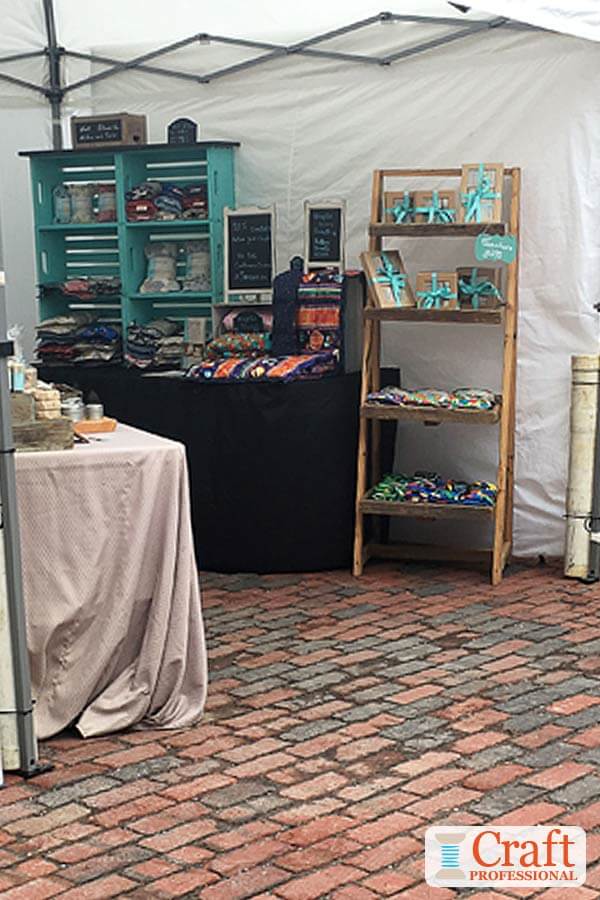 Here we have more crates used to display soap. You'll notice them in the top left of the photos.
This time, the look is quite different as the crates are painted in a striking blue color.
Wood crates are a popular option for displaying soaps. You can use them either stacked on their sides as shown in the photos here, or sitting flat on tabletops.
The a-frame shelf on the right of the photo is another clever soap display option. It's quite portable, adds some height to the booth, and can be placed at an outer corner of the display to help draw people into the booth.
I love the serving trays used to display soap. They are an ideal size to contain the soaps while still making browsing easy for customers.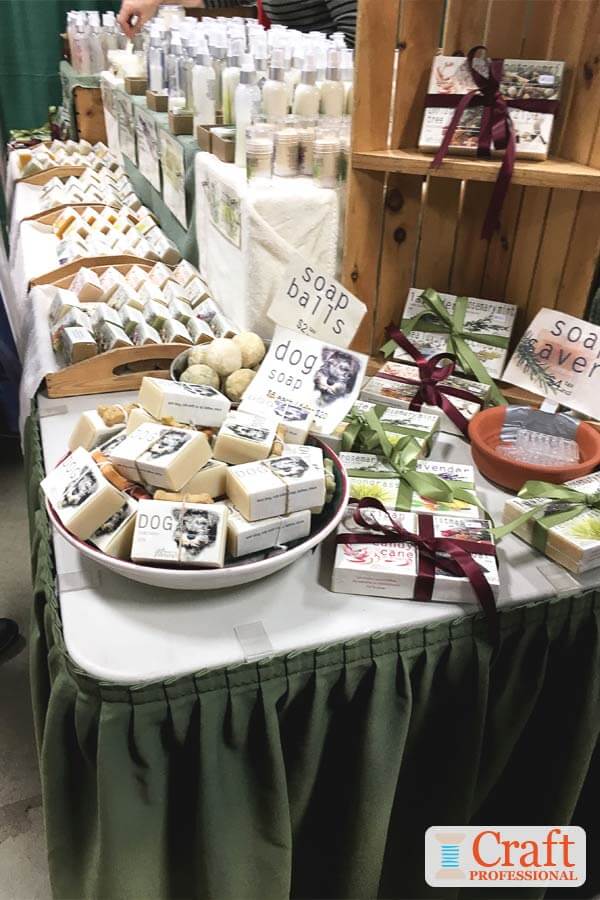 A casual pile of soap displayed in a bowl is an easy and affordable display idea.
This booth was at a Christmas craft show, which is why you see soaps on the right wrapped up in bows in pretty Christmassy colors. It's an easy way to make your booth look more festive for holiday craft shows. The bows communicate the idea of gift giving, which is clever, because handmade soaps often make perfect teacher gifts or hostess gifts.
Printable Signs for Your Soap Display