Handbag Display Ideas
If you buy something through links on Craft Professional, I may earn a referral fee. To learn more see my
disclosure
.
---
Check out these handbag display options.
From mannequins, to grid walls, hat stands to tabletop displays, if you need a way to display your handmade purses, you'll find plenty of ideas and inspiration among these photos.
HAndbag Display Ideas
A coat tree makes a casual, portable display for handbags in this outdoor craft booth.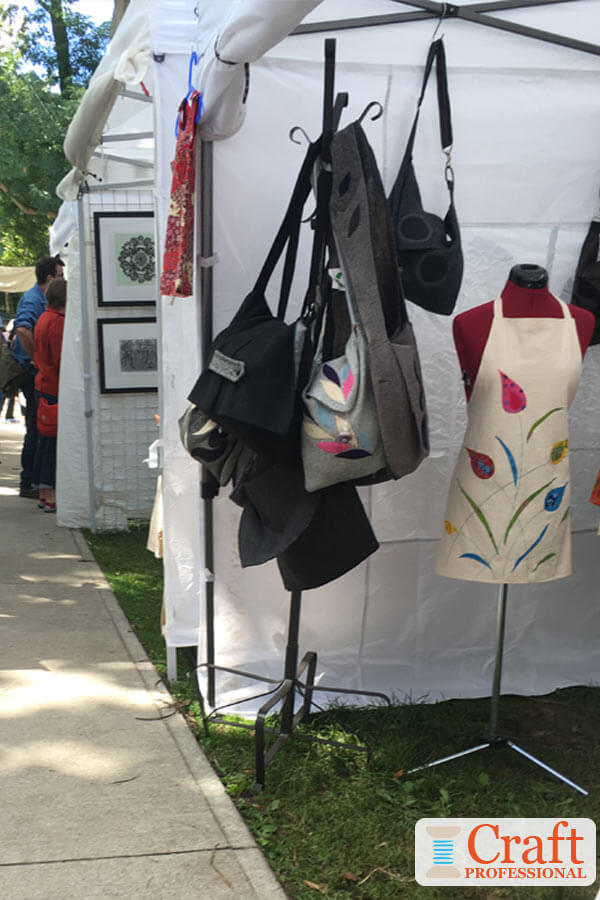 The display suits the casual outdoor show, and it isn't too finicky, so customers can easily pick up the bags to get a closer look. Notice the eye-catching splash of color that draws attention.
Also, there's a handbag hanging from the craft tent frame with a simple S hook. You wouldn't want to display all of your bags in that way, but it's an extremely simple and affordable way to place a few bags here and there around the perimeter of your tent.
Next we have a close up, and a bigger-picture view of the same tabletop display of handmade wallets and clutches. This booth is at a show with an overall relaxed, folksy vibe, so the style fits right in with the overall show. An upcycled vintage suitcase makes a cute display box and is great for storage and transportation after the show.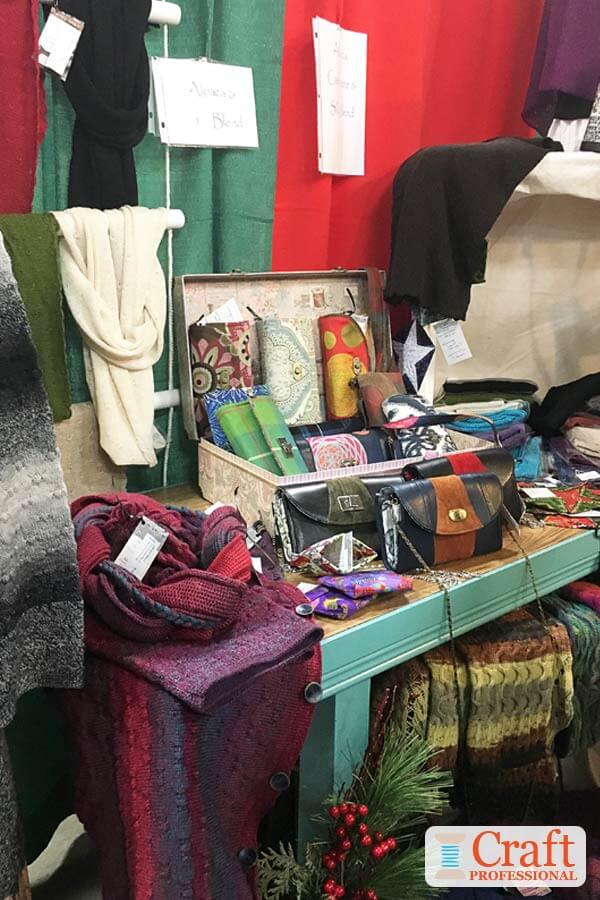 Gridwall panels are an excellent option for displaying handbags.
You don't have to commit to a full wall of gridwall panels if that's not your style. This booth below (seen from two different angles) uses a narrow freestanding triangle tower to make good use of the space in the middle of the booth.

Notice the white backing attached to the panels to keep the look streamlined.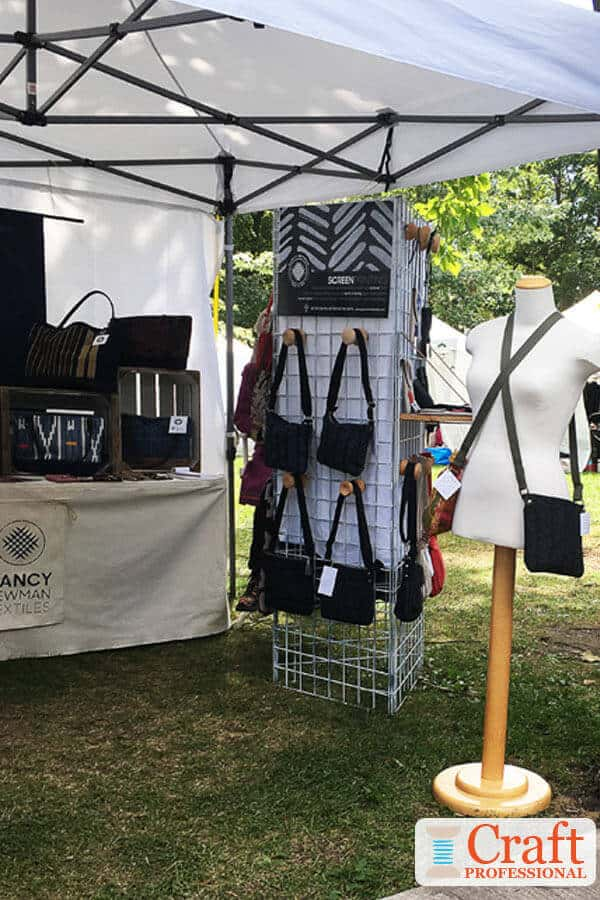 Here's the same booth at two different craft shows. The sturdy metal display racks provide plenty of storage space, plus flexibility to set up the booth in a variety of configurations depending on the features of each booth space.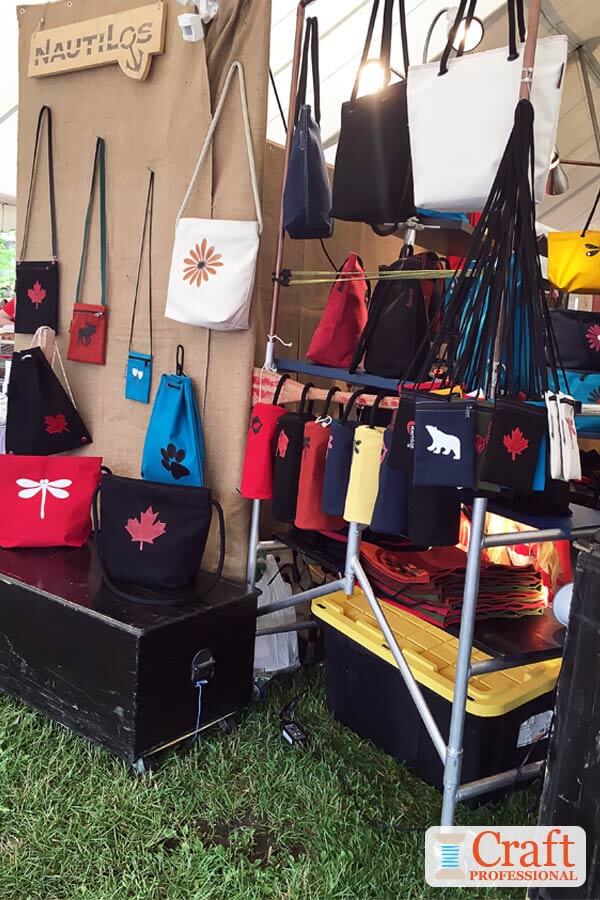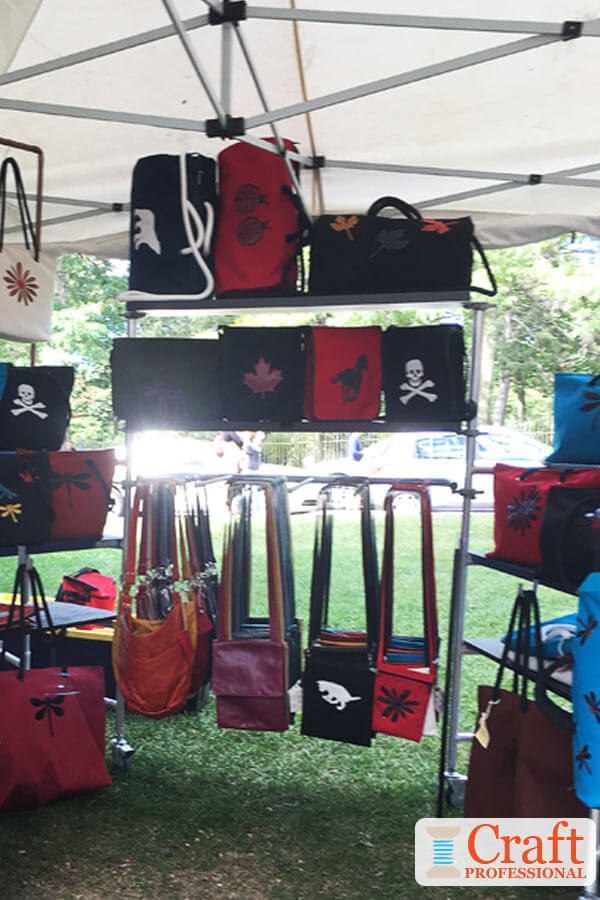 If you don't already have a couple of wooden folding TV trays (pictured on the left in the photo below) in your basement, someone you know probably has a set, or you can buy them quite inexpensively.
I believe the rack holding purses on top of the tables is a DIY project.

The photo on the right shows the same booth, but around the corner. I love the black hooks used to show off gorgeous bags. Plus, the counter height table provides more space to display items and is at a good height for browsing.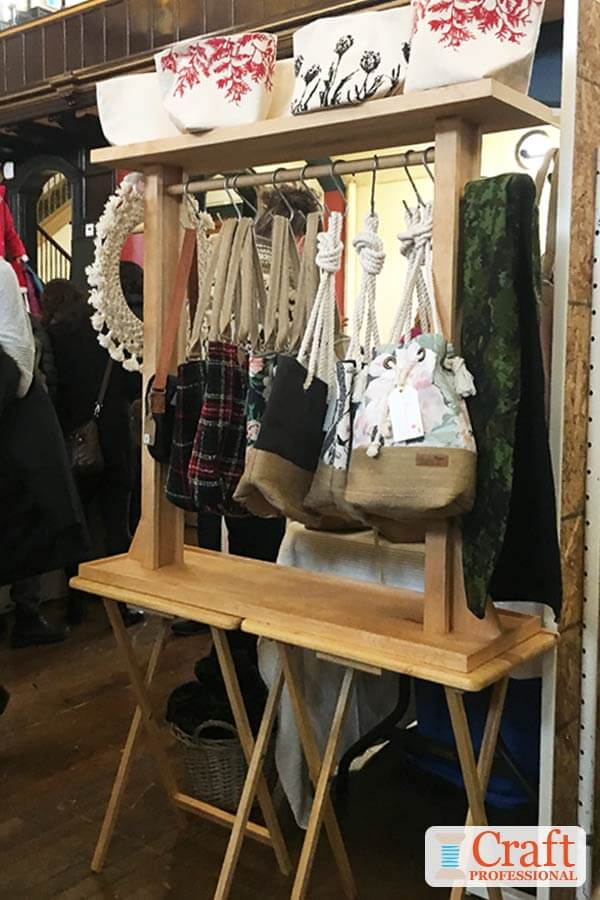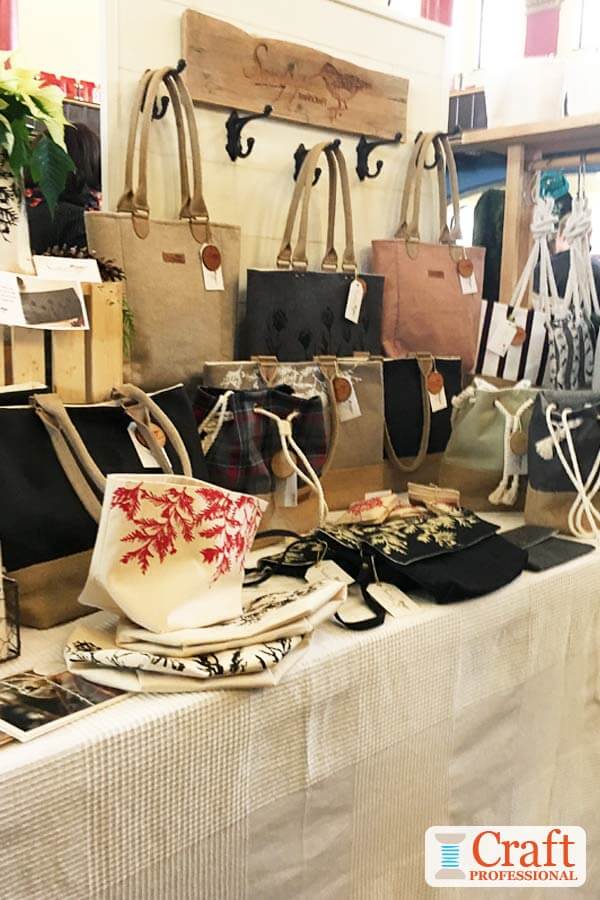 A dress mannequin placed at the front of your booth and draped in several handbags is a clever way to add interest and draw attention to your booth.
Printable Signs for Your Craft Booth
Encourage shoppers at craft shows to splurge a little, or support small business with the printable signs for your craft booth available in my Etsy shop.