Show Lights
Tips and Photos of Great Lighting in Craft Booths
If you buy something through links on Craft Professional, I may earn a referral fee. To learn more see my
disclosure
.
---
You really only have a matter of seconds to capture a customer's attention at a craft show, and good show lights can help you do that.
Lighting is one on the most overlooked aspects of booth design. Unfortunately, it can be tempting to want to skimp on purchasing lighting for your booth. The effect of good lighting isn't always as immediately obvious as the impact of other display items you buy or create.
Good lighting truly is important, particularly at indoor craft shows. It highlights your work, and makes your booth more enticing to customers.

---
I earn a commission for purchases made through links on this page.
To learn more, please see my disclosure.
---
13 Things to Know Before You Buy Show Lights

1. Ambient lighting is general lighting used to light the overall booth.

Don't assume the lighting in the hall where the craft show is held will be sufficient.  Normally, convention hall lighting is far from adequate to light up your booth and show your items to their best advantage. You will need to provide your own ambient lighting within your booth.
Many craft professionals use track lighting for their ambient lighting, but you can also use several clip on lamps secured to the top of your booth.
2. Accent lighting is lighting that is directed at a specific object.

You can use accent lighting to draw attention to and highlight specific items of interest in your booth.
Flexible arm lights or clamp lights are good for creating spotlights to highlight specific items.
If you display your work on shelves, it is extremely smart to add lights under each shelf, so products displayed on the bottom-most shelves aren't lost in shadows. You can also use small puck lights or strip lights installed on the under-side of the shelves to illuminate your work.
3. Avoid using one single, large light to light your booth.
Your ambient lighting will be more effective if you use several lights. A single light won't do a good job of fully illuminating a standard 10x10 booth space. You'll end up with dark corners. However, several overhead lights will allow you to direct light wherever you need it.
4. Be very careful about using fancy effects such as motion lights.
These effects may be useful in other trade show settings, but they are not typically a good fit with the aesthetic of a craft show.  
Lighting should enhance your product; it should not be the central focus of your booth. Good craft show lights won't be noticed unless you turn them off and notice something is lacking in your booth. Customers at shows should notice your products, not your fancy lighting.
5. Consider using mirrors to enhance your lighting.
Mirrors can reflect light and help you to get more impact from your show lights and add sparkle to your items.  
Do be careful with mirrors at outdoor shows. You may be careful to set up your mirrors to avoid glare in customers' eyes, however, as the sun moves across the sky, the direction of the light will change, and it can reflect in the mirror later in the day and cause a strong glare. If you use mirrors, check your booth at different times of the day to ensure there is no glare in customers' eyes.
6. If you're trying to achieve a high-end luxury feel, consider using a single light for each item.
Granted, this display strategy can be a pricey suggestion, so you'll need to consider your budget before you commit to this look. However, if you display a few, very special, high end items, this type of lighting can be an effective way to create a luxurious gallery look in your booth.
7. If you are investing in creating a high end booth for more competitive juried art and craft shows, consider hiring a designer who is experienced in creating this type of booth to help you with your show lights.
Again, this approach can cost a bit of money up front, but it can save you money you might otherwise waste on purchasing lighting that doesn't really work in your booth.
If hiring a designer is out of your price range or doesn't appeal to you, visit a lighting specialty shop where staff will be very well informed about the effects of different types of lighting. Talk to staff there to get ideas for your show lights.
Lighting needs will be different from person to person depending on the type of products you make, the way you display your products, the types of shows you attend, and the effect you want to create. The lighting that works in your friend's booth might not work in your booth, so taking the time to get some good advice from a lighting expert can help you avoid bad purchases and save money in the long run.
8. Be sure to check with show promoters for guidelines regarding lighting at shows you plan to attend.
There are usually rules about lighting, the amount of power you can use, and the way you need to plug in your lights.  Normally you'll find this information on the show's website and/or the application form.
9. When you have purchased your lighting, set up your booth and approach it from different angles to see if any lights need to be adjusted.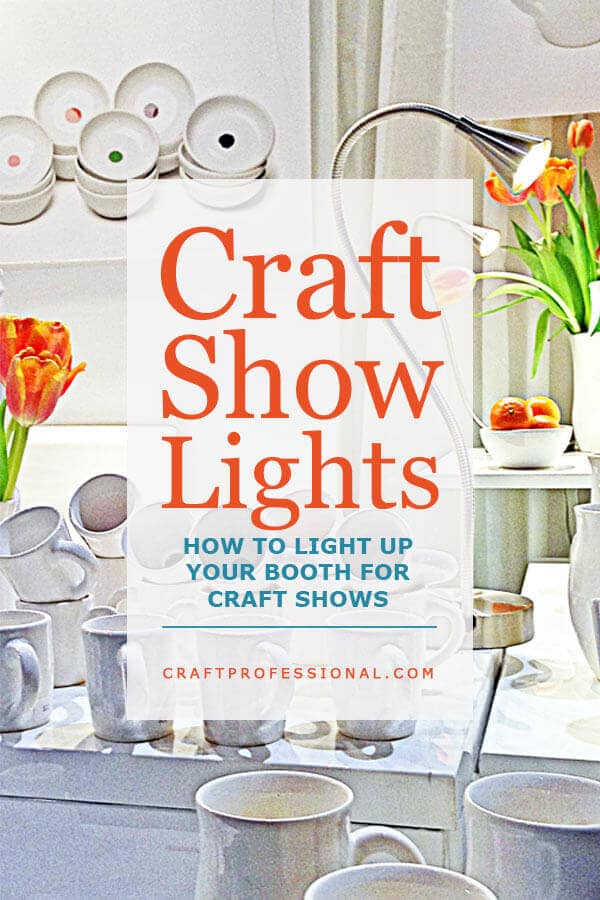 Consider how the lighting functions. Ask yourself: Does it illuminate the whole booth? Are important focal points highlighted? Does the lighting shine in your eyes or create a harsh glare in any places?

Take a few good photos of your booth while you're at it. You may need to submit booth photos in your juried art show applications, so you'll be happy if you already have a few good booth pictures. Plus, a photo can tell you a lot about your booth. I have hundreds of booth photos on this site, and one thing that still amazes me are the little things that stand out in a photo that are not noticeable in person.
10. While you have your booth set up, leave it up until the evening, and look at your booth in a darkened space with just your booth lights turned on.

Experiment with different placements for your lights. This examination will help you get a clearer picture of the effect of the lights in your booth without being impacted by other sources of light.
11. Be careful with lights that can get hot.
Do be very careful about using lights (like halogen lights) that can get very hot. Be sure any lighting is out of the way so customers won't accidentally bump into your lights (especially super-hot ones) and burn themselves.
12. Consider how reliable your lights will be.
Although you might be tempted to buy the least expensive lights you can find, do consider reliability when choosing your lights.
13. Ensure lights are not too heavy.
Often sturdier lighting is also heavier. Do take weight into consideration, particularly if you are hanging your lighting from the frame of your tent. Ensure that you are able to reliably attach your lighting to whatever type of frame you are using so they are safe and secure.
Related Articles