Retail Store Displays for Craft Booth Ideas and Inspiration
If you buy something through links on Craft Professional, I may earn a referral fee. To learn more see my
disclosure
.
---
Retail store displays can be a surprisingly good source of ideas and inspiration for craft booth design.

If you have never explored your favorite retail shops to see how they draw in customers, it's well worth a trip to your most-loved shopping area to do some research.
Most crafters who do shows are always on the lookout for great booth ideas, and retail displays are one source of inspiration that is often overlooked. While it's true that crafters have constraints that shop owners don't have - crafters have a smaller space, and everything must be portable - with a little ingenuity many great retail store display ideas can be adapted to work well in a craft show setting.
Stores to Explore
You can learn from a variety of types of shops.

Indie Shops
You'll often find the most creative display ideas with a vibe that suits craft shows in independently owned stores (as opposed to chains). The indie store owner isn't limited to displaying items based on corporate guidelines, so he or she can get creative.
Indie stores are also where you're most likely to find more portable display ideas, again, because they aren't using displays mandated by larger corporate requirements.
Stores That Sell the Same Item as You Sell
Visiting stores that sell a manufactured version of the same type of item you sell can be extremely instructive. For example, if you sell handmade soaps, take some time to explore retail stores that sell manufactured soaps and determine what they do in terms of display and why.
Checking out stores that sell items similar to your own can be particularly helpful for those who sell products that aren't commonly found at craft shows. If you're unable to find booth display ideas in craft show photos, you very well might be able to find ideas in retail shops within your niche.
Stores That Sell Handmade Items
Stores that are dedicated to selling handmade items are reaching out to a customer base that is similar to (or the same as) your own. Owners of this type of store will be well-aware of the special qualities of handmade goods, and will strive to communicate that in a retail environment.

Chain Stores
Chain stores typically don't convey the same atmosphere you'd normally be going for in a craft display, and your craft booth will look out of place at a show if it looks too corporate. However, large chain stores have the benefit of being able to put a lot of money and research into the design of their stores, and if you take some time to explore a few chain stores to get a feel for why they set up in a specific way, you might be able to apply some of those lessons to your own booth.

---
I earn a commission for purchases made through links on this page.
To learn more, please see my disclosure.
---
What to Look For 
How Does the Store Draw You In?
Before you even enter the store, look for the strategies that are used to draw customers in. Check the store window, signs, as well as items placed near the front of the store.
Is there a particularly eye-catching item in the window? An effective use of color? Maybe there's a sign promoting a special event. Determine what the shop owner has done to make you want to step in the front doors.
| | |
| --- | --- |
| Bright colors in an art store window display draws your attention. | Handmade jewelry on a rustic wooden frame in a tourist area fits with the character of the location. |
General Display Design Concepts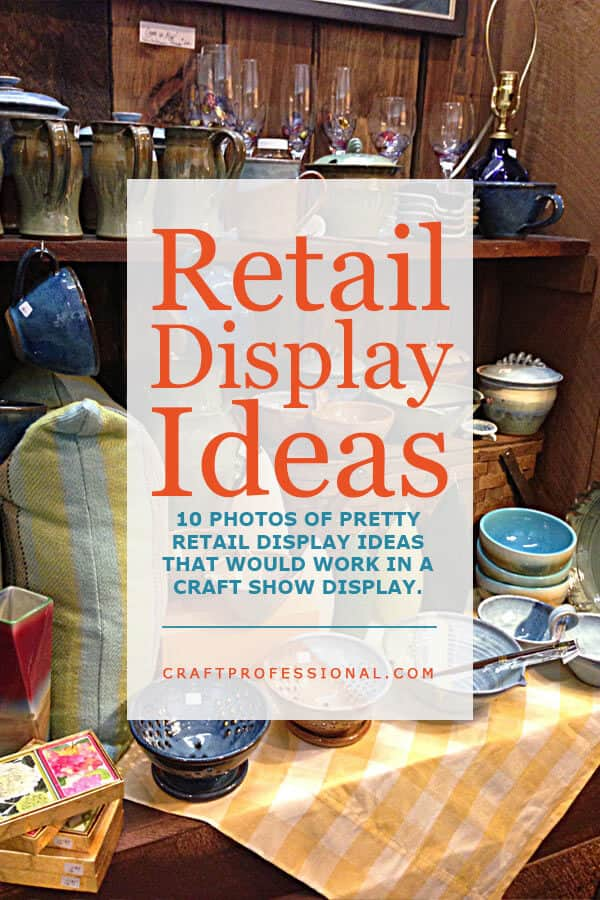 Get a general overview of the store. What works, and what doesn't work? Why? Where is your eye drawn?
Watch customers if you have the opportunity. How do they behave in the store? What are they drawn to?
How are items grouped in the store and why are they grouped in that way? For example, if you sell handmade soaps and body products, and you're in a store that sells similar items, are items organized by item (i.e. all soaps together, all lotions together etc.) or by scent. What effect does that grouping have?
Customer Service
Notice how the store staff engage with you and other customers. How does that make you feel as a shopper? Look for techniques that work and that you would feel comfortable using with your own customers.

Check Out the Displays
| | |
| --- | --- |
| A group of three handmade vases make more of an impact together than they would on their own. | This shelf is in a retail shop, but it is portable enough to be used in a craft show booth. |
Once you have a good overview, take note of the types of displays that are used. Many retail store displays use the same (or similar) types of racks and fixtures as are used in craft booths.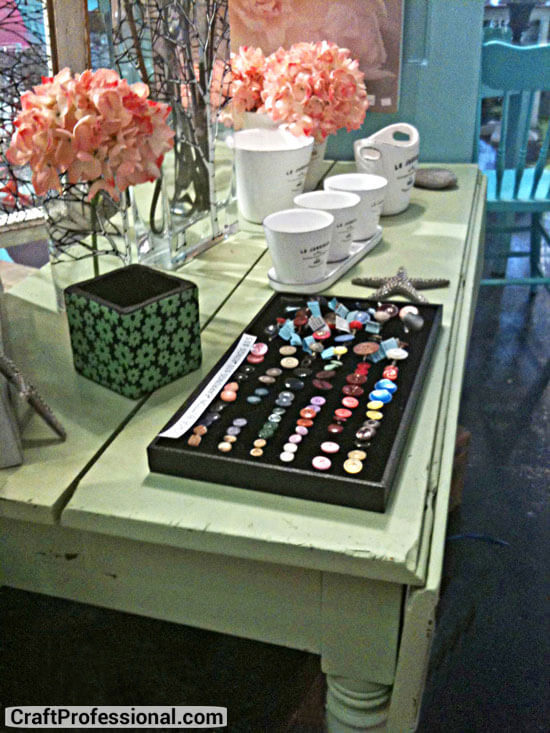 All of these are commonly used in stores and can be translated (sometimes with slight changes to make them more portable) for a craft show setting.

Next, focus in closer to see the smaller display ideas.
How are the counter displays set up?
Do items sit directly on tables or shelves, or are they in containers?
Are there any interesting groupings (color, size, etc.) that catch your eye?
How does the retailer set a mood or tone for the store?
You don't have to wait for the next craft show in your area to get booth design ideas. A trip to your downtown shops, or a great shopping area nearby, to check out the retail store displays can fill you with plenty of ideas for creating your craft booth.

| | |
| --- | --- |
| Handmade Jewelry in a Retail Store | Accessories Display |
| Handmade Stuffed Animals in a Basket | Shelves of Handmade Items for Sale |