11 Clothing Display Photos
working on your craft booth?
get inspired with 11 clever clothing displays.
If you buy something through links on Craft Professional, I may earn a referral fee. To learn more see my
disclosure
.
---
Working on your craft booth? Get inspired with 11 clever clothing displays.
I've found some fantastically beautiful and clever clothing display ideas. If you're building your own booth from scratch, or improving an existing booth, check out these 11 photos for some excellent ideas.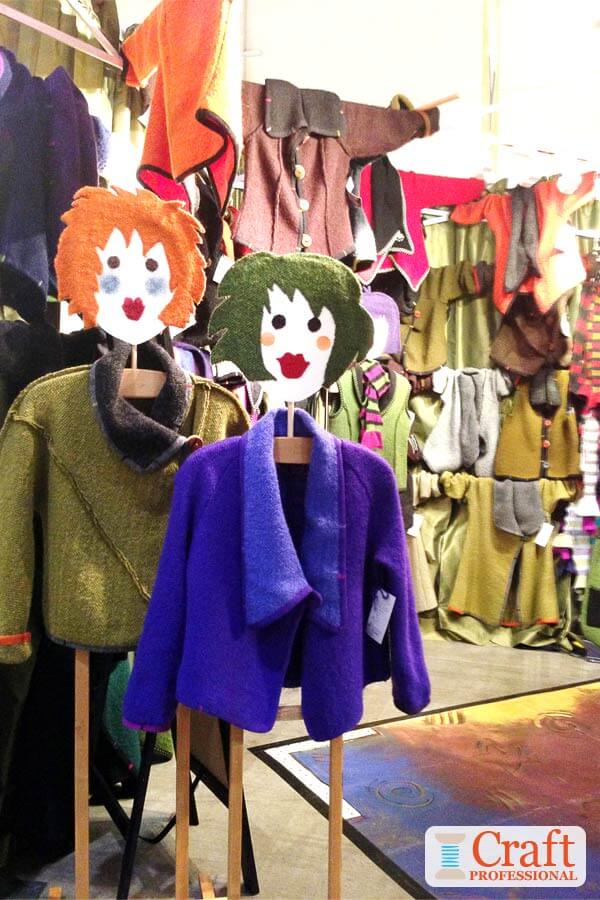 I adore these felt ladies. They are cute, and functional.
This craft professional works with felt, so they show off her skill immediately. They draw all kinds of attention, but because they are made with the crafter's primary material, they shouldn't take away interest from her actual products.
This approach won't work for everyone, but you might want to consider whether there's a way you could incorporate your own primary materials or techniques you use to create a clever DIY display for your own booth.
---
I earn a commission for purchases made through links on this page.
To learn more, please see my disclosure.
---
Below, you'll see a designer who has rented two booth spaces, so there's plenty of room. This display is at a long, indoor show, so setting up the larger furniture in this booth makes sense. It would make less sense for a smaller, shorter show, but there are still lessons to learn here. 

Notice there's plenty of battery operated puck lights across the top of the booth and also throughout the displays (you have to look closely to find it).
The white curtains and matching wood display furniture provide a neutral backdrop. Clearly, this display belongs to an established craft artist, but if you're just getting started, you could use the same neutral wood look on a smaller scale.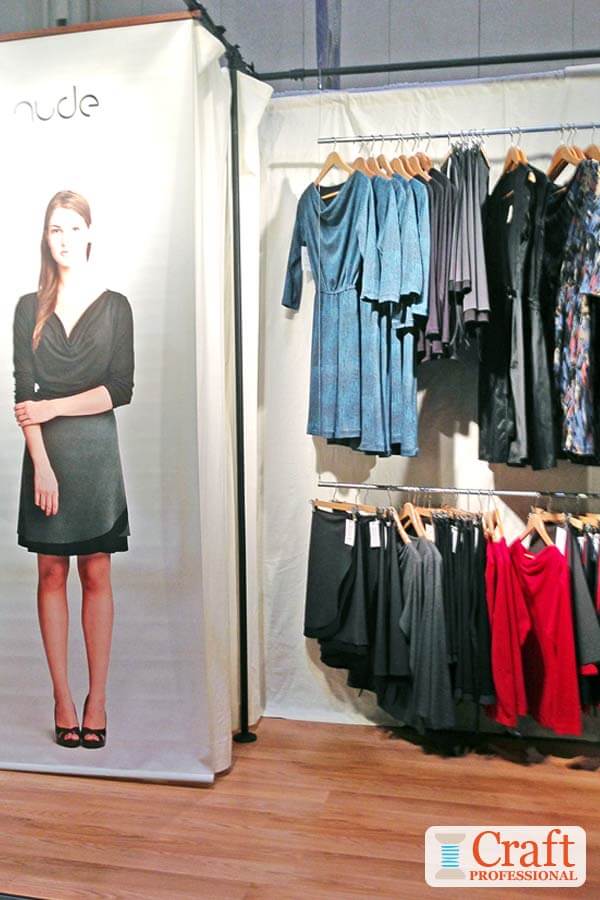 This next booth shows some lovely minimalism at work.
A single, life-sized product image quickly communicates the designer's style to shoppers.
Clothing is hung from metal bars which appear to be simply suspended from the booth frame. You can see the black bar at the top of the photo.
The designer has provided a changing space, so shoppers can try on items. 
Notice the white curtains paired with wood-look portable flooring .
This look is quite common in booths belonging to more established craft professionals. It provides a modern, neutral foundation that works for all kinds of displays.

Finally, the most striking part of the display is the life-sized poster of a model in one of the designer's dresses. Often, a single, well executed, striking element in a booth goes a long way to tell customers your story, and draw them in. Consider investing in a single important feature for your booth that tells your own story.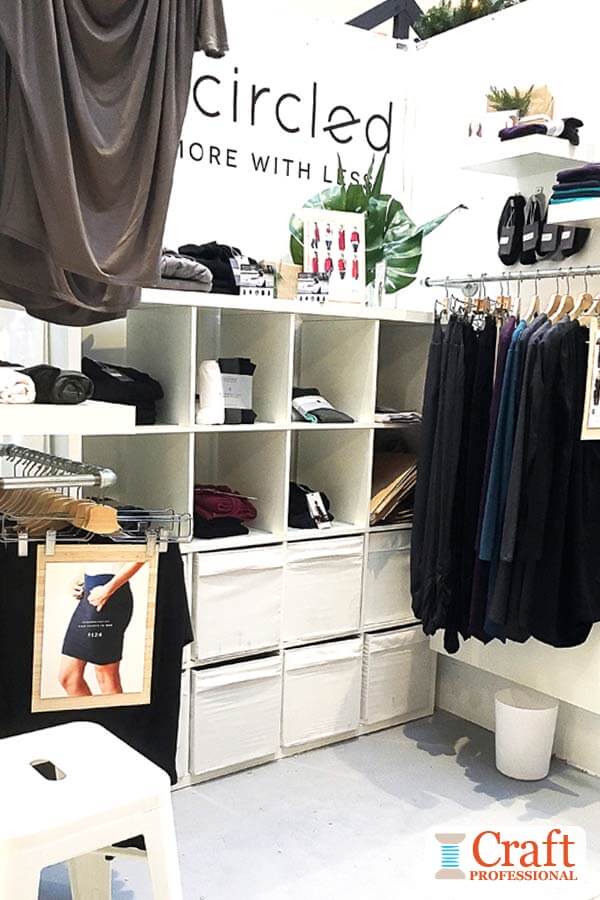 When you spend a lot of time looking at craft booths, one thing you quickly realize is there is a whole lot of IKEA furniture used in portable displays. That large white shelf is almost certainly a Kallax from IKEA. The large, 16 shelf version of these shelves isn't practical for a smaller show (this booth is at a big, multi-day show), but you can get smaller models of the same shelves if you want to create a similar look.
I own the older Expedit model of these shelves, and the amount of storage they offer is amazing.
Once again, we see a neutral, white backdrop used as the foundation of the booth.

---
Next, we have two more clothing display photos showing a lot of the trends we've already noticed. There are white curtains with wood-look flooring. You can see loads of lighting secured to frames around the top of each display.
These designers have both chosen to use featured products as focal points, and the rest of the clothing is displayed on portable, wheeled clothing racks that would be fairly easy to move in and out of the hall.
We see these elements over and over because they work. They don't become repetitive in a show because the clothing takes center stage, and that's what customers notice.

We see these elements over and over because they work. They don't become repetitive in a show because the clothing takes center stage, and that's what customers notice.

---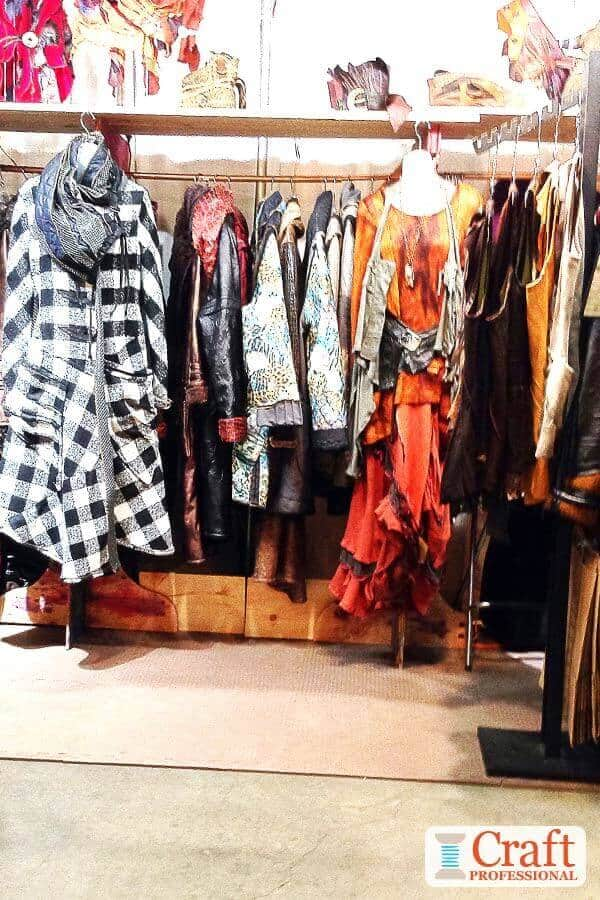 Waterfall racks are another popular clothing display option. You'll see them on the right side of this photo.
Clothing faces outward when hanging from waterfall racks, so this type of display does a good job of showcasing your designs.
Notice the black and white dress and the vivid orange dresses are displayed on hanging mannequins. The mannequin provides more shape than a simple clothes hanger would, showing these impactful dresses at their best. While a hanging mannequin doesn't take up the floor space a traditional mannequin would, leaving plenty of room to shoppers to browse.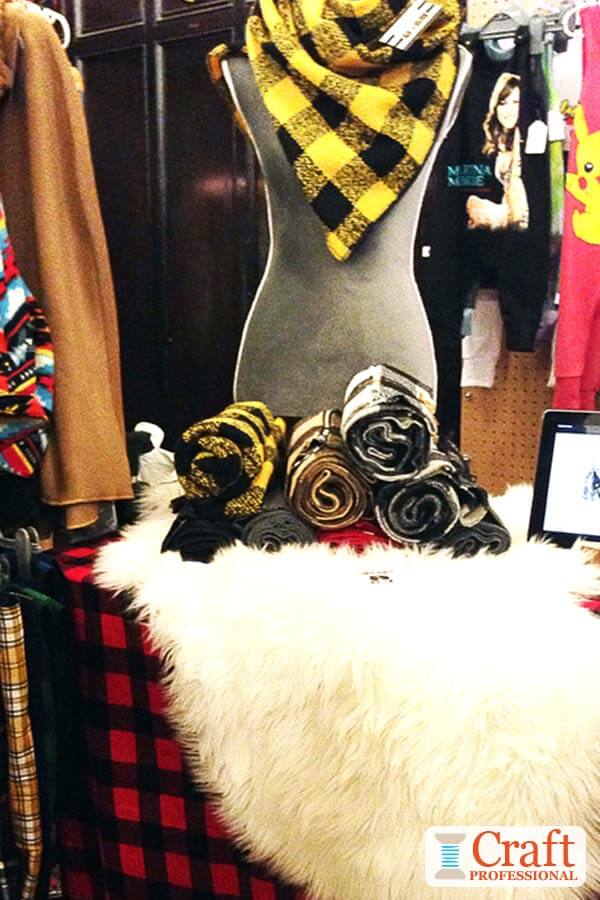 Here's a fun booth that makes good use of current trends. Faux fur throws and black and red check were extremely popular the winter I discovered this booth. The display fits right into a Christmas theme without the need to use blatantly Christmas decor. 
A tablecloth and a faux fur throw aren't particularly expensive, so this designer can easily change out this aspect of the booth when the trend passes.
If you're going to incorporate current trends in your booth design, take some advice from fashionistas, and use trends to accessorize your booth. Avoid using trendy items in the foundation of your display. A neutral, timeless foundation will serve you for a long time, while a trendy accent or two will create a space that looks current but can easily be changed as trends pass.

Get Printable Signs for Your Craft Booth