Portable Clothing Display Racks
If you buy something through links on Craft Professional, I may earn a referral fee. To learn more see my
disclosure
.
---
There are plenty of options in portable clothing display racks for craft shows. Generally, when it comes to clothing booths, you don't need to get too fancy with your displays. Simply let your products - particularly your most eye-catching products - speak for themselves.
You'll need to decide which display system is right for your needs and consider ways to feature a few pieces. Beyond that, there's lighting and possibly flooring and some signs, and voila, you'll have a fantastic craft show display.
The first two photos show gorgeous booths that use the same types of portable clothing display rack but, because the clothes featured are so different, the booths end up having completely different looks.
Good hangers, of course, are a must for clothing displays. Both of the booths pictured here use simple wood hangers to attractively display items.
Display mannequins at an outer corner of each booth showcase particularly gorgeous designs.
One designer has added a rug to her booth. Her space doesn't have lush grass, so the rug covers unappealing dirt and protects any clothing that might accidentally be dropped from getting dirty.
The booths are finished up with some signs featuring products. 

There is no lighting in the booth because it is at an outdoor show without access to electricity, and the natural light works here.
Gridwall Panels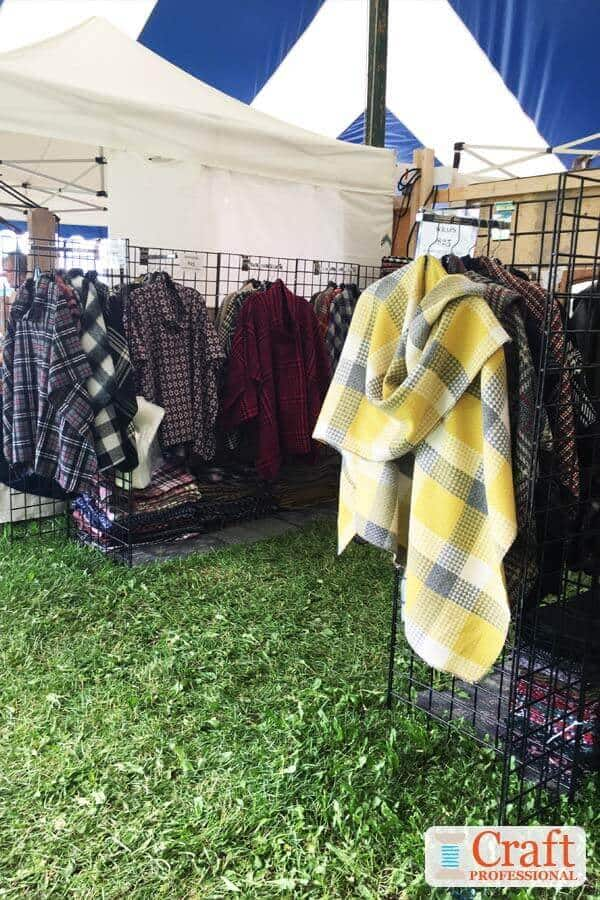 Gridwall panels offer a flexible and portable option for displaying clothing.
These three displays use gridwalls to good effect with waterfall style hooks.
Waterfall hooks don't provide a huge amount of space to hang items, but they do turn your clothing outward to ensure everything is seen, and these types of hooks are easy for customers to browse for sizes. 
You can also hang clothes on hangers directly on your gridwall panels to highlight specific pieces.
Consider how you will secure your panels, so they are sturdy and support the weight of your clothing. Some come with feet that form a base on the bottom, others can be set up in a triangular shape (see the two photos below) to form a study display stand.
If you look closely at the photo below on the right, you'll see there are gridwall panels hanging from the frame of the booth secured with S hooks.

Wood CLothing Display Racks
This next booth is massive and spectacular. It is owned by a well-established designer and set up in a double space at a huge, multi-day craft show.
While you might not be ready to replicate such a luxurious and large-scale display, you can certainly take lessons from this booth.
It uses a lot of the same elements of more modest booths - waterfall hooks, mannequins, and good lighting - but using higher-end materials and presented on a larger scale. The wood clothing display racks, white curtains, and white rug create a perfect neutral backdrop for clothing. The wood adds warmth to the booth and works well with the clothing style.
There's plenty of room to walk around in this booth, and it feels more like a luxury boutique than a portable display. Certainly, this look requires a lot of work and expense to put together, but we can always dream!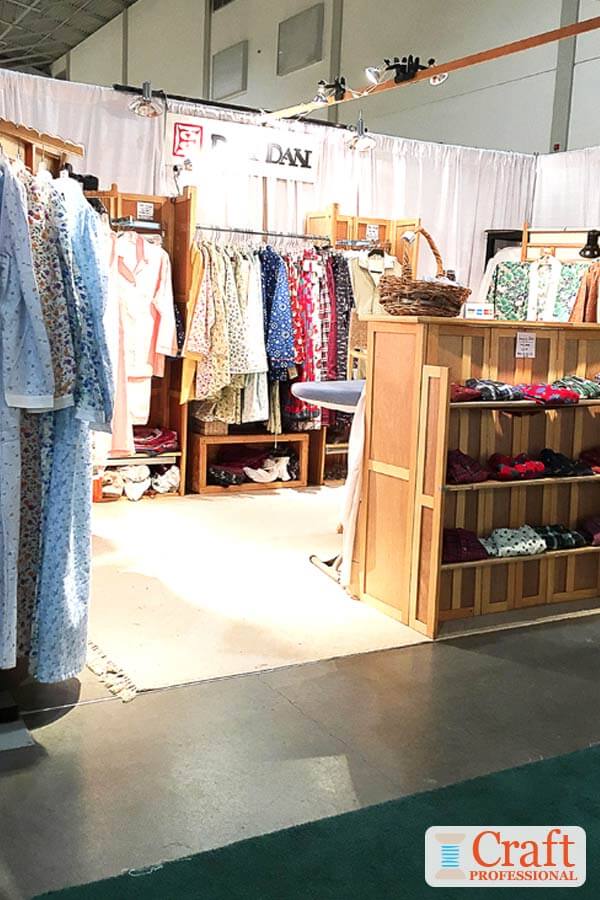 Creative DIY Clothing Racks
I adore these two little felted ladies. They are so clever and definitely create interest in the booth.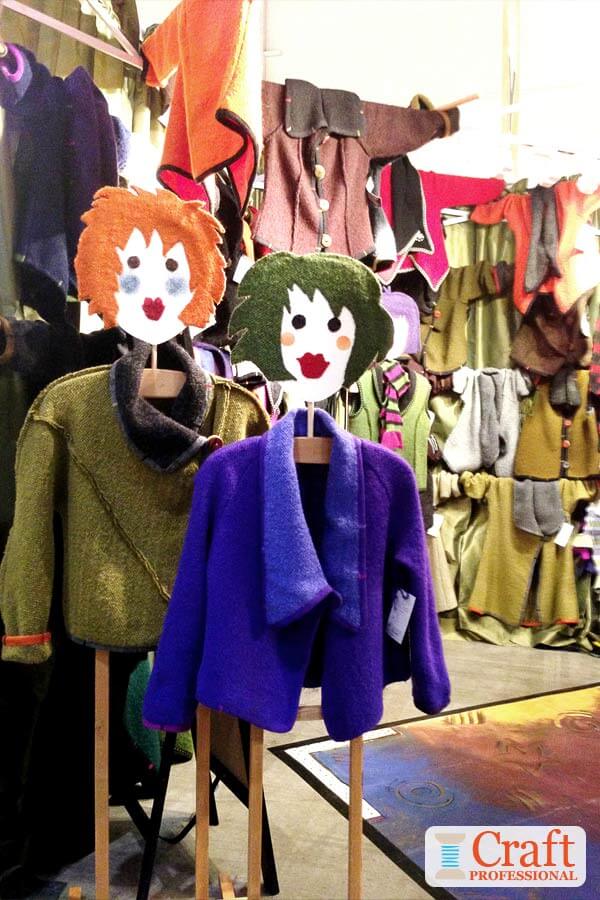 The rest of the clothing is displayed on wooden poles. It's not easy to see in the pictures below, but I believe the poles are suspended from the tent frame.

Notice the unusual way the tops are hung on the poles. This choice ensures the clothing is easy to view at a distance. The down-side of displaying in this manner is the clothing wouldn't easily come off of the wood poles. If you hung clothing in this manner, you'd need to also ensure you had displays (like traditional clothing racks) that allowed customers to easily pick up items.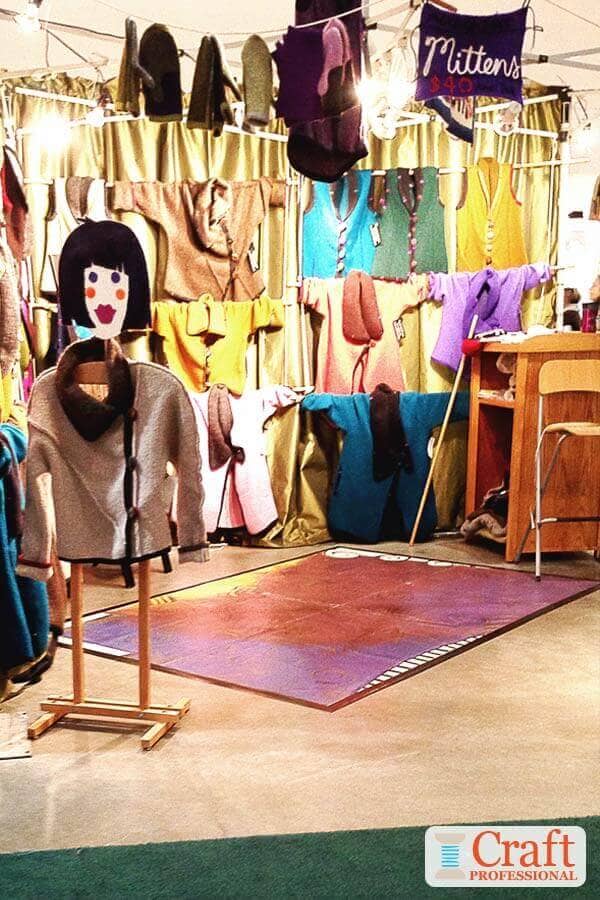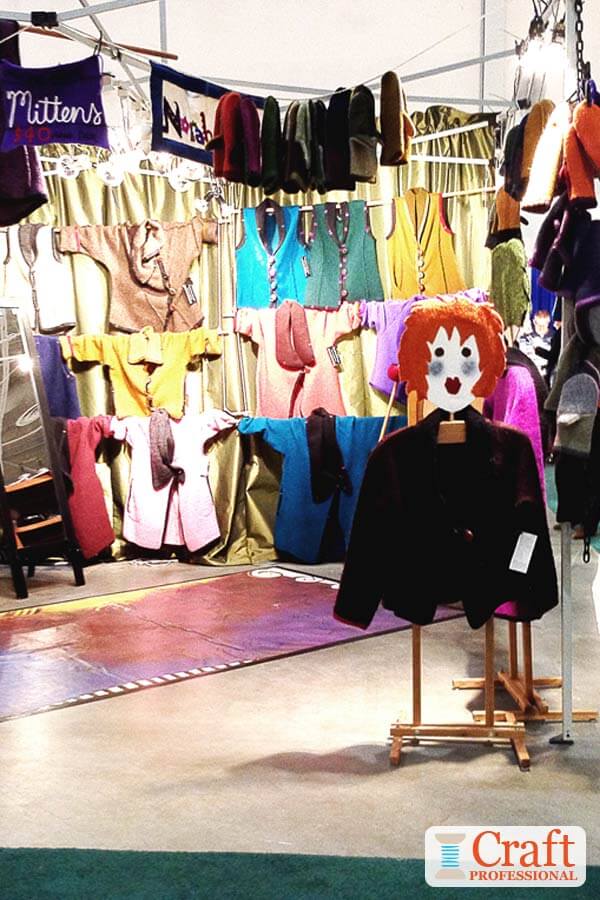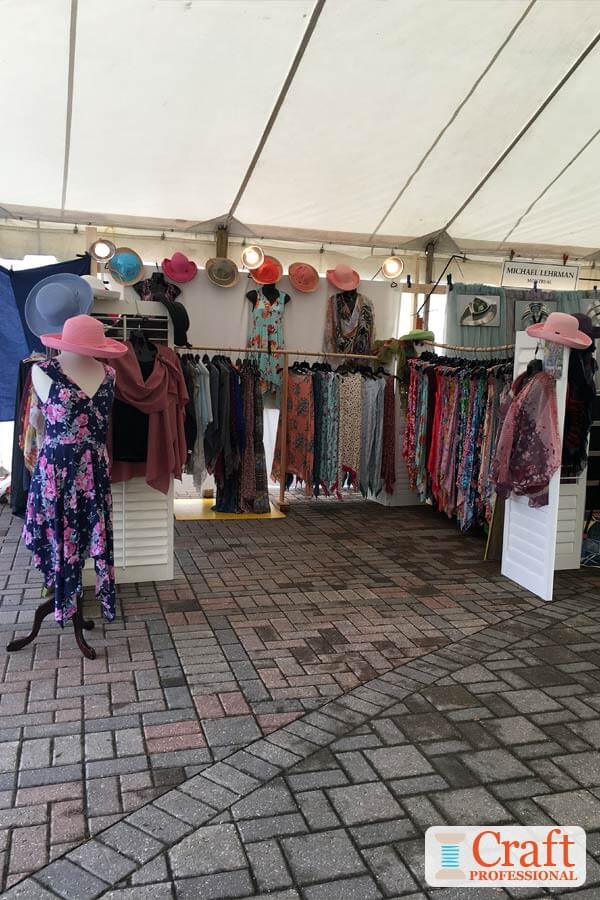 Here's one final clothing display booth.
This time, wood poles are secured to pairs of shutters hinged together and used to hang clothing.
Several mannequins throughout the display add interest and highlight selected designs, while the hats add a little extra flair.

Signs for Your Craft Booth
Encourage your customers to "buy the dress" or "support small business" with printable booth signs in my Etsy shop.