Photos of Art Show Displays
If you buy something through links on Craft Professional, I may earn a referral fee. To learn more see my
disclosure
.
---
I've been busy collecting plenty of photos of art show displays so you can see first hand how different display options work and affect the way customers view your art.

Happily, an art booth can be one of the more straightforward types of craft booths to create.
Your work is probably large enough to speak for itself and draw attention from a distance, and, if you want to keep things fairly simple, you can hang your work from grid walls, mesh panels or chains or straps attached to the frame of your tent.
However, there are still plenty of decisions to make about your booth, and they all add up to impact your sales at shows.
---
I earn a commission for purchases made through links on this page.
To learn more, please see my disclosure.
---
CONSIDER THE EFFECT OF BACKGROUND COLOR
Most artists display their work on a background of either white or black. Both are neutral and display your work well, but they create very different effects.
White tends to create a more airy, light-hearted feel, while black creates a more luxurious, sophisticated image.
Here are several art show booth photos showing the use of different background colors so you can see the effect created by various colors.
Art Display - Black Background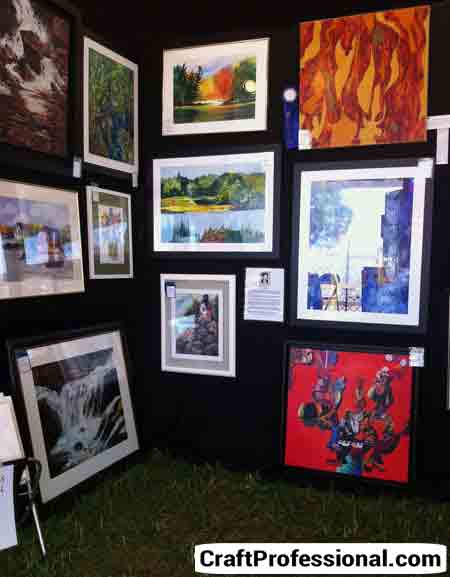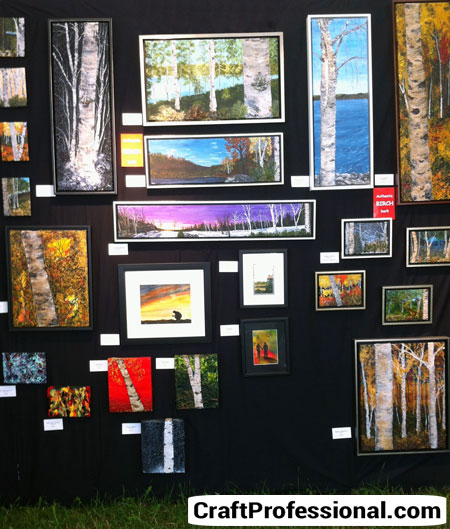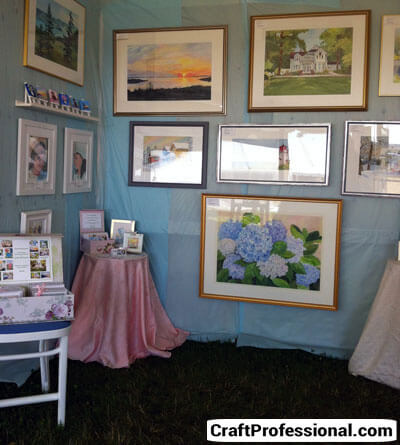 Blue background art display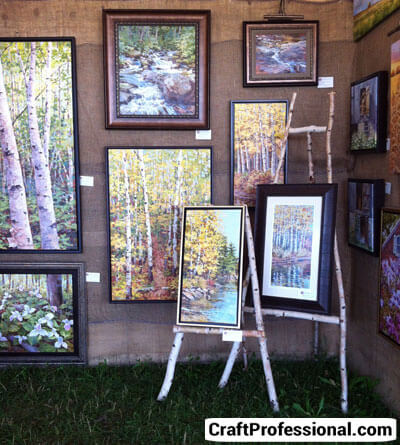 Burlap background art booth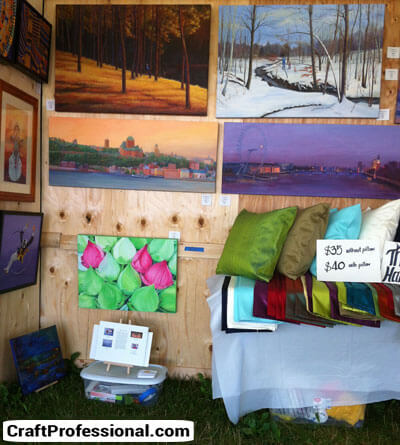 Wood background booth
---
I earn a commission for purchases made through links on this page.
To learn more, please see my disclosure.
---
USE THE OUTSIDE OF YOUR BOOTH
We are often so busy designing the inside of our booth, we forget that the outside of the booth can sometimes be used to good effect.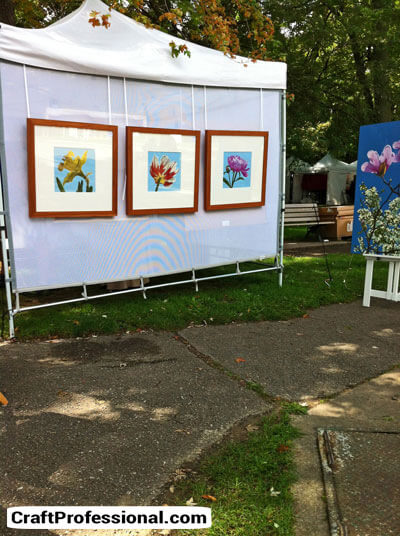 If you have a great corner space where one or more of your outside walls is open to customer traffic, think about ways to use the outside of the booth to grab customers' attention.

Notice how effectively this is done in the booth in the photo on the left.
The row of three striking paintings hung on mesh display panels on draw customers in from a distance and makes the booth extremely appealing from an additional angle of approach.
Without the paintings on the outside of the booth, customers approaching from this direction would have no idea what was in the booth until they were closer, and, by that time, they might be drawn into a different booth.
Placing these painting on the outside wall allows customers to see the work before they've entered the crowded and visually busy center of the show. This artist has effectively grabbed customers' attention before they even come close to any other booths.
Ways to Display Your Art
There are several options for hanging your art in your booth. Factors to consider are:

The size of your art
Need for wind resistance (some methods stand up to wind better than others)
Your budget
The size of the vehicle you use to transport your craft show gear
The effect you want to create
Here are several options for your art show displays.
DISPLAY YOUR PAINTINGS ON AN EASEL
You might use an art display easel to show off and draw special attention to one of your most striking paintings.
Notice in the two art show booth photos below, the easels have been customized to match with the paintings they hold. The easel on the left is made of the same wood that is depicted in the paintings, and the easel on the right has been painted a vivid blue that contrasts nicely with the colors in the painting.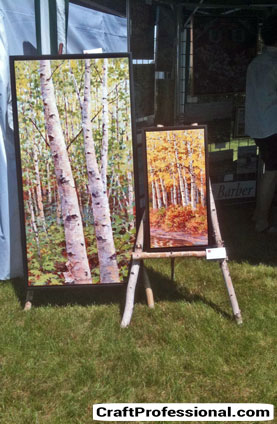 Painting on Easel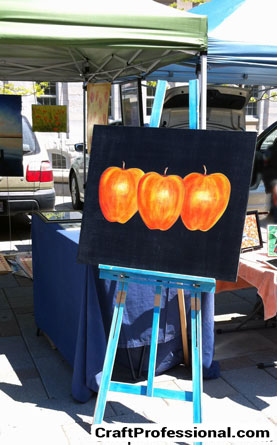 Art Display Easel
Grid Walls
Grid wall panels are another excellent option for your art show displays.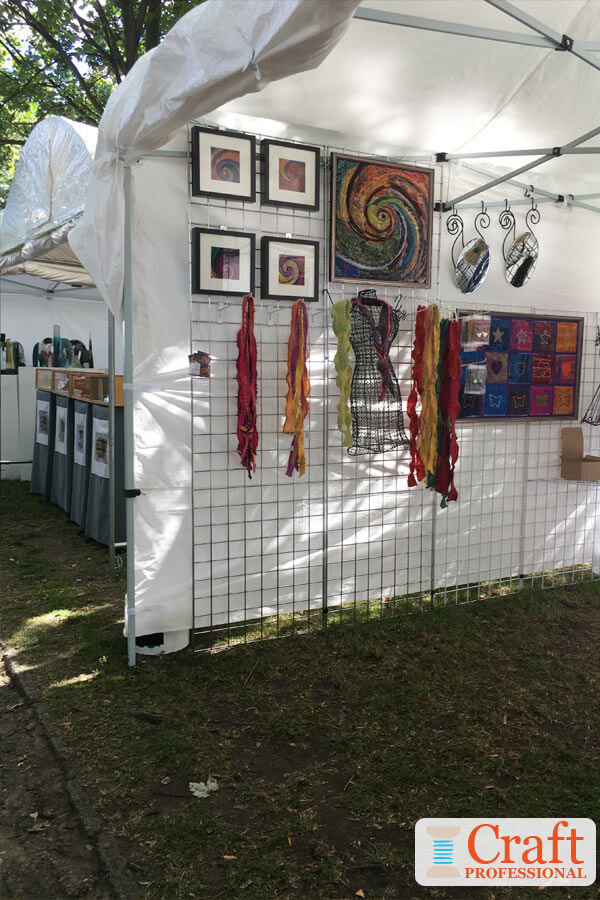 They are sturdy and portable, and if you have a few smaller grid wall panels, you'll be able to set them up in a number of different ways, so you'll have the flexibility to work with the booth space you've been given.

Gridwalls can sometimes have an industrial look (which may or may not work for you depending on the look you're going for). You can cover them with fabric to achieve a softer look if you like.
Mesh Sidewalls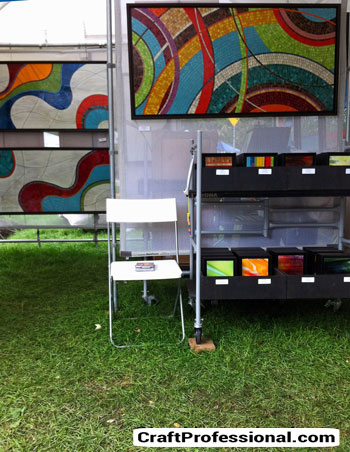 You can purchase mesh sidewalls that can be easily attached to the sides of your tent and used for hanging your paintings.

They can be pricey, in the range of $600-$700.
However, they are study, attractive, professional-looking, extremely light-weight, and they pack well for transporting and storing.
If you are planning on doing several shows, they can be an easy and effective solution for creating art show displays.
If you do buy mesh sidewalls to hang art in your tent, be sure they are designed for displaying art. Don't accidentally buy mesh sidewalls designed to keep insects out of portable canopies. That kind of sidewall is not designed to support the weight of your art.

HANG YOUR PAINTINGS FROM CHAIN OR STURDY WHITE STRAPS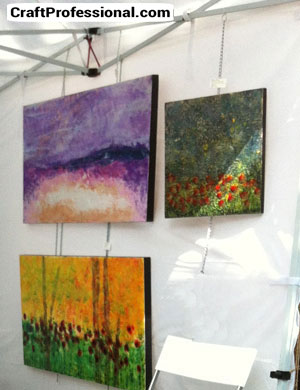 Hanging your paintings from heavy chains or sturdy straps attached to your craft tent is an extremely inexpensive and easy way to display your work.
You'll need to have the side walls up on your tent to provide a backdrop to your paintings and to stabilize them a bit in case of wind.
Do be aware that one drawback of using this method for you art show displays is that your paintings can start to sway if the wind picks up.
USE A TABLE IN YOUR ART DISPLAY
If you sell smaller items, like small prints or cards, you'll probably want a table in your booth.
Be sure to keep the style of the table and any covering you use consistent with the look of your work and the rest of the booth.
Be very careful about the dimensions of your table.
Many standard tables are wider than what you need in a craft booth, and the extra width can waste precious space. Also, standard table height is a few inches too low for customers. Look at the legs of a table before you buy it to ensure you can work out a way to raise the height a bit.
Related: Lots of photos of table top craft displays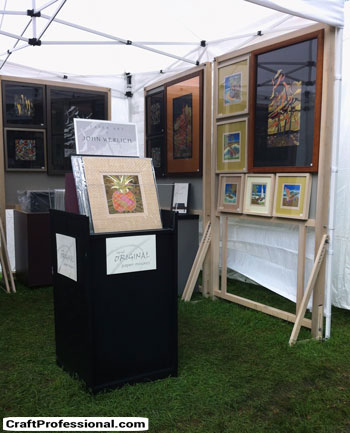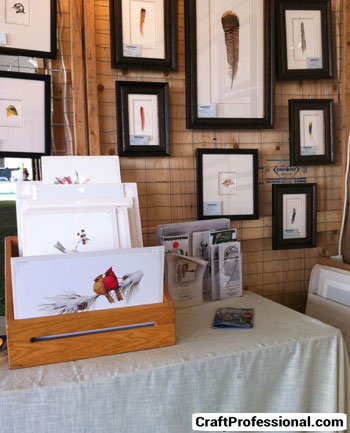 A FEW MORE ART SHOW BOOTH PHOTOS
| | |
| --- | --- |
| Black curtain painting backdrop | Art displayed on easels |
| Gridwalls and display panels | Casual art display |
| Gridwalls and a white background | |