Jewelry Booth Photos
If you buy something through links on Craft Professional, I may earn a referral fee. To learn more see my
disclosure
.
---
You can never have too many jewelry booth photos. They can provide booth design inspiration, not only for jewelry makers, but also for anyone who creates smaller, delicate items. Here we have 7 photos showcasing commercially made, and DIY jewelry booth display ideas.
---
I earn a commission for purchases made through links on this page.
To learn more, please see my disclosure.
---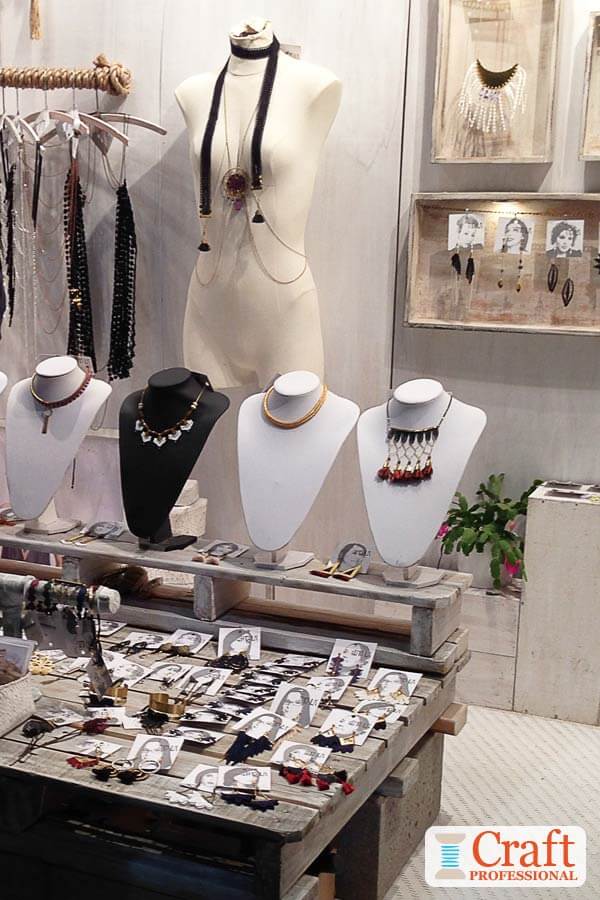 I love the modern farmhouse-type feel created in the booth with the white backdrop, raw wood and black accents. It reflects current trends of the moment and is a good fit with the jewelry style.
Look closely at the earring cards shown in the front of the photo and also in the upper right. They feature women's faces, with the earrings dangling from the women's ears. Such a clever packaging idea!
My favorite part of this booth are the wood trays hung from the wall and used as shadow boxes (seen in the top right of the photo) to feature some eye-catching items. I've seen this shadow box idea used in other jewelry displays, but this version would be so simple and affordable to create.
Simply purchase a few trays with straight sides. Make sure they match the look you're going for in your booth, or paint them if you can't find the exact look you want. Next, add some hooks to hang the jewelry from. The location and spacing of the hooks will depend on the type of jewelry you want to display, so be sure to think that through before you start screwing in hooks.
Finally, add some lighting. It's the lighting that makes these shadow boxes really work. Some small, battery operated puck lights attached to the tray would be a simple solution that would allow you to avoid dealing with messy cords. Be sure to check the diameter of the lights to make sure they will fit on the edge of the tray you're using. Also, check the height of the lights to ensure they aren't too large.
Rechargeable batteries are a bigger cost up front, but they will help keep your costs low over the long term. Consider buying and charging an extra set, just in case you run out of power during a show.

Next, we have two sides of the same booth. The attention to detail in this display is fantastic. On the left, you'll see another use of trays, or small crates perfect for displaying individual pieces of jewelry. This time, the boxes are used on a table top to establish variety in height as well as creating a focal point.

On the right, there are more trays with small compartments perfect for displaying individual pieces of jewelry.
A few house plants warm up the booth and make it more inviting.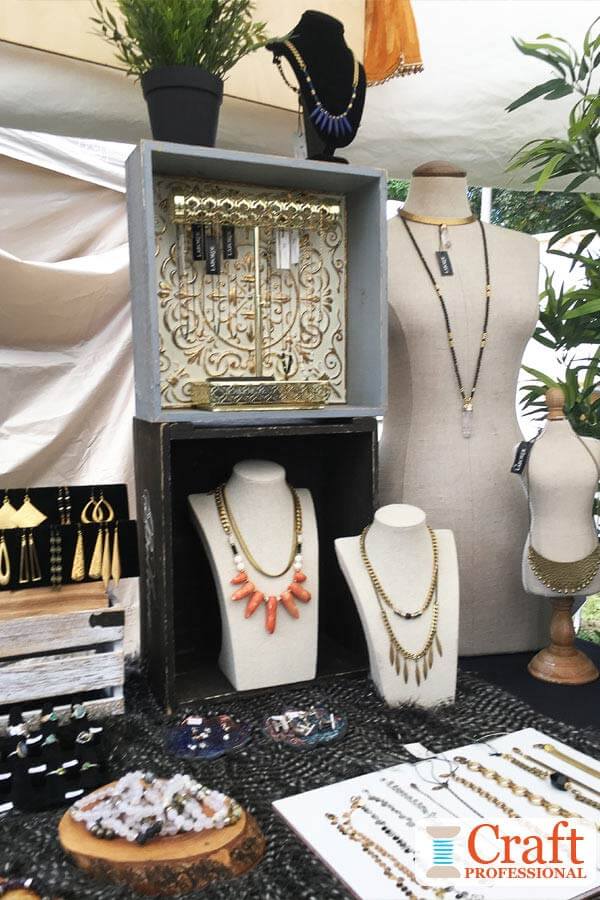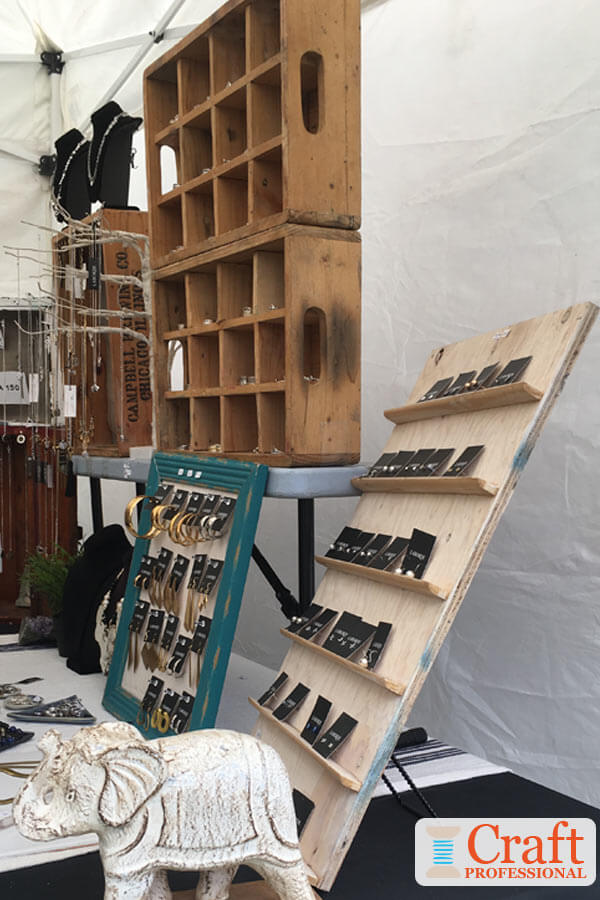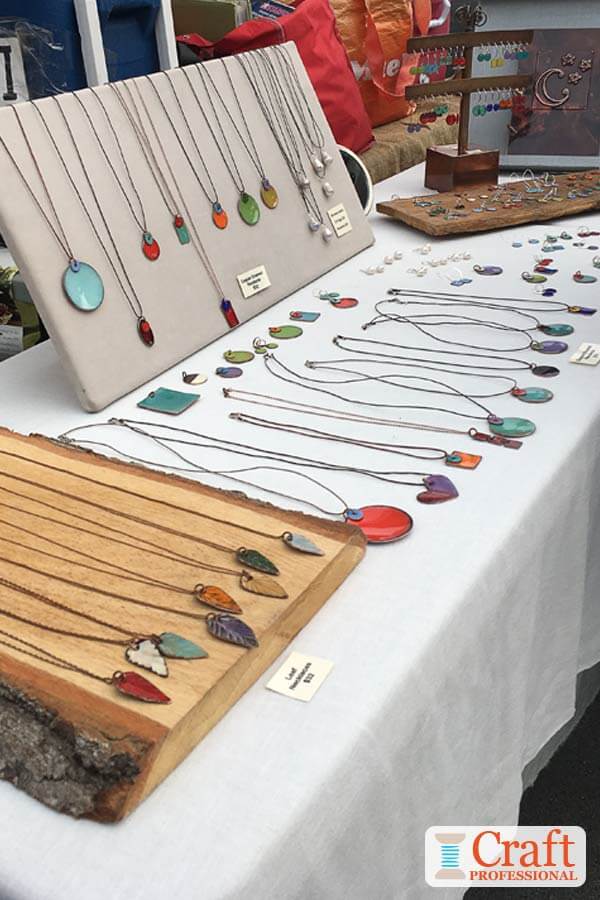 Don't be fooled by the simplicity of this display at an outdoor farmer's market.
It can be tempting to get fancy with your jewelry booth display, but if your displays are too fussy, customers won't pick up your items for fear of ruining your display. This simple tabletop display encourages customers to handle items, which can really help to boost sales.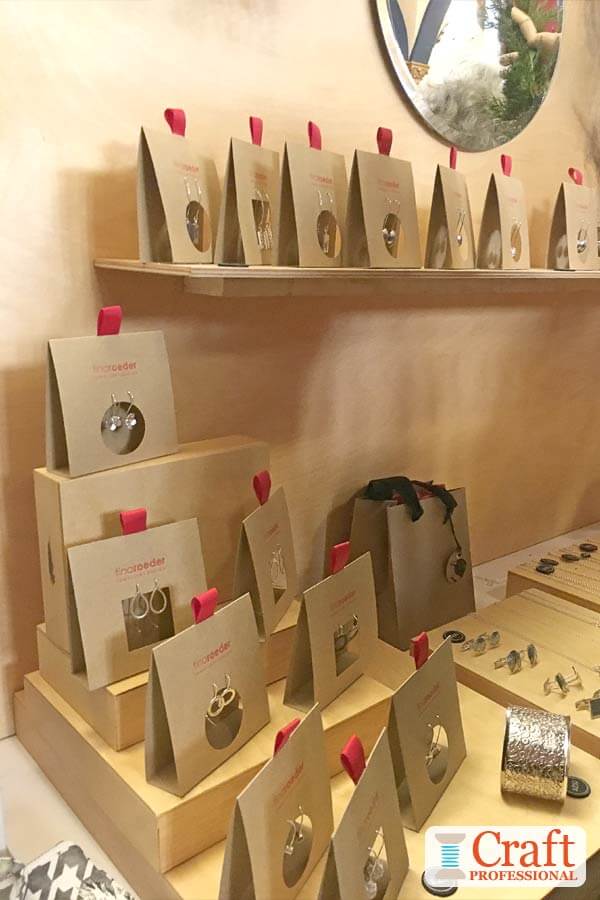 First, I apologize for the bad shadows in this photo. It's the best pic I have of this booth, and I wanted to show how it uses packaging as an integral part of the display.
Notice how the jewelry's packaging also functions as a display stand. Triangular-shaped earring cards are perfect stands for this silver jewelry. The red loops on the top would provide extra display options allowing the jewelry artist to hang the packages as well.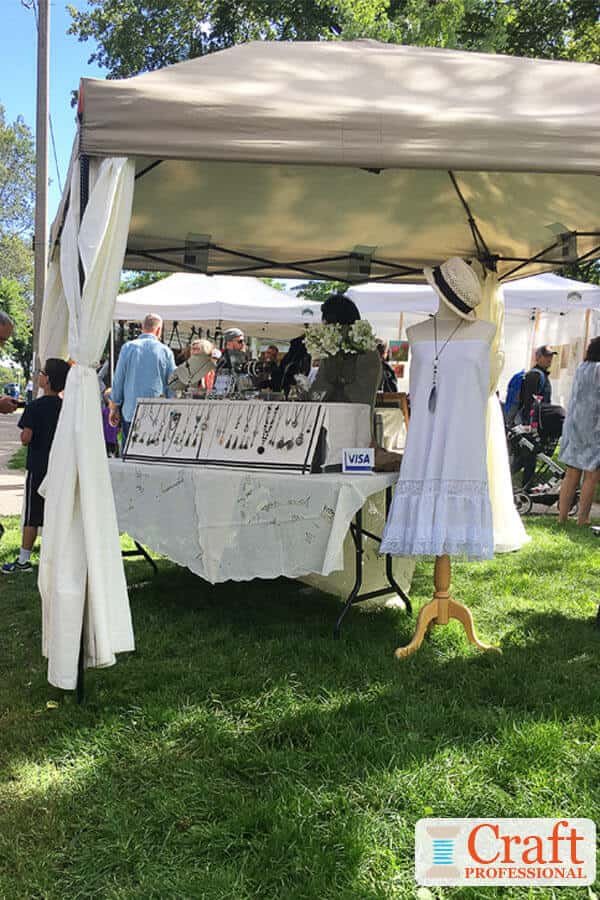 A dress maker's form can go a long way to add visual interest to a jewelry booth. Its larger scale helps to make your booth more noticeable from a distance. Dress up your mannequin in a style that speaks to your target customer, and then drape it in some of your more eye-catching necklaces.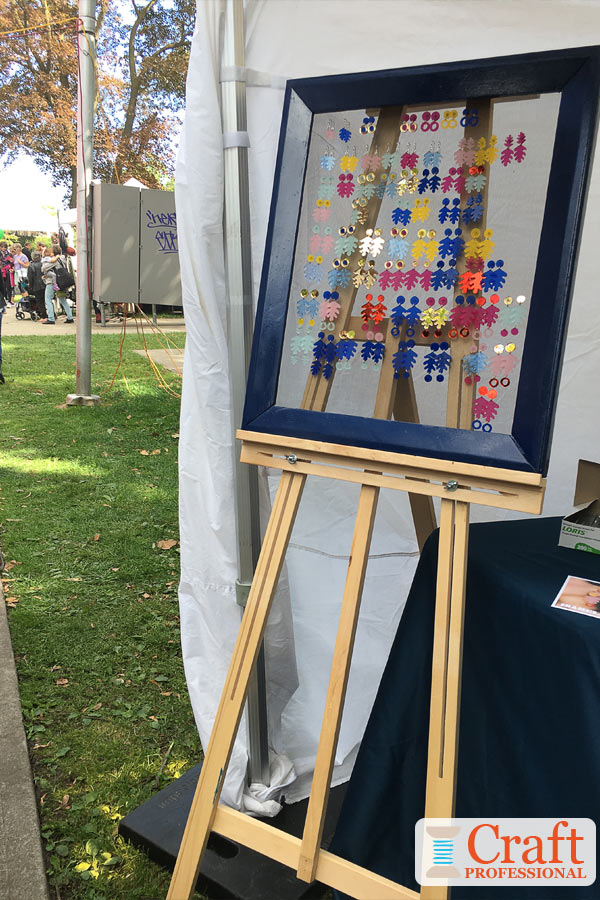 A display easel paired with a large frame provide a clever option for displaying earrings. Simply attach mesh to the back of the frame, so you can hang earrings from it. I'd consider adding some white or black (depending on the color of your jewelry and the rest of your booth) poster board behind the mesh (cut to the size of the frame) to create a solid backdrop for the jewelry.

Printable Signs for Your Jewelry Booth
Encourage your customers to splurge a bit and treat themselves to your jewelry with printable signs for your craft booth. You can find them in my Etsy shop.