Craft Fair Packing List
Get organized with this list of items to Bring to a craft Show
by Lisa McGrimmon
Have you ever had a nightmare about showing up at a big craft fair only to realize you've forgotten something extremely important at home?
Do you double and triple check as you're packing for a show, convinced you're going to miss something crucial?
I'm going to guess that many of you have experienced some craft show packing anxiety at one point. So, to help keep you calm, organized and on track, here's a list of what to bring to craft fairs so you won't forget a thing.
When I started doing craft shows, I did my best to keep all of my show supplies packed and in one place when not in use. However, I found it impossible to keep everything packed because some of it was used outside of shows.
After a couple of panicky packing experiences, I created a checklist of things to bring to shows and kept it with all of my display items. It's been a while, but I also did home parties when I first got started. The things I needed to bring to craft shows were slightly different from the things I needed to bring to home parties, so I kept separate lists, one for shows and one for home parties.
If you keep your own lists for craft fairs and home parties (if you do them), when you're ready to pack up for a show, you can just pull out the list, and work through to ensure you have everything you need. When you can be certain that you haven't forgotten anything, you can have a much calmer day, and focus on your customers.
Everyone's list will be slightly different, so to get you started on your own list here's a list of items most people need to bring to a show:
Craft Fair Packing List
Display

canopy and side walls 
tent weights for canopy 
tables 
table covers
risers
shelves, gridwalls, slatwalls, or other large display furniture (make note of the specific large display furniture you use in your display) 
floor covering 
mirrors 
business card holders 
small signs (i.e. signs that say you accept credit cards if you do, display signs about your product) 
large signs (with your business name and possibly photos of your work if appropriate) 
price tags or other method to mark prices (price everything before the show, but you may want to make some changes) 
clamps 
binder clips (these clips can be easily hidden and are great for holding fabric, such as table cloths, in place) 
lighting - lights, power bar, extension cords
Promotional Materials
business cards 
media folder 
portfolio of your work 
guest book
Inventory
all items you intend to bring to sell at the show
supplies and tools for polishing, cleaning or customizing your items
Sales/Payment
change
cash box (a discreet, small small bag or fanny pack can be worn, and discourages theft) 
credit card scanner
credit card authorization phone number and any other details you need to contact your service provider in case you have problems
smart phone or tablet
calculator
receipt book
Packaging
bags and/or boxes
tissue paper
Administrative Supplies
note pad
pens
acceptance letter and any other correspondence from the show organizer
vendor's permit
Tools
you might find it easiest to just bring the whole tool box
scissors
string
duct tape (solves a multitude of problems)
tools and supplies to repair or alter your craft items in case someone makes a special request that you can easily accommodate (For example, I bought two belts for my young son at a show. They were perfect for holding his Epipen pouch, but there were no child-sized belts. The vendor very kindly shortened the belts for me overnight at his hotel, and I picked them up the next day.)
Food
snacks and meals for the day - food that's not too messy and can be eaten quickly and discreetly 
plenty of water
Personal Items
change of clothes
makeup (if you wear it, you may want to freshen up)
deodorant (particularly for outdoor shows on hot days)
wet wipes
sun screen for outdoor shows
breath mints
Misc
garbage bag
paper towels
camera (so you can take photos of your booth)
Of course, you'll have your own specific items that you need to bring to art and craft fairs. I'd suggest using this list as a starting point, and then adding to it so you have all of your own specific items listed on your own master list.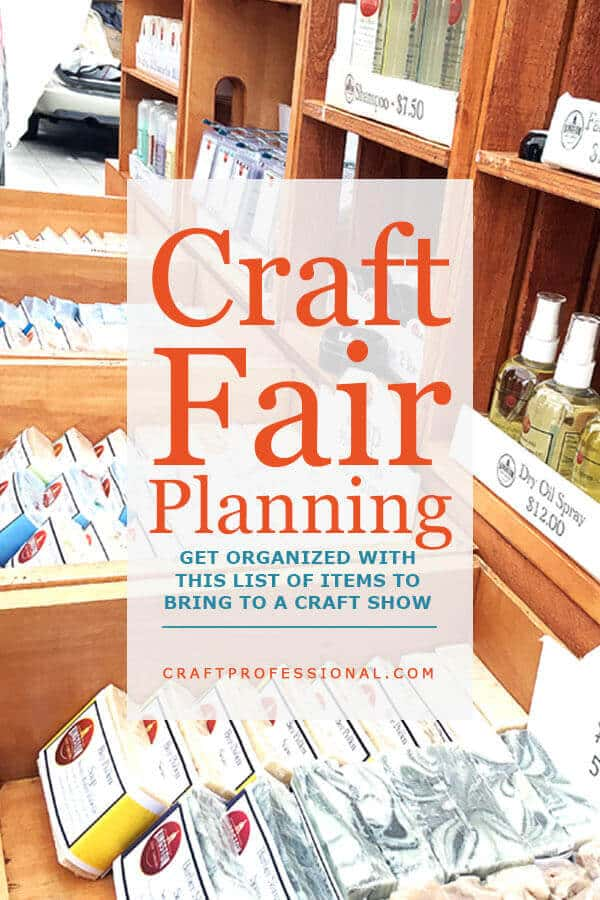 For example, under the display section, I've included risers, shelves, gridwalls, stands, mirrors etc. You won't necessarily use all of those items in your own craft display, and there may be some things specific to your own display that are not on the list. So, use the list as a place to start, and add or remove items to the list to create your own specific list that accounts for everything you'll need to bring to a juried art show.

After a show, take a minute to note whether there is anything you did not bring with you that you wish you had. If you've forgotten to bring any important items, add that on to the list for next time.
A little bit of time spent organizing can go a long way to helping you feel more calm, and making your day run smoothly. You can be very busy during the days leading up to craft fairs, so anything that helps you to be a little more prepared is a welcome resource that will allow you to focus on other tasks.

Related Articles
You Are Here
Home
➤
Craft Show Ideas
➤ What to Bring to Craft Fairs