Soap Display Ideas
If you buy something through links on Craft Professional, I may earn a referral fee. To learn more see my
disclosure
.
---
6 soap display ideas to spark your imagination and help you create a fabulous craft booth.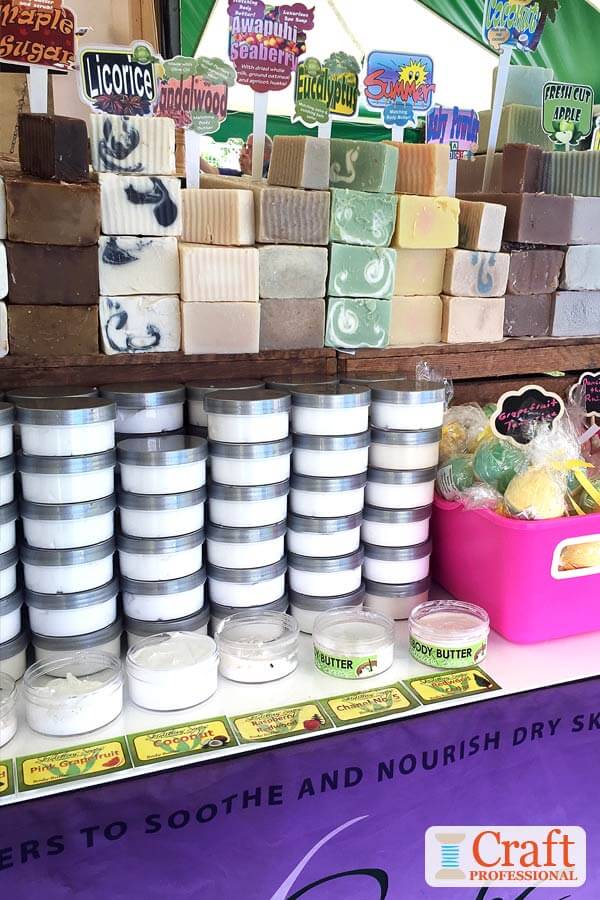 This soap booth is always crowded with customers. The soaps are fantastic, and the display encourages you to get up close and smell the soaps.
The clever display features a wall of uncut soap loaves with single bars to pick up and sample. They normally have a corner booth space, so there's lots of room for customers to get close. There's plenty of clear, cute signs to show you what to expect.
You might worry that a wall of soap like this would get in the way of connecting with customers, but the soaper's outgoing personality keeps her in the loop.
Handmade lavender products call for a soothing display. The purple and white color scheme of this booth fits the product perfectly. Pretty white woven baskets lined with white and purple fabric are an excellent choice for displaying lavender bath bags. Signs throughout the display show customers how to use the product.
The color scheme carries through this entire booth right down to the vendor's clothing - just one more way to bring the look of your display together!
---
Below, you'll see two sides of the same soap display. The rich, textured table coverings provide a luxurious backdrop.
Deep purple isn't a color I've seen a lot of in craft displays. Typically people go with white, black or deep blues, so this color scheme really stands out. The shade, along with the pattern on the table covering creates a fun, whimsical feel.
The mix of crates and display shelves work together because the wood tones are all the same. Products are easy to access and test.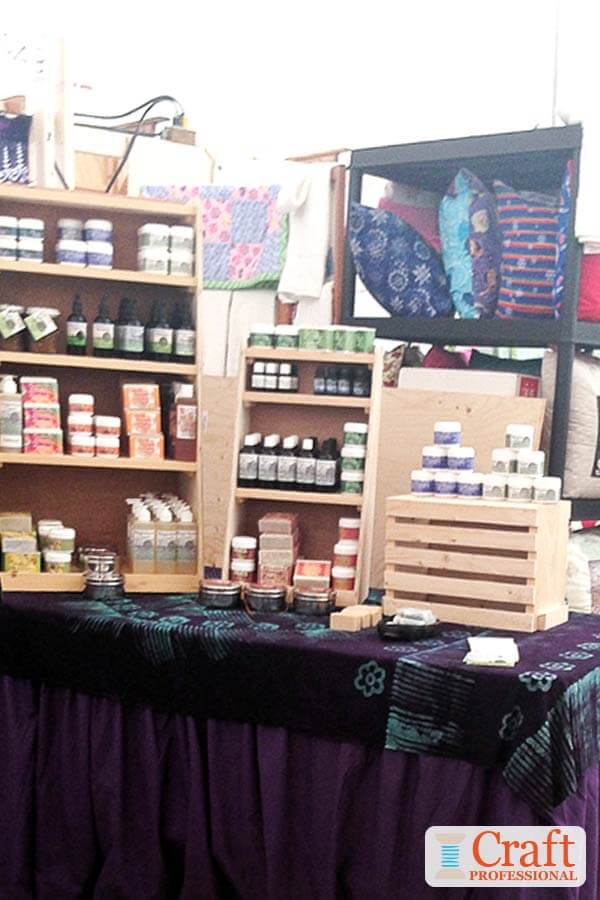 Who's ready for a day at the beach?
Bath products in sand pails are adorable. It's an inexpensive and clever way to display items with a beach theme. Individual scents are sorted into separate pails.
The beach concept carries through with shell-shaped bath items in a pretty wire basket.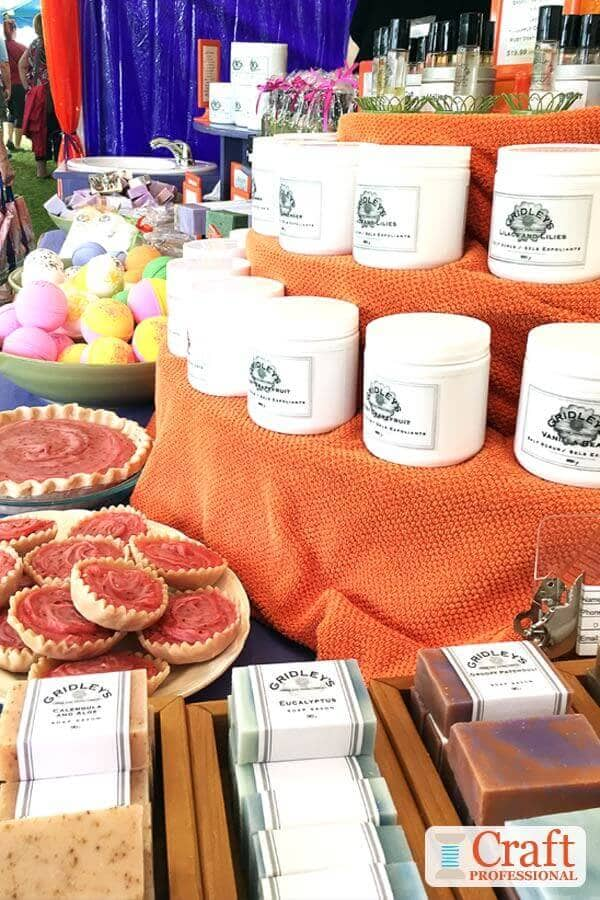 The color in this booth is absolutely gorgeous! The contrasting orange and purple (see the top of the photo) is spectacular.
Look in the top left of the picture. This soaper even provides a sink for people who want to test her products!
More Soap Display Ideas
Want to see more soap displays? I have plenty more!
Here are 10 soap display photos, including some different angles of the same booths pictured on this page.
This page has several clever soap displays as well.