Clothing Display Pictures
If you buy something through links on Craft Professional, I may earn a referral fee. To learn more see my
disclosure
.
---
I visited several fantastic clothing display booths at a popular, sunny outdoor craft show. This is one of my favorite shows. It's always full of talented craft artists and bustling with customers.
This show is very popular and well attended, and there's heavy competition to be accepted. It's in a park in a beautiful neighborhood, and the show itself has a very relaxed and artistic sensibility.
You'll find some of these booths may appear to be more casual than you might be used to seeing at higher end shows, but that's in line with the overall atmosphere of the show, and, as a whole, it really works.

---
I earn a commission for purchases made through links on this page.
To learn more, please see my disclosure.
---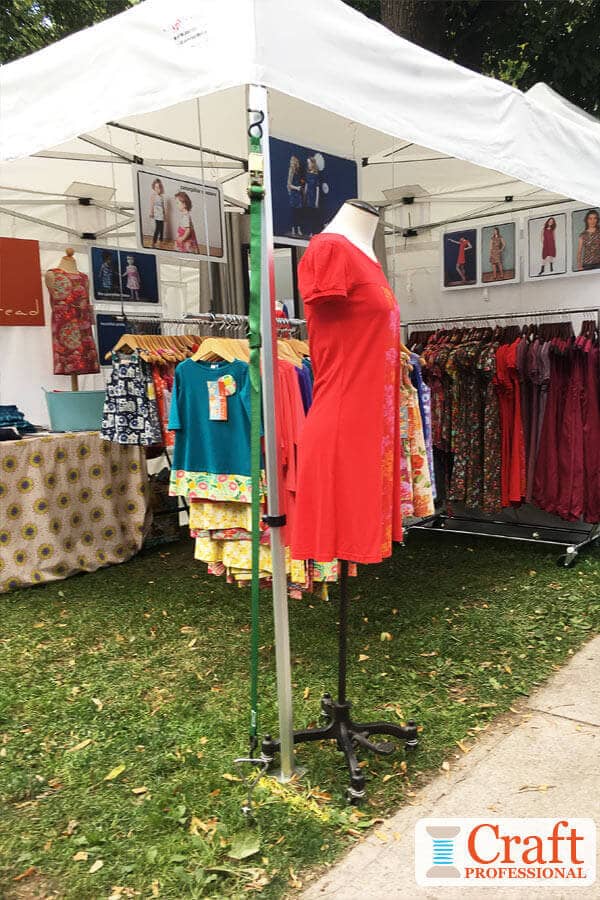 I love this bright booth of children's clothing. It demonstrates the casual, relaxed feel of this show, and that look is definitely a purposeful choice by this designer. 
As you'll often see in clothing booths, a mannequin is dressed in a striking dress and placed at the front corner of the booth to draw attention. Posters around the top of the booth also show of this designer's style from a distance.
Rods hung from the tent frame are used to hang clothing (do be careful about the amount of weight you add if you're going to suspend things from your tent frame). The wheeled clothing rack provides plenty of display space, and it will also make transporting product to and from a vehicle an easier job.
In the two photos below, you'll see two views of the same booth. Although the look is very different from the first booth, the basic elements are similar. Once again, there's a mannequin showcasing a dress that depicts the designer's style. Product photos hung at the top of the booth help to draw attention, and wheeled clothing racks provide display space and make transportation easier.
The outdoor rug in this booth defines the space. Rugs can be helpful at outdoor shows because they even out the ground a little bit (not perfectly, but they can help) to give customers a firmer footing. Plus, they provide a clean space under your booth, so if an item is dropped, it won't get dirty as it would if it was dropped directly on the ground.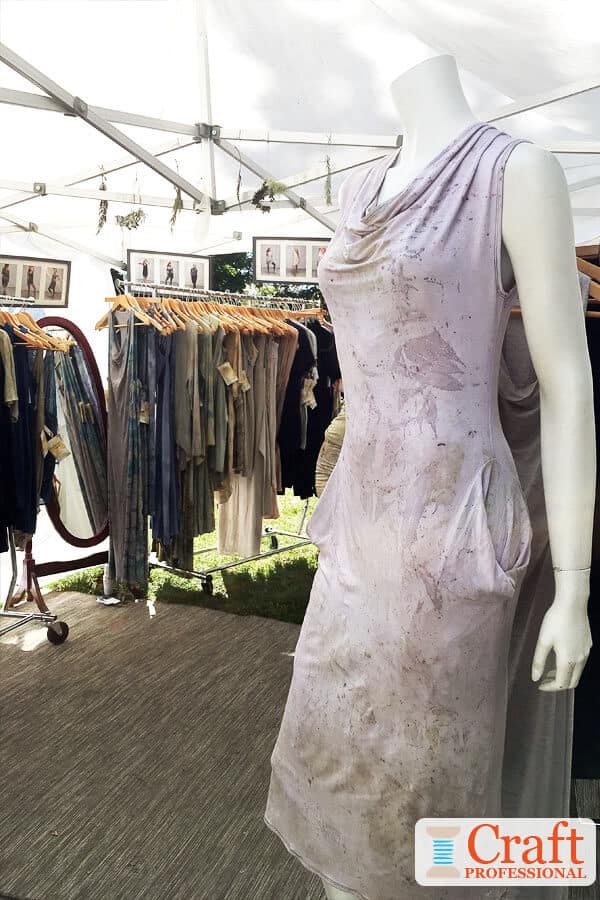 The next three photos (one on the left and two below) show a few different views of the same booth. First (on the left), you'll see the used of mannequins to showcase some of this designers most striking items.
Notice the mannequins are fully dressed and accessorized. They demonstrate a bold style which is clearly targeted at a specific customer. This designer is not trying to draw everyone into her booth. She has chosen to feature clothing that reflects her brand's style and will attract the right kind of customers into her booth.
The two photos below show the same booth. You can see how gridwalls can be used to display clothing at an outdoor show. The triangular shape helps with stability, while also providing three sides to display clothing. Waterfall style hooks work well with this type of clothing display.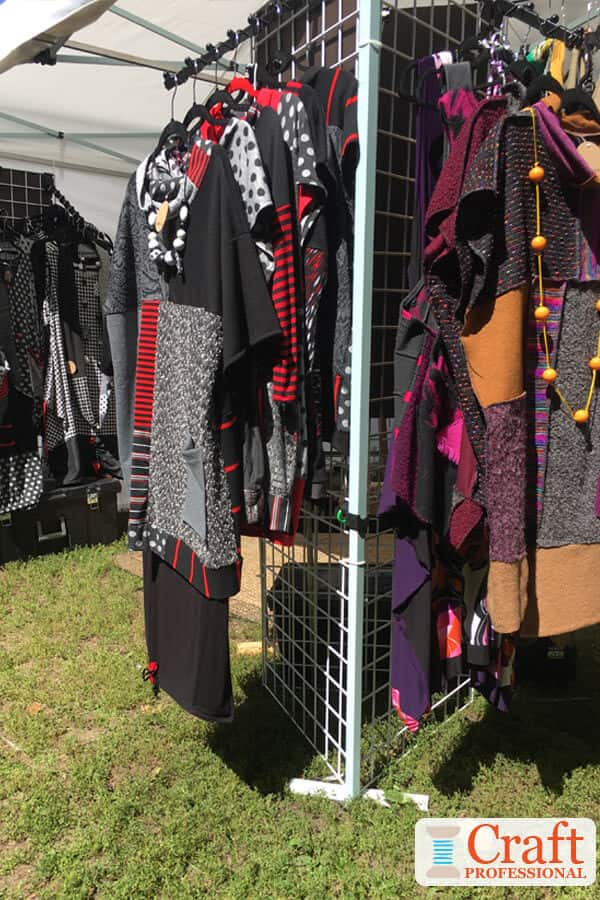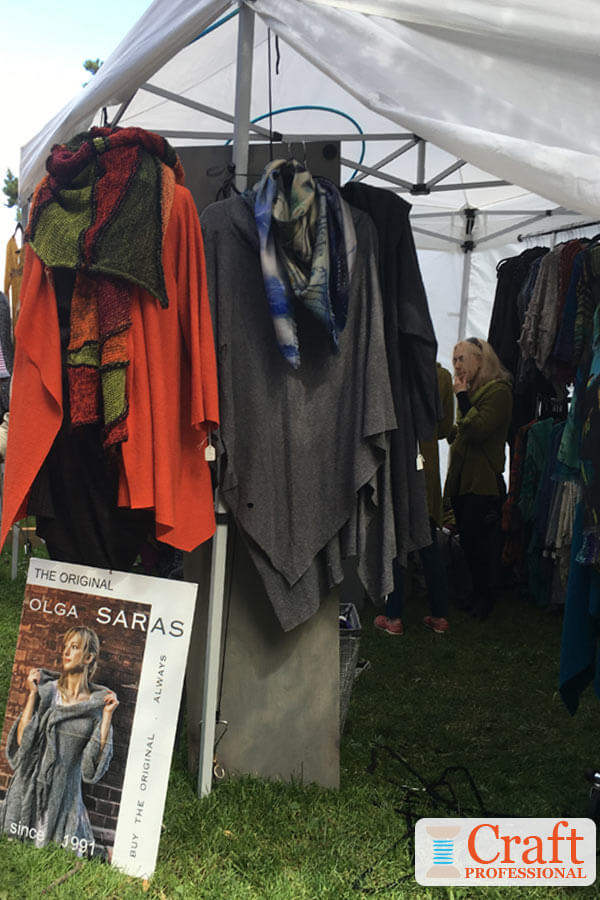 Did you notice the hula hoop placed between the tent frame and the tent canopy? Some craft artists do this at outdoor shows to help keep their tents dry if it rains.
The hula hoop makes the canopy fit tighter on the frame, so water is less likely to pool and cause leaks. The designers at this show were enjoying a beautiful, sunny day, but you have to be a pro to get into this show. Craft professionals here know their stuff, and they aren't taking any chances.
Here's another clothing booth that showcases the relaxed style that's clearly a part of the entire show. Once again, you can see rods suspended from the frame of the tent and used to display product. The setup on the left of the booth it an interesting, portable, and affordable way to display smaller accessories.
If you look at enough clothing booths, you'll also notice that designers often simply hang an item of two on the frame of their booth on a clothes hanger hung on the outside edge of their space. You can't get any easier than that! Do be sure to use good looking clothes hangers (no wire, please!).