12 Retail Display Design Photos
by Lisa McGrimmon
I have some great retail display design photos here to inspire your own craft booth displays. 12 photos in total, with plenty of lessons to be learned about good displays.

A lot of retail display design translates surprisingly well into a craft fair setting. You might assume that retail shops would use displays that aren't portable enough for craft shows.
While it's true that some ideas may need to be reimagined to be more portable, you will probably be surprised by how many great, craft show appropriate display ideas you'll find if you check out your local independently owned shops.
To get you started with some great ideas, here are some photos of retail displays in some lovely independently owned shops that sell handmade goods.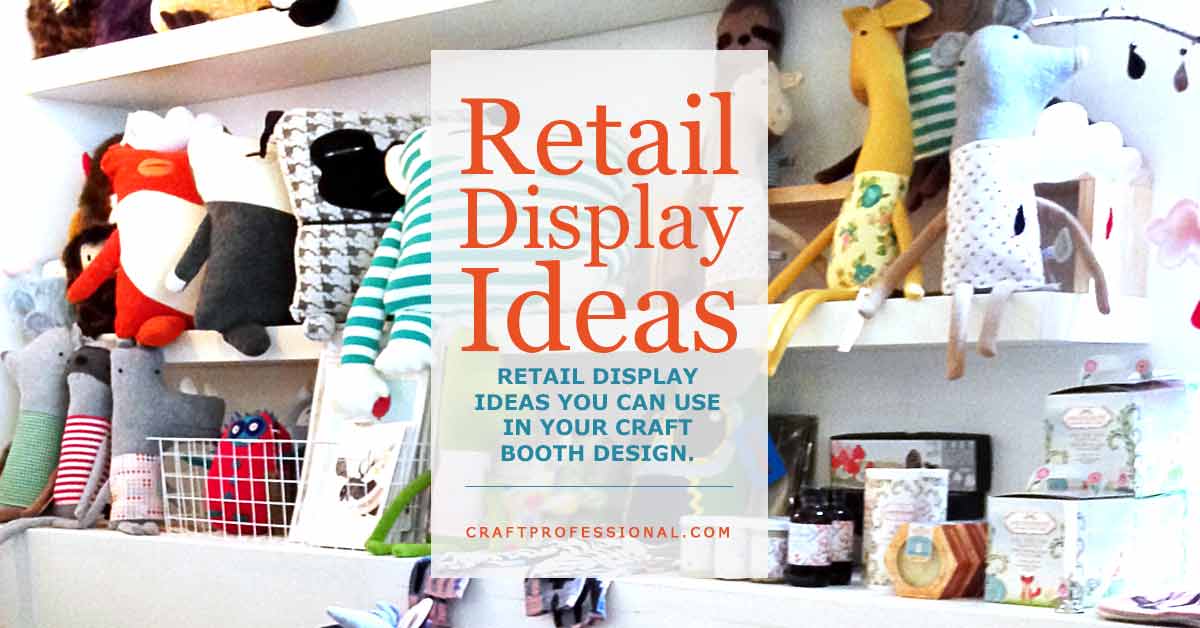 ---
I earn a commission for purchases made through links on this page.
---
Some Great Retail Display Design Ideas...
I love how this rustic ladder is used to display these colorful handmade scarves. The wood of the ladder contrasts well with the scarves and complements the rich colors.
A ladder like this one is completely portable and would work beautifully in a craft booth.
This is such a simple display. The bright handmade socks speak for themselves. They don't need a fancy display to grab our attention. I like that they are placed neatly on the table and in the basket, but they aren't arranged in a complex, fussy way.
You'll know when you've made your displays too fussy because customers will tell you. If you make the mistake of getting too fussy and fancy with your displays, customers will say something like, "Oh, I won't touch that. I don't want to ruin your display."
You want customers to pick up and touch your product. It helps move them toward buying. If customers are telling you they don't want to ruin your display, it's time to relax your setup a bit. Keep it simple to encourage touching, just like this display.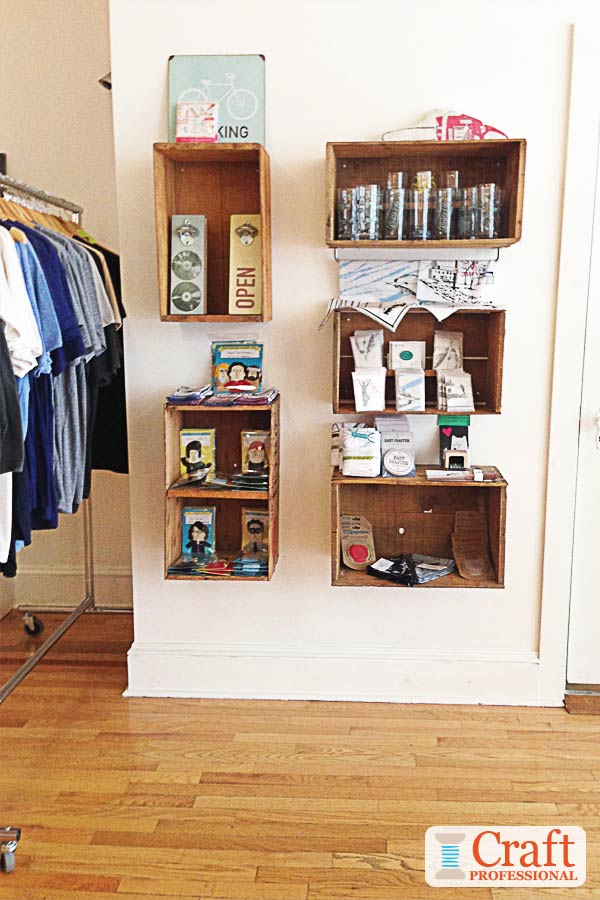 How clever is this display? Shallow wooden crates hung on the wall and used as shelves. This photo is from a sweet shop in Lunenburg, Nova Scotia. Lunenburg is full of adorable shops that sell handmade items - definitely a great place to visit for those who love handmade.
I especially love the way these dark crates are hung on a light wall with some space between each crate. The light background and the space lightens the whole effect and makes it fantastic.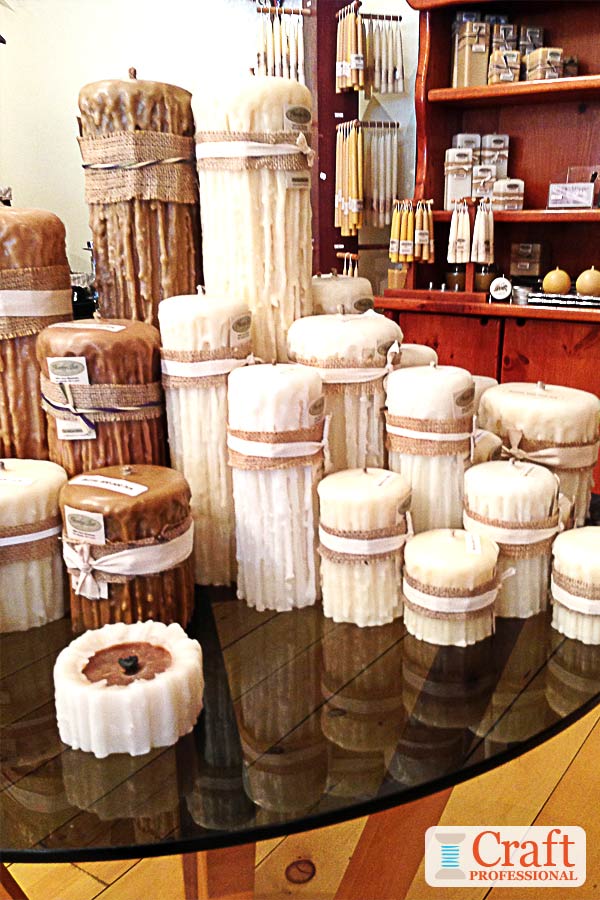 The color blocking of dark vs. light candles, combined with the arrangement by size draws your eye around and makes this simple display really work.
Color blocking is a simple way to create visual interest in a display of almost any type of product.
One thing that's great about glass shelves is that the light flows through each shelf, so your products don't get lost in dark corners in middle or bottom shelves. On a practical note, of course, travelling to craft shows with glass shelves can be tricky, but, depending on your product, it might be worth the extra care and caution required.

The thing that really brings this jewelry display to life is the great lighting. If you look in the mirror (it's round and in the top left of the photo), you'll see the reflection of several lights that hang just above this display. Don't skimp on lighting, especially if your product is made to sparkle!

You'll find plenty of pedestals used in indie retail display design. They are portable, affordable, and they give you the option to move your display furniture around as you like - All qualities that work well in a craft booth as well!

I love this display because the display furniture reminds me of home. The shelf is styled to look like a simple fireplace mantle, and the table looks like something I'd have in my livingroom. That means I can easily imagine this art work in my own space.
I look at this display, which is a lovely little vignette of a space I'd love to have in my own home, and it makes me feel that I could recreate the same lovely feel if I just bought one of the pieces on display...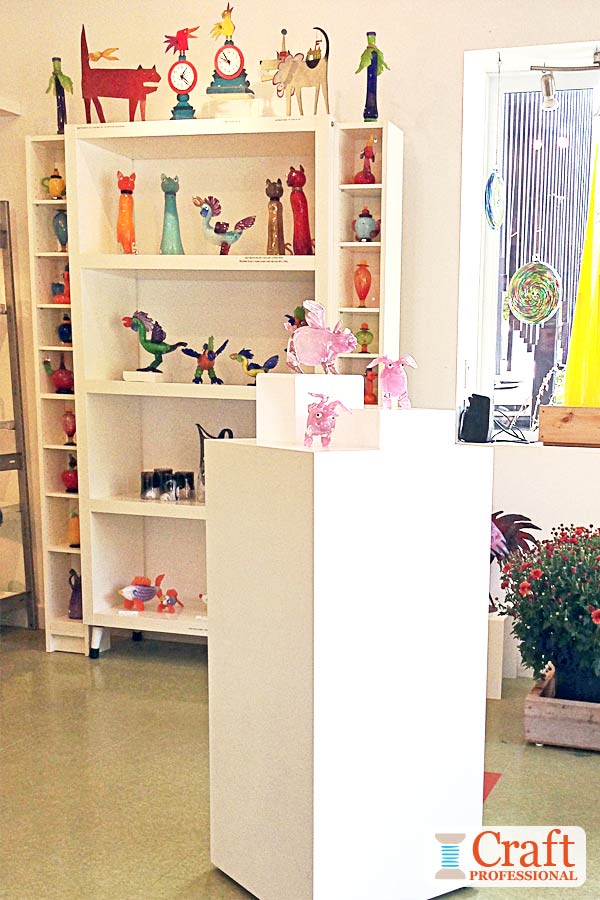 The white walls and display furniture in this shop let the brightly colored handmade items shine. And there's another display pedestal in the middle of the space. This time in white to suit the rest of the decor.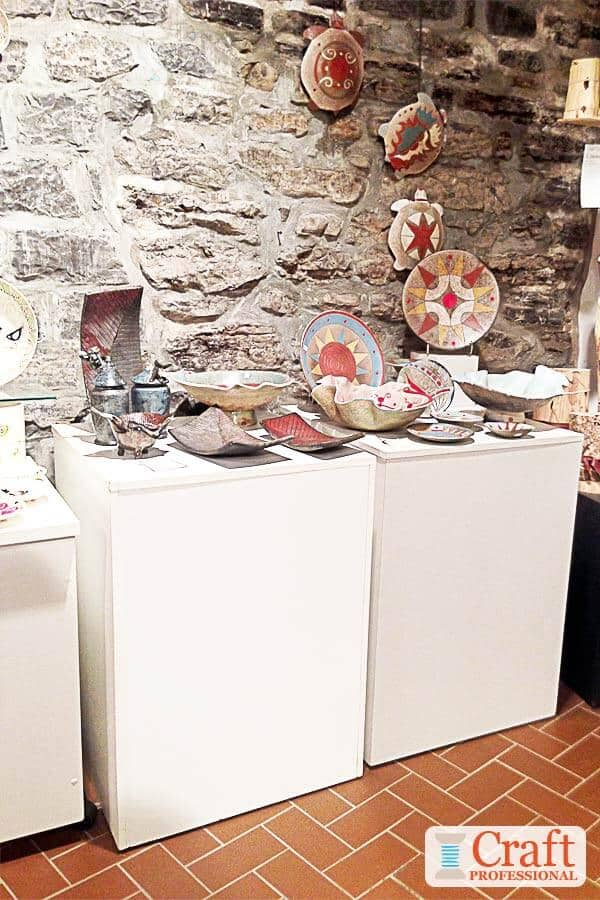 Here are more pedestals! These ones are a little more substantial than others I've seen, but they are still versatile enough to be rearranged in whichever configuration suits the situation.
Square containers generally store more easily than round / cylindrical items pedestals, so something like this would pack up and store reasonably well. If the pedestals don't fold down when not in use, the interior might be a great space to store other craft show supplies when you're not at a show.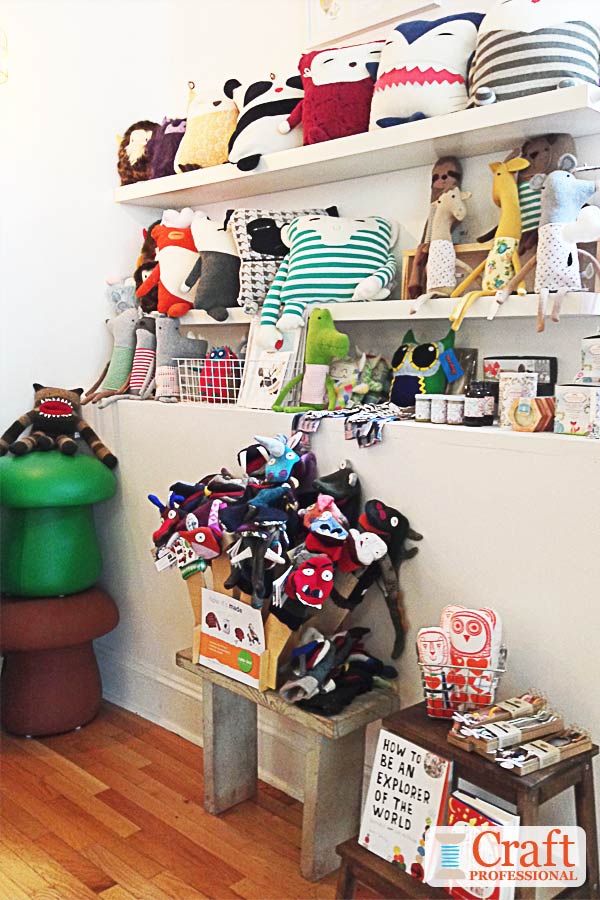 These handmade pillows are so fun and full of character, they really don't need any help in drawing attention to themselves. That's why I love to see them displayed on simple white shelves. This display makes me imagine how adorable my child's room would look with some of these cute elements added to the decor.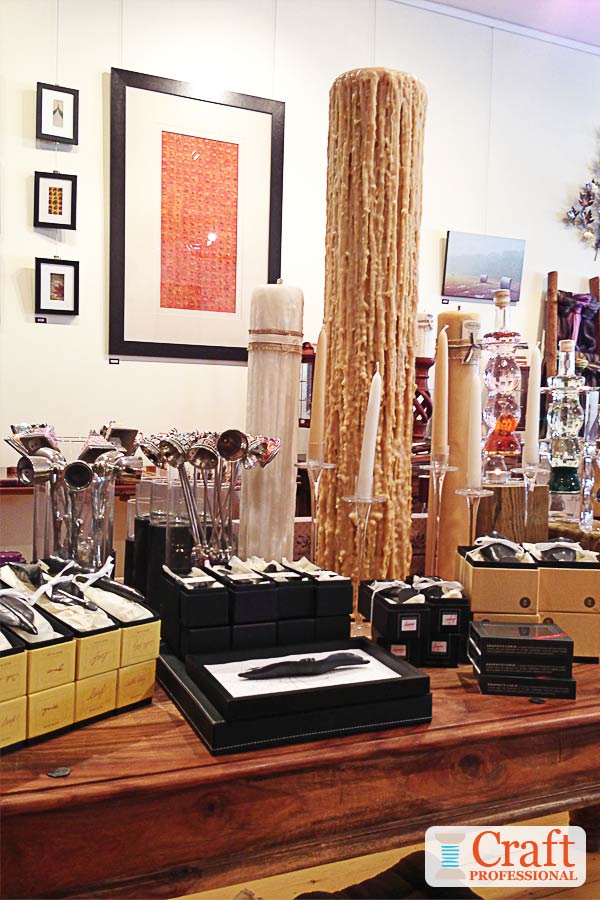 This simple table top display makes good use of varied heights to add interest. Usually you would use risers to vary the height, but because this shop sells a variety of handmade items, the owner has taken advantage of varied heights in the products to add interest.
Is there a way to group or arrange your own products to add interest? Look at height and also color as ways of grouping your products to add interest without making your display too fussy.
Printable Signs for Your Craft Booth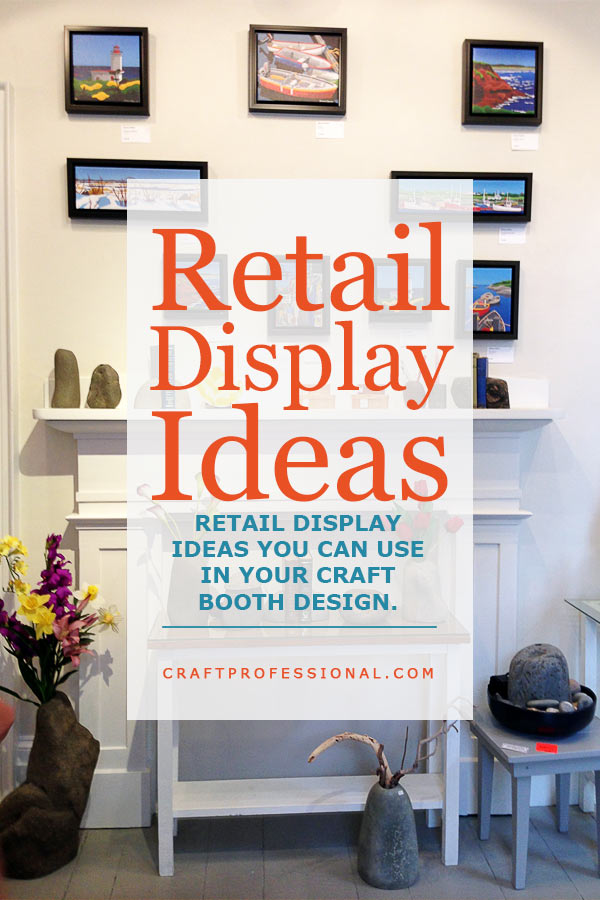 Related Articles
You Are Here
You are here:
Home
➤
Display Booth
➤ 12 Retail Display Design Photos